19

Dec

A Day of Festive Delights with Fortnum & Mason
Glorious Christmas Spirit at Fortnums
On the 5th of December, Acca Kappa UK joined Fortnum and Mason for a 'Day of Festive Delights' in their iconic Piccadilly store. The event saw the heritage department store, a purveyor of exceptional goods for 300 years and counting alive with good cheer in the form of festive brand activations and events. The jolly tone was immediately set, upon our evening arrival to the store, with F&M's iconic shopfront transformed into an advent calendar, each window from the first floor upwards gloriously aglow and decorated with a square wreathe surrounding the days until Christmas, with those that had passed lit up. In a traditionally festive red and green, dotted with Christmas trees and a big red bow the magnificent store front also featured captivating street level windows, that celebrate the stores foody heritage and Christmas traditions. Scenes with festive cat puppets working as fishmongers and preparing Christmas crackers and lip-smacking chocolate yule logs enticed passers by into the buzzing store. The food hall, which of course, F&M is renowned for, was filled with awe inspiring treats including beautifully presented, scrumptious looking Turkish Delight and Chocolate Santas that stood as tall as 4 year olds, with very impressive bellies to boot!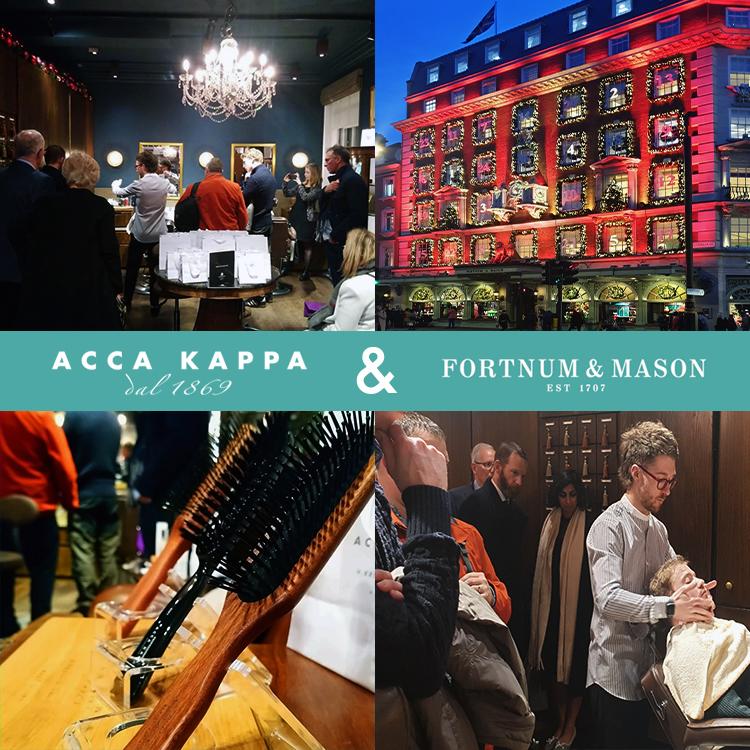 Pictured: Acca Kappa Shave & Style demo event, Brushes & Storefront, at Fortnum & Mason, Piccadilly , Christmas 2019
Acca Kappa for Men at Fortnums
We headed up to the 3rd Floor, where a key selection of the Acca Kappa men's range is displayed, this includes of course Acca Kappa Hairbrushes and Combs, ideally suited to men's hair types as well as natural hair care, beard care and skincare and our iconic fragrances inspired by the gardens of Italy.
Hairbrushes in the selection favour the rectangular shape, as they are a smaller type of paddle brush that can create more volume at the roots and be used to flip the hair and curl it under. The rectangular brush, suits both short and long hair types so is an ideal choice for men. A good quality hairbrush has many benefits for men as they can easily manipulate each hair follicle and shape the hair to achieve a desired look. In addition to this a good brush can help to remove both debris and oil accumulation resulting in a cleaner and healthier scalp.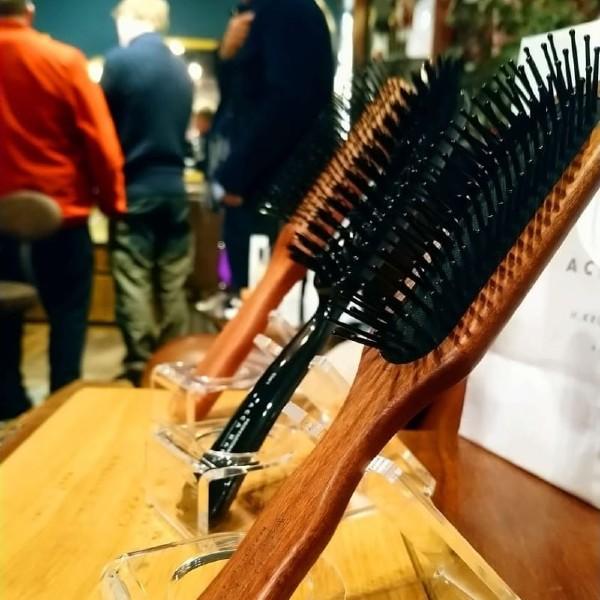 Pictured: Men's Acca Kappa Hairbrushes on Display at Fortnum & Mason, Piccadilly
Shave & Style Demo with Elliot Forbes
We were joined by top London Barber, Elliot Forbes, who worked in partnership with Acca Kappa to demonstrate an open razor shave at The Barber in F&M; this included how to best prepare the facial hair and skin for a shave, how to manipulate the open razor and how to care for the skin afterwards. With two demonstrations at 5:30pm and 7:30pm, we were delighted to receive great crowds who were captivated by the artful process demonstrated by Elliot and interested in products to support a successful shave. It was fantastic to see a good number of women in the audience, Christmas shopping and bringing along bearded husbands and sons- perhaps a not so subtle hint for the New Year . . . .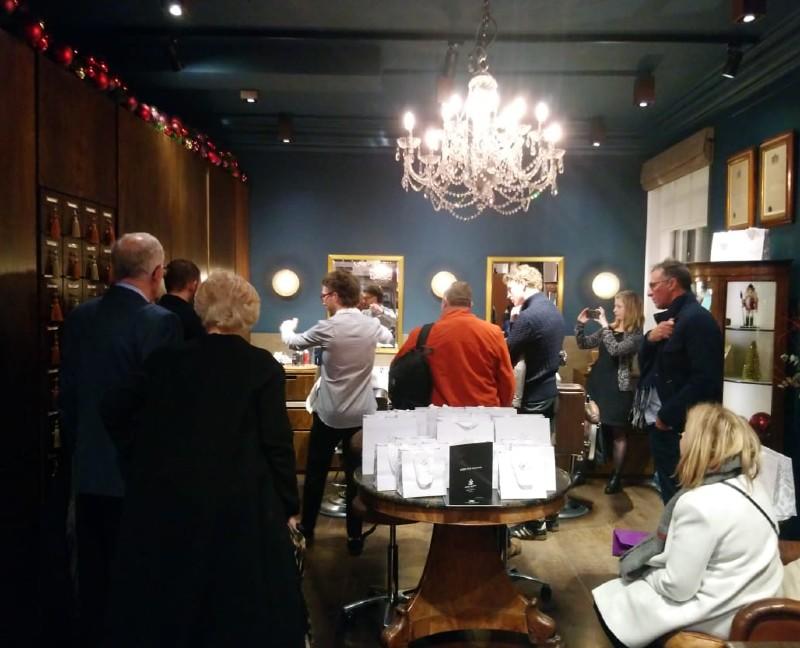 Pictured: Top London Barber Elliot Forbes demonstrates how to shave with an open razor
Pre-Shave Ritual
Elliot prepared his bearded models, by first cleansing their skin with face wash and then using a hot towel to help them relax and open up their pores before the shave. Whilst his models relaxed with hot towels, Elliot demonstrated how to create a great lather using Acca Kappa's Natural Synthetic Fibre Shaving Brushand our White Moss Shaving Cream. The vegan brush, is dense and durable, this means that it effectively massages the skin and lifts the hairs to prepare the beard for shaving and is also resilient to daily use. The fusion of wood and plastic in the handle has been created with the environment in mind, using natural materials and ensuring that they are also long lasting. Elliot proceeded to use the brush to massage the skin and lift the beard hair, applying the creamy lather to the face whilst doing so. The calming ritual is incredibly pleasing to watch as is the next step - shaving with the open razor.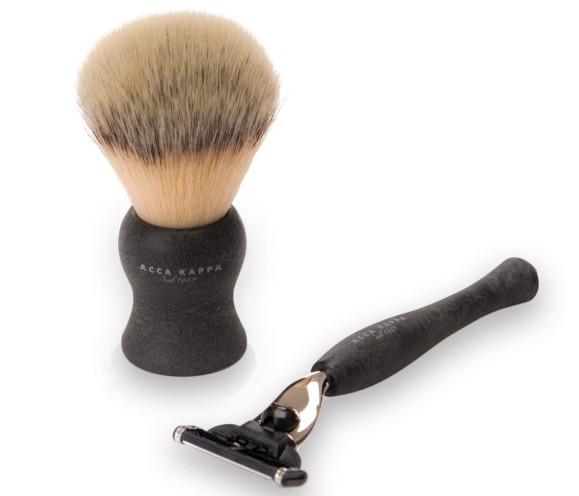 Pictured: Acca Kappa Natural Synthetic Fibre Shaving Brush and Mach 3 Razor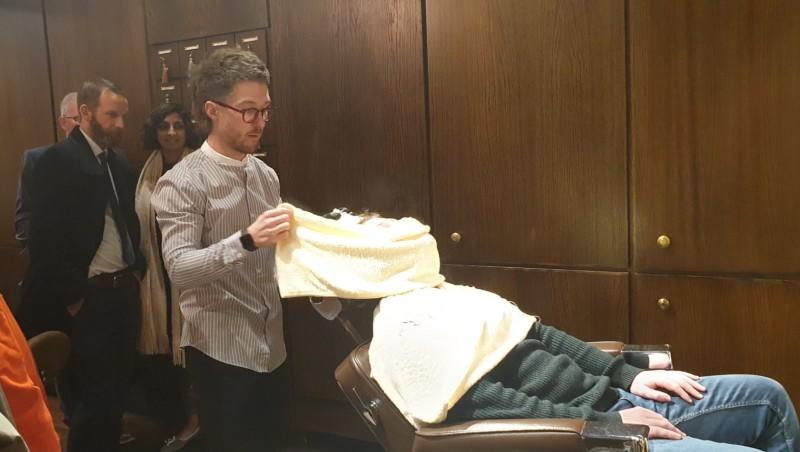 Pictured: Elliot Forbes prepares shave model with a hot towel
The open razor shave
Elliot studied the growth of hair prior to shaving and shaved with the grain, allowing for a comfortable close shave, whilst avoiding the risk of ingrown hairs and razor burn that can be caused by pulling the hair when you shave against it. Pulling the skin taught, Elliot shaved at an expert angle. After the first pass Elliot used our Barbershop Range Transparent Shaving Gel for refinement, to ensure that any niggly hairs were removed. With Marigold & Witch Hazel extracts, both appreciated for their anti-redness properties the Shave Gel has the added benefit of being transparent, making it the ideal companion for refinement as you can clearly see the hair that you're shaving. The Barber Shop range, created for shaving and beard care, like all Acca Kappa skin and hair care ranges uses active plant ingredients for desired effects, a perfect match for those after natural care. A further element of this range which gives it immediate appeal is the highly aromatic peppermint oil which give an instant refreshing fragrance in addition to toning action. After applying the shave gel, Elliot once again worked his magic, captivating the crowd with the hypnotic open razor shaving ritual.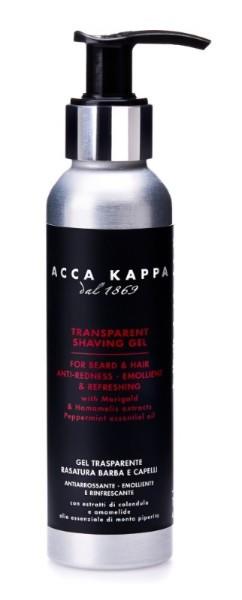 Pictured: Acca Kappa Transparent Shaving Gel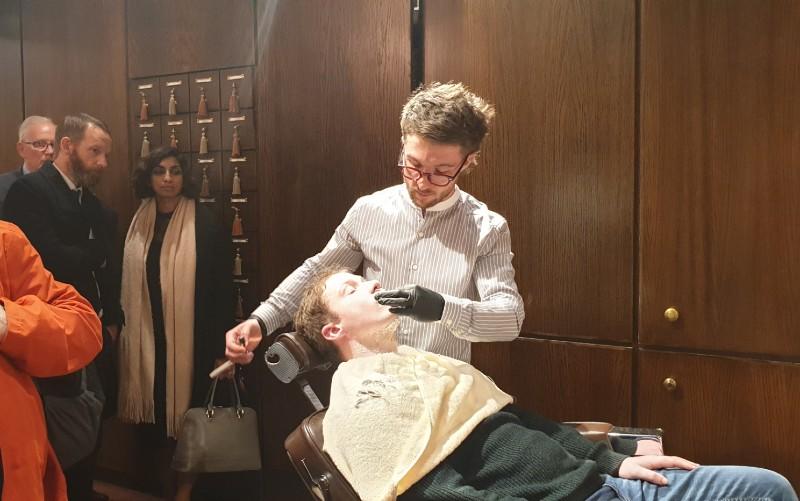 Pictured: Barber, Elliot Forbes Shaves with an Open Razor
Post Shave Care
The next step was the aftercare. Shaving, even when done expertly, is always a trauma for the skin so aftercare is super important. This commenced with a cool towel on the face, to help close the pores post shave. After this Acca Kappa's Barber Shop Vitamin Enriched Aftershave Balm was gently massaged into the face and neck, interestingly the balm can also be used on the scalp as an aftershave for those who also shave this area. With key natural active ingredients like Argan Oil, an extraordinary product which contains more than 80% unsaturated fatty acids, Argan Oil promotes healthy skin cell growth and soothes and nourishes the skin without being greasy. Other notable ingredients include Wheat Germ Oil- the richest natural source of Vitamin E with restorative antioxidant, antiradical properties, and Jojoba Oil which fights the formation of wrinkles and stretch marks. The oils are balanced with natural astringents and talc which gives this aftershave balm a mattifying quality, helping to eliminate shine while it soothes post shave.


Pictured: Acca Kappa Vitamin Enriched Aftershave Balm
The Style
To complete the treatment Elliot, styled his models' hair with Acca Kappa Hairbrushes and Barber Shop Water Wax as well as a quick dash of our iconic men's fragrance 1869, a classic Eau de Parfum that combines woody, floral and leather scents with notes like Cardamom, Iris, Leather, Bay leaf, Vanilla, Amber and Incense. The dynamic fragrance mixes energy and character with a warm sense of sensuality.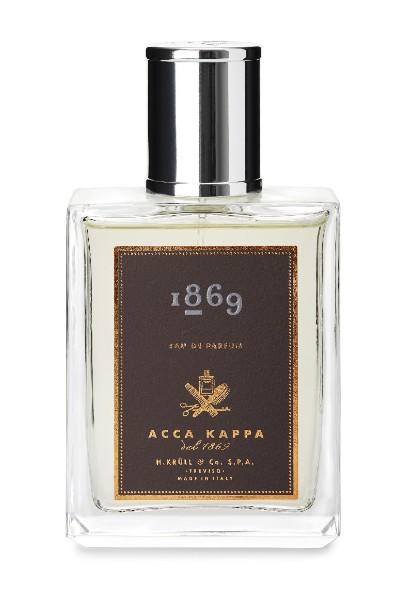 Pictured: Acca Kappa 1869, Eau de Parfum Men's Fragrance
Acca Kappa Christmas Cheer . . . Free Walk-Ins, Goody Bags, and Gift with Purchase
We were delighted to offer free walk-in hairstyles and shaves to our onlookers, a number of who, took us up on this and also to be a part of the magical atmosphere with carole singing taking place on the 3rd floor in the later part of the evening. All of our lovely onlookers were also given goody bags with samples aplenty and to help with Christmas shopping, we announced our *Gift with Purchase promotion of an 1869 plant based , vegetable soap with all purchases of £40 or more of Acca Kappa products at Fortnum & Mason, Piccadilly and on the Acca Kappa UK website.* The offer celebrates Acca Kappa's 150th anniversary, which we celebrated at the end of September, and of course the 1869 range marks the year the Acca Kappa journey began. This offer is available until Christmas Day 2019 at both at F&M, Piccadilly and on the Acca Kappa UK website. So do visit the men's floor at F&M and get shopping with Acca Kappa today!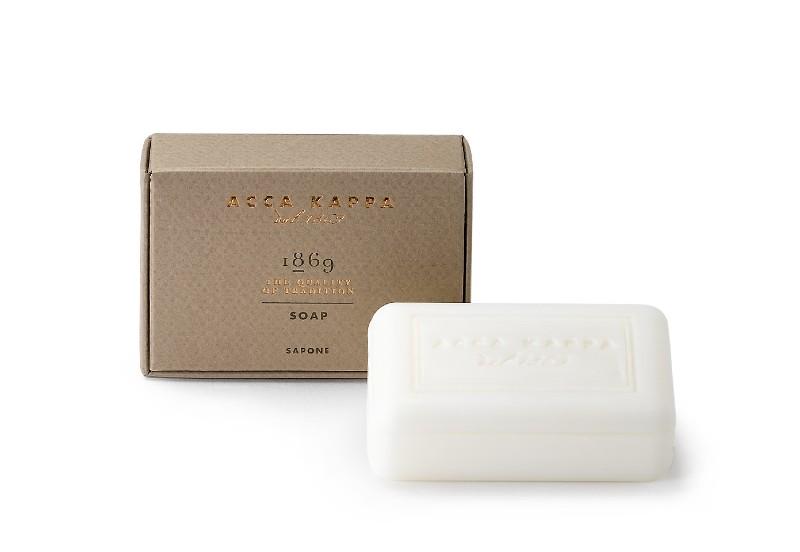 Pictured: 1869 Vegetable Soap
If you're interested in joining us for future brand activations, we'd love to see you there. Follow us on Facebook, and Instagram for the latest updates.
(*) Available until Christmas Day 2019, purchases of Acca Kappa products must total £40 in goods, not including shipping charges etc.