26

Jun

Q&A with the ACCA KAPPA Milan Team: The Beauty of Fragrance
Proudly situated in the beautiful heart of Milan, the Acca Kappa Boutique is an experience of craftsmanship and elegance. Featuring a refined collection of unique and exclusive products, we caught up with the Milan store team to discuss all things fragrance! Read the full interview below.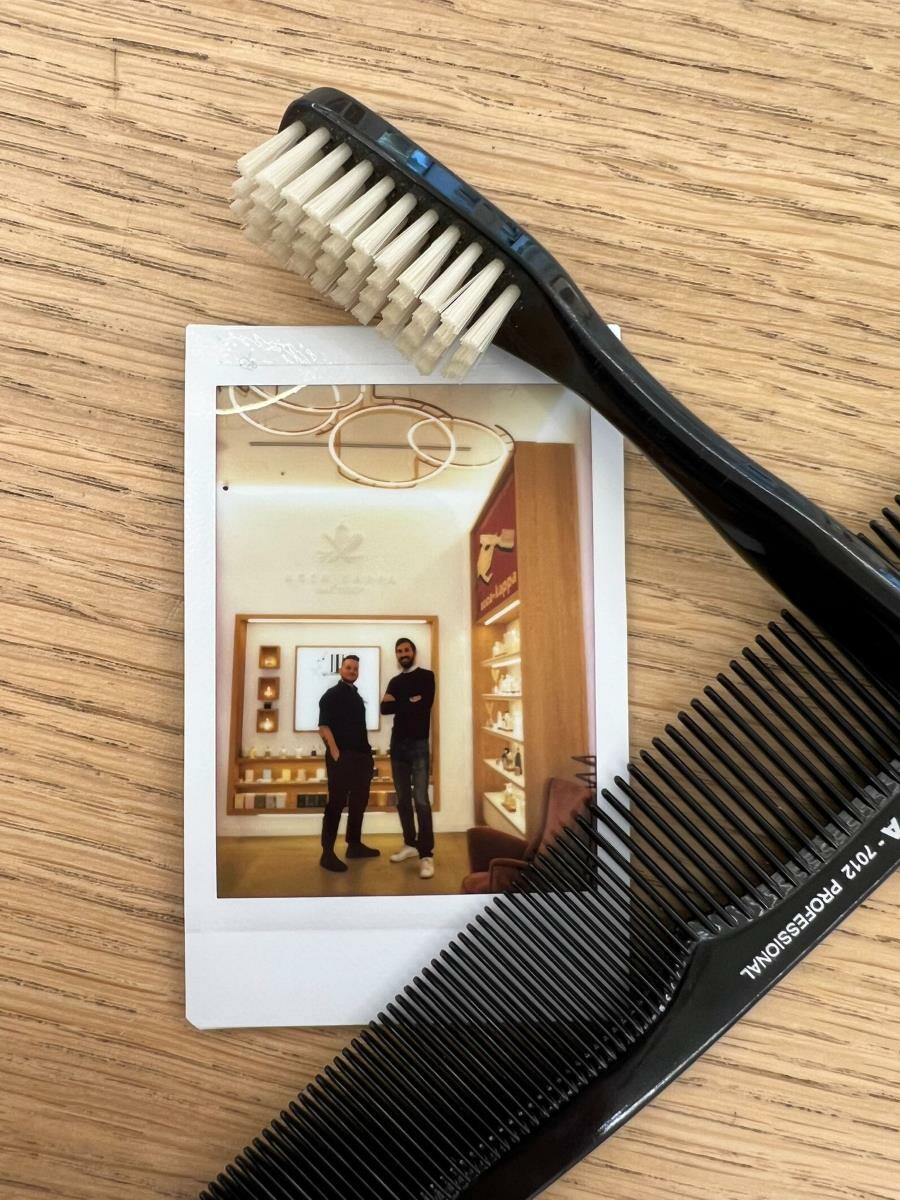 Pictured: Andrea & Marco, part of the ACCA KAPPA Milan Store Team.
Bio & Backgrounds – Tell us a little bit about yourselves!
(Andrea): Hi, I'm Andrea, the Boutique Manager of the Flagship Store in Milano.
I'm 31, I was born and live in that wonderful city that I love. I started to work immediately after my Degree in Artistic Goods (to pay my college tuition and be more independent). I always worked for the world of luxury retail and before arriving in Acca Kappa I was a Senior Perfume expert for Louis Vuitton, place where I met my colleague Marco! I am happily married, I have a Jack Russel and I come from an art-loving family, which has allowed me to cultivate a strong sensitivity for all that is noticeably beautiful since I was a child!
(Marco): Hi, i'm Marco, 38 years old from Milan.
I've been in the retail industry for about 15 years, in LVMH group, mainly in Acqua di Parma and Louis Vuitton brands, where I started as salesman (department store and niche fragrance shop) and I became Trainer and Fragrance Expert. In 2021 I joined the Acca Kappa company as Assistant Boutique manager and Fragrance Trainer.
It's no secret that our sense of smell has a huge impact on how we feel - fragrance can be a powerful thing! Andrea, we've heard through the grapevine that you hold a private collection of more than 600 perfumes. In your opinion, what makes a truly great fragrance?
(A): It's correct, even if after the last trip I made the number of bottles has grown! I love collecting perfumes while travelling, like having a scented postcard with me whenever I want to remind of the place I've visited.
When we are children our nose works more than all the other senses: it stores all the smells it perceives and ascribes them to a specific emotion. After early adolescence all the smells we smell are relative and connected to the emotions we experienced as children... a sort of olfactory background! This database of information influences us in choosing a perfume, as well as in all the choices we make during our days.
A suggestion that I would certainly give to those in search of the ideal perfume is to let be conditioned by the senses and by the sensations they transmit to us. A smell that reminds us of a beautiful emotion experienced is an excellent accessory that completes our daily silhouette and makes us feel at ease even in an unpleasant context. I can say that for a perfume to be defined as "a great one" it must first of all have high quality raw materials and above all in the right concentration: which express themselves as they would in nature. Then, regardless of whether it's a niche brand or a commercial one, if it awakens our senses and makes us smile... it's the right perfume!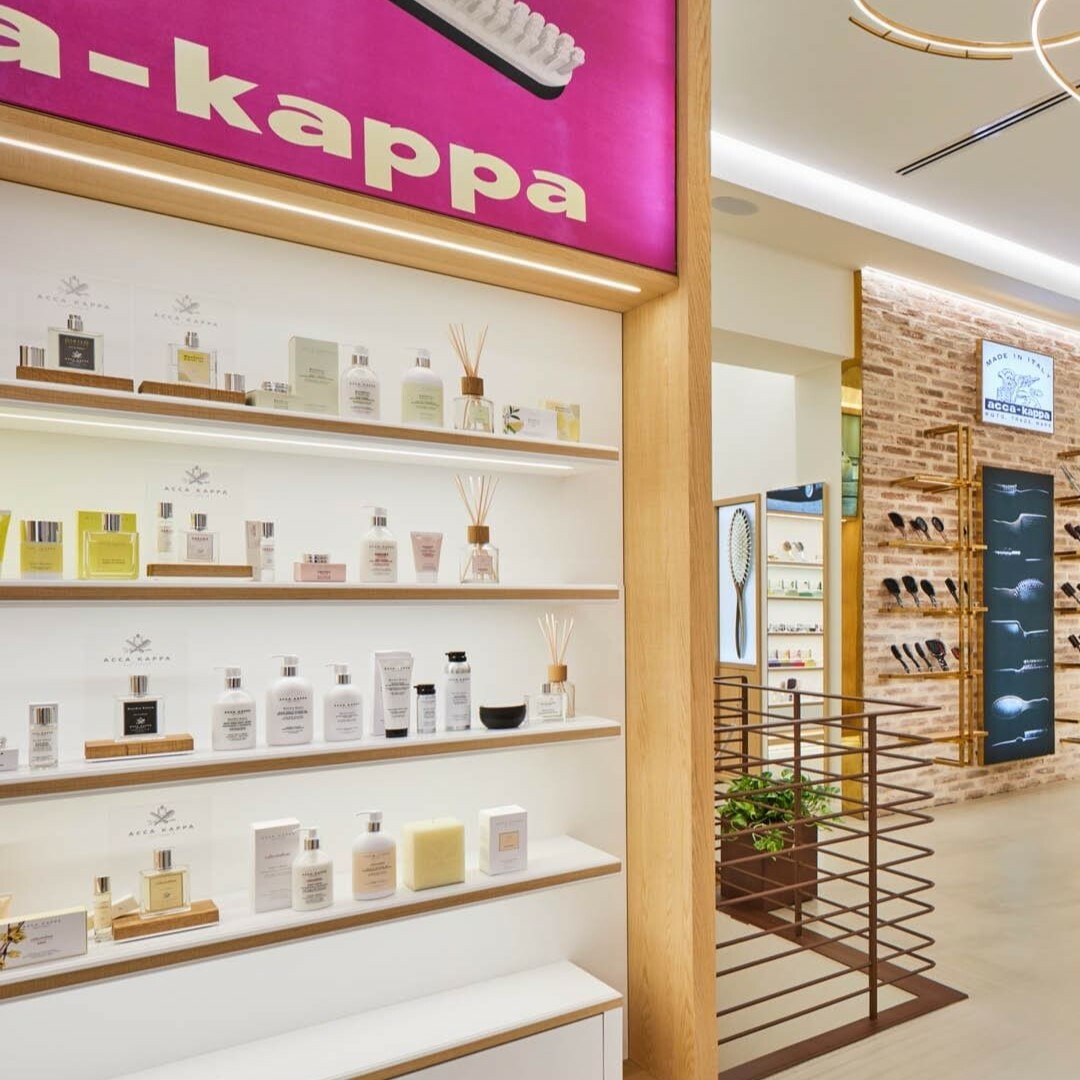 Pictured: The ACCA KAPPA Milan Boutique.

They say that the scent of fragrance can change depending on the person wearing it – do you think there is any truth to this theory?
(A): A perfume is built as a dense network of odor molecules, linked to each other. As in chemistry, bonds can be conditioned by natural agents and atmospheric temperatures. In our case, the skin and our mood modify the olfactory performance of a perfume.
In the case of the skin it is simply due to our acidity, the pH, which is different for each of us. Therefore, we will have some notes that will be more evident than others; in my case, my skin brings out all the sweet notes and "eats" all the citrus ones.
In the second case, the test that I would recommend to everyone to do is to wear your favorite perfume on a day when it is cloudy and about to rain or during a day when we are nervous ... you don't feel like you are wearing a completely different perfume from the one you love so much?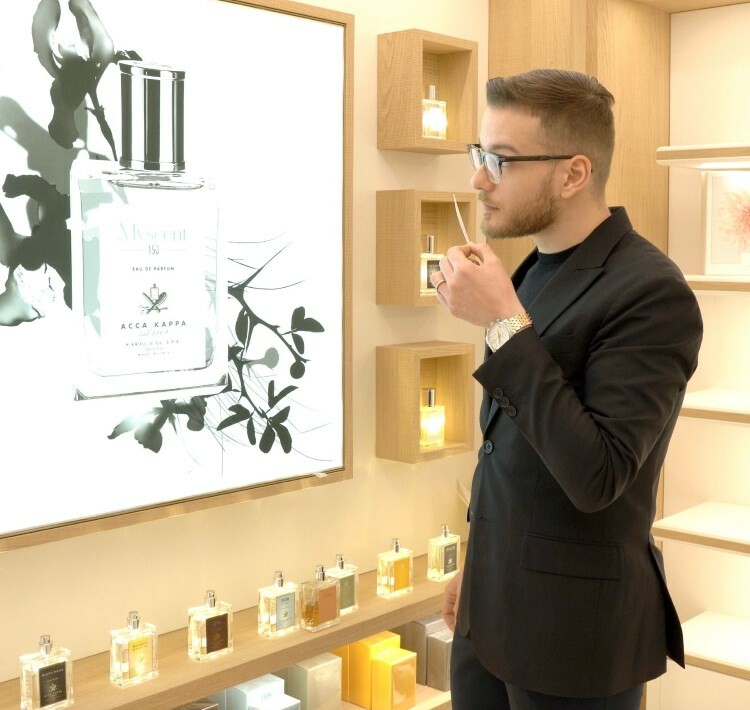 Pictured: Andrea at the ACCA KAPPA Milan Boutique.
Choosing a new fragrance can be a very personal experience, but it can also make for a fantastic gift. Having worked as a client advisor at La Rinascente, Marco, do you have any advice for choosing a perfume for someone else? What do you think makes fragrance such a great gift?
(M): Actually, choosing a fragrance concerns a very personal and emotional part of ourselves; that's the reason why, in case of a gift, we have to think about the personality, particularities and habits of the person receiving the gift. I think it's better not to follow "trends", but asks about who intimately is the person who will receive that present; as a client advisor, the first part of conversation should be about anything but the product in itself; take some time, find a quiet corner where you can talk, and discover this information. In the end, the meaning of the gift will be like "I took time to think about you: this fragrance represents the best part of you"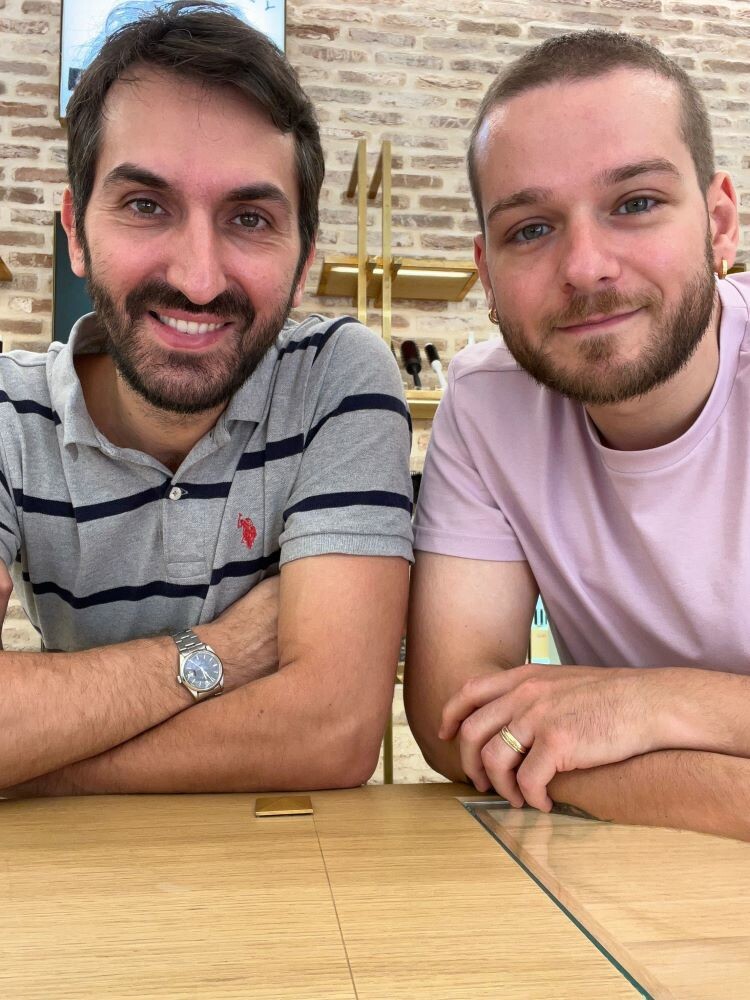 Pictured: Marco & Andrea at the ACCA KAPPA Milan Boutique.
Do you think there is such a thing as a ''signature scent'' and with the same sentiment, can you ever have too many fragrances?
(M): Surely each of us could has a signature scent which perfectly fits with the our personality; a perfume that tells something about you even before you meet someone else.
At the same time we are not the same person in every age, in every day or occasion; a fragrance can also adapt to our mood or wishes, so we can use very different fragrances for different situations: perfumes are never too many!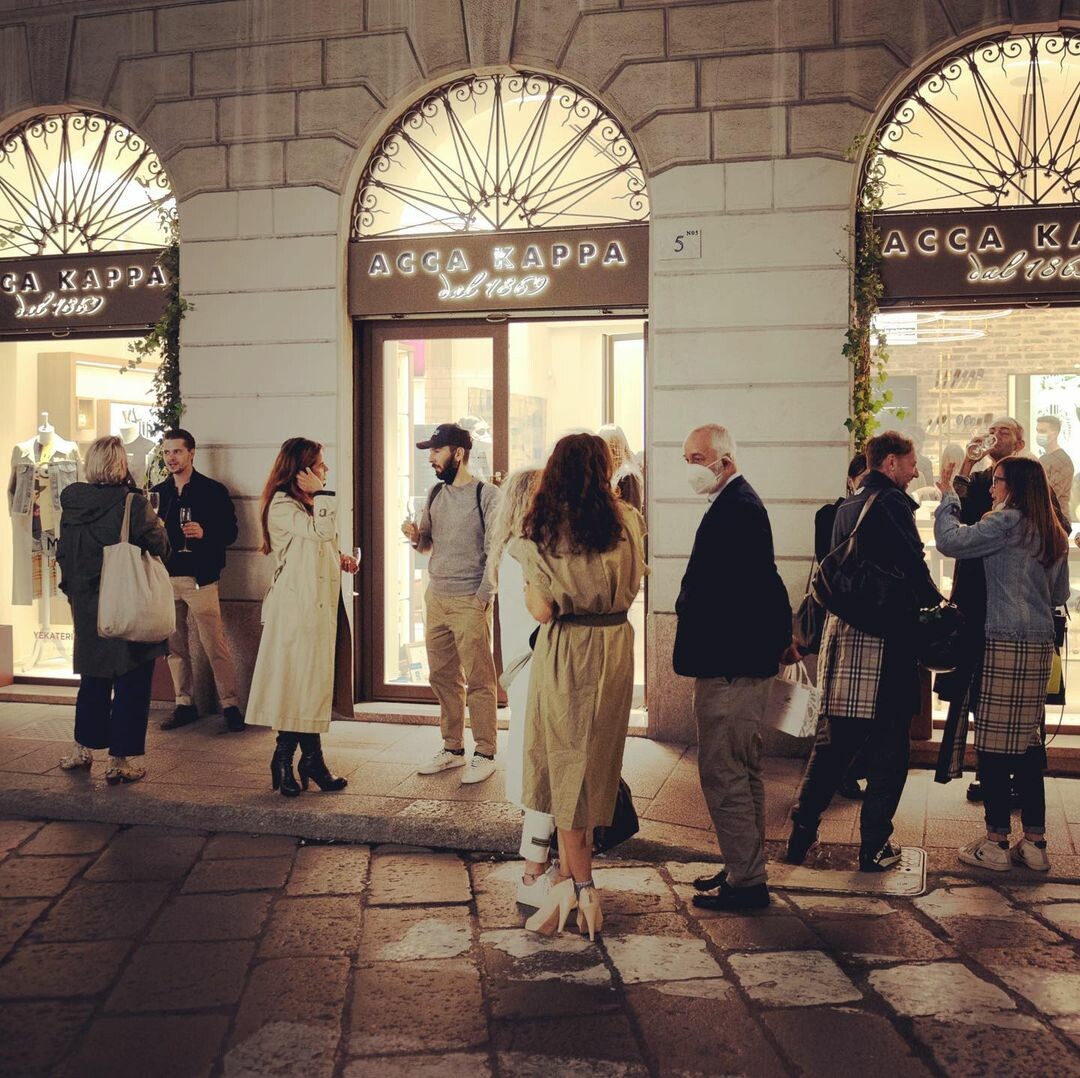 Pictured: The ACCA KAPPA Milan Boutique.
Finally, positioned in the beautiful heart of Milan, do you find there are any particular fragrances men gravitate to in the store? Are there any clear favourites with customers?
(M): Be located in Brera, where arts, fashion and craftmanship mix together means finding refined and elegant men (local and tourist as well).
We noticed that our customers appreciate fragrances with a discreet charm and a strong personality at the same time; our timeless "1869" and "Muschio Bianco" are very well known, and also some artistic creations like "Black Pepper and Sandalwood" by Luca Maffei are best sellers.
Like what you're reading? Why not checkout some of our other blogs?
The Acca Kappa Beechwood Hairbrush... Learn More
Q&A with Elisa Gera... Learn More
Training your Scalp Back to Health... Learn More