07

Jun

The ACCA KAPPA Barbershop Collection
Fragranced with invigoratingly fresh peppermint, the Barbershop collection is one of ACCA KAPPA's most extensive ranges and features a whole host of treatments: From beard and haircare to shaving products and styling gels. Enriched with natural extracts, the collection's key ingredient Peppermint makes for a refreshing and restorative experience, an energizing addition to your daily rituals and routines.
See below as we explore the range!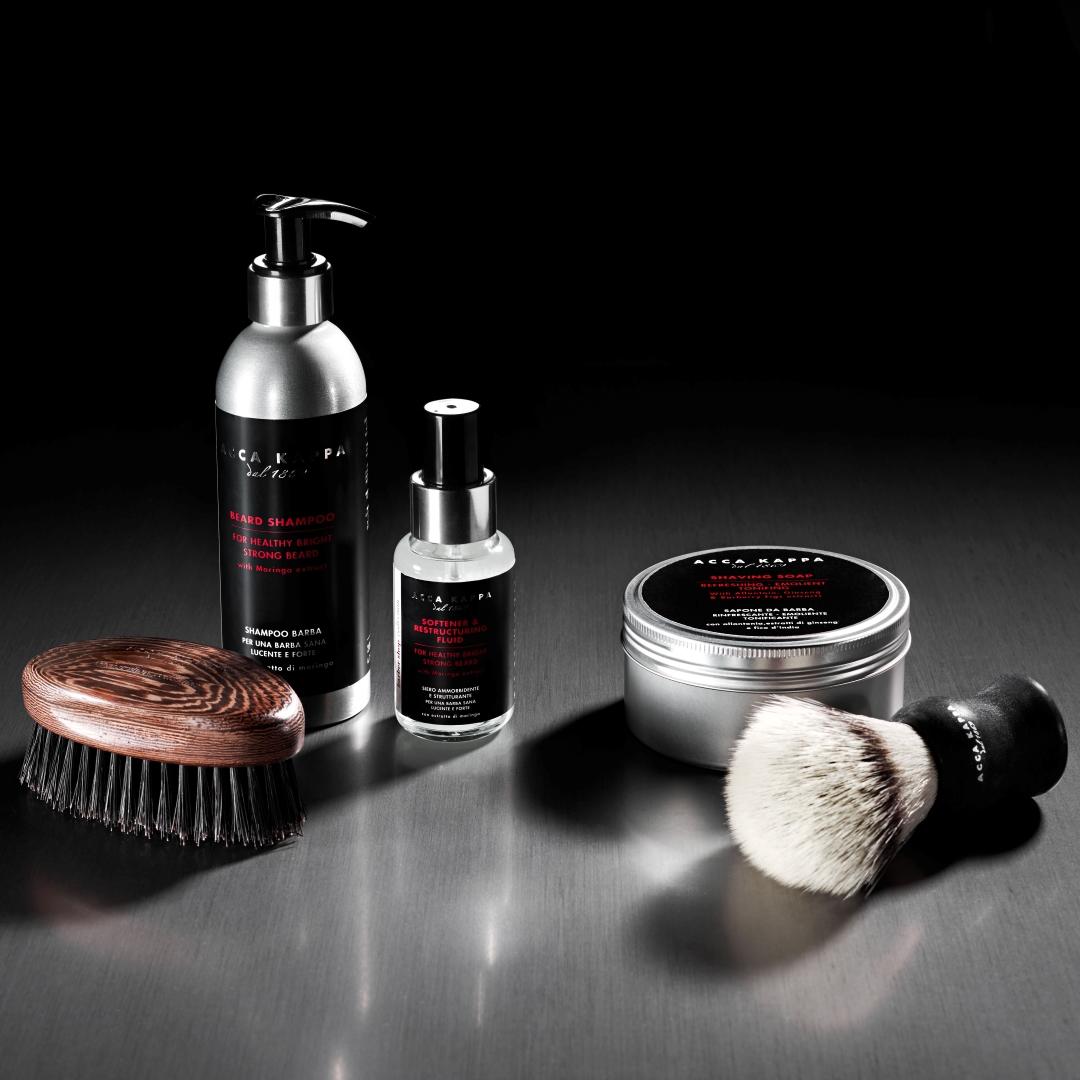 The ACCA KAPPA Barbershop Collection featuring Beard Shampoo, Beard Fluid, Beard Brush, Shaving Soap and Shaving Brush
The Shaving Collection
Complete with Transparent Shaving Gel, Shaving Soap and Vitamin Enriched Aftershave Balm.
Fantastic for achieving sharp lines and second passes, the ACCA KAPPA Transparent Shaving Gel allows you to see exactly where you're shaving. Ensuring a close comfortable shave, the shaving gel contains witch-hazel and chamomile for a soothing, moisturising experience: free from irritation and redness. More of a traditionalist? No problem! Ideal for direct lathering and storing, the Barbershop Shaving Soap is presented in a neat metal tin, ensuring the soap is kept fresh in between shaves. Providing a thick, creamy lather the soap has a high concentration of glycerine which simultaneously moisturises and allows the blade to glide smoothly over the skin.
As moisturising as any shaving product can be, shaving of any kind can be a trauma to the skin, so it's always a good idea to follow up with a nourishing post-shave balm or lotion. Formulated using Argan and Wheat Germ Oil, the Vitamin-Enriched Aftershave Balm nourishes and soothes encouraging the skin to heal post-shave, restoring and regenerating for long-term protection. Helping eliminate shine, the balm is fragranced with natural peppermint oil adding a zing of freshness to any shave routine!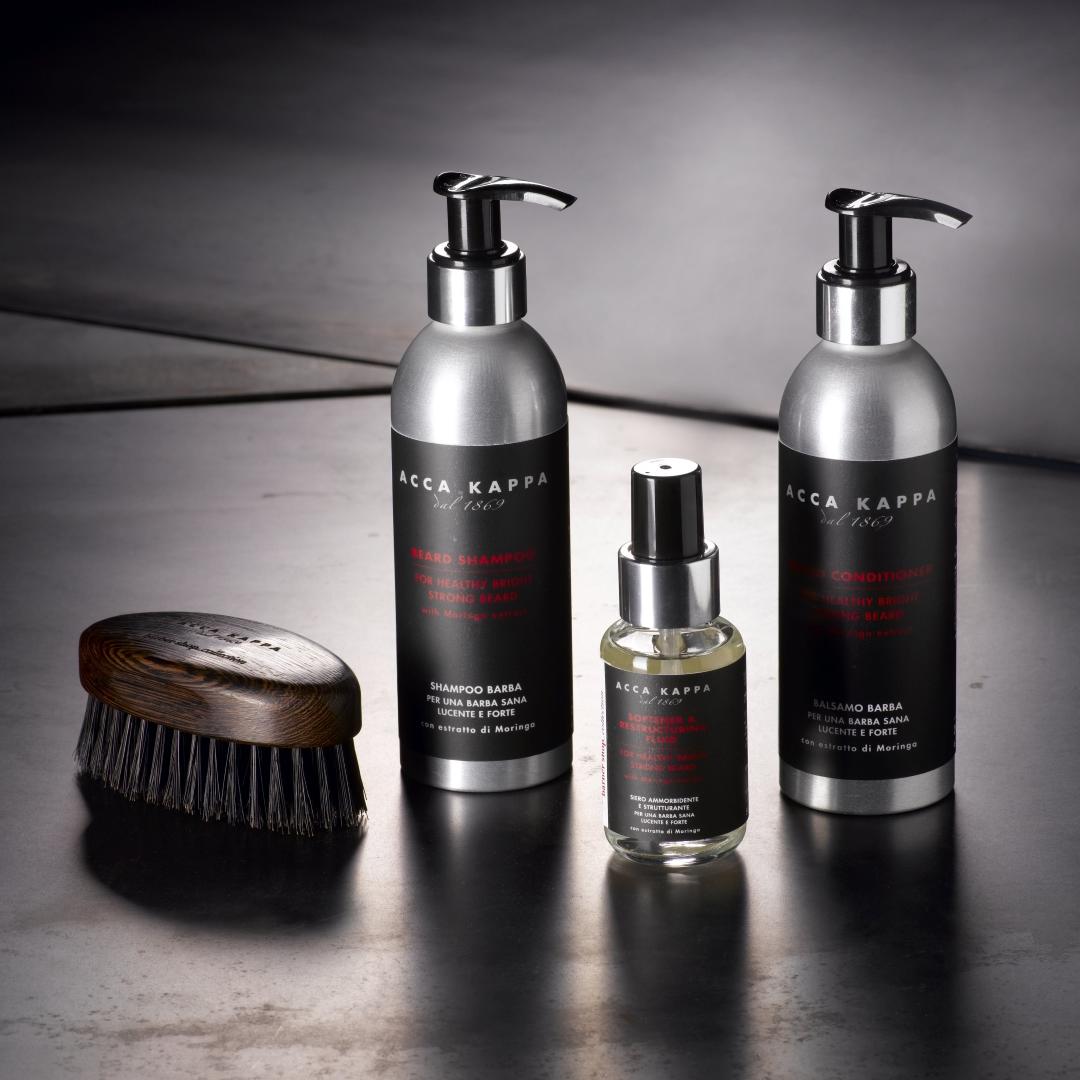 The ACCA KAPPA Barbershop Collection featuring Beard Shampoo, Beard Conditioner, Beard Fluid and Beard Brush
The Beard and Moustache Collection
Complete with Beard Shampoo, Beard Conditioner, Beard Serum, Moustache Wax and Beard Brushes.
Providing targeted treatments that nourish, soften and tame Moringa extract is undoubtedly the star-ingredient of the beard range. Renowned for its anti-pollution properties, the oil (similar to olive oil) captures impurities and surrounds them with flocks that then sink, washing away with the water for a sparkling clean finish. Featured in the Beard Shampoo, Conditioner and Serum, Moringa extract helps leave hair soft and healthy for a thick, full and well-groomed beard. Not only great for hair, the beard range has also been designed to be ultra-gentle on skin too. Formulated with both argan and linseed oil, the leave-in beard serum is especially nourishing, hydrating the skin as it tames and smooths hair.
To help you achieve your ultimate look, the range also includes hand-crafted wenge beard brushes and a shea butter-rich moustache wax to style!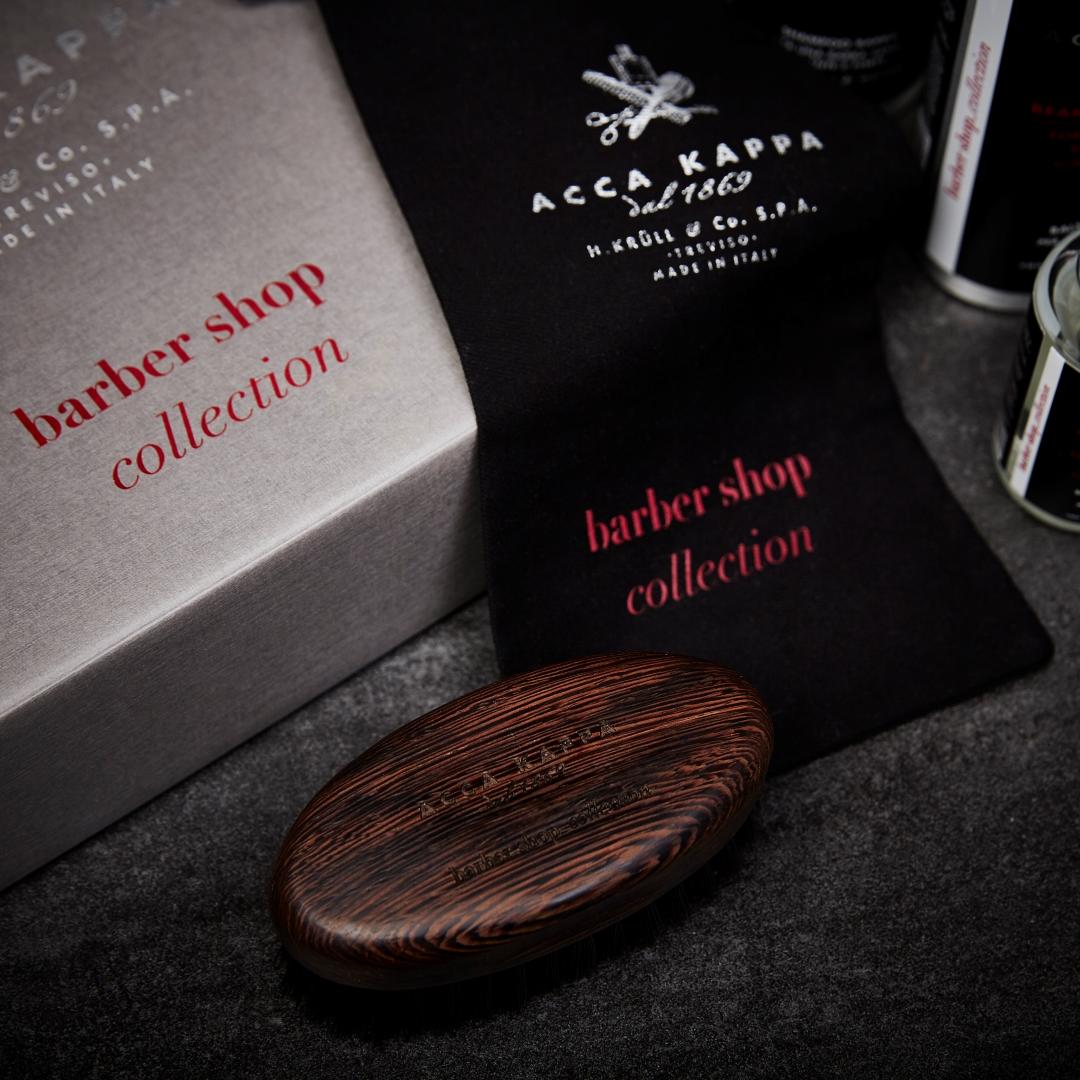 The ACCA KAPPA Barbershop Collection Beard Brush
The Hair Care Collection
Complete with Men's Shampoo, Gel Wax, Matt Wax and Water Wax
Formulated with wheat proteins, the Barbershop Shampoo for Men is undoubtedly the essential must-have of the hair care collection. Unique in its film-forming action, the shampoo helps to protect, strengthen and prevent hair breakages. Featuring menthol for an invigorating and refreshing experience, the shampoo also contains Ginseng which boasts an effective stimulating action, improving hair growth and delaying loss.
And for a finishing look, choose from our three waxes to find your perfect hold and style…
Styling Water Wax: Medium hold and high shine, this wax is perfect for creating vintage looks. The wax can also be combined with Gel Wax for a stronger hold.
Styling Matte Finish Wax: Strong hold and matt finish, the finishing wax is great for styling as well as creating messier textured looks. Non-greasy and washes out easily.
Styling Gel Wax: Extreme hold and excellent for creating highly structured looks that last. Also recommended for curly hair.
Plus, featured in our latest 'Try Me' promotion, the entire range is now available at 20% off throughout June 2021!
Like what you're reading? Why not checkout some of our other blogs?