23

Jan

The Acca Kappa Classic Hairbrush Collection
Beautifully hand-crafted from quality raw materials: Acca Kappa will always be first and foremost a brush-making company. An essential for daily care and pneumatic brushing, our Classic Collection brushes need no introduction - but let's give them one anyway.
Helping to reduce stress hormones and increase the production of serotonin, it's important to remember how joyful the daily ritual of brushing your hair can be. Made from hand-finished Kotibé wood, the brushes feature a rich red-brown Mahogany colouring and smooth, ergonomic handle. Complete with a natural rubber cushion, our Classic collection brushes help absorb and distribute pressure evenly to provide a gentle brushing action on the hair and scalp.
Where does Kotibé wood come from?
Found in West and Central Africa, the exotic species is found in evergreen and shaded forests with the winged seeds dispersing on the wind.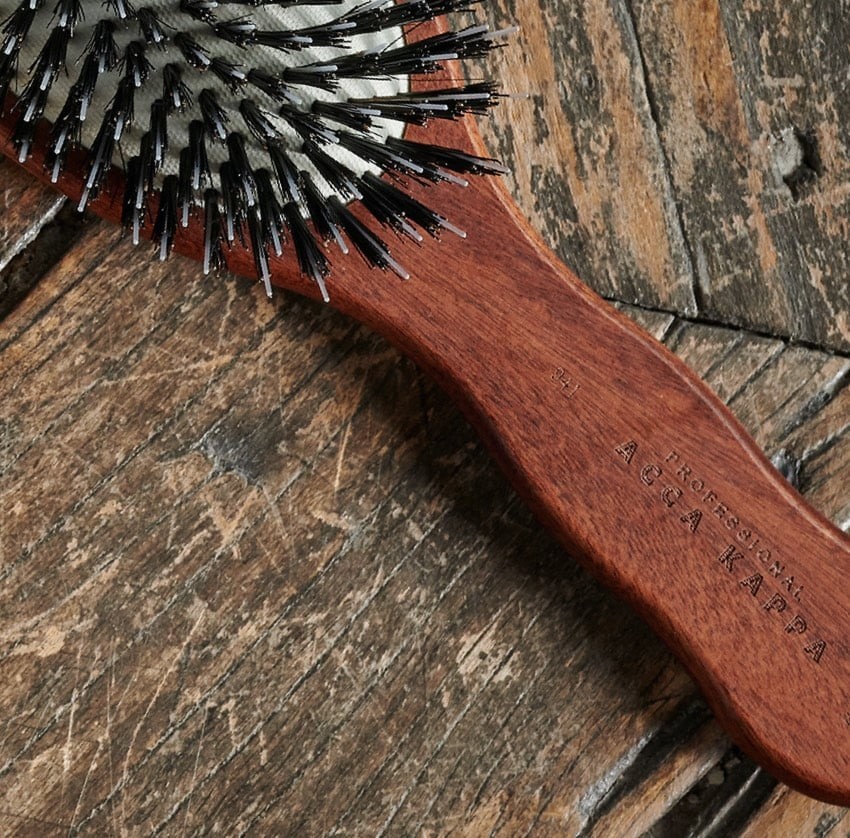 The Acca Kappa Classic collection brushes, made from hand-finished Kotibé wood
Featuring three different types of bristle finishes, from pom pin for detangling to natural bristle for smoothing, each brush is perfectly suited to its own purpose. Have your Goldilocks moment and use the guide below to find the best brush for your hair!
Natural Bristle
Made from 100% pure boar bristles, these brushes are ideal for thin to medium-thickness hair. Adding sheen and volume, natural bristles effectively work the scalp's sebum down the length of the hair keeping it healthy and hydrated. Redistributing oil, the bristles help to remove any trapped scale, dirt or pollution from the scalp leaving hair polished and shiny.
Shop the Classic Collection, Natural Bristle Brush here.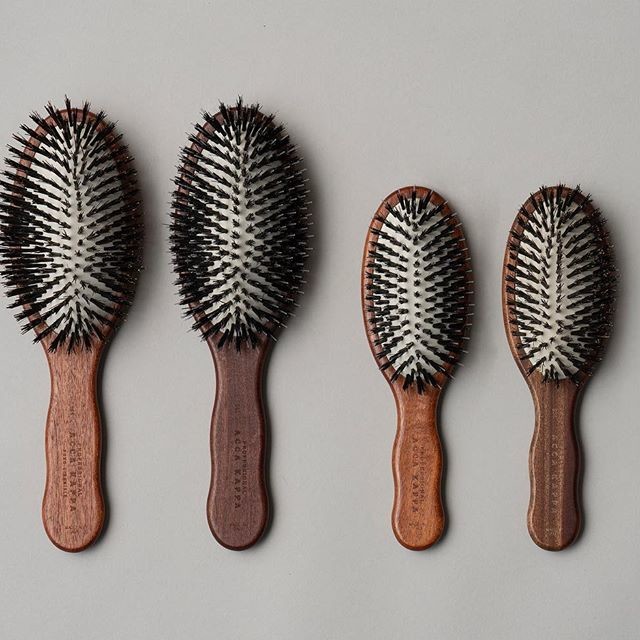 The Acca Kappa Classic collection brushes, featuring pure and mixed (porcupine) bristles/p>
Porcupine
Also known as mixed bristle, these brushes are made from pure boar bristles and nylon monofilament and are ideal for thin to medium-thickness hair. Designed to protect the hair's natural beauty by reducing damage and breakage, porcupine or mixed bristle brushes maintain all benefits of a pure bristle brush whilst providing additional detangling capabilities. Gently polishing, the additional nylon filaments delicately untangle and effectively penetrate thicker hair helping to tidy from the roots to the ends.
Shop Classic Collection, Porcupine Brushes here.
Top Tip:
If you have thicker hair, but you're after the gentle polishing qualities of a porcupine brush, we recommend the Classic Extension Brush, designed with hair extensions in mind, it's also fantastic for thick or curly hair! Shop the Class Extension Brush here.
Pom Pin
The vegan-friendly natural bristle alternative, pom pin brushes are fantastic detanglers and are ideal for all hair types, even thicker hair. Featuring rounded epoxy tips, pom pins delicately massage the scalp helping to improve micro-circulation. Effectively penetrating even thicker, pom pin brushes are perfect detanglers and the heat-resistant design makes them ideal for preparing the hair for styling. Lightweight and easy to clean, these brushes can even be used on wet hair.
Shop Classic Collection, Pom Pin Brushes here.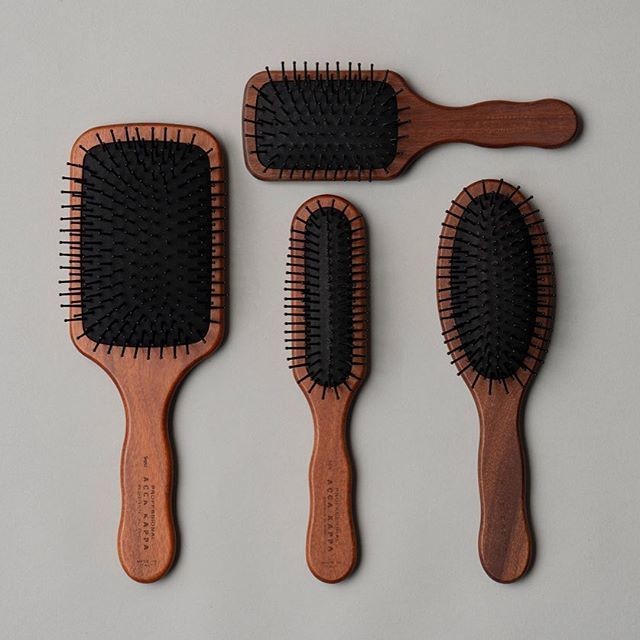 The Acca Kappa Classic collection brushes, featuring detangling pom pins
Finally, when it comes to the shape of your brush the most important thing to remember is: The larger the brush pad, the more hair the brush can handle at once! The Classic collection features rectangular, mini and travel-size brushes which are ideal for short to mid-length hair. Alternatively, for mid-length to longer hair, the full-size oval and paddle brushes are ideal.
Shop the whole range now.
Like what you're reading? Why not checkout some of our other blogs?