27

Aug

Artistic Aromatic Atmosphere Collection
Creating beautiful scent-scapes of fragrance, the artistic aromatic atmosphere collection by Acca Kappa weaves stories of experience and imagination for an exceptional home fragrance collection. Formed from five unique scents, each has its own personality and story, exploring the paths where art and nature interweave for five memorable olfactory experiences. Inspired by Gianni Sartor's paintings and patterns, the packaging for this collection perfectly expresses the harmony between fragrance and art in creative home decoration.
Available as either 250ml ambient fragrance diffusers (presented in glass bottles with an oak wooden cap) or generously sized 180g paraffin wax candles bottled in the finest glass.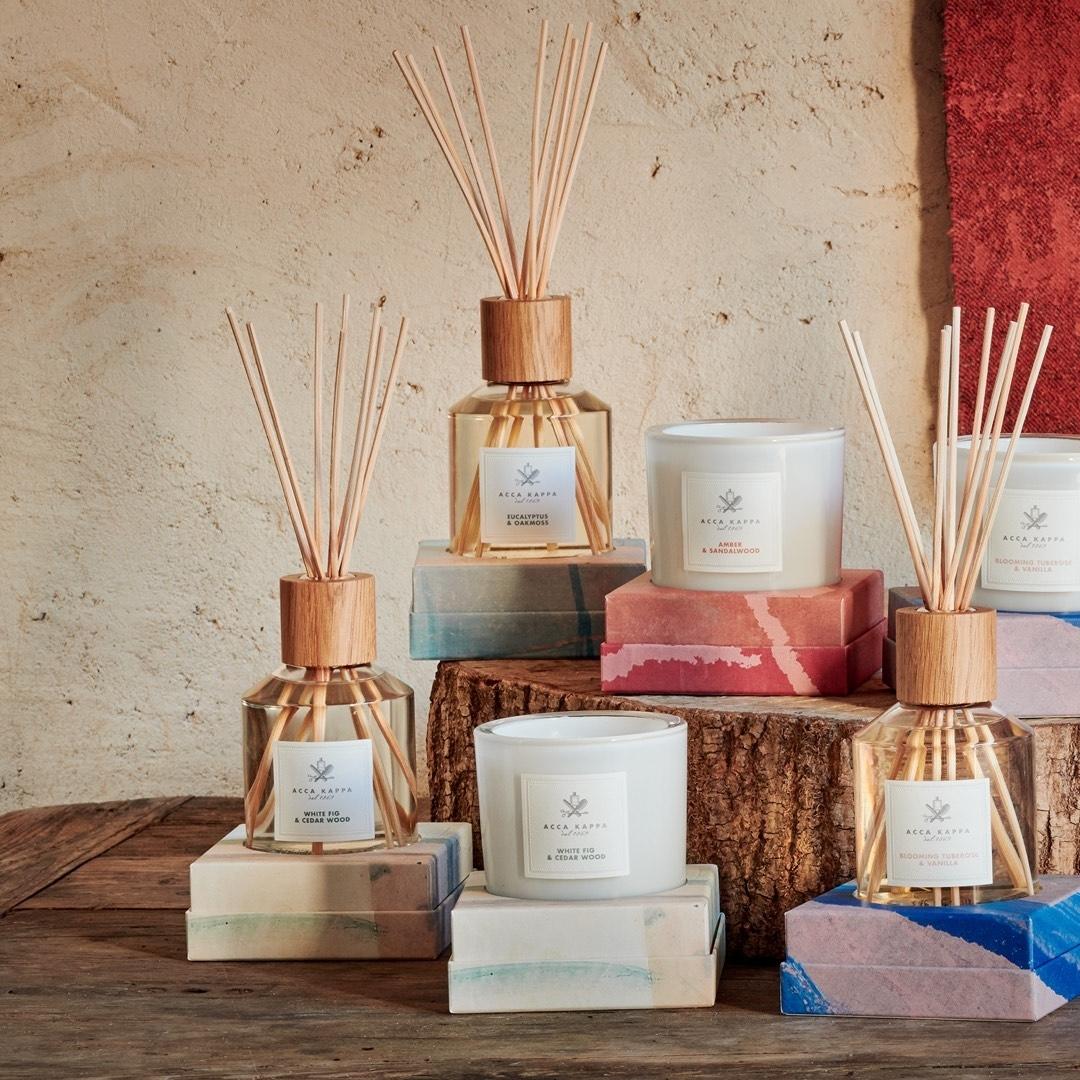 Artistic Aromatic Atmosphere Collection by Acca Kappa
The Fragrances
White Fig & Cedarwood
Structured around the creamy sweetness of the fig tree, this fragrance introduces the floral facets of freesia to both compliment and enhance the fragrant fruit. Warmed by the powdery richness of amber and the aromatic woodiness of cedarwood the scent is balanced by the fresh, cucumber-like violet leaf and intense green notes of galbanum to capture the sweetness of a warm summer breeze. A charming, Mediterranean fragrance.
Available as candle and diffuser, shop here.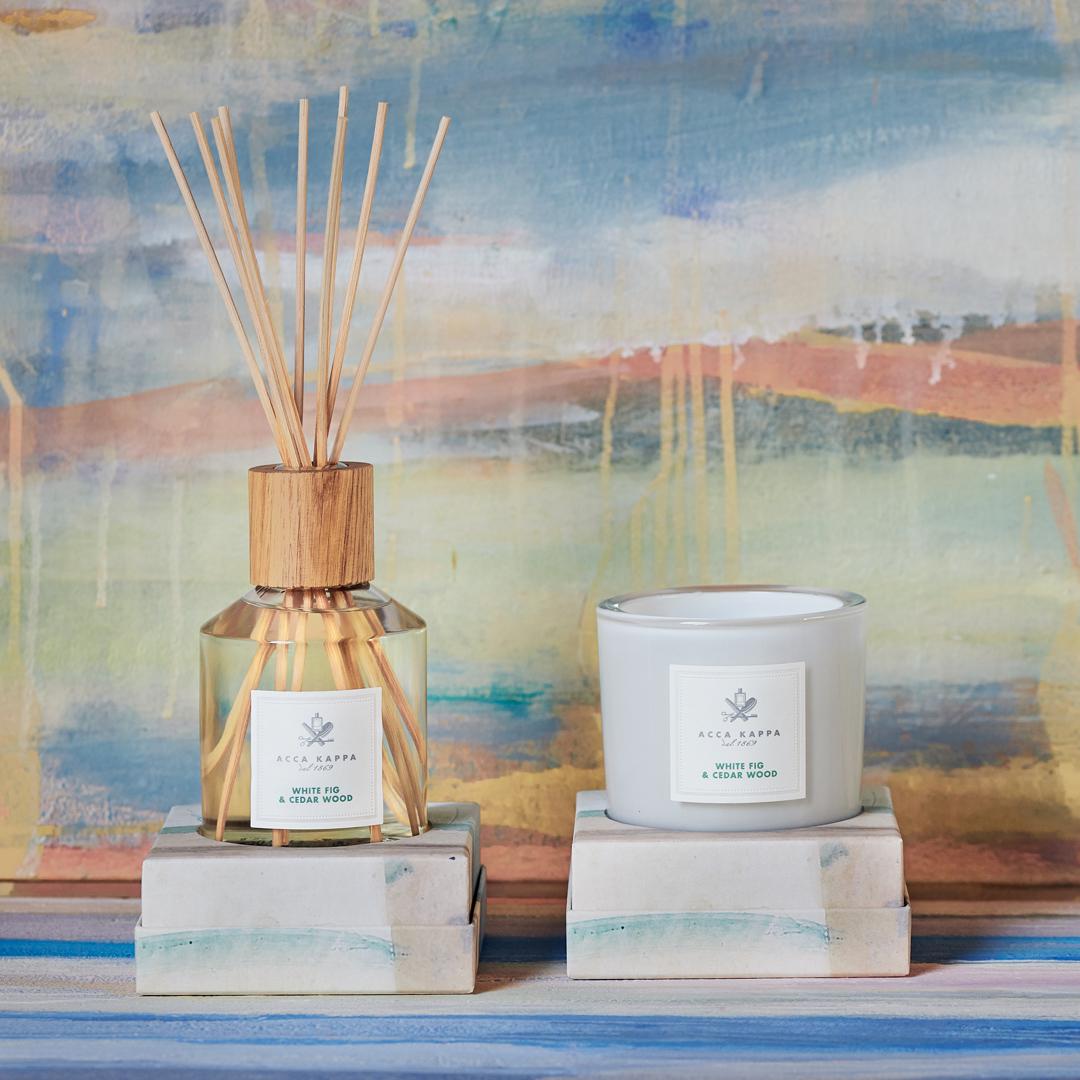 The White Fig & Cedarwood diffuser and candle by Acca Kappa.
Blooming Tuberose & Vanilla
Opening with the almost spicy freshness of lily of the valley, this fragrance delicately blends floral jasmine with the intoxicating scent of tuberose for an exciting, refined finish. Warmed with the comforting embrace of vanilla and benzoin, the fragrance encourages you to breathe deeply from a deliciously delicate bouquet of white flowers.
Available as a diffuser, shop here.
Amber & Sandalwood
The warm and seductive hint of amber, blended with full-bodied sandalwood and sweet-tempered vanilla, create an exciting fragrance graced with an oriental edge. Earthly essences of patchouli turn the air brightly colourful, before all merging into the passionate, spicy embrace of incense. A rich and comforting fragrance, invoking thoughts of an ember-lit fireside: cosy and warm.
Available as a diffuser, shop here.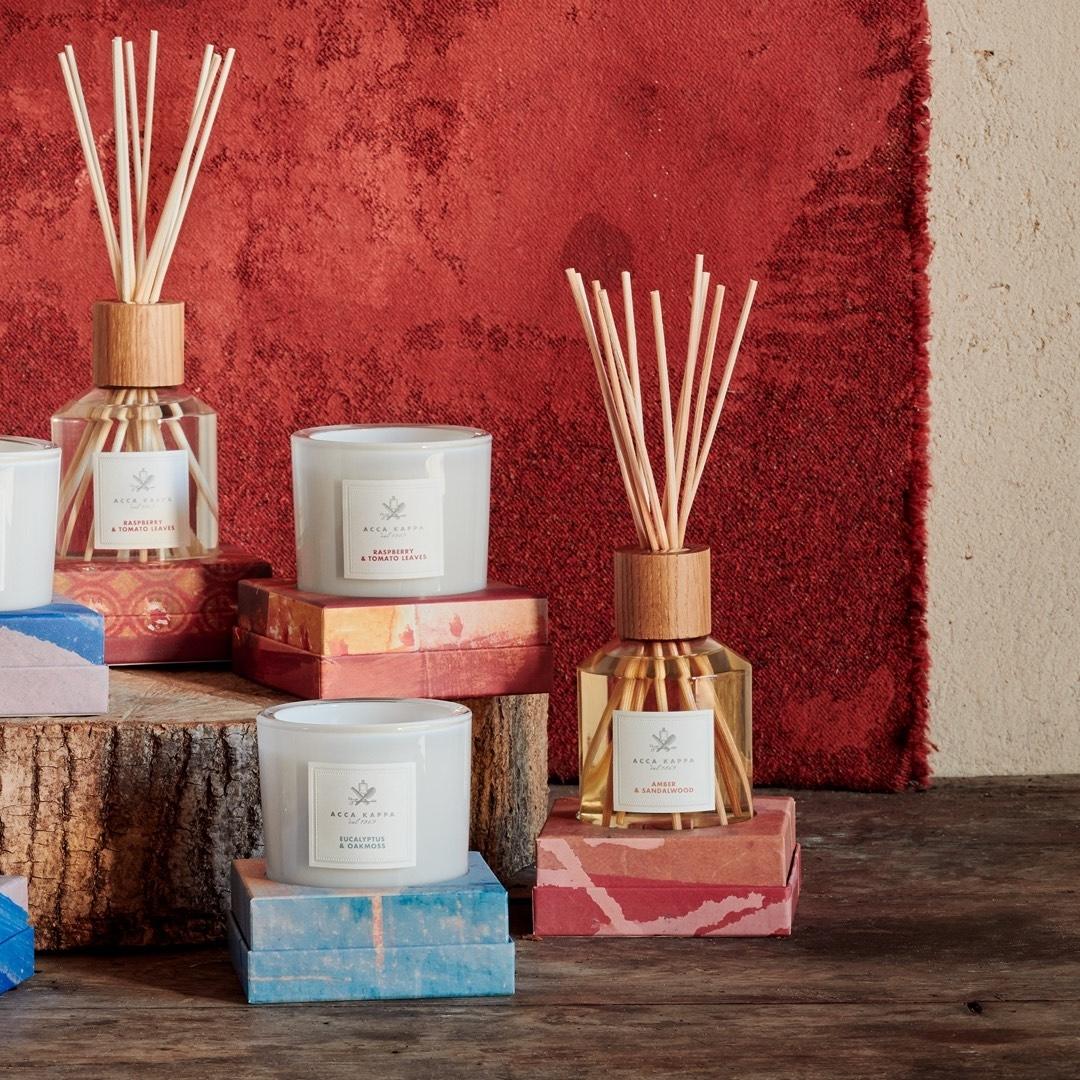 The Amber & Sandalwood diffuser and candle by Acca Kappa
Eucalyptus & Oakmoss
Find yourself immersed in the sweet, sharp scents of an aromatic pine forest. Evoking thoughts of a shaded forest floor, the strong earthy aromas of oakmoss blend with the restorative sharpness of minty eucalyptus to leave you feeling regenerated, healthy and serene. An atmospheric fragrance, wondrous memories of woodland strolls are warmed with touches of spicy clove and the comforting sweetness of tonka bean.
Available as candle and diffuser, shop here.
Raspberry & Tomato Leaves
Blending fresh, earthy scents of tomato leaves with the juicy sweetness of raspberry this fragrance is both tangy, sweet and invigoratingly fresh! Evoking the delightful warmth of sun-baked earth, this fragrance has all the cheer and glow of long summer days.
Available as candle and diffuser, shop here.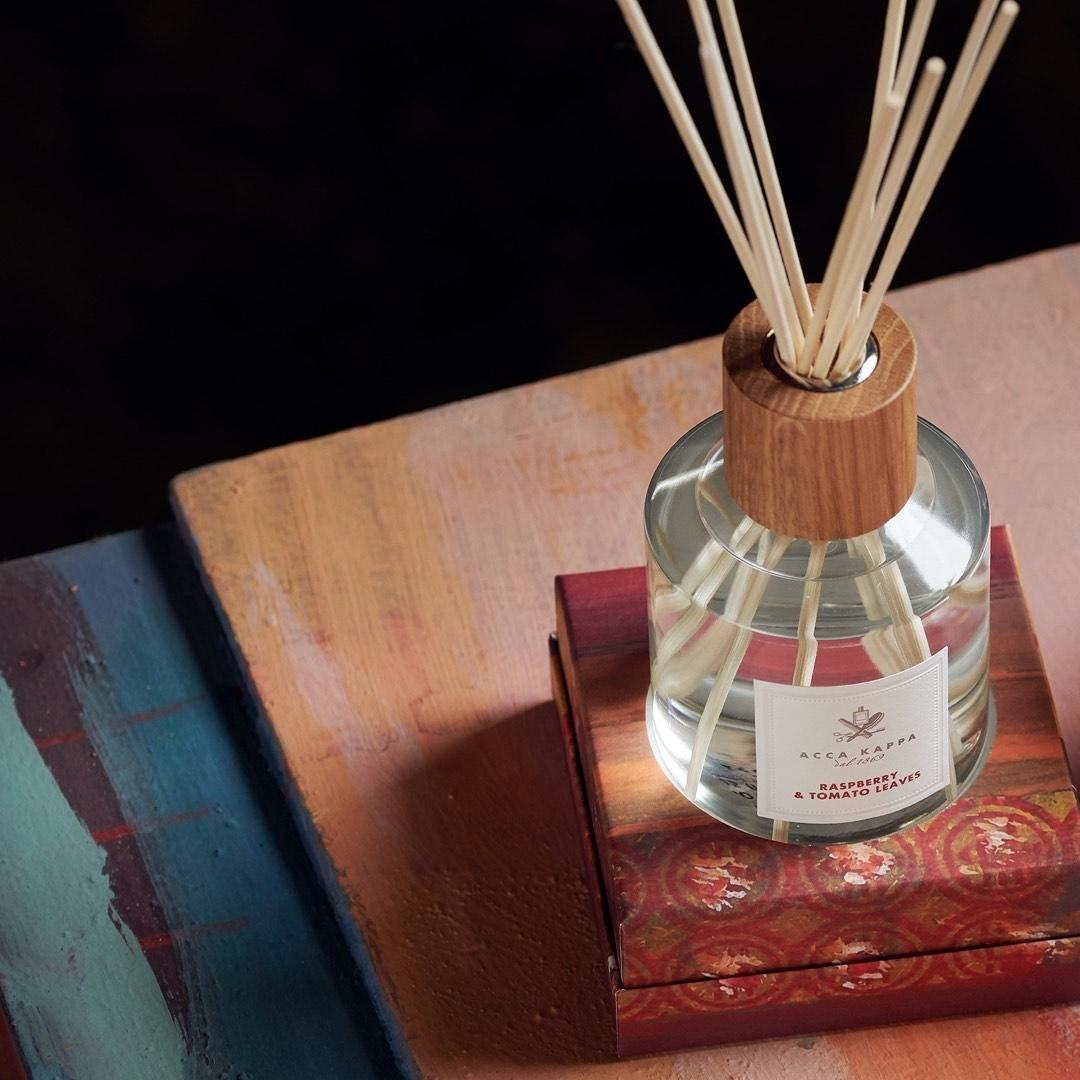 The Raspberry & Tomato Leaves diffuser by Acca Kappa
Like what you're reading? Why not checkout some of our other blogs?