05

Mar

The Benefits of a Great Hairbrush
Long-lasting and crafted from exceptional materials, the benefits of a great hairbrush should never be underestimated. Whilst hair products, styling and colourings usually take centre stage in our hair care routines, it is important to remember the difference a quality brush can make in terms of both our hairs appearance and, more importantly, health. Combining sustainable raw materials with ergonomic beauty, the expansive ACCA KAPPA brush collection explores different hair concerns with targeted solutions for every need. Finding the brushes that are right for you is something we always feel is a worthy investment, so whether you're looking for a polishing, detangling or massaging brush we are sure to have something for everyone- as we know, that when it comes to brushes, one-size most certainly does not fit all! See below as we explore the benefits of a great hairbrush, and which brushes, in particular, are best paired with every benefit.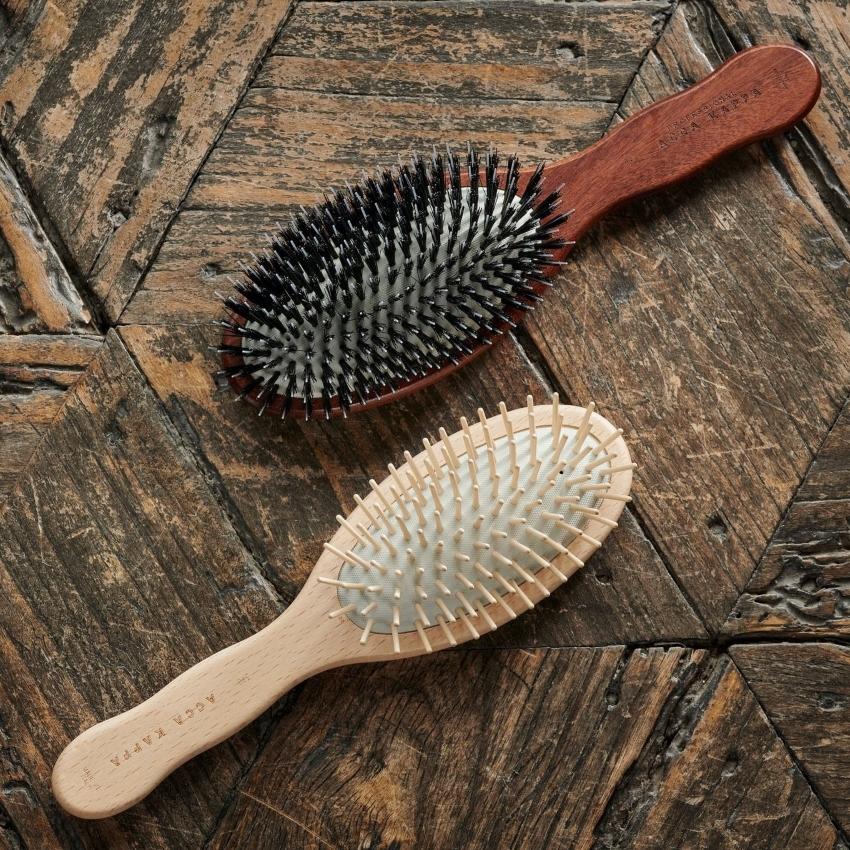 Pictured: The Beechwood Pneumatic Oval Brush and Kotibe Wood Pure Bristle Brush with Nylon Monofilaments by ACCA KAPPA
1# Creates Natural Shine
Restoring the hair's natural shine, the right brush can help keep hair healthy and hydrated. Achieved by redistributing oils and sebum from the scalp down the length of your hair, brushing can help control oil build up around the scalp resulting in a less oily root appearance. Particularly effective at adding sheen and volume, our choice of brush would be natural boar bristle. Having a molecular composition similar to that of hair, natural boar bristle brushes are ideal for gentle polishing and styling. Producing less friction, natural boar bristles help limit the small everyday damages usually caused by brushing and help maintain the delicate hydrolipidic balance of the hairs structure.
We recommend…
Perfect for thin or fine hair, the Kotibe Wood Pure Bristle Brush creates a gorgeous natural, silky shine. For those with thicker hair, the Kotibe Wood Pure Bristle Brush with Nylon Monofilaments offers a great intermediate between detangling and finishing brushes. Whilst natural bristles add shine, the long nylon monofilaments help penetrate thicker hair for complete styling.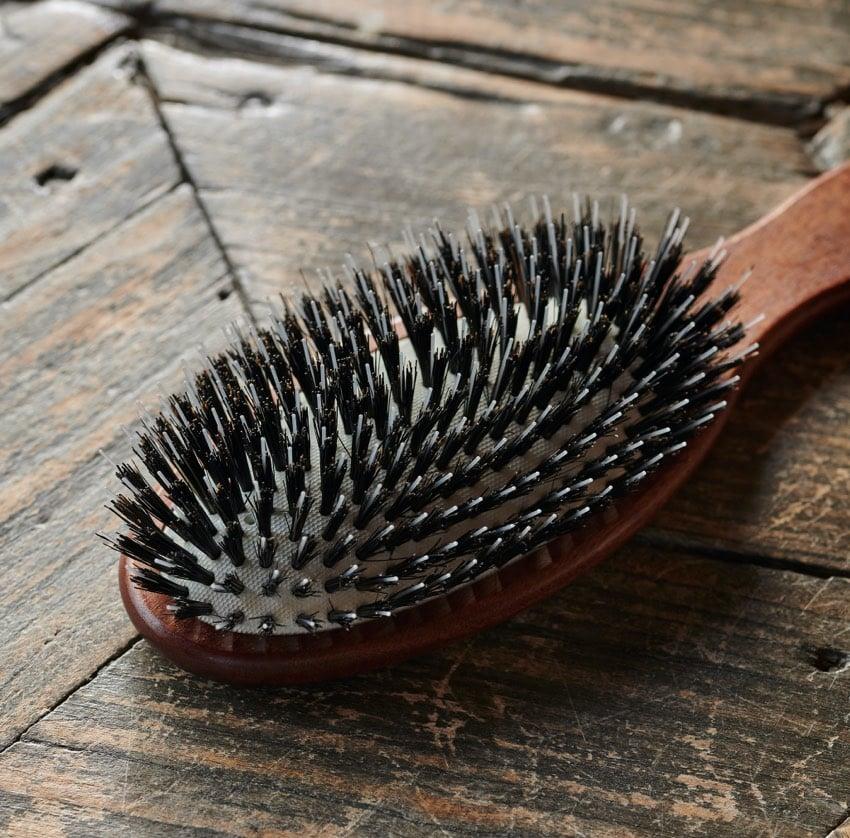 Pictured: The Kotibe Wood Pure Bristle Brush with Nylon Monofilaments by ACCA KAPPA
2# Scalp Stimulation
Another important benefit of daily brushing, scalp stimulation can help boost your mood and reduce muscle tension. Promoting micro-circulation to the hair follicles, stimulation of the scalp also works to encourage natural hair growth for an overall healthier hair appearance. Aligning themselves more with detangling and massaging, the daily brushes most effective at scalp stimulation usually feature some form of wooden or pom pin to best encourage micro-circulation.
We recommend…
Made from Beechwood, our Pneumatic oval brush features cone-shaped wooden pins to help penetrate the hair, while the rounded tip of each wooden pin gently massages the scalp. For finer or more delicate hair, our ever-popular protection brush is another fantastic alternative. Featuring special Nylon Looped bristles, the brush moves easily through the hair, effectively detangling without damaging the structure for a gentle, stimulating scalp massage.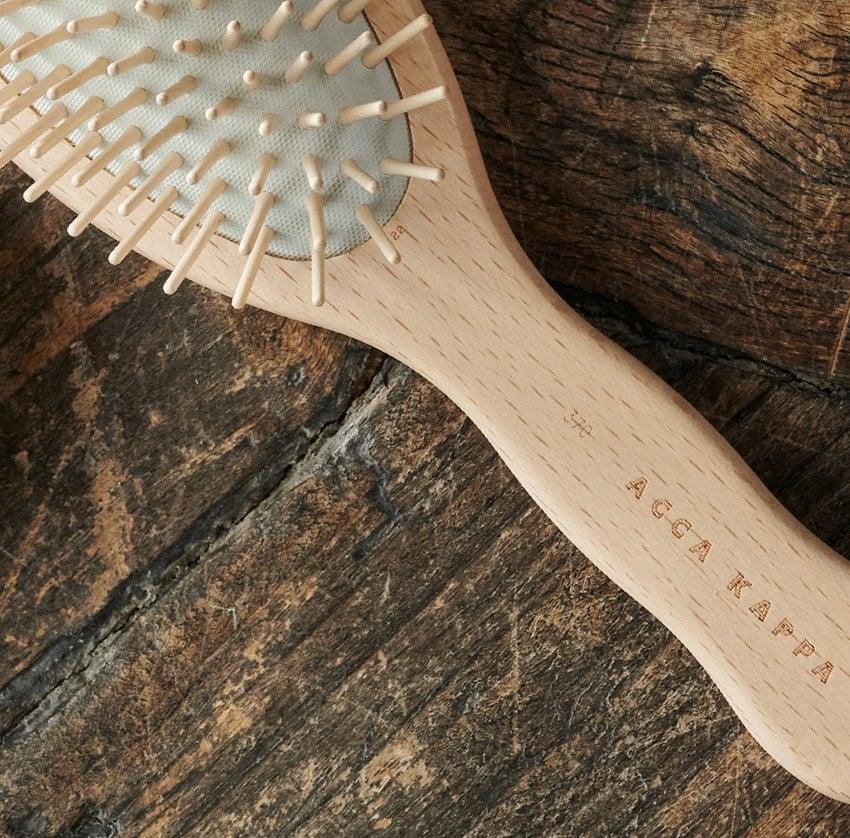 Pictured: The Beechwood Pneumatic Oval Brush by ACCA KAPPA
3# Scalp Health
On a similar topic to scalp stimulation, a great hairbrush can also be crucial in achieving an overall healthier scalp. Of course, it seems obvious that a healthy scalp is an essential part of healthy hair, but many of us spend so much time looking at our hair that we forget what's underneath it. Helping to remove loose hair, built-up product and debris, brushing your hair before washing (or during washing!) can make a massive difference in helping to combat dandruff, seborrheic dermatitis and psoriasis by aiding in the removal of dead skin cells from the scalp.
We recommend…
Suitable for both dry and wet hair, the airy no 2 features innovative bi-level soft pins that gently untangle whilst the flexible trident distributes pressure evenly across the scalp. Easy to clean, the brush is fantastic to use in the shower and can help gently tackle any build-up or dead skin.
4# Gentle Care for Curls, Waves and Extensions
Often a nemesis for curly hair, dry brushing can cause damage and destroy natural bouncy curls. All dependent on the right brush, choose well and it can have a huge impact on the appearance of your curls. Helping smooth and separate ringlets, brushing can not only detangle but also help define curls for hair that's healthier and stronger.
We Recommend…
Designed to protect the hair's natural beauty by reducing damage and breakage, the ACCA KAPPA extension brush is ideal for thick and curly hair. Gently polishing, the extension brush features natural bristles that help polish and add shine- gently gliding through curls without pulling or stretching. Meanwhile, the nylon filaments gently untangle with their additional length effectively penetrating thicker hair helping to tidy from the roots to the ends. If you prefer to stick with more detangling and massaging brushes, the Natura Beechwood Brush could be just the ticket. Naturally anti-static, the brush avoids frizzing whilst the wide-spaced pins gently detangle. Perfect for penetrating even the thickest of curls.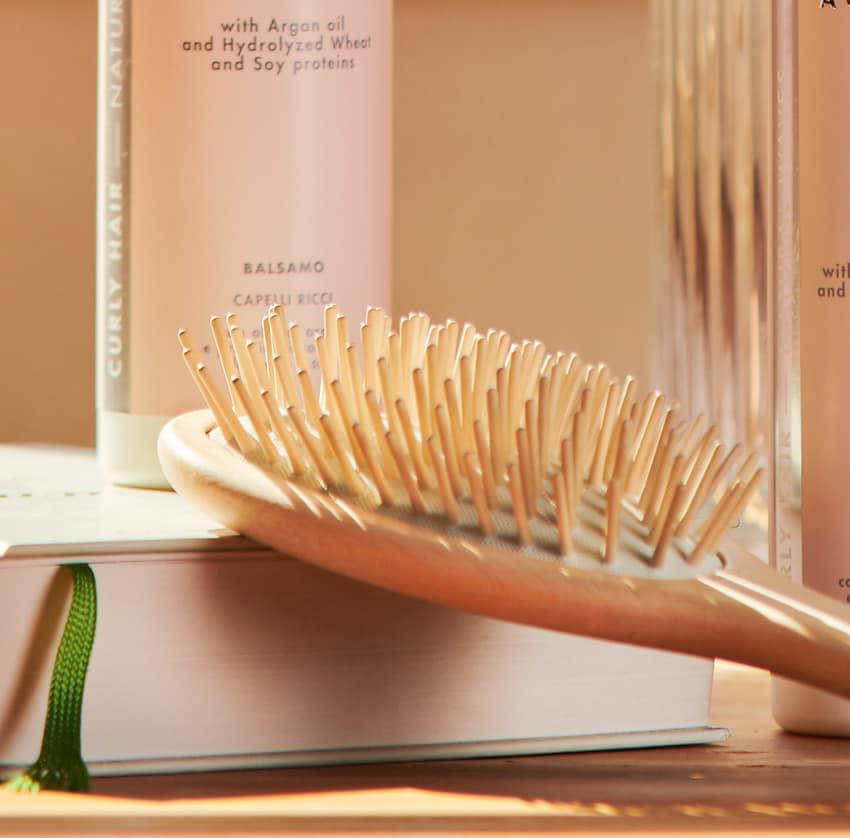 Pictured: The Beechwood Pneumatic Oval Brush by ACCA KAPPA
5# Joyful Experience
Arguably the most essential aspect of a great hairbrush, it's important to remember how joyful this small daily ritual can be. Helping to reduce stress hormones and increase the production of serotonin as well as lower blood pressure, a great hairbrush can have a larger impact on more than just our hair!
We recommend...
The elegant ACCA KAPPA Edition range combines beautiful functionality with a touch of luxury. Available in stunning Silver or Gold, the brushes are complete with nylon pins with rounded epoxy tips to delicately detangle and massage.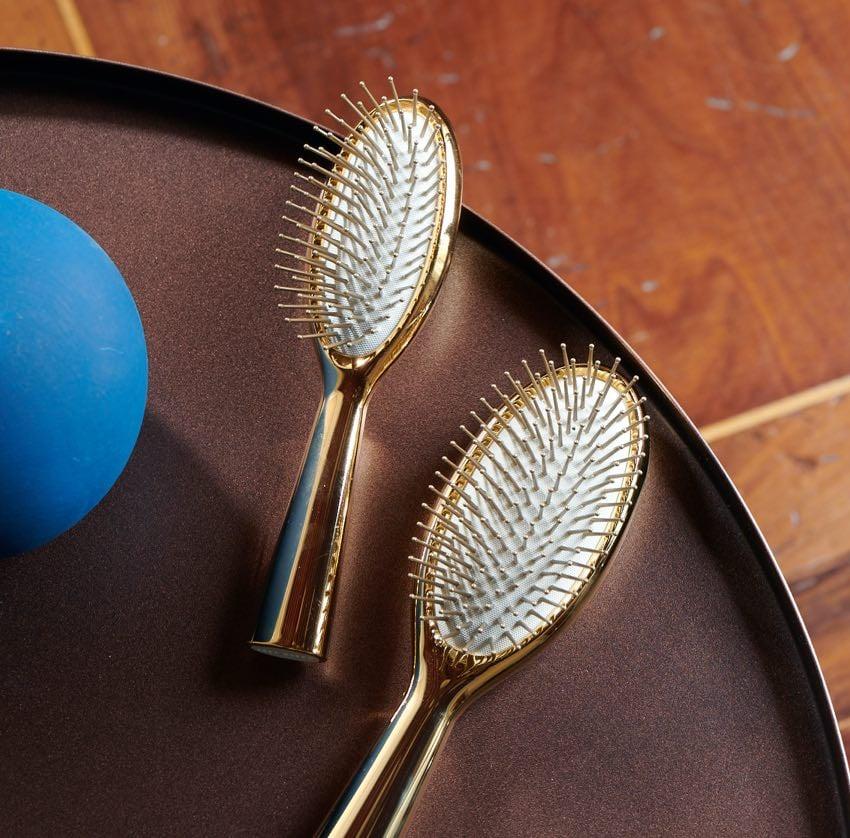 Pictured: The Special Edition Gold Finish Hairbrush by ACCA KAPPA
Like what you're reading? Why not check out some of our other blogs?