03

Sep

The Benefits of Scalp Stimulation
What was the thing you missed most about going to the hair salon during lockdown? Getting those roots lightened or darkened? That smart post-cut, post-styled feeling? Maybe it was the chat and the chance to simply sit for an hour so with no chores staring at you.
If the oh-so heavenly scalp massage, was right up there for you, then you're not alone. Many of us get so comfortable at the shampoo bowl that we actually doze off. You don't need research to tell you that scalp massages alleviate stress, when a hairstylist rubs your scalp with their fingertips in gentle circular motions the feeling is instant. If you find yourself craving scalp massage at home between hair appointments, then we've got a few pieces of good news for you:
Hairstylists recommend scalp massage as a regular part of your hair care regime
Scalp stimulation not only benefits the hair, it also has a positive impact on your skin and of course your mental health
You can easily make scalp stimulation part of your brushing routine, with the right tools and we've got some recommendations for you!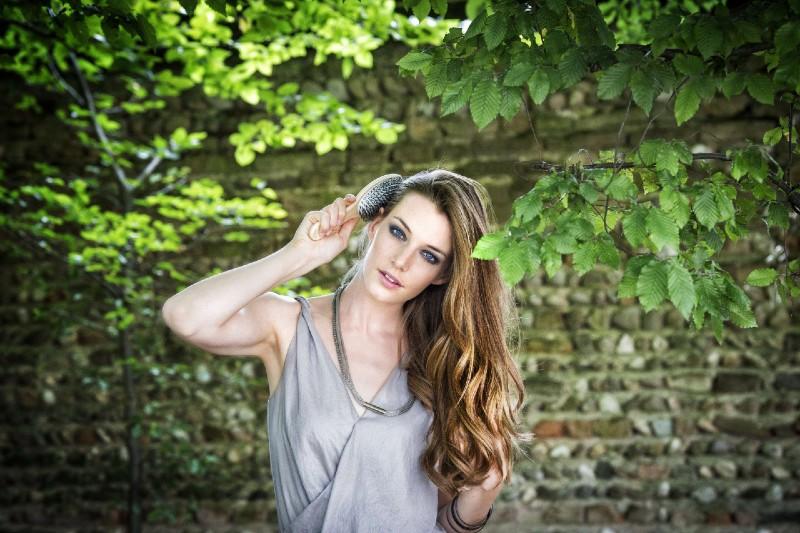 ACCA KAPPA Model uses Oval Protection Beech Wood Brush with Looped Nylon bristles to massage scalp
So, without further ado, here are some benefits scalp stimulation brings and our ACCA KAPPA recommendations:
1) Scalp stimulation reduces muscle tension and boosts your mood
Applying gentle pressure to the nerves on the skin's surface, particularly the scalp, is incredibly relaxing and engages our scalp muscles. Research shows that this stimulation can reduce stress hormones and increase production of serotonin as well as lower blood pressure.
ACCA KAPPA recommendation: Protection Beech Wood Nylon Oval Brush
The looped bristles on this sustainable brush (made from reforested beechwood) gently massage the scalp, stimulating micro-circulation, which also benefits the hair follicles. Also available in Extra Soft for particularly delicate or fine hair and as a Travel Paddle Brush. Pair with White Moss Hair Perfume for instant serenity.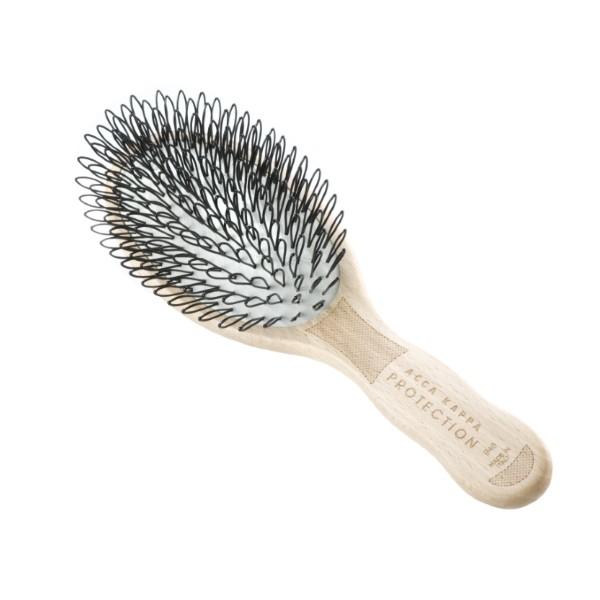 Protection Beech Wood Looped Nylon Oval Brush by ACCA KAPPA
2) Scalp stimulation helps to create a good environment for hair growth
Stimulation of the scalp promotes micro- circulation to the hair follicles, which in turn helps to ensure healthier hair growth. Of course, it seems obvious that a healthy scalp is an essential part of healthy hair, but many of us spend so much time looking at our hair that we forget what's underneath it.
ACCA KAPPA recommendation: Pneumatic Beech Wood Brush with Wooden Pins
Designed to reduce the structural damage to the hair while brushing, the cone shaped wooden pins easily penetrate the hair, while the rounded tip of each wooden pin gently massages the scalp. Beechwood is naturally anti-static and wooden pins allow for finger like brushing making it an ideal choice for frizz-prone or curly hair. Available in as a Travel Paddle brush, Large Oval, Travel Oval, Rectangular or Large Paddle (as pictured here) there are options for different hairstyles and lengths. This brush makes scalp stimulation an easy part of your brushing routine.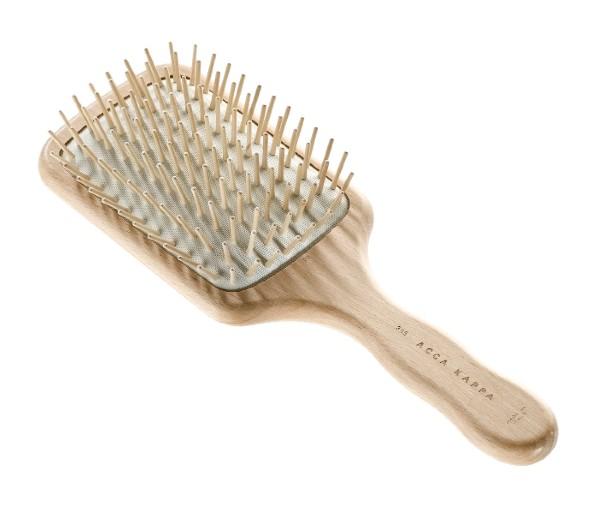 Pneumatic Beech Wood Paddle Brush with Wooden Pins by ACCA KAPPA
3) Scalp stimulation aids in the removal of dead skin cells from the scalp
There's nothing more frustrating than finding you have a flaky scalp after you have just washed and styled your hair. A flaky scalp can also sometimes worsen hair loss. Scalp stimulation is a great way to combat dandruff, seborrheic dermatitis and psoriasis by aiding in the removal of dead skin cells from the scalp.
ACCA KAPPA recommendation: AIRY 2
With innovative bi-level soft pins, Airy No. 2 is an ideal tool to help remove trapped build-up on the scalp whilst at the same time stimulating micro-circulation. A perfect shower companion, the flexible trident allows for gentle untangling of the hair as the pressure is evenly distributed across the scalp. Suitable for all hair types, even the most delicate, the brush can also be used to evenly distribute shampoo or hair treatments in the shower. Pair with our Balancing & Refreshing Shampoo, Exfoliating Mask and Lotion which use naturally active ingredients like Aloe Vera, Sage, Propolis (aka bee glue) and Horseradish Root to help regulate sebum secretion, deeply cleanse the scalp and improve micro-circulation of the scalp.


Airy No. 2 Brush with Bi-Level Nylon Pins by ACCA KAPPA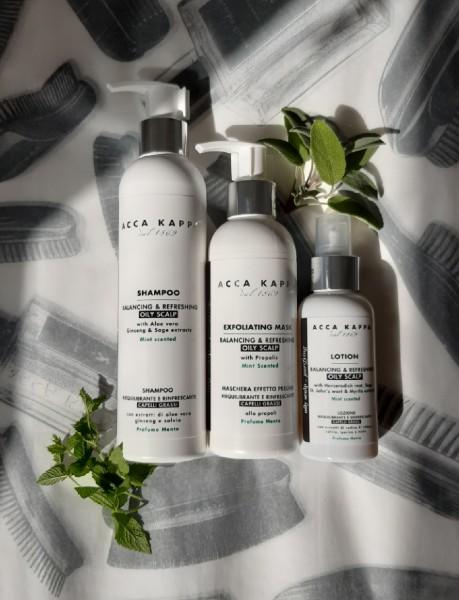 Balancing and Refreshing Natural Hair Care Range for Oily and Dandruff Prone Scalp
To browse our selection of massaging brushes, have a look at our Detangling & Massaging brushes. You can also take advantage of our 'Why Not Try?' Protection Brush promotion, which gives you 20% off for the month September 2020 (or while stocks last).
Like what you're reading? Why not check out some of our other blogs?
Best Products for: Oily or Dandruff Prone Scalp... Learn more
How to: Clean your Hairbrush... Learn more
The Benefits of Natural Deodorant... Learn more