12

Jan

The White Moss Collection
One of Acca Kappa's most iconic and extensive ranges, White Moss proves how made-to-share fragrances (those that combine typically masculine and typically feminine scents) are often the most dynamic and captivating. A serenity champion, the signature scent is simple yet comforting, with aromatic notes balanced with bursts of fresh citrus zing. Reminiscent of fresh clean linen, breathe easy as White Moss embraces you with the freshness of Italian Spring.
Ideal for sensitive skin and delicate hair, the holistic range prioritises gentle cleansing and natural active ingredients. Available as fragrances, home diffusers, natural skin & hair care see below as we explore the range.
Fragrance
Available as Eau de Parfum (15ml, 100ml), Cologne (30ml, 50ml, 100ml), Aftershave Splash (100ml)
Opening with gentle citrus top notes, White Moss combines a floral heart of lavender and sweet woods with seamless white musk for a unisex fragrance that is charmingly easy to fall in love with. Depending on your desired longevity and sillage, choose from our Eau de Parfum, Cologne or Aftershave collections.
Top tip! Eau de Parfum's traditionally have the highest concentration and richest formulas of the fragrance families meaning they tend to last longer on the skin.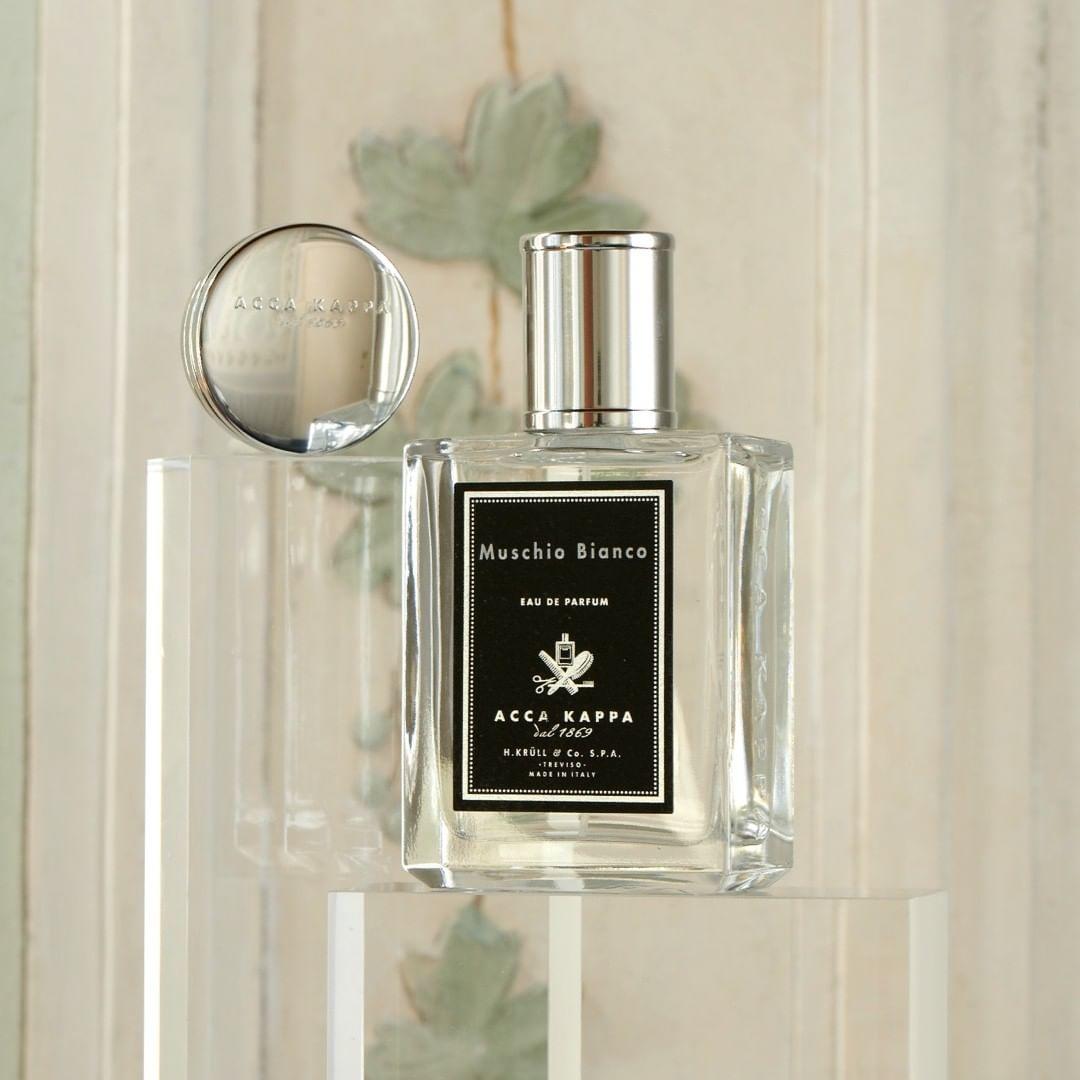 The White Moss Eau de Parfum
Hair Care
Available as Shampoo 250ml, Conditioner 250ml, Restorative Serum 50ml, Nourishing Hair Perfume 30ml
Ideal for delicate, damaged hair or sensitive scalps the White Moss shampoo and conditioner work in harmony to offer gentle cleansing and hydrating nourishment. Both featuring plant-based amino acids and vegetable keratin to help restructure and moisturise the hair; Vegetable keratin is unique in its ability to capture and transport water, enabling it to penetrate and moisturise the hair much more effectively than other active ingredients.
For treatment after cleansing, the White Moss restorative serum leaves hair soft and silky whilst helping to prevent split ends. Lightweight, the serum contains Jojoba oil to help improve elasticity and provides a targeted hydrating treatment.
And for those days in between washes? The White Moss hair perfume provides the perfect boost. A saviour for damaged hair, the perfume helps strengthen and restore, protecting the hair from external aggressors whilst keeping locks hydrated and glossy.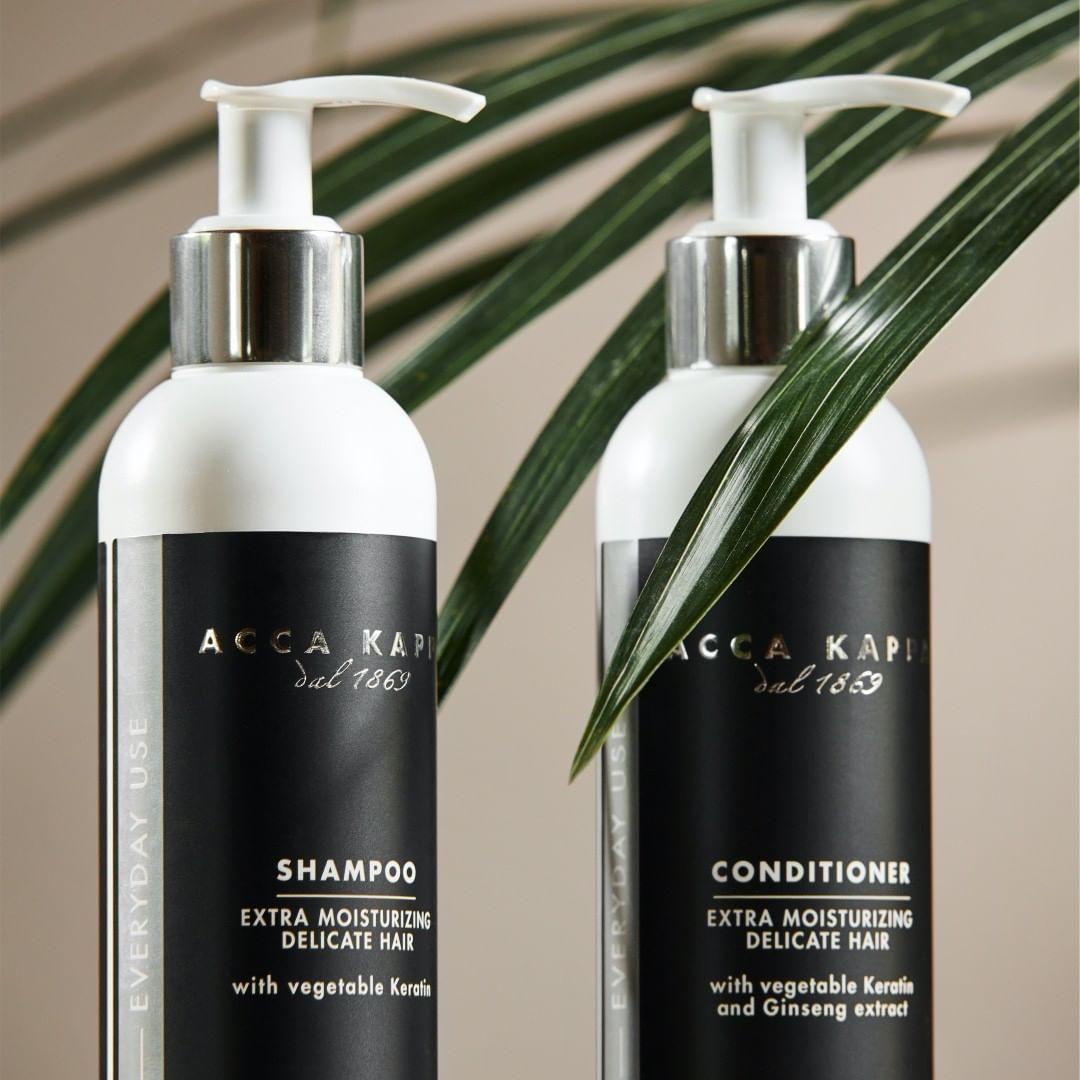 The White Moss Shampoo and Conditioner
Body Care
Available as Bath & Shower Gel 500ml, Shampoo & Shower Gel 200ml, Body Lotion 300ml, Body Butter 200ml, Deodorant Stick 75ml, Deodorant Spray 125ml
Moisturising and soothing, White Moss body care is ideal for sensitive skin. Formulated with high contents of glycerine, rice starch and silk proteins the shower gel and 2in1 are designed to effectively cleanse without drying the skin (or hair!). Enriched with the iconic White Moss fragrance, delight in serene moments of calm as you wash away, or start, the day.
One of the largest collections, the range also includes a lightweight body lotion and intensely moisturising body butter to help replenish and hydrate. Particularly good if used directly after showering, the lotions are delightfully creamy and contain Shea butter vitamins A, B, E and F which are renowned for their antioxidant and anti-ageing properties.
With the concept of White Moss centralised around the idea of natural, gentle skincare- underarms could not be forgotten! Fantastic for protecting sensitive skin, the White Moss alcohol and aluminium-free deodorants effectively eliminate odours whilst respecting the skin's natural balance. Ensuring deep and long-lasting protection, ingredients such as naturally anti-microbial propolis target the odour-causing bacteria that break down sweat. Available as both spray and deodorant stick.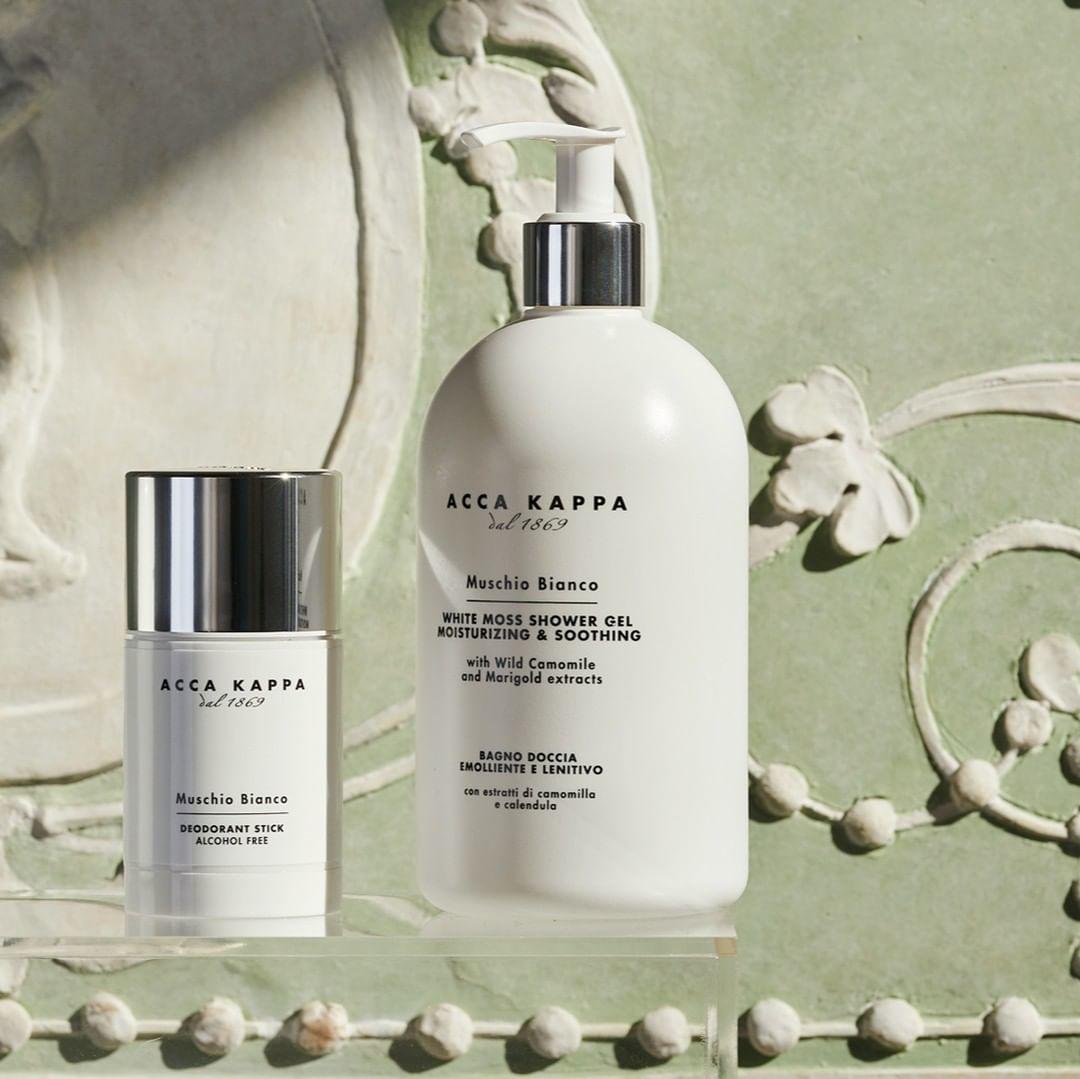 The White Moss Natural Deodorant Stick and Body Lotion
Shave Care
Shaving Soap 200ml, Shaving Foam 200ml, Aftershave Cream 125ml
Rich in functional ingredients, the White Moss Shaving Foam softens and moisturises. Formulated with emollient-rich ingredients such as Macadamia oil, Shea butter and Olive oil the foam hydrates and helps to prepare the skin for shaving. Prefer more traditional techniques? No problem! The White Moss Shaving Soap provides a gentle and soothing shave, the protective and nourishing qualities keeping the skin healthy and hydrated. Presented in a neat 200ml tub, the soap can be lathered directly and stored away.
For post-shave care, the White Moss collection also features an Aftershave Cream to help regenerate and rehydrate the skin. Providing immediate relief, the emulsion contains extracts of Shea Butter and Vitamins A and E to soothe irritated and reddened skin.
Hand Care
Hand Wash 300ml, Vegetable Soap 150g, Hand Cream 75ml, Sanitising Hand Wash 300ml, Sanitising Hand Gel (100ml, 300ml)
Again, prioritising gentle care for delicate skin, the White Moss hand care collection is ideal for skin that reddens and chaps easily. Effectively cleansing without altering the skins delicate hydro-lipid balance, the liquid hand wash soothes with natural lemon balm and chamomile whilst hard vegetable soaps are made with pure plant and coconut oils.
One of the newer additions to the range, White Moss hand care now also features a sanitising collection including hand wash and Gel. Formulated with antibacterial agents and a high alcohol percentage within the hand gel, the formulas are also enriched with witch hazel and honey to ensure the skin is not left dry and sore.
And for aftercare? The Ultra-nourishing White Moss hand cream provides effective long-lasting hydration to help combat inflammation and cracking. Carefully selected for their skin-purifying, protective and soothing properties the natural ingredients chosen for this hand cream include Magnolia, Blackberry and Violet.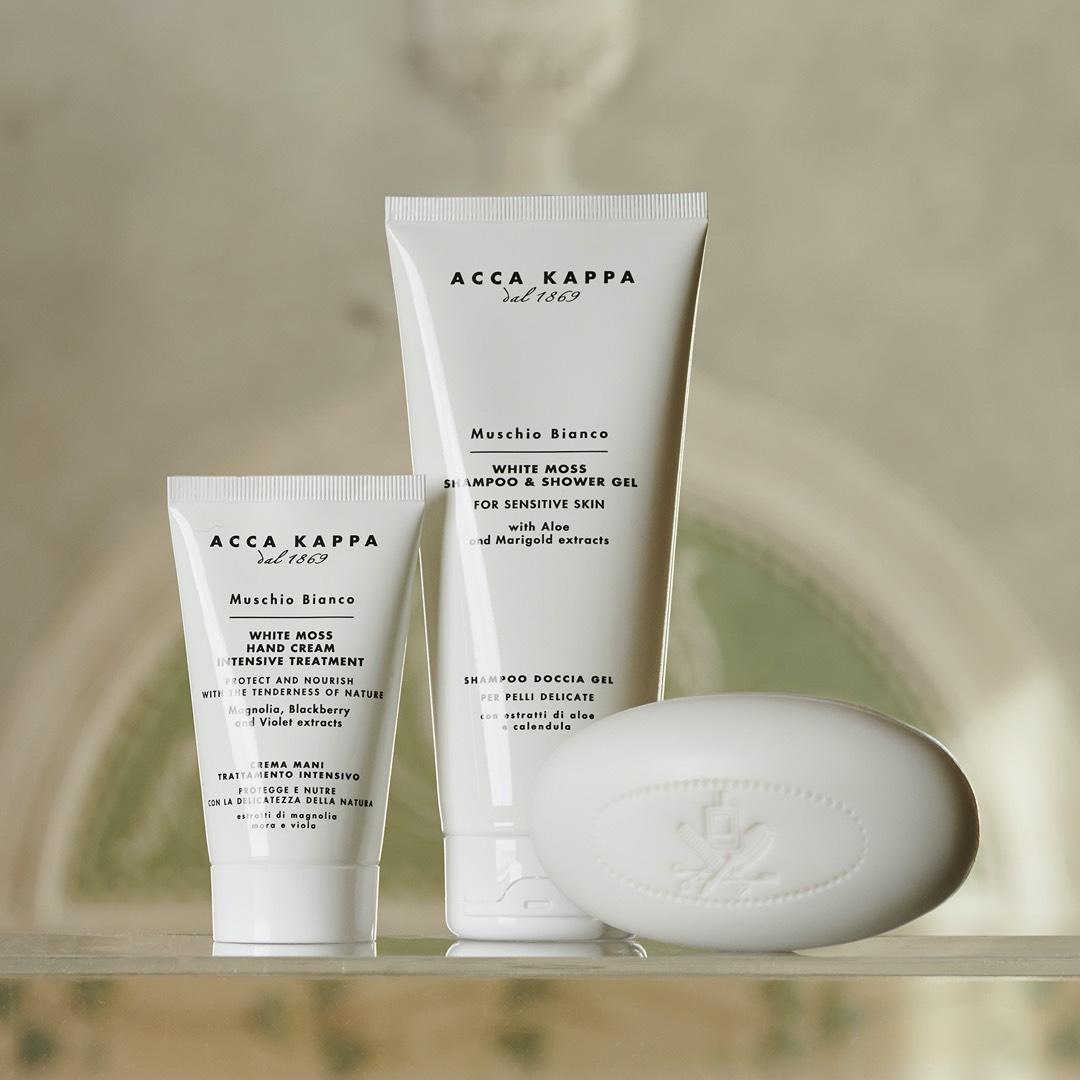 The White Moss Hand Cream, Shampoo & Shower Gel and Soap
Home
Home Diffuser 250ml, Fabric Detergent 500ml, Fabric Softener 500ml, Dog Shampoo 500ml
Serene, comforting and aromatic - whether it be a glass diffuser, or delicate detergent, unleash fragrance of White Moss in your home.
Now also available as a dog shampoo, the shampoo is suitable for all types of dog hair, for a gentle, anti-odour cleansing that leaves the hair soft and shiny. Leaving your four-legged friend smelling as fresh as a spring day!

The White Moss Detergent and Softener
Like what you're reading? Why not checkout some of our other blogs?