Wavy Nylon Bristle Styling Brush (Blue)
Description

Directions for Use
A brush for creative hair-styling, WAVY can be used to create soft and gradual curls for a fresh and modern look. Suitable for all hair types, the brush can be used to both dry and curl hair all at once, with the enhanced nylon bristles on a longer barrel enabling it to effectively tackle even long sections of hair. Treated in a special Ceramic and Tourmaline coating, the barrel controls excessive temperatures and naturally releases negative ions to make hair hydrated, shiny and silky.
Did you know?
Drying and styling hair simultaneously can make hairstyles last much longer: being less sensitive to moisture, the locks maintain their full, well-defined waving. Moreover, a low-temperature drying is healthier for the hair and helps preserve its natural hydration and gloss.
Available in pastel blue, pink and cream.
Size: Diameter 14-22mm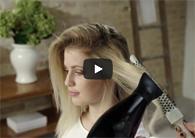 With the taper facing upwards:
The brush works more intensely at the root. The locks get a gradual waving in their width, with a soft effect on the tips.
With the taper facing downwards:
The hair root gets a softer effect, gradually thinning the locks down to the tips.