10

Oct

A Special Evening with ACCA KAPPA, 150 year Anniversary Event
Beauty is in the Details
On Sept 27th 2019 ACCA KAPPA celebrated its 150 year anniversary in the grounds of their beautiful old factory in Treviso. The event was characteristically marked by creativity, beauty, and an easy elegance that comes naturally to a company of 'makers' who have been infusing everyday lifestyle products with emotion and joy through the nuance of simple details.
Four generations of Italian craftsmen, brush making spanning three centuries, a journey made of essences, fragrances and delicate creams inspired by the magic of nature; the ACCA KAPPA story is certainly one that celebrates la bellezza della vita, the beauty of life.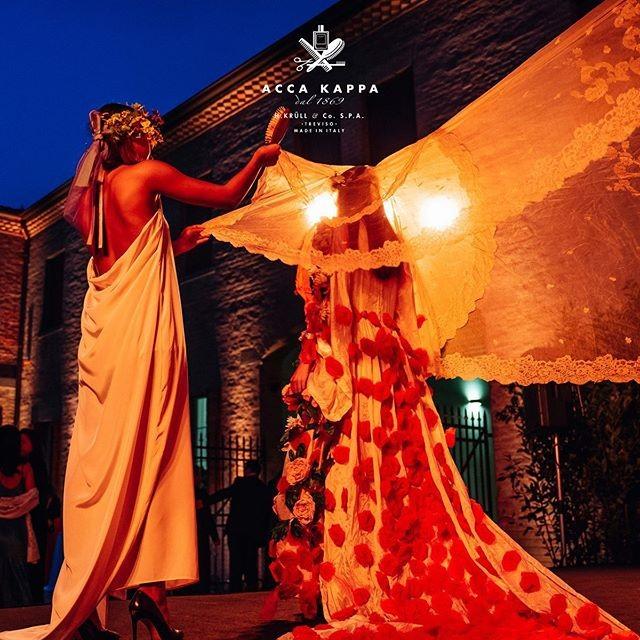 Models parade through the crowd, decorated in garments that reflect the beauty of nature
Simplicity is a Style
The beautiful old magnolia tree which has been both witness and emblem of dynamic factory life, was the centrepiece upon arrival at the celebration. In the early evening of a warm, Italian September an array of guests, from different corners of the world arrived in evening gowns, suits and tuxedos commemorating the 150 year old lifestyle company. The simple beauty of the setting embraced the guests, the delicately lit courtyard was alive with music, flowers, lively chat, food and wine.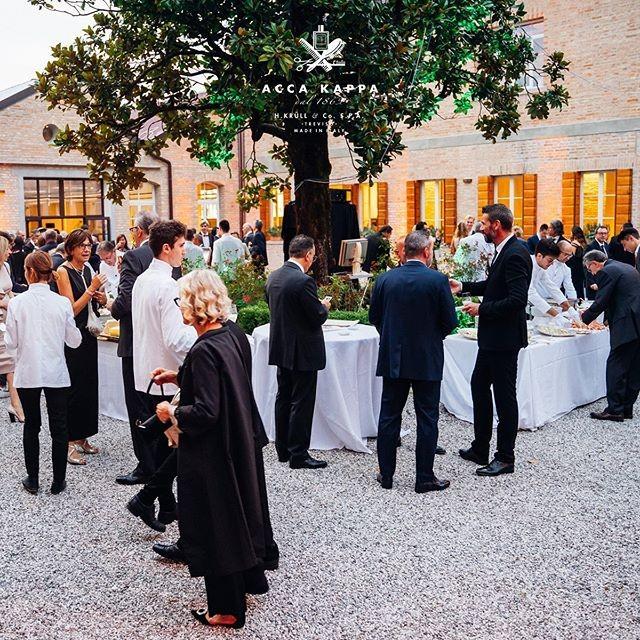 Guests arrive in the beautiful acca kappa courtyard
Guests meandered through the factory, where new products were displayed including the anniversary fragrance Myscent 150 and the limited edition Infinito hairbrush. Beautiful flower arrangements adorned the tables, where dinner was served and the ACCA KAPPA story was told through plays and poetry.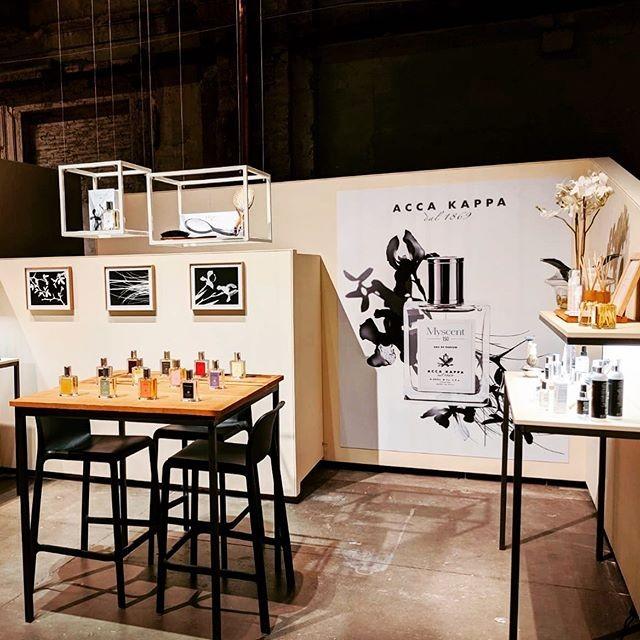 Newly launched, Myscent 150 and the Infinito hairbrush on display.
A Magical Evening
There were many highlights to the evening: a talented colleague, who happens to also be a gifted opera singer, gave a moving performance.
Elisa Gera, the inspiring MD of the ACCA KAPPA of today ( who also happens to be great granddaughter to founder Hermann Krüll) gave a warm and powerful speech thanking partners and celebrating the heritage of the brand. Under her management, ACCA KAPPA has become 'LA FABBRICA DELLA BELLEZA' (The Beauty Factory) producing top-rated brushes, natural hair & skin care products and fragrances. Indeed, the evening was curated by Elisa herself and seemed to embody the ACCA KAPPA mantras of 'simplicity is a style' and 'beauty is in the details'.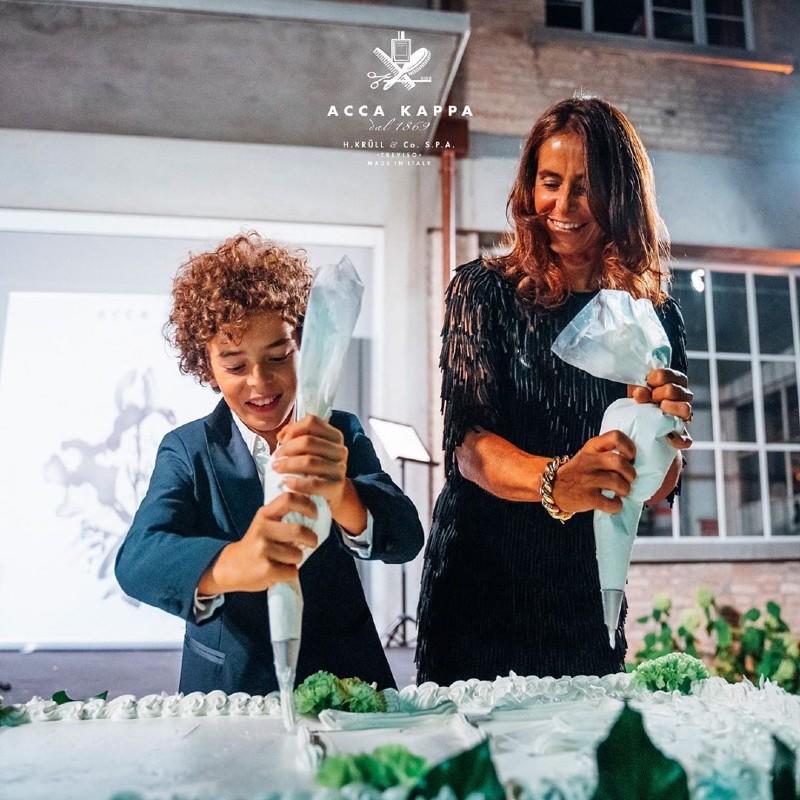 ACCA KAPPA MD, Elisa Gera, decorates the cake with her son to mark the occasion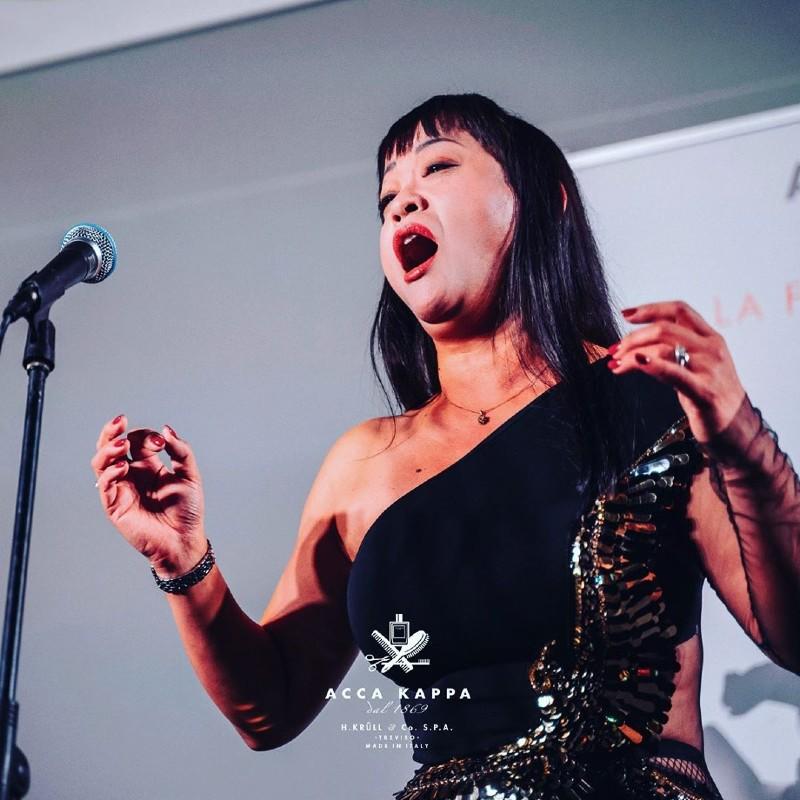 A magical evening; a colleague who happens to be a talented opera singer gives a moving performance
ACCA KAPPA'S Testament to nature inspired, everyday beauty
However, the most awe-inspiring point of the evening was a projection of images and words, displayed into the courtyard to a mesmerised group of guests. The artistic creation featured the brands heritage and links with nature, a fantastic testament to brand with a clear mission; bringing authentic, nature inspired beauty to the everyday.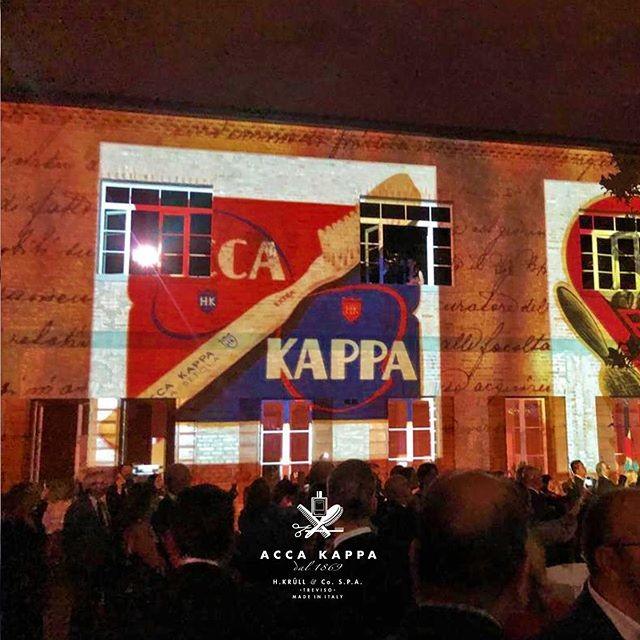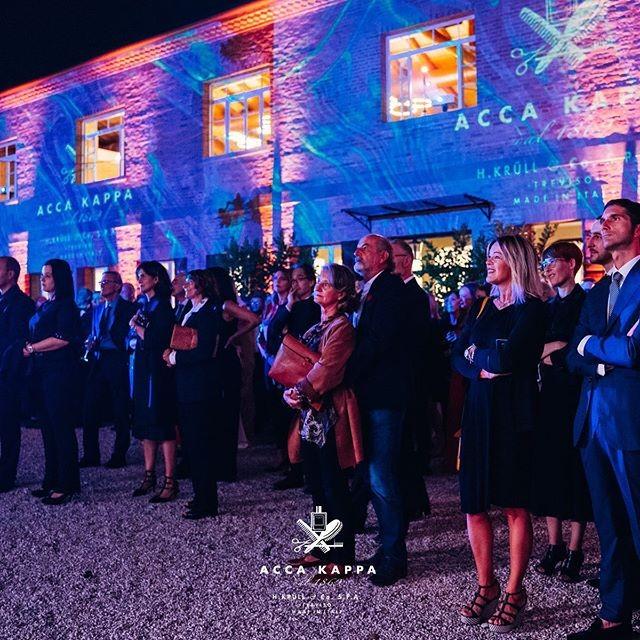 Mesmerised guests are moved by the celebration of acca kappa's heritage.