08

Oct

An Italian Legend of Beauty; ACCA KAPPA celebrates 150 years
Acca Kappa, an historic brand of excellence, creating professional brushes, hair care products, unique fragrances and body care collections, celebrated their 150th Anniversary at the end of September 2019, in the grounds of their beautiful, old factory in Treviso. The celebration was a tribute to the story of a company faithful to timeless values; a love of nature, respect for the human body, simplicity and beauty with production exclusively made in Italy. However, Acca Kappa is also an independent family company, inspired by four generations of craftsmen, it has survived war and loss, and so the Acca Kappa story, dating back to 1869 is also personal and poignant.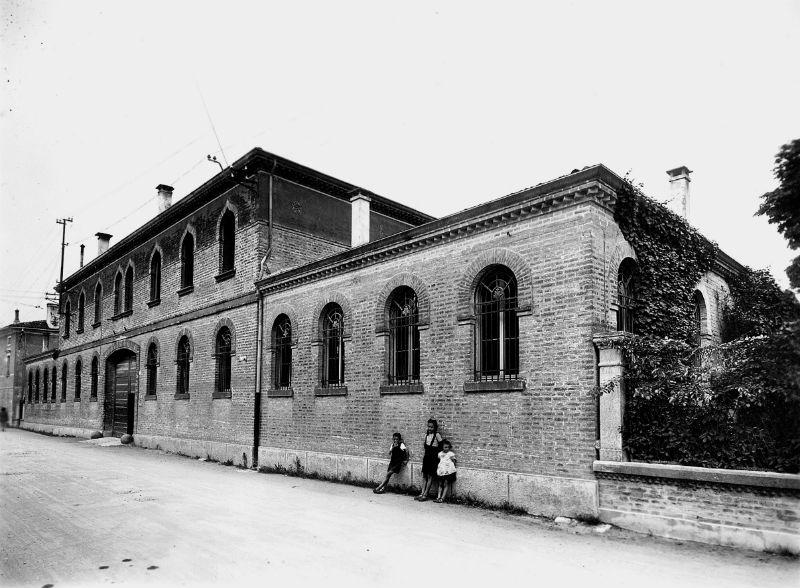 The beautiful old factory in Treviso, a 'hive of activity', has survived two World Wars
The story; beauty & simplicity infused with emotion
The company has survived the devastating impacts of two world wars, it has been expropriated twice, the factory itself occupied and the Krüll family (founders of Acca Kappa) like many others suffered tragic bereavements in both wars; with sons and brothers Hans Krüll and Gunther Krüll losing their lives one after another in each war.
'Story' is the word used by Acca Kappa to describe itself; an Italian story of a lifestyle born of taste, culture and elegance. Fruits of a profoundly Italian art, the company has been led by generations of craftsmen with a passion for simplicity and authentic beauty; this can be seen in every item produced and in every tiny detail.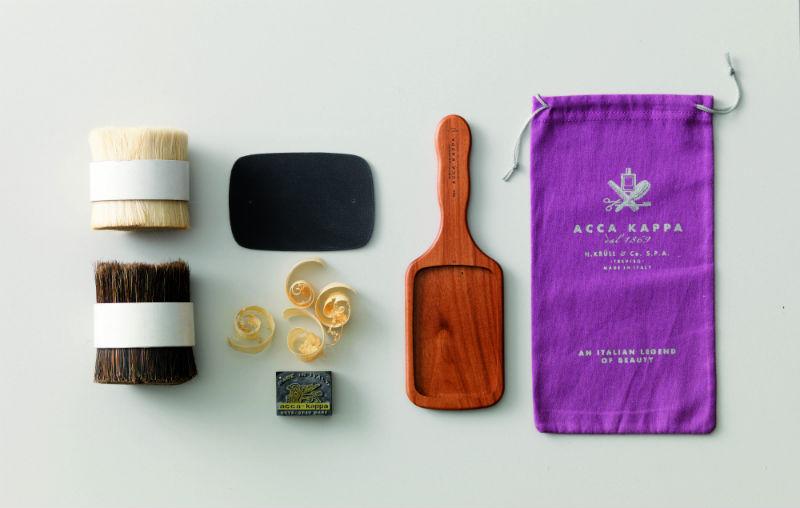 ACCA KAPPA is synonymous with simplicity and beauty
Certainly, as makers of everyday objects and lifestyle products this attention transforms things and infuses them with emotion and joy. This love of beauty seems to live in the fabric of the Acca Kappa building, a beautiful, old factory in the heart of Treviso. In the courtyard stands an elegant magnolia tree with deep green leaves and extravagant flowers; the company pays homage to this tree describing the magnolia as both witness and emblem of the dynamic of factory and family life.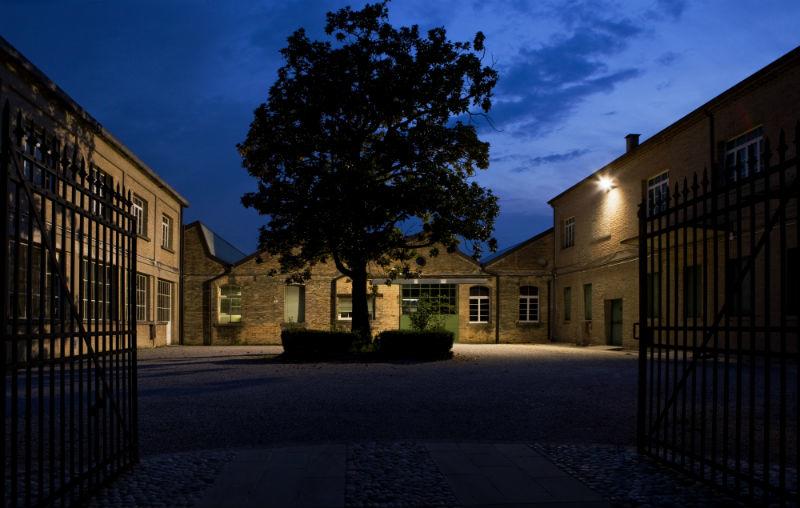 In the courtyard stands a magnolia tree that has been both witness and emblem of dynamic factory life
The Craftsmen
Founder Hermann Krüll is the company's namesake, his initials are the Italian pronunciation for H (Acca) and K (Kappa), his sons succeeded him, and today the heart and soul of the company is his great granddaughter, Elisa Gera, daughter of Ursula Krüll. From 1869 to today, much has changed and happened in the Acca Kappa story, but the passion for simplicity, beauty and craftsmanship remains true as ever, and the intensive hive of activity that the factory became known for in the 19th Century continues two centuries on.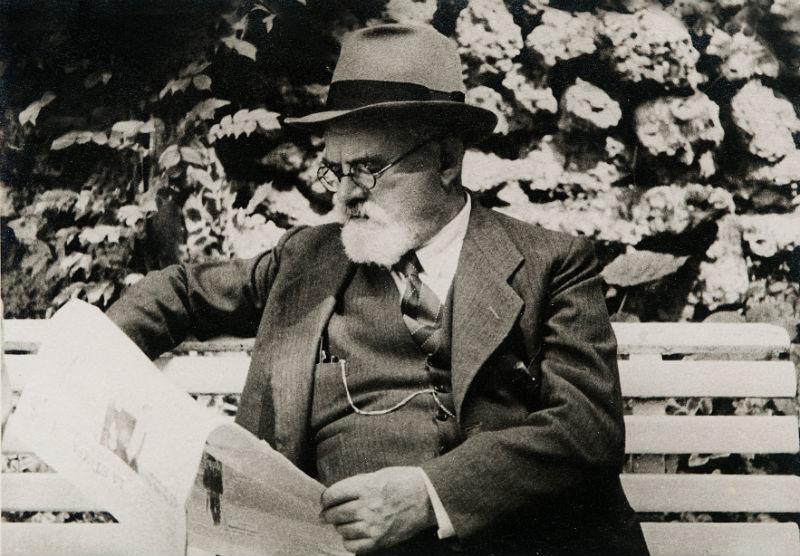 ACCA KAPPA founder, Hermann Krüll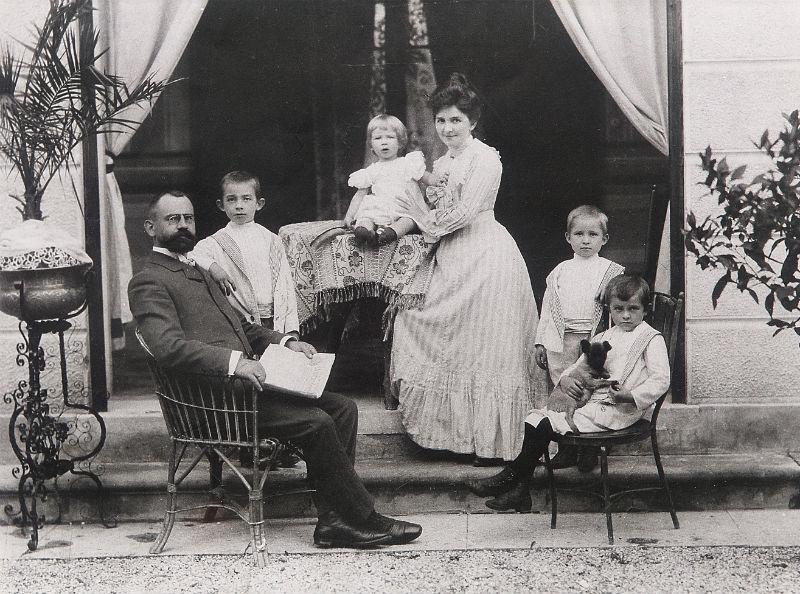 Hermann Krüll with his wife, daughter and sons who succeeded him at ACCA KAPPA
Brush Making Tradition Spanning Three Centuries
Hermann Krüll commenced his career in Venice as a young merchant of bristles and seized an opportunity to enter into a partnership at a brush making factory in the outskirts of Treviso, then called Premiata Fabbrica Spazzole Trevigiana (Premium Brush Factory, Trevigiana). By 1899 Hermann had taken over all the shares of the small brush company, bringing with him a breath of fresh air and creative talent; the company issued its first catalogue listing 25 models.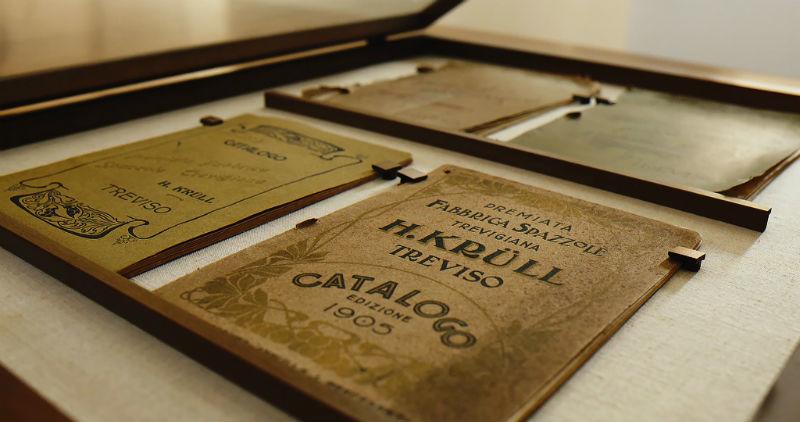 A catalogue produced for 'Premiata Fabbrica Spazzole Trevegiana' by H. Krüll in 1905
Today they have increased to over 100 hair brushes, a selection of environmentally sustainable raw materials, along with the standard Acca Kappa attention to detail and constant research with the world's top hair stylists has led to a breath-taking brush collection with many different applications. Innovative materials and traditional processing techniques passed down for almost 150 years ensure the fine quality of Acca Kappa hair brushes are true to heritage yet still very much fit for purpose in the 21st Century.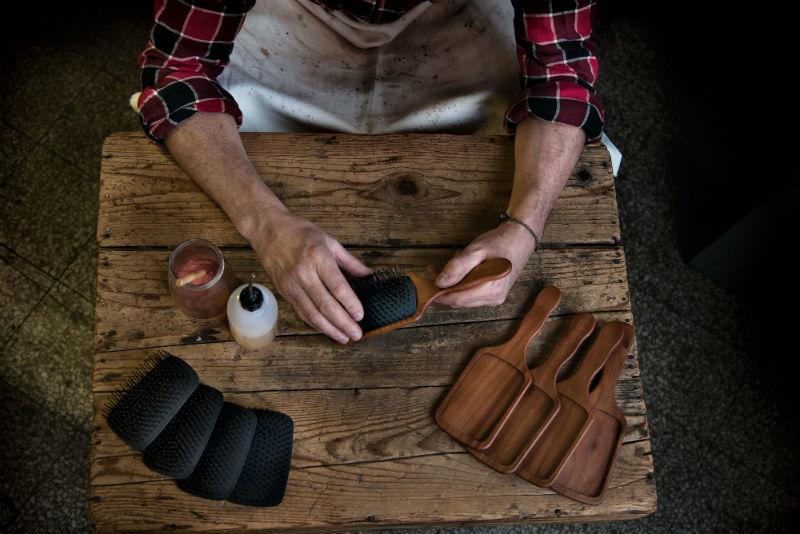 Innovative materials and traditional processing techniques passed down for 150 years
Speciality hairbrushes for different hair types and purposes as well as beard brushes and toothbrushes, are of course a key part of Acca Kappa's framework however as expert craftsmen the company produces brushes for many other purposes including silverware, carpets, floors and horses. Indeed, Acca Kappa's expert craftsmanship as a maker of brushes, has resulted in the company supplying high profile clients, The British Royal Family being a noteworthy case and recently the Palace Capodimonte has requested brushes for the cleaning of beehives.
Fans of Acca Kappa may be most familiar with their beautifully crafted pneumatic brushes, made with hand-finished lightweight wooden handles, ergonomic and fine-looking, with a range of pin and bristle options to suit different hair types and purposes. 'Vintage' style toothbrushes, well suited to travel are also a very popular part of the Acca Kappa brush range.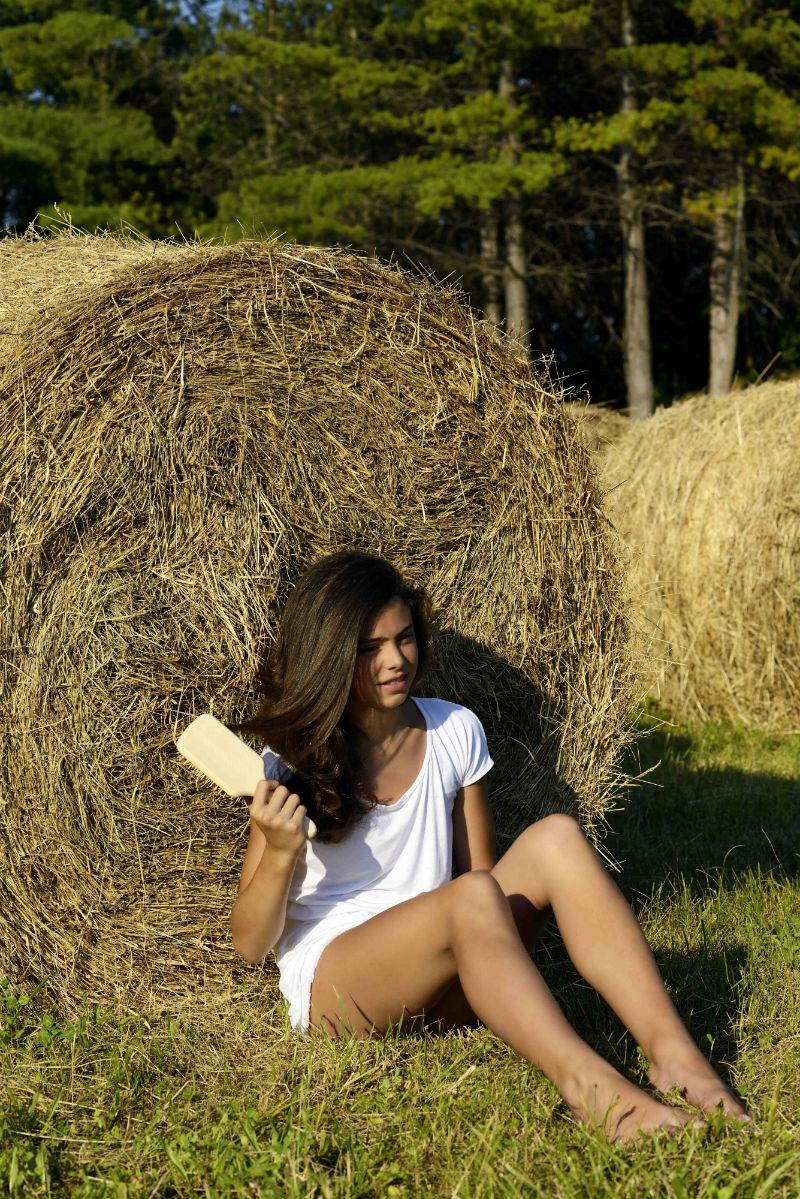 Passed down from generation to generation; Elisa's daughter brushes her hair with a Natura hairbrush
150th Anniversary
For the 150th Anniversary Acca Kappa has launched the stunning Infinito brush, a 750 piece limited edition featuring a handcrafted and hand-oiled Italian walnut handle, it's available in two versions with refined natural bristles or hornbeam pins. The shape of the beautiful brush is inspired by the infinity symbol.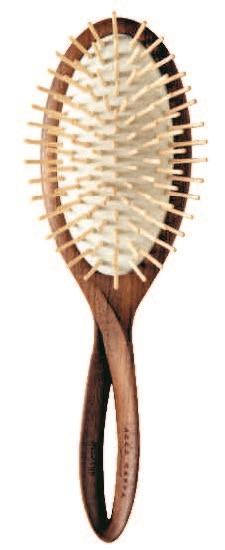 The Limited Edition Infinito Brush
Lifestyle Hair & Body Care for Everyday
Acca Kappa's identity as a lifestyle brand, has been central to product development and growth. Professional quality hairbrushes have been created to be enjoyed at home. Acca Kappa ambassadors mention how many of us value our hair and will invest much time and effort into its appearance, and how a good brush can make big difference to the health as well as the look and feel of the hair and scalp. Acca Kappa's hair care products compliment their brushes as an everyday product to be used at home for the promotion of healthy hair. Created in collaboration with the worlds best hair stylists, specific hair care products combine with a selection of the best professional hair brushes for an amazing result. Examples of this include the incredibly popular White Moss shampoo, conditioner and restorative serum for delicate hair as well as the Green Mandarin anti-pollution range for frizzy hair which includes shampoo and conditioner as well as smoothing cream.
Acca Kappa's firm footing as a lifestyle brand is further established by its body care products and fragrances. Embracing the values of nature and tradition, Acca Kappa body care products use natural active ingredients and natural fragrances for both men and women. The sweet and tender Calycanthus collection, for example, uses natural ingredients known for their antioxidant qualities such as Argan, Sesame and Hazel Oils while Men's range 1869 uses Ginseng and Black Tea.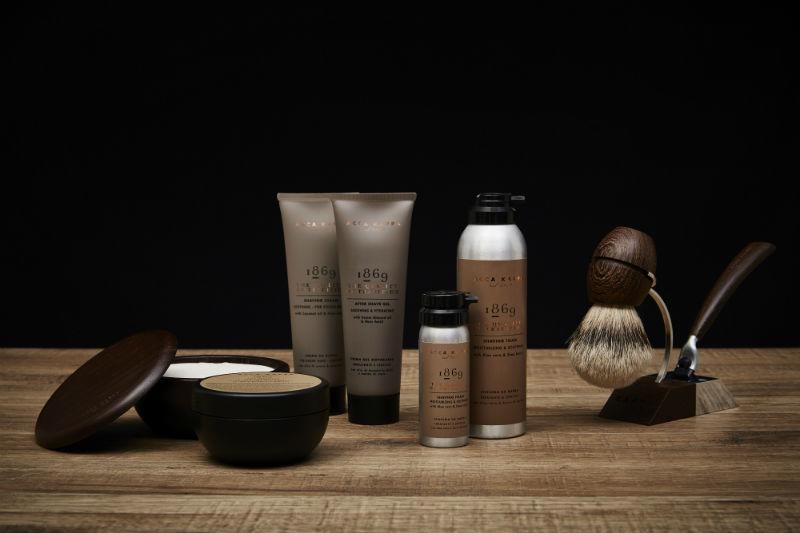 The 1869 Collection
A Luxury Olfactory Experience from Italian Gardens
"We grow up through experiences made of emotions, colours and perfumes. My values are family and nature; my colours and perfumes are the same distilled in Acca Kappa fragrances. All Acca Kappa perfumes are meant to share the memories and experiences that I highly cherish."
— Elisa Gera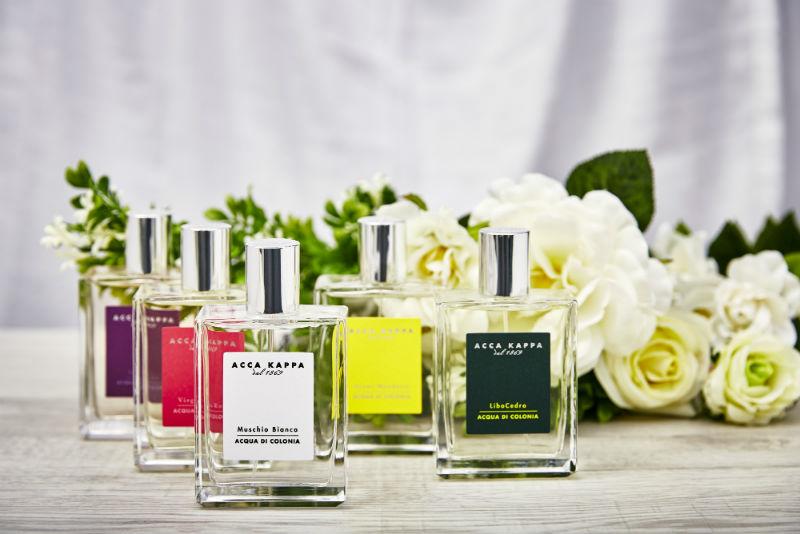 Eau de Parfum Fragrances by ACCA KAPPA, including iconic White Moss in front
Today Acca Kappa is guided by the expert leadership of Elisa Gera, great granddaughter to Hermann Krüll. Under her management, Acca Kappa has become 'La Fabbrica Della Belleza' (the beauty factory), continuing to produce world renowned brushes the company has embarked on a new journey made of essences, fragrances and delicate creams, under the guidance of Elisa's refined and gentle touch. A keen gardener herself, the fragrance, home, body and hair care ranges are inspired by the seasonal scents of Italian gardens. Notably, White Moss, Acca Kappa's bestselling unisex fragrance is an iconic bestseller; one whiff and it's easy to smell why, the fragrance is delicate and refined, an instant contemporary classic that's easy to fall in love with.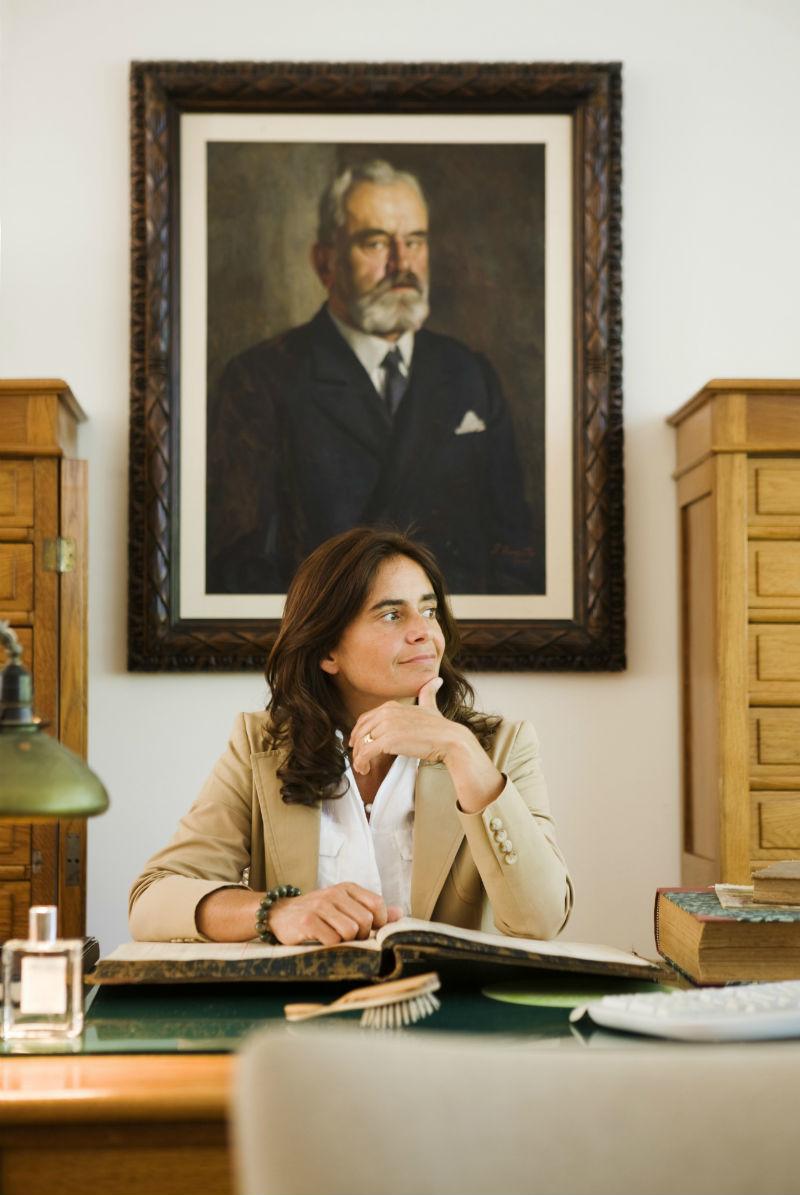 Elisa Gera provides expert leadership at ACCA KAPPA, as they journey into fragrances and delicate creams
Other popular fragrances include Green Mandarin, Calycanthus and 1869 (for Men). For the 150th Anniversary Elisa Gera has launched, 'My Scent 150', a soulful bouquet that first discloses sparkling bergaomot accompanied by incense and Orris concrete then melts down by the warmth of vetiver, vanilla, benzoin and amber. Charming and welcoming, the charismatic fragrance is Elisa Gera Krüll's perfumery signature.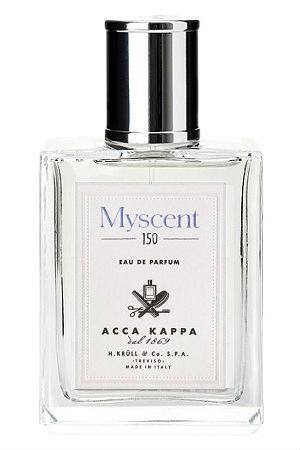 Elisa Gera Krüll's perfumery signature 'My Scent 150' has been released to celebrate 150 years of ACCA KAPPA
Production of all products from brushes, to body care remains 100% made in Italy.