08

Jan

ACCA KAPPA's Historical Toothbrush Collection
Hand-cut milled and shaped from acetate, then infused with bundles of pure bristles or nylon our stunning collection of Historical Toothbrushes are presented in three eye-catching styles, bringing elegance to your bathroom and joy to your oral care routine. The tips of each tuft are rounded to protect tooth enamel, maximising cleaning efficiency whilst gently massaging the gums.
These exquisite beauty tools are the result of ACCA KAPPA's unique heritage in brush making, spanning more than 150 years. With an emphasis on craftsmanship and natural processes these simple but essential everyday tools have been created with style and fine materials in mind.

Historical Toothbrushes add a touch of elegance to any room, available in Black & White, Havana & Green and Classic Brown.
A Retrospective on the Company's Iconic Product
The history of ACCA KAPPA is intricately linked to the development of toothbrushes. The company's history as brush makers dates to 1869, at this time and in the early 20th century toothbrush production employed natural materials only such as horn, bone, and bristles. It was also a complete handcraft which strictly made use of natural bristles throughout the process.
Later, the introduction of cellulose acetate – a very versatile material of natural origin – allowed new designs and more elaborate shapes and colour schemes. Our Historical Collection uses acetate of both natural and chemical origin and is still 100% handcrafted this differs from more modern plastic models where handcrafting and milling were replaced by industrial moulding.

A vintage advertisement for ACCA KAPPA's handcrafted toothbrush made exclusively with natural materials.
The Materials
Acetate, used to make the handles of the toothbrushes, is a plant and chemical based material. Strong yet lightweight, it's transparent and lustrous from both sides making it pleasing to look at.
Bundles for our Historical collection toothbrushes are available in pure white bristle or top-quality nylon. A natural material, bristle is more delicate and less abrasive than nylon – a harmonious alternative for those looking to avoid synthetic options. Nylon is of course the preferred option for those looking for vegan products. Brush heads are available in soft or medium for both bristle and nylon versions.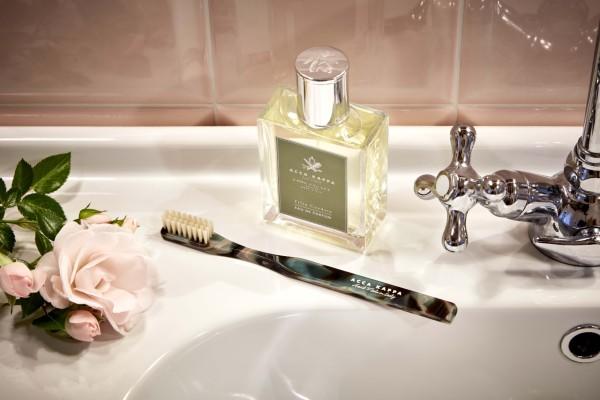 Havana & Green Toothbrush and Tilia Cordata Eau de Parfum, These little stay-at-home luxuries are the perfect pick me up for 2021.
The Design
Recalling the beauty of the past, our Historical Collection Toothbrushes have been designed along the lines of classic sketches retrieved from ACCA KAPPA's historical archives. Combining style with functionality handles are ergonomic and comfortable while generous bundles include rounded tufts to protect the tooth enamel and maximise cleaning efficiency. The rounded tufts are also suitable for those with sensitive gums and can be paired with our Natural Gum Protection Toothpaste.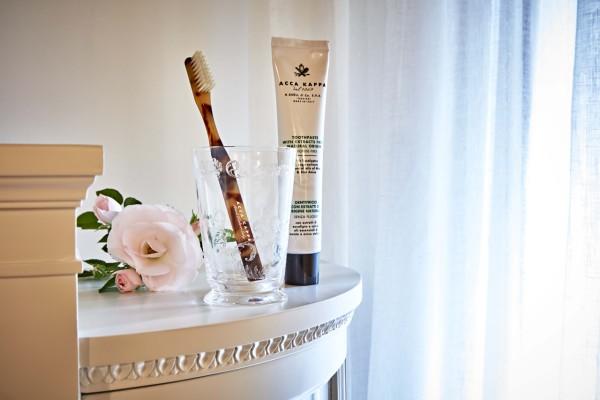 Our Classic Brown Historical Toothbrush paired with our Natural Fluoride Free Toothpaste.
Natural, Luxury Oral Care
A handcrafted alternative to standard, industrial plastic designs the Historical Toothbrush Collection brings joy & elegance to this simple yet essential aspect of your beauty routine. Toothbrushes can be paired with our Natural Toothpastes which follow the principles of the ACCA KAPPA beauty range and its emphasis on carefully selected plant-based ingredients. With a range of options available offering gentle, balanced cleaning, total protection, gum protection and a activated charcoal for natural whitening the vegan-friendly toothpastes pair perfectly with our toothbrushes to provide a fresh, long-lasting, and balanced approach to oral hygiene as well as some pretty fine style.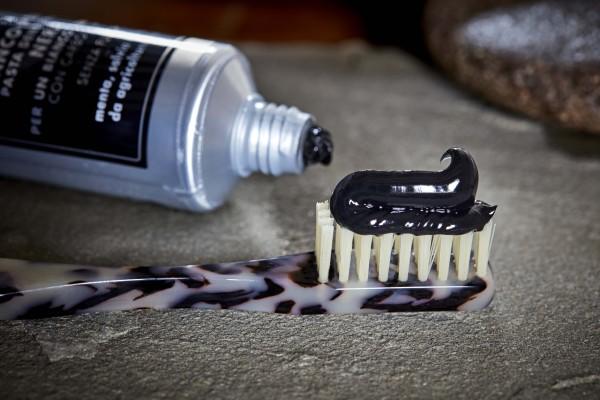 Historical Black & White Toothbrush paired with Activated Charcoal Toothpaste
Like what you're reading? Here are some more beauty and lifestyle recommended reads from the ACCA KAPPA blog: