06

May

Best products for: Coloured hair
After emerging renewed from the salon, there's nothing worse than watching your fresh colour wash away down the drain. With most shampoos designed to clean hair of oil and dirt, unless you have the right product, you can also inadvertently end up stripping the hair of its dye too. Designed to keep colour fresh and vibrant, as well as keep hair healthy and hydrated, see below our latest hair guide exploring the best products for coloured hair.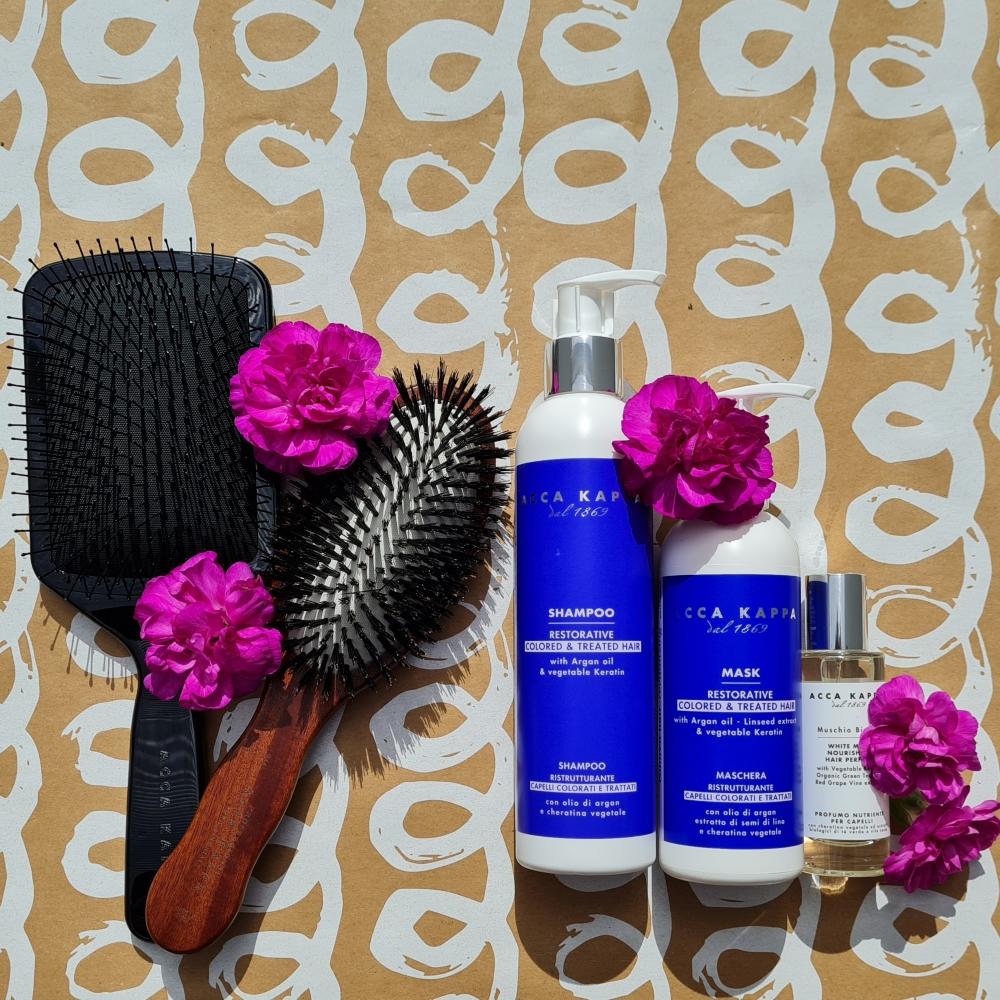 The best products for coloured hair by ACCA KAPPA
The Tools
Best brush for Styling: No Damage
Whether you're dying your hair light or dark, you're applying chemicals to your hair that can ultimately leave hair weaker and more prone to breakage. Designed to dry and style hair without dehydrating, the No Damage range is ideal for coloured and treated hair. Made from 100% natural bristles, the No Damage styling range mimics the structure of the hair protecting the delicate hydro-lipid balance. The barrel of the brush is treated in a special ceramic and tourmaline coating that controls excessive temperatures and naturally releases negative ions to make hair hydrated, shiny and silky.
Available in small, medium and large.
Best Daily Brush: Pneumatic Pure Bristle
After having your hair coloured, it's recommended to wait at least three days before shampooing as it can take this long for the hair's cuticle layer to fully close. In fact, the less frequently you wash it, the more likely your hair colour is to last. To assist you in this colour saving mission, a great daily brush can be invaluable. In particular, Pure Bristle brushes can help remove and redistribute oil so that roots appear less greasy. Adding sheen and volume, the natural bristles work the scalp's sebum down the length of the hair keeping it healthy and hydrated. Also helping to remove any trapped scale, dirt or pollution from the scalp the gentle natural rubber cushion ensures a gentle touch alleviating any irritation caused by those non-shampoo days.
For thicker hair, this brush is also available with Nylon Mono-filaments that help penetrate and detangle!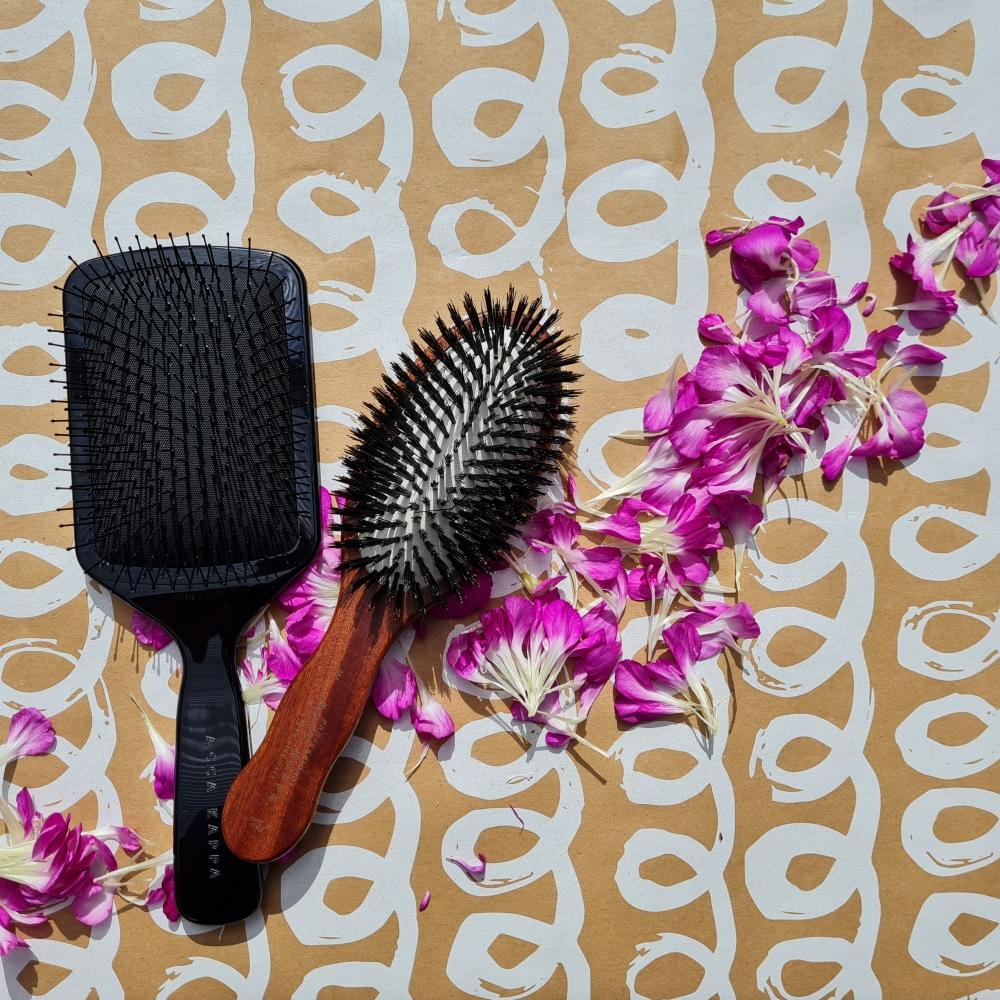 The Pneumatic Pure Bristle and Shower Paddle brush by ACCA KAPPA
Best Shower Brush: The Shower Paddle
For ultimate repair and rehydration, coloured hair often benefits from nourishing mask treatments. One of the best brushes for drier or damaged hair, the ACCA KAPPA shower brush is ideal for working products like conditioner and masks throughout the hair, ensuring the product is distributed evenly for maximum absorption. Thanks to the natural rubber cushion full of soft nylon filaments with resin covered tips, the brush gently works to detangle and delicately massage the scalp.
The Products
Blue Lavender Shampoo
Steering clear of harsh surfactants, the Blue Lavender Shampoo uses only gentle plant-based cleansers designed to minimise the amount of colour lost with each wash. Formulated using Argan oil - which is rich in vitamin E - and vegetable keratin, the shampoo hydrates and nourishes to leave hair softer, silky and glossy.
Blue Lavender Mask
Often left weaker and more prone to damage after treatments or colouring, the dye can strip hair of its natural moisture. Rich in both fatty acids and plants oils, the Blue Lavender Mask helps repair the hair cuticle leaving strands glossy and colour revived. Formulated with Argan oil, linseed extract and vegetable keratin, the mask nourishes, hydrates and protects the hair.
Plus, available in our 'Try Me!' promotion throughout May 2021, receive 20% off Blue Lavender hair care (while stocks last).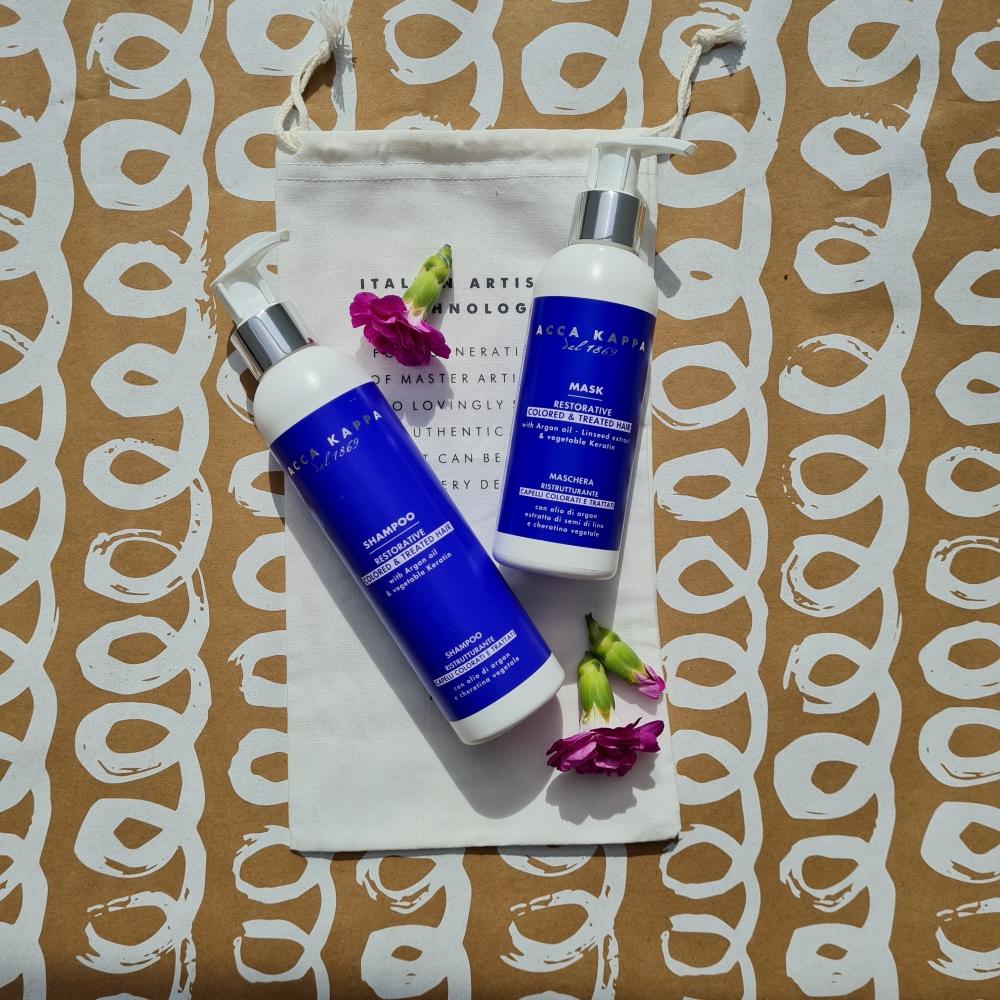 The Blue Lavender Shampoo and Conditioning Mask by ACCA KAPPA
The Treatment
White Moss Nourishing Hair Perfume
The perfect choice for those colouring-protecting days in-between shampooing, the White Moss Nourishing Hair Perfume not only freshens but nourishes. Formulated with a hydrolysed corn, wheat and soy protein complex chosen specifically for its hydrating and nourishing properties, the Hair Perfume is guaranteed to give your hair that extra boost. Also containing extracts of Green tea and Red grapevine, the hair perfume protects against external aggressors whilst leaving your hair pleasantly fragranced.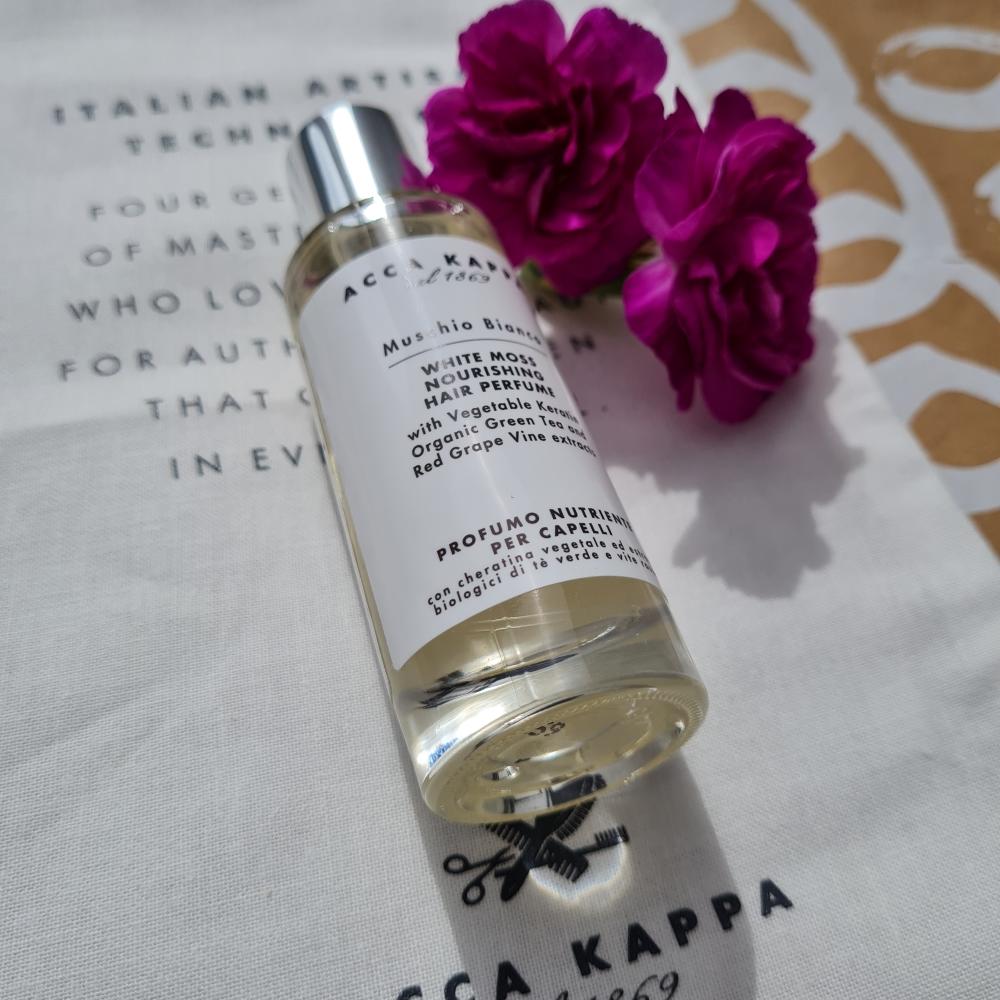 The White Moss Nourishing Hair Perfume by ACCA KAPPA
Like what you're reading? Why not checkout some of our other blogs?