30

Mar

Best Products for: Delicate and Damaged Hair
Round two on our hero product hair guides and next up is our top picks for delicate and damaged hair. A common struggle for many, see below some suggestions that are guaranteed to help leave your hair feeling soft, shiny and strong.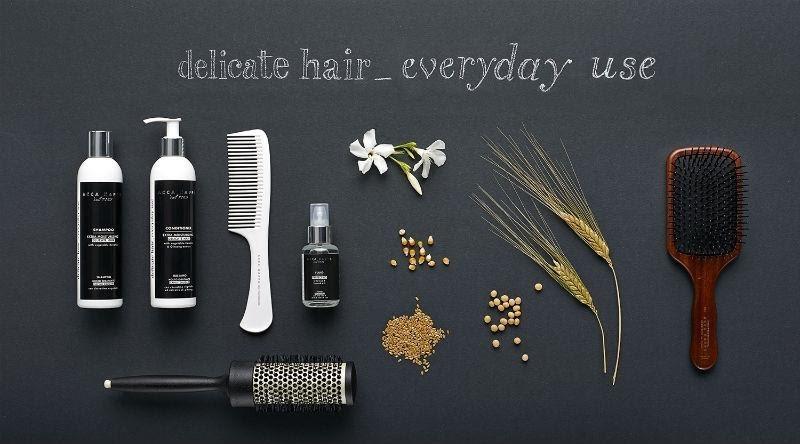 Pictured: The Delicate Hair Care Range by ACCA KAPPA
The Tools
Best Brush for Styling: No Damage Range
Designed to dry and style hair without dehydrating, the NO-DAMAGE range is ideal for delicate or damaged hair. Made from 100% natural bristles, the brush mimics the structure of the hair protecting the delicate hydro-lipid balance. The barrel of the brush is treated in a special ceramic and tourmaline coating that controls excessive temperatures and naturally releases negative ions to make hair hydrated, shiny and silky.
Available in small, medium and large.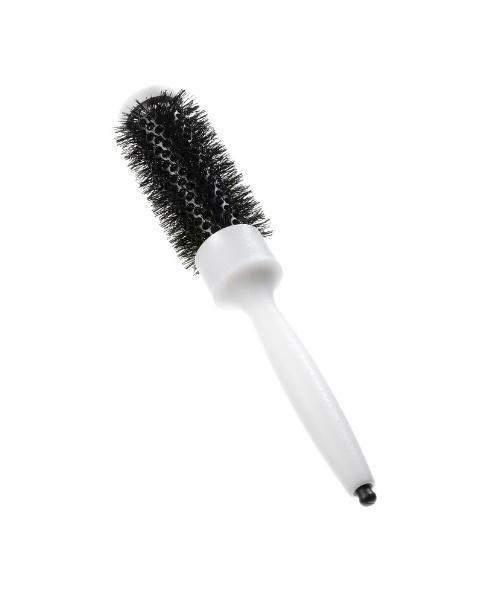 Pictured: The Medium No Damage Bristle Styling Brush by ACCA KAPPA
Best All-Rounder: The Pneumatic Paddle Brush
Great even on wet hair, the Pneumatic Paddle brush gently detangles whilst massaging the scalp. Naturally anti-static, this brush is ideal for preparing medium to long hair for styling. A daily essential, the heat-resistant nylon pins also make it good for drying!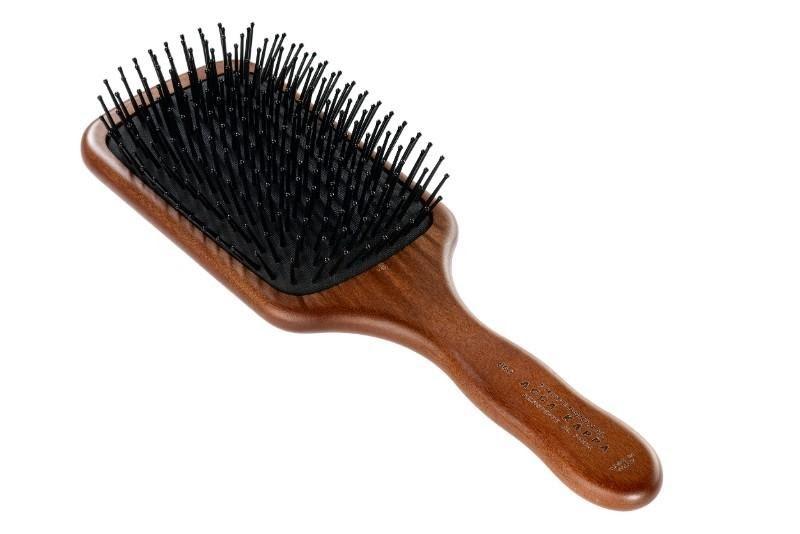 Pictured: The Pneumatic Kotibe Wood Pom Pin Paddle Brush by ACCA KAPPA
Best Brush for Daily Use: The Protective Brush
Made from reforested Beechwood, our Protection brush with special looped nylon bristles moves through hair easily, effectively detangling without damaging the hair's structure. With no unnecessary pulling in sight, the natural rubber cushion absorbs and distributes pressure evenly, ensuring a more delicate brushing action on the scalp whilst still gently massaging.
Or, why not try the Extra Soft Protection Beechwood Looped Nylon Oval Brush?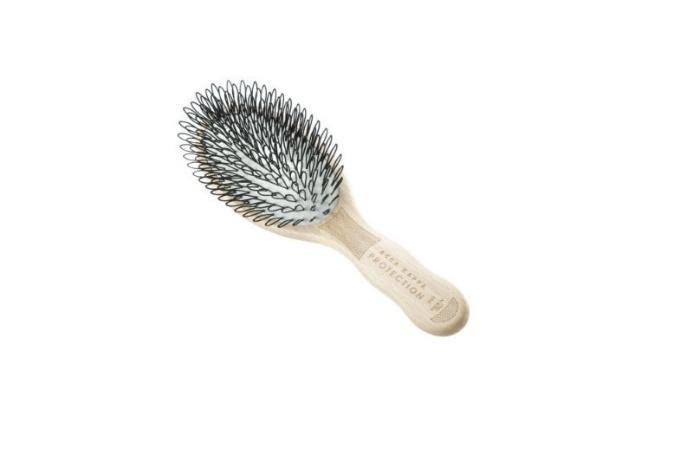 Pictured: The Protection Beech Wood Looped Nylon Oval Brush by ACCA KAPPA
The Products
White Moss Shampoo for Delicate Hair
Delicately nourishing and cleansing, this shampoo's rich formula combines plant-based amino acids and vegetable keratin to help restructure and moisturise the hair. Unique in its ability to capture and transport water, vegetable keratin closely resembles hair keratin, enabling it to penetrate and moisturise the hair much more effectively than other active ingredients. Particularly suitable for delicate hair, the shampoo also contains the anti-oxidant extract witch hazel, to help soothe and protect.
White Moss Conditioner for Delicate Hair
Also employing the deeply moisturising qualities of plant-based amino acids and vegetable keratin, this conditioner is particularly suitable for delicate hair. It also contains ginseng extract to help stimulate and revitalise hair!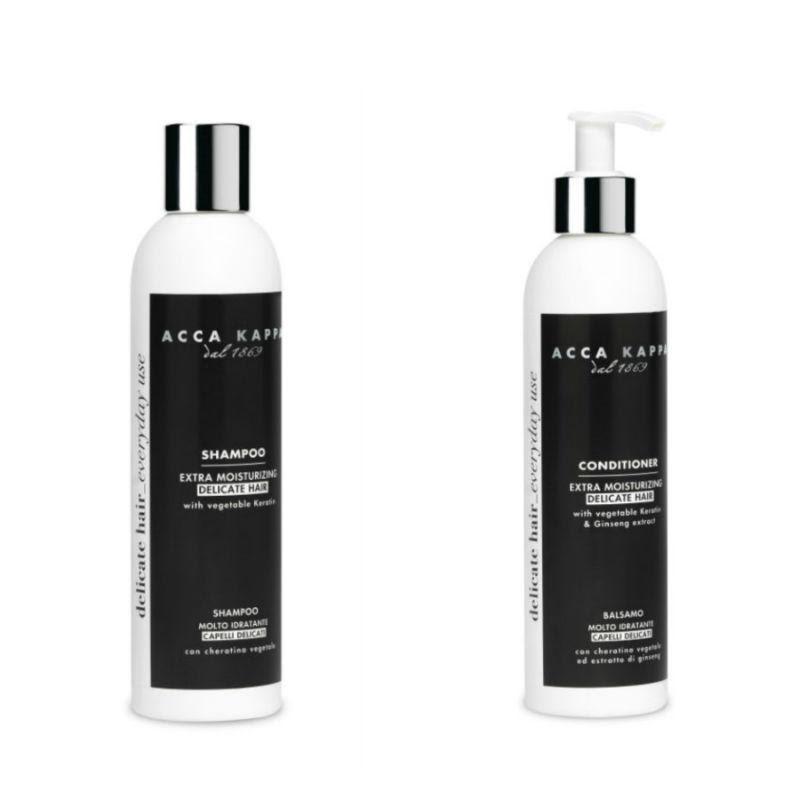 Pictured: The White Moss Shampoo and Conditioner by ACCA KAPPA
The Treatment
White Moss Restorative Serum for Delicate Hair
Formulated with Inca (Jojoba) oil, this Restorative Fluid protects, hydrates and effectively restructures the hair. Restoring elasticity, the exceptionally nourishing fluid helps to prevent split ends and leaves hair feeling soft and silky.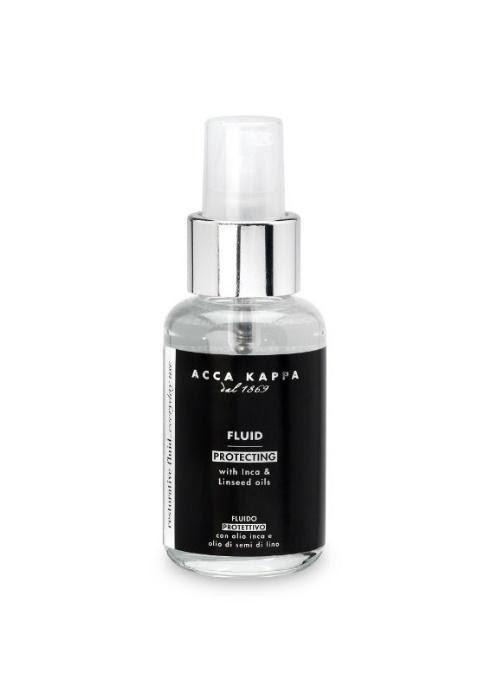 Pictured: The White Moss Restorative Fluid by ACCA KAPPA
The Starter Kit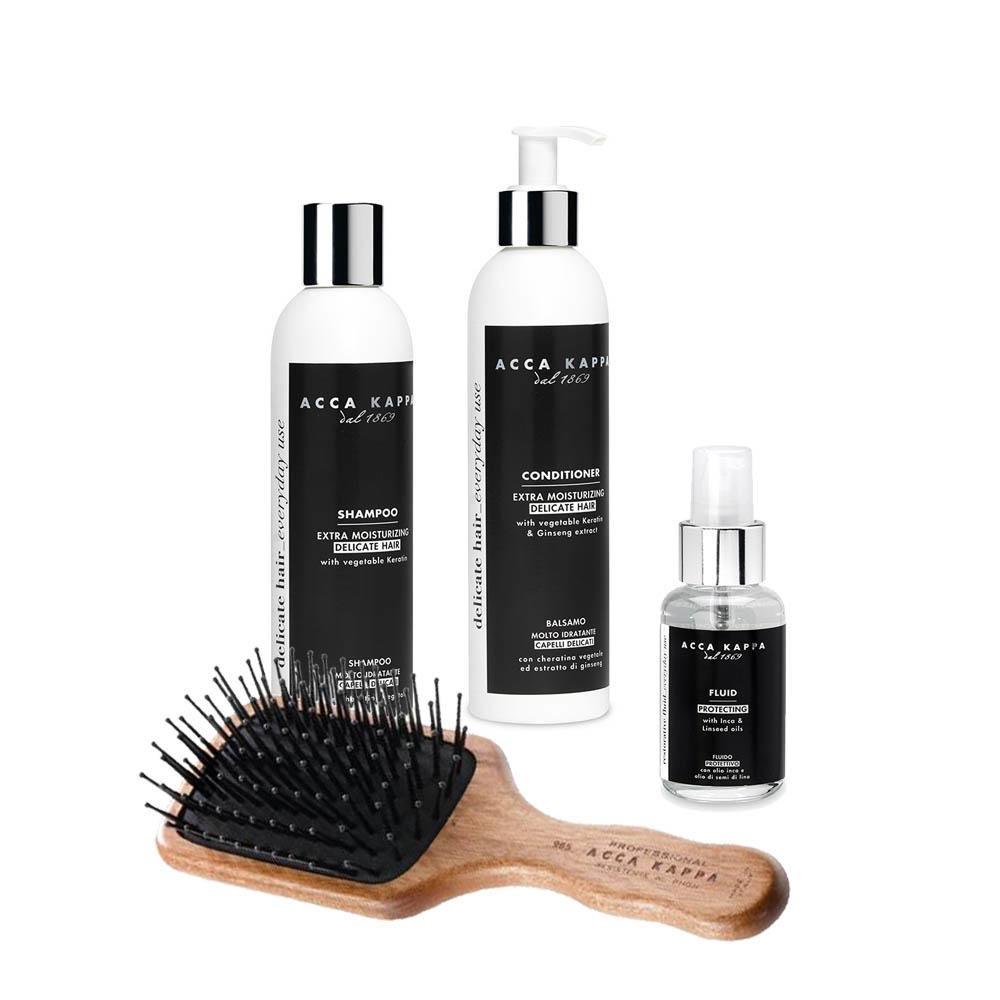 Pictured: ACCA KAPPA Delicate Hair Starter Kit
Our Delicate Hair Starter Kits are now available! The bundle gives you a savings of over 10% off the total price of all items, with a gentle detangling pom pin brush and our ever popular White Moss Shampoo, Conditioner and Restorative Hair Serum – all made with delicate hair in mind!
The set: White Moss Hair Gift Set
White Moss Gift Set, including White Moss Hair Perfume 30ml, Beechwood Protection Hair Brush (Travel Size)
Including a great treatment and tool, this fantastic gift set takes the best of both worlds and is ideal for delicate hair. Formulated with a hydrolysed corn, wheat and soy protein complex chosen specifically for its hydrating and nourishing properties, the hair perfume is the perfect product to give your hair that extra boost. Also containing extracts of Green tea and Red grapevine, it effectively protects against external aggressors whilst leaving your hair pleasantly fragranced. Complete with a travel-size protection brush that gently detangles, this is a starter kit that should be at the top of anyone's Wishlist!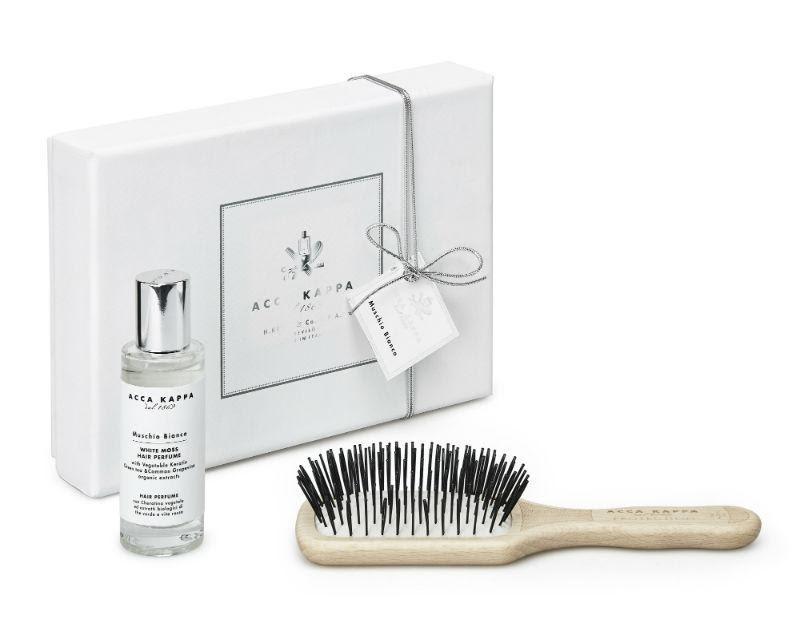 Pictured: The White Moss Hair Gift Set by ACCA KAPPA