25

Nov

Christmas 2020: Gifts for Her
This year, more than ever, we're all in need of some feel-good Christmas cheer. As we release fairy lights from lofts and pull together our shopping lists many of us will be looking forward to the holiday season – welcoming the joyful break that it represents.
But like every year, things can get a little overwhelming when it comes to shopping, wrapping, decorating and finding that perfect gift. 2020 has, without a doubt, brought many trials and tribulations to people in every corner of the world, and an essential part of resilience in the face of these challenges has been self-care.
Whether it's a fragrance that fills a room with all the mystery and magic of a forest, natural creams and soaps to nourish and rejuvenate tired skin, brushes that make your hair bounce and shine, or a perfume that makes you feel pretty as a petal, ACCA KAPPA is here for your lifestyle and beauty needs. And so it's in this self-care spirit that we bring you the Christmas 2020 Gift Guides, with our top 10 suggestions for her explored in this blog- you can also check out the Gift Guide for him here.
1. Perfume Collection Gift Set For Her, £65
For the Fragrance Chameleons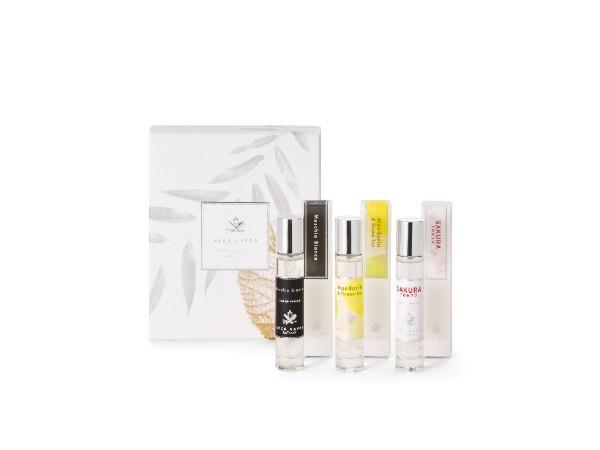 Pictured: Perfume Collection Gift Set for Her with White Moss, Mandarin & Green Tea and Sakura Tokyo
Often stored as one memory, the connection between smell and emotion is a powerful one making fragrances an ideal choice as we head into gifting season. But which one to choose? Our new Fragrance Gift Sets feature a selection of three 15ml Eau de Parfums so you can share the delight of a fragrance feast this festive season.
The Fragrance Gift Set for Her features the icon of Italian spring that is White Moss, Mediterranean inspired carefree Mandarin and Green Tea and pretty, ethereal Sakura Tokyo. Delightfully presented in an Acca Kappa gift box this is a sure-fire way to bring a smile to her face this festive season.
2. Sakura Tokyo Eau de Parfum £23/£95
For the Daydreamers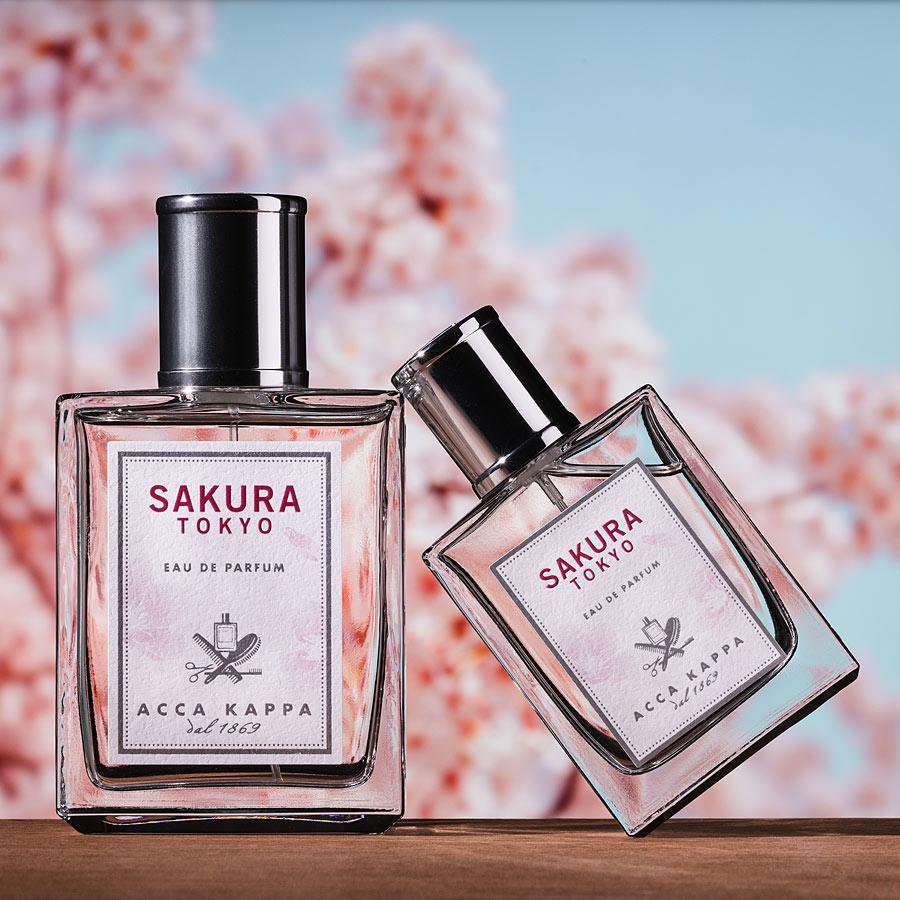 Pictured: Dreamy Sakura Tokyo Eau de Parfum inspired by the Cherry Blossom
Perhaps you're looking for a single show-stopping perfume, something with a sense of imagination and wonder?
A fragrance fit for a dreamer Sakura Tokyo is a celebration of spring-like blooming. Inspired by the Japanese city where the Sakura (cherry blossom) sprinkles the world in its wake with pretty pink petals.
With a Fresh, Floriental Olfactory Family this is a delicate Eau de Parfum, exuding a refined beauty. Opening with a fizzy hint of sweet Nashi Pear and the citrusy punch of Neroli, there is an immediate airiness to the fragrance. This blends with Floriental heart notes of tea-like Freesia, delicate and sensual Waterlily, fresh Rose, and softly sweet, oh-so-pretty Sakura at its very essence. The scent trail fades away as dreamily as it arrives with powdery, chameleon-like Heliotrope, soothing Sandalwood, and gently alluring Musk.
Available in dreamily abundant 100ml and perfectly pocket-sized 15ml
3. Mandarin & Green Tea Eau de Parfum, £23/£95
For the Eternal Optimists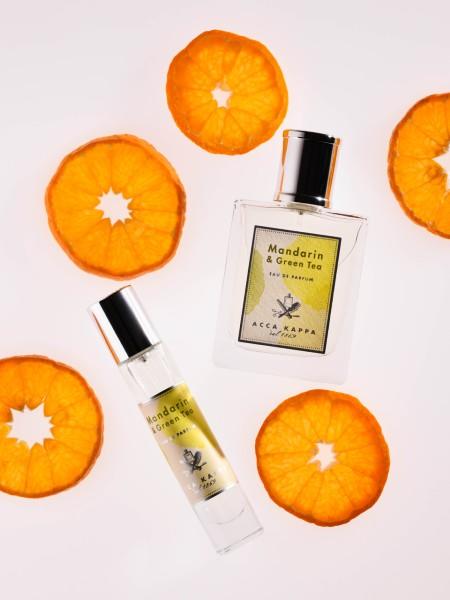 Pictured: Invigorating and Tangy Eau de Parfum Mandarin & Green Tea
Or maybe you're after some sunny vibrance and that carefree holiday feeling?
Invigorating and tangy Mandarin & Green Tea Eau de Parfum celebrates the bright encounter between Green Tea and the essential oils of Orange, Grapefruit, Mandarin and Bergamot. With bright top notes of Mediterranean citrus and soothing tea at its heart, the unisex fragrance has all the depth and character of us at our most tranquil, curled into our favourite book with rhythmic waves easing around us and the energy of the sun at our fingertips.
Available in joyous, plentiful 100ml or a 15ml travel-size vial, making it perfect for an instant boost whilst on the go.
4. Sakura Hand Cream and Soap £22
For the Ones who see Beauty in the Little Things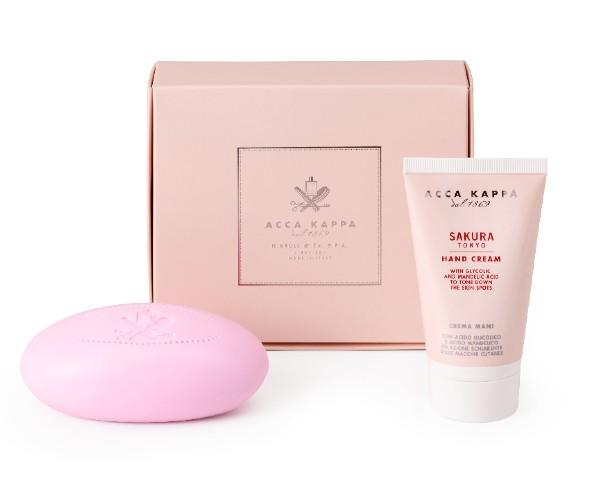 Pictured: Sakura Tokyo Gift Set with Vegetable Soap and Hand Cream
Now, more than ever, good hand-washing habits are an essential part of self-care- the good news is that this too can be a moment of joy, a little break in your day, to take care of your skin, your mind and those hard-working hands.
Dive into a rich velvety lather and the forgotten beauty of a fresh bar of soap with delicate, dreamy, Sakura. The fragrance opens with an airy, pinch of citrus and follows with floral heart notes of cherry blossom and lily. A fitting self-care ritual for this year, washing hands with this gorgeous soap is no chore, but rather an aromatic experience.
Rich in shea butter Sakura hand cream is light and fast-absorbing. Sprouts extract and oat protein work to soothe the skin leaving it soft and silky; a perfect finishing step to your hand-washing self-care, fragrant journey.
5. Green Mandarin Gift Set Bath & Shower Gel, Body Lotion £55.00
For the Ones who Sing in the Shower (or Bath)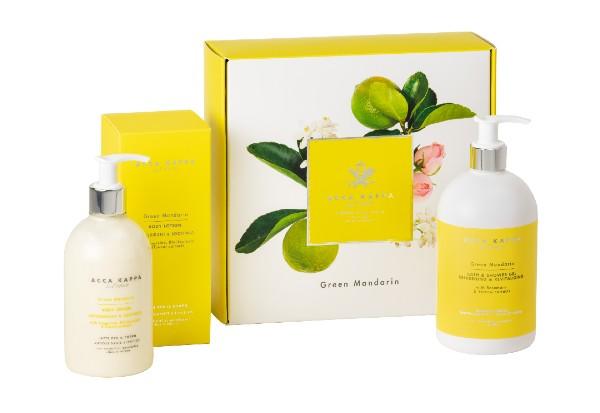 Pictured: Sunny, bright Green Mandarin Gift Set with Bath/Shower Gel & Body Lotion
When it comes to self-care, it rarely gets better than a hot bath or shower and with the aromatic fragrance of Mediterranean citrus, you're sure to feel refreshed and revitalised. Containing extracts of rosemary and yarrow the bath and shower gel has a delicate formula designed to cleanse and protect, maintaining the skin's natural PH. The light yet moisturising body lotion contains tangerine and carrot extract which work to hydrate and soothe the skin while green mandarin effectively regenerates and rejuvenates.
6. White Moss Gift Set, Eau de Cologne, Shower Gel, Body Lotion & Hand Cream, £64
For the Serenity Champions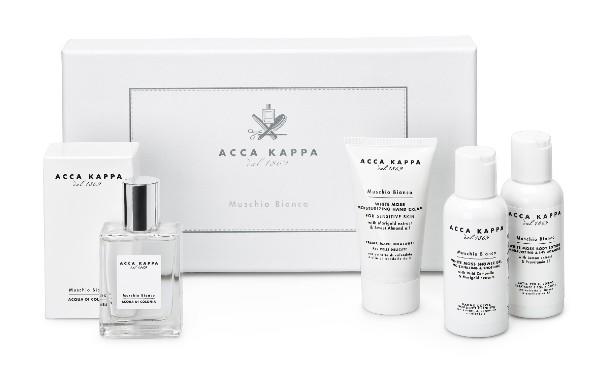 Pictured: White Moss Gift Set with Eau de Cologne, Shower Gel, Body Lotion and Hand Cream
With a heart note of lavender, gentle top notes of citrus, and harmonised with base notes of sweet cedar and white musk, White Moss is our most iconic fragrance surrounding the body with the freshness and fragrance of Italian spring. Delicate and refined the White Moss range includes body care that embraces gentility and calms with natural, active ingredients like chamomile and marigold. The unisex White Moss collection includes fragrance and body care, brought to you as a neat collection in this gift set which includes White Moss Eau de Cologne, Shower Gel, Body Lotion and Hand Cream.
This easy to fall in love with fragrance, makes an ideal self-care gift set, a present that's certain to make you top of the favourite list!
7. White Moss Gift Set' Hair Perfume and Beechwood Travel Protection Hairbrush £62
For the Ones with the Terrific Manes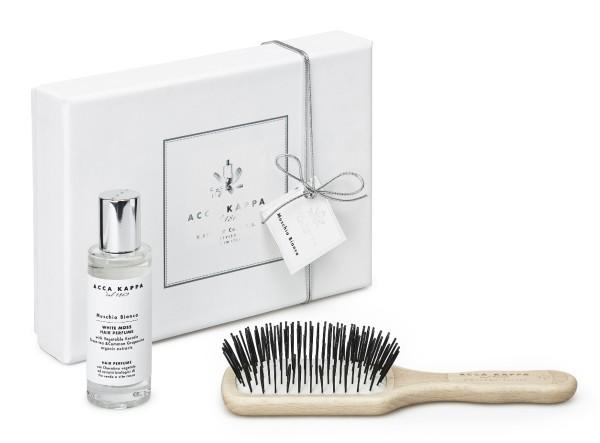 Pictured: White Moss Gift Set with Hair Perfume and Beechwood Travel Protection Brush
Know someone who loves their hair care? What better way to delight in the bliss of a well-cared-for mane than with nourishing, sweet and sensual hair perfume complimented by our Protection Brush, designed to gently detangle hair and massage the scalp - all brought to you in a lovely gift box.
Formulated with hydrolysed corn, wheat and soy protein complex chosen specifically for its hydrating and nourishing properties, White Moss Hair Perfume is the ideal product to give your hair an extra boost between styles and washes. Also containing Green Tea & Red Grapevine extracts the easy to fall in love with hair perfume protects hair against external aggressors.
Our ever-popular protection brushes have looped nylon bristles, moving easily through hair without damaging its structure. The looped bristles also provide a gentle scalp massage, stimulating microcirculation which benefits the hair follicles. Both perfume and brush are suitable for all hair types, even the most delicate.
8. Fine Hair Starter Kit £63
For the Fine Ones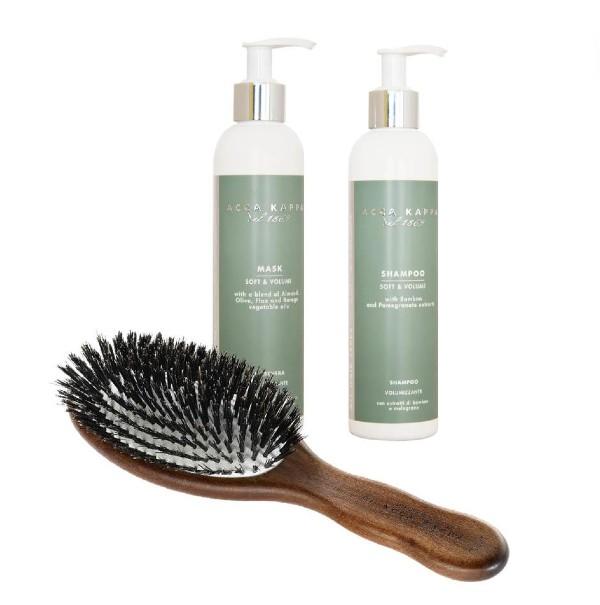 Pictured: The Fine Hair Starter Kit with Shampoo, Conditioner and Kotibe Wood Natural Bristle Brush
At Acca Kappa UK we've been proudly bringing you hair guides and starter kits this year. Relatively new to our Hair Care collection is our Soft & Volume range. The shampoo and mask (which doubles up as a conditioner) gently cleanse and nourish the hair whilst at the same time acting as a volume booster and thickener. With natural extracts that work to enhance the strength and elasticity of the hair fibre whilst nurturing the root, the Soft & Volume range will turn hair silky and shiny in just a few applications.
Our Starter Kit combines Shampoo and Mask with our Pneumatic Kotibe Wood Pure Bristle Oval Brush. The natural bristles work effectively to distribute natural oils along the shaft of the hair from root to tip, giving volume and shine to the hair whilst effectively cleansing at the same time.
Want these hair goodies perfectly presented for under the tree? Simply add 'gift wrapping' at checkout and we'll put them together in a branded gift box, with Acca Kappa tissue paper, black shredded paper (for protection), and a neat shiny, sliver bow to boot.
9. Wavy Hair Brush £34
For the Creative, DIY Hair Stylists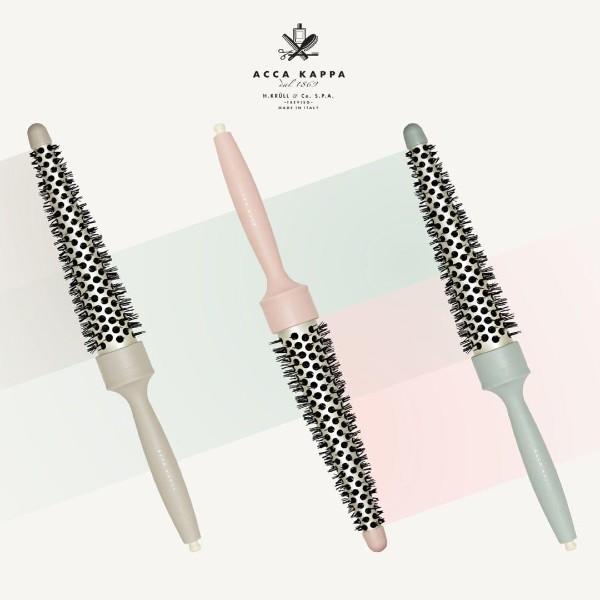 Pictured: Wavy Styling Brush for Creative Styling in cream, pastel pink & blue
Did lockdown transform anyone you know into a DIY Hair Stylist? Our WAVY styling brush is like a magic wand making DIY hair-styling possible (even for those us who may find it a little tricky). The styling brush can be used to create soft, gradual waves or tighter curls according to your preference. Great for styles that look modern and effortless the brush can be used to dry hair and create waves simultaneously with enhanced nylon bristles and a longer barrel (enabling it to effectively tackle longer sections of hair). Treated in a special Ceramic and Tourmaline coating, the barrel controls excessive temperatures and naturally releases negative ions to make hair hydrated, shiny and silky.
Available in pastel blue, pink or cream the brush can be paired with one of our hair care starter kits and/or delightfully gift wrapped (simply add 'gift wrapping' to your cart at checkout) so it arrives ready for under the tree!
Top tip: If you'd like some more advice on how to use the brush, have a look at our Product Video.
10. Eucalyptus and Oakmoss Candle or Fragrance Diffuser £32/£44
For the Forest Bathers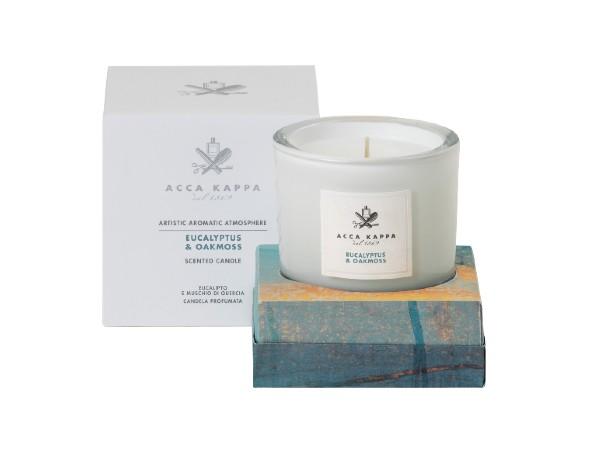 Pictured: Eucalyptus & Oakmoss Scented Candle
The Japanese practice of 'Forest Bathing' known as 'shinrin yoku' encourages mindfulness and relaxation through enjoying a sensory forest-based experience, helping us to slow down and calm down. The simple method of being calm and quiet amongst trees and observing nature can help both adults and children de-stress and naturally boost health. At Acca Kappa, the biggest inspiration behind our fragrances and hair and skincare are brought to us by flowers and plants, using naturally active ingredients to create aromatic experiences.
While there's no substitute for a walk in nature, our homes can help us connect to the natural wood through fragrance. Such is the case with our Artistic Aromatic Fragrance, Eucalyptus & Oakmoss available as a Scented Candle or Fragrance Diffuser. Intense hints of oakmoss and the freshness of eucalyptus evoke the memory of a walk in the woods, creating an ideal atmosphere to feel regenerated, healthy and serene.
Like what you're reading? Here's some more lifestyle and beauty reading recommendations for you: