25

Nov

Christmas 2020: Gifts for Him
This year, more than ever, we're all in need of some feel-good Christmas cheer. As we release fairy lights from lofts and pull together our shopping lists many of us will be looking forward to the holiday season – welcoming the joyful break that it represents.
But like every year, things can get a little overwhelming when it comes to shopping, wrapping, decorating and finding that perfect gift. 2020 has, without a doubt, brought many trials and tribulations to people in every corner of the world, and an essential part of resilience in the face of these challenges has been self-care. Whether it's a fragrance with the magic of a sea breeze, lush beard care or an eye-catching shaving set, ACCA KAPPA is here for your lifestyle and grooming needs. And so it's in this self-care spirit that we bring you the Christmas 2020 Gift Guides, with our top 10 suggestions for him explored in this blog - or you can also check out the Gift Guide for Her.
1. The Perfume Collection Gift Set For Him, £65
For the Fragrance Chameleons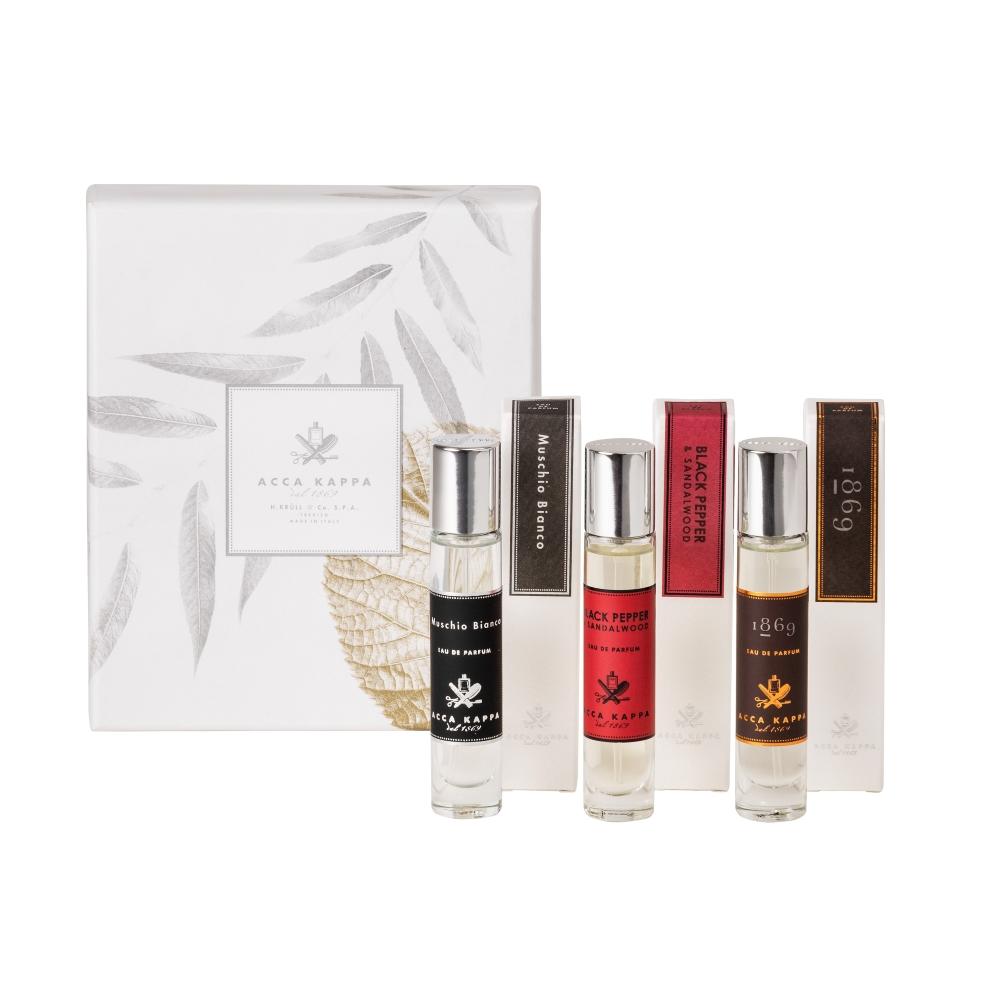 Pictured: The Perfume Collection Gift Set for Him with White Moss, Black Pepper and Sandalwood and 1869
Often stored as one memory, the connection between smell and emotion is a powerful one, making fragrances an ideal choice as we head into gifting season. But which one to choose? Our new Fragrance Gift Sets feature a selection of three 15ml Eau de Parfums so you can share the delight of a fragrance feast this festive season.
The Fragrance Gift Set for Him features the icon of Italian spring that is White Moss, spicy Black Pepper and Sandalwood, and classic 1869, a dreamy combination of floral and leather.
2. Black Pepper and Sandalwood Eau de Parfum £23/95
For the Irresistibly Self-Assured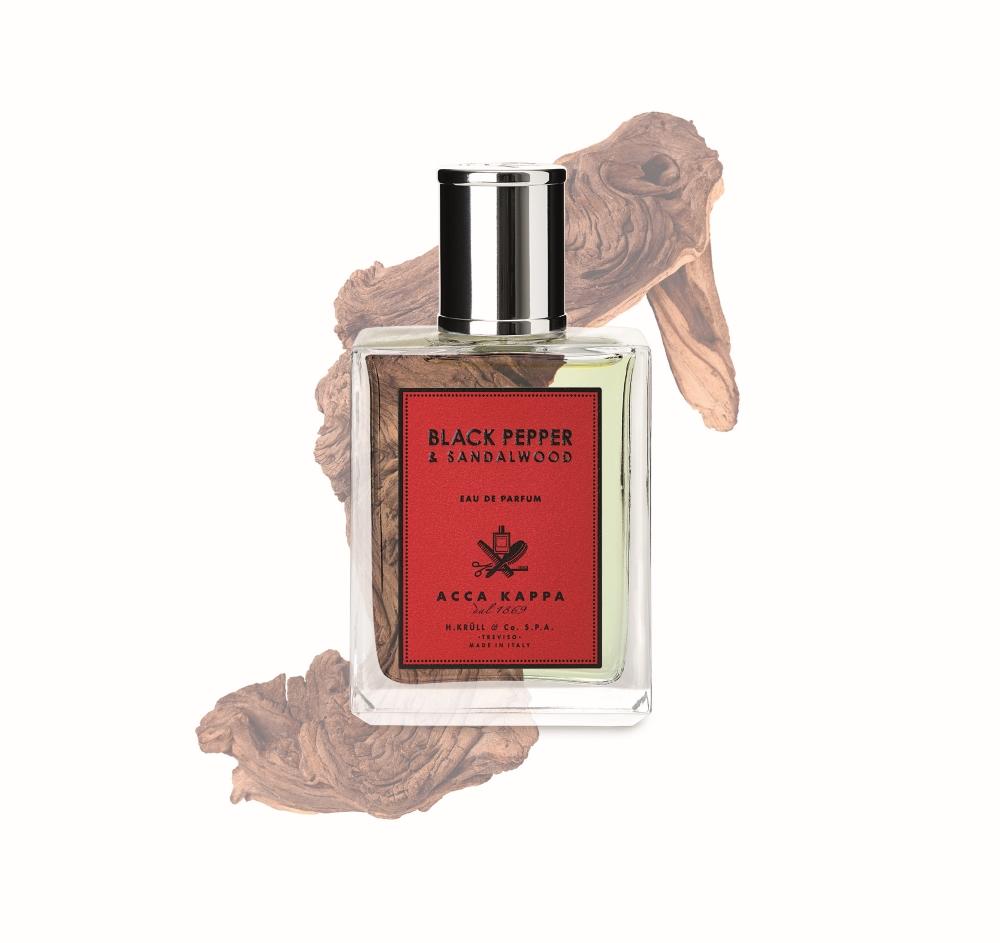 Pictured: Black Pepper Eau de Parfum in 100ml size, an irresistible fragrance for the festive season
Award-winning Black Pepper and Sandalwood combines the energising spice of black pepper, with the alluring confidence of sandalwood. Cinnamon, nutmeg and saffron make an appearance for the top and heart notes adding a mysterious sweetness while grounding black musk draws the fragrance together with irresistible magnetism.
Available in abundant 100ml or handy 15ml, just the right size for jacket pockets.
3. White Moss Eau de Cologne, £30/£41/£61
For the Refined Gentleman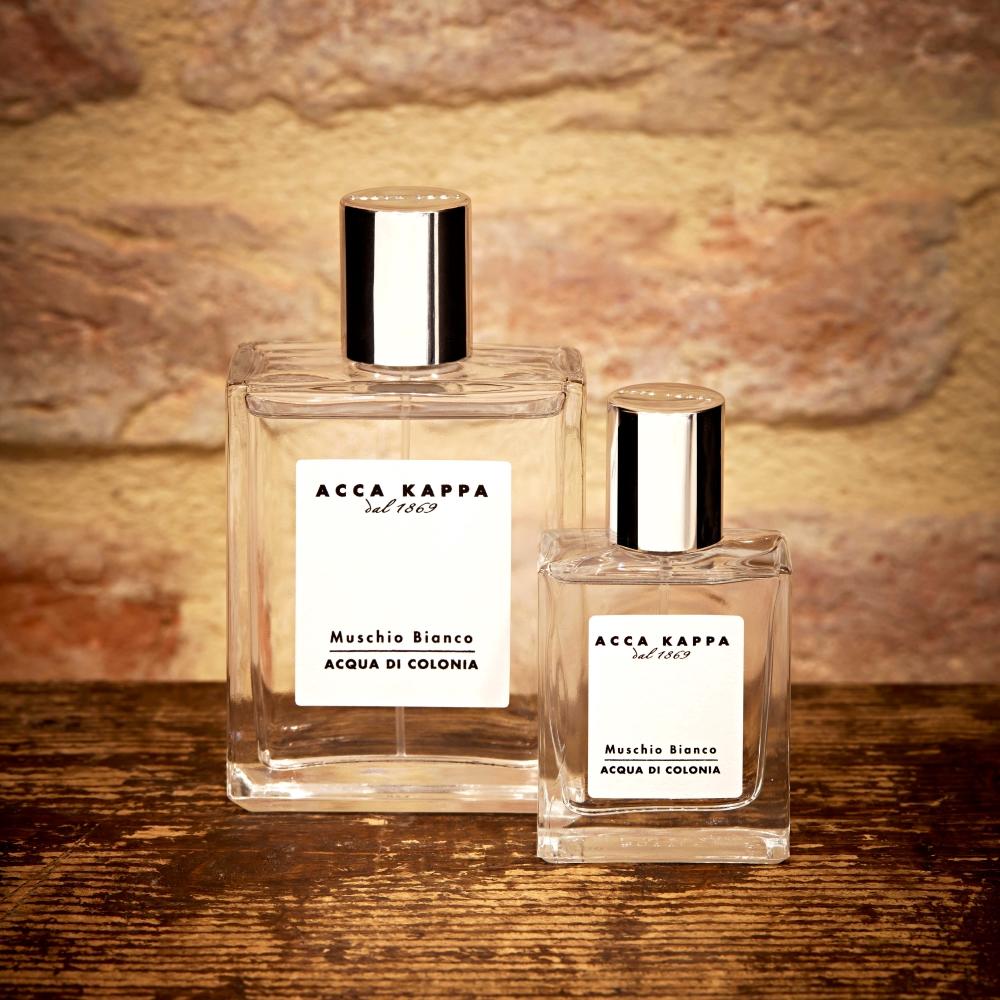 Pictured: Gentle and Easy to Fall in Love With; Unisex White Moss Eau de Cologne
A dash of citrus with lemon, bergamot and juniper combine with classic chill out notes of lavender and sweet woods at the heart of this fragrance, all brought together with harmonising white musk and cedarwood. Our most iconic scent celebrates the freshness of Italian spring; refined, gentle and easy to fall in love with the unisex eau de cologne is a sure-fire self-care staple.
Available in 3 sizes, 30ml, 50ml or 100ml
4. Men's Fine Hair Starter Kit, £55
For the Fine Ones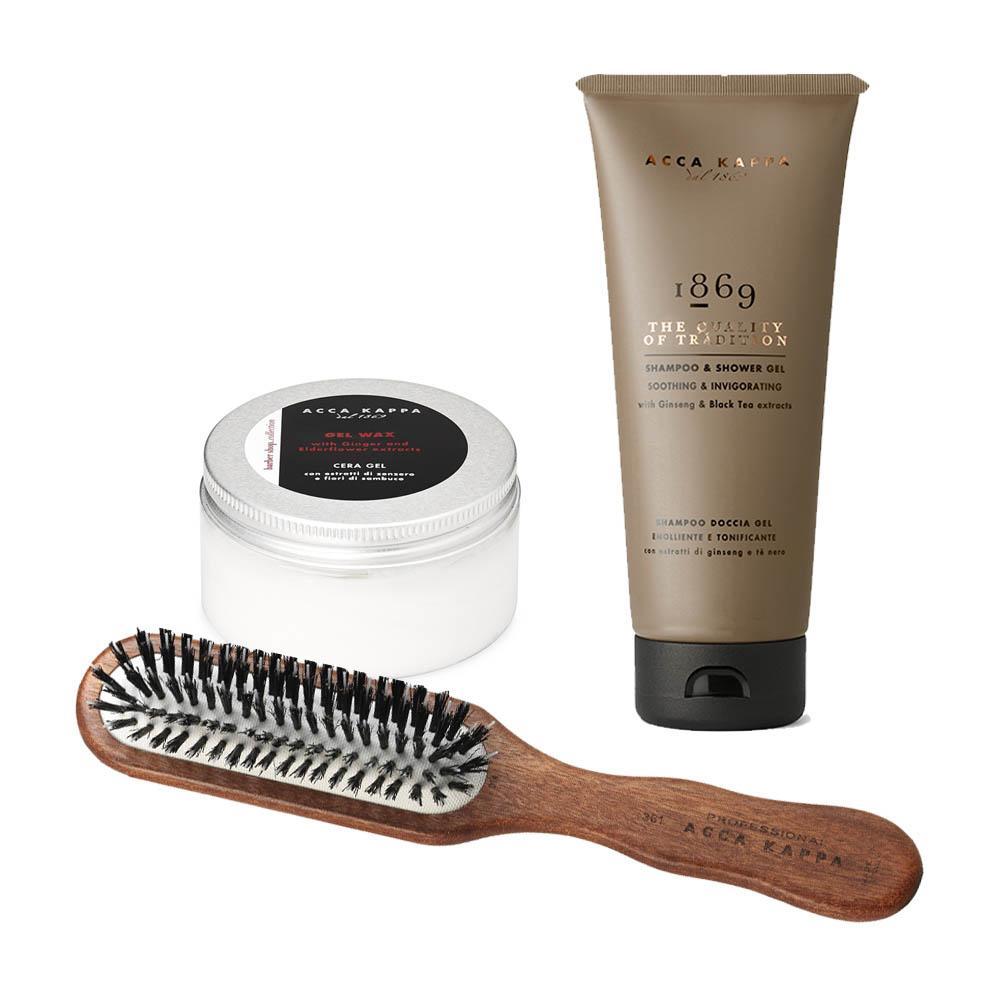 Pictured: The Men's Fine Hair Starter Kit brings together some lovely essentials for day-to-day hair care
At Acca Kappa UK we've been proudly bringing you hair guides and starter kits this year. For men with fine and/or thin hair, this kit brings together some lovely essentials for his day-to-day hair care routine.
Our Starter Kit includes classic 1869 Shampoo & Shower Gel, the popular woody and floral fragrance has been formulated as a shampoo to include extracts of Ginseng and Black Tea which tone the scalp and work to stimulate hair growth. Also in the kit is our volume-boosting Barbershop Collection Styling Gel Wax, which can be used to create movement for his preferred style while simultaneously stimulating hair follicles and keeping them healthy thanks to the ginger and elderflower extracts in the wax. Finally, the rectangular Pure Bristle Kotibe Wood Brush makes an ergonomic and attractive addition to his self-care shelf, the gentle natural bristles work to clean and redistribute oils, giving volume and shine to hair.
Want these goodies perfectly presented for under the tree? Simply add 'gift wrapping' at checkout and we'll put them together in a branded gift box, with Acca Kappa tissue paper, black shredded paper (for protection), and a neat shiny, sliver bow to boot.
5. Barbershop Collection Gift Set of Beard Shampoo, Beard Fluid and Beard Brush, £95
For the Bearded Beaus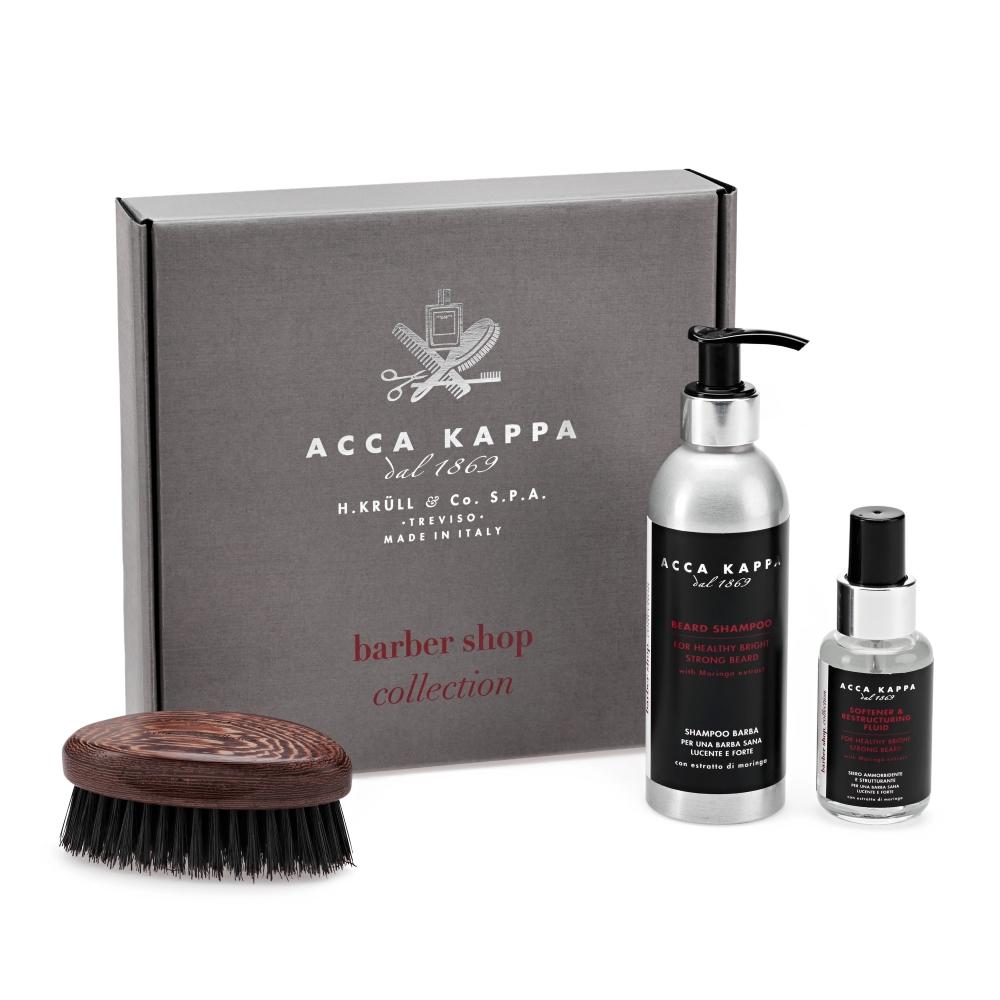 Pictured: The Barbershop Collection Gift Set might even give Santa some present envy!
Brought to you in a luxurious gift box, this set has all the essentials for a bearded beau. Our beard shampoo has been expressly created for the daily cleansing of beards and moustaches. With Moringa purifying extract for a strong, healthy, glossy beard combined with natural, fresh mint the shampoo transforms beard care into a blissful aromatic experience. The shampoo is complimented with our leave-in beard fluid, which has Argan and Moringa extracts to nourish facial hair, helping to produce strong, healthy and even glossy beards. And the icing on the cake; the Wengé Wood Beard Brush, with an ergonomic handle and pure, fine quality bristles, the brush detangles keeping beards healthy and strong and can be used to evenly distribute beard fluid.
We reckon this one might even give Santa some serious present envy!
6. 3-Piece Venetial Red Shaving Set with Badger Brush, Mach3 Razor and Stand, £189
For the Smooth Cheeked Champions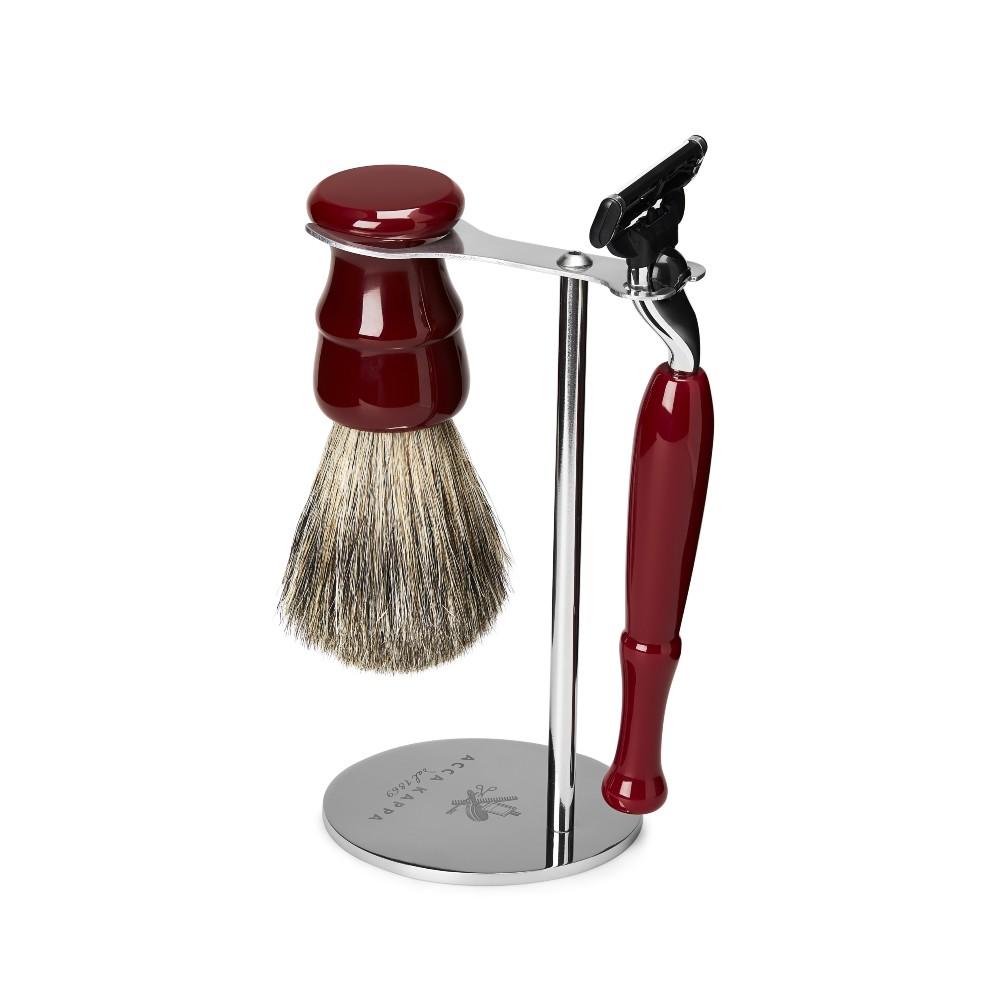 Pictured: The Eye Catching Venetian Red Shaving Set complete with Badger Brush and Mach 3 Razor is a treasure for the bathroom shelf
In eye-catching, vintage-inspired Venetian Red, this handy shaving set is sure to put some stylish, feel-good vibes into his morning shave-routine. With a pure badger shaving brush made by one of the world's oldest brush companies, an easy-to-use Mach3 Razor and Chrome plated stand, this is a treasure for the bathroom shelf.
7. 1869 Wengé Wood Shaving Bowl with Almond Shaving Soap, £79
For the one who finds joy in the little things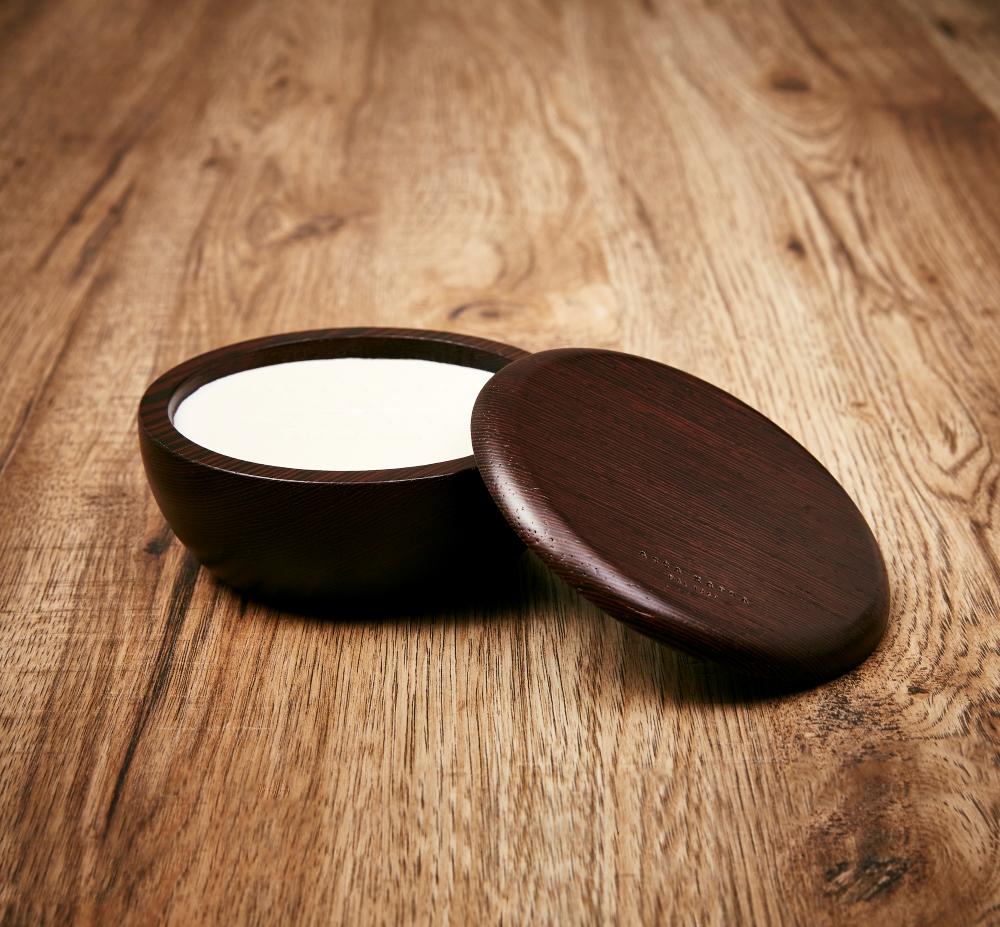 Pictured: Handcrafted Wengé Wood shaving bowl with nourishing sweet almond soap
Presented in a handsome, handcrafted bowl the 1869 Almond Shaving Soap uses natural ingredients and a traditional formula to nourish skin pre-shave.
With delicate plant oils, sweet almond oil, shea butter and beeswax the soap is both hydrating and soothing. Glycerine and Coconut Oils also ensure a smooth & comfortable shave.
The Wengé Wood used to create the bowl is varnished to ensure resistance to water and lasting beauty, and almond soap refillscan be purchased through us here at ACCA KAPPA.
8. The White Moss Gift Set with Eau de Cologne, Shaving Foam and Soap, £47
For the Ultimate Self-Care Serenity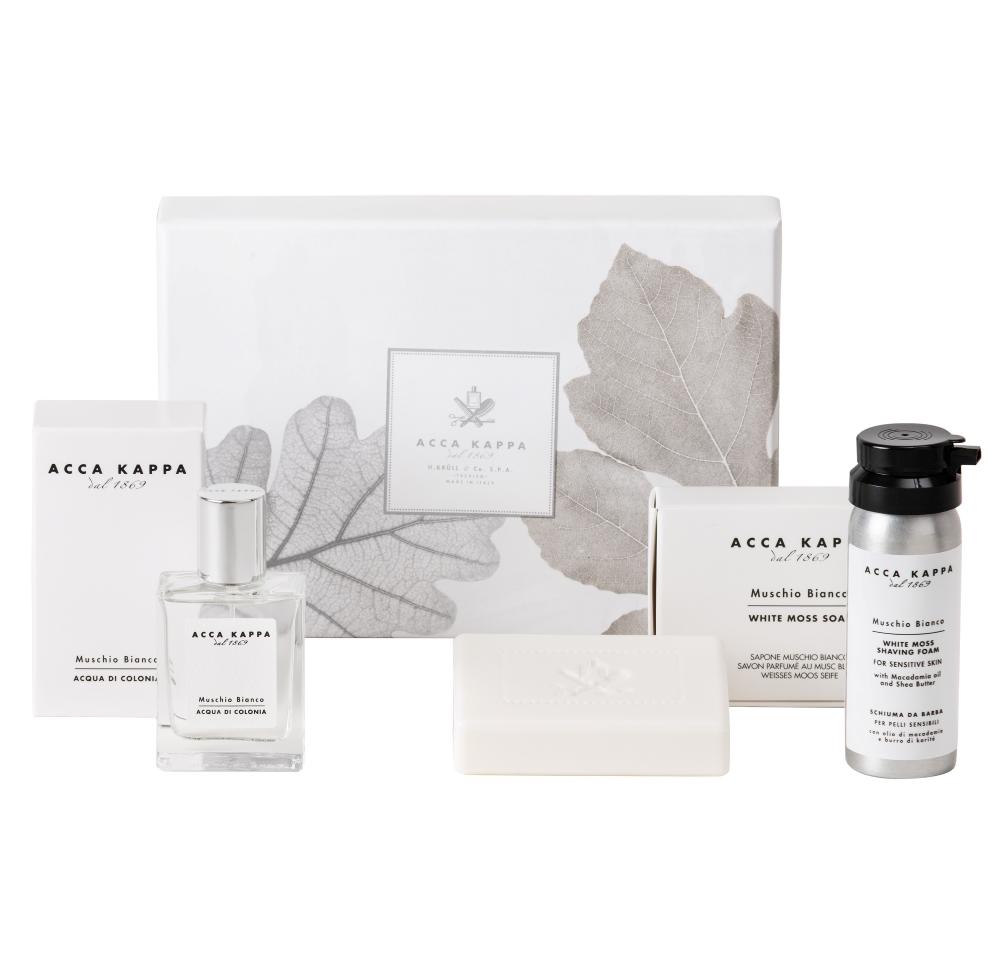 Pictured: White Moss Gift Set for Him, with Eau de Cologne, Shaving Foam and Soap
Cologne? Shaving Foam? Soap? Tick, tick, tick!!!
This self-care gift set for him comes with our most iconic fragrance, White Moss, a refined and contemporary classic that celebrates the freshness of Italian spring. Ideal for sensitive skin White Moss Shaving Foam is made using naturally active ingredients and is free of any nasties. It provides an exceptionally smooth shave while it simultaneously softens, moisturises and nourishes the skin. Made with pure plant and coconut oils, White Moss soap is created using traditional techniques with raw materials exclusively of plant origin.
9. Giallo Elicriso Gift Set of Shower Gel and Body Lotion, £55
For some sun-filled holiday vibes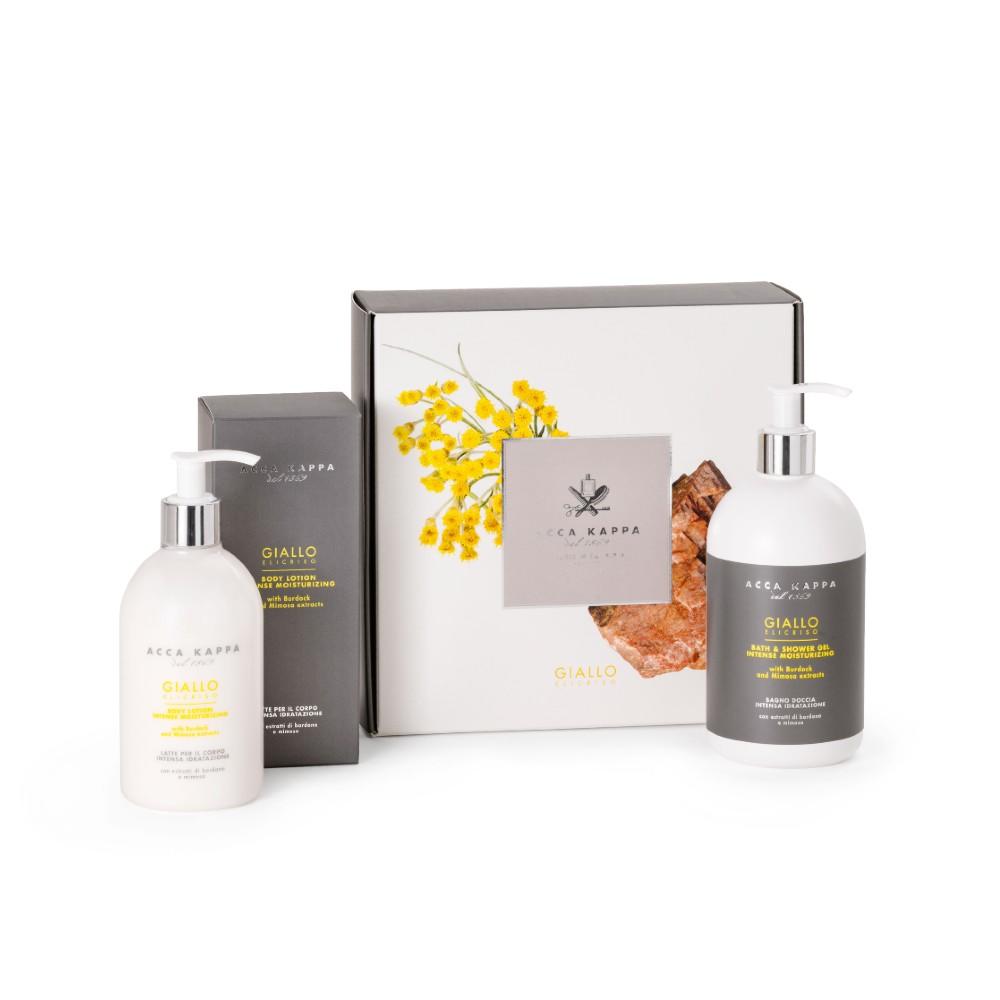 Pictured: New to the Acca Kappa Collection, Giallo Elicriso Gift Set with Shower Gel and Body Lotion
Inspired by the Adriatic Sea, our Giallo Elicriso (Italian for Everlasting Flower) collection for men now includes shower gel and body lotion. Exuding holiday vibes, the Everlasting flower (aka Helichrysum flower) thrives in the sun-baked zones of southern Europe and gives off a lovely sweet, straw-like scent, harmonising with violet leaves, white peppercorn, nutmeg and cedarwood the ACCA KAPPA fragrance is warm and floral.
Our men's body care collection comes in an exquisite gift box which features the flower behind the fragrance. Both Shower Gel and Body Lotion are made with naturally active ingredients including burdock and mimosa extracts which cleanse and purify the skin as well as sweet almond oil which is rich in Vitamin E and has a high fatty acid content which works to fight ageing skin as well as treat dry and reddened skin.
10. Giallo Elicriso, Eau de Parfum £23/£124
For the magic of a sea breeze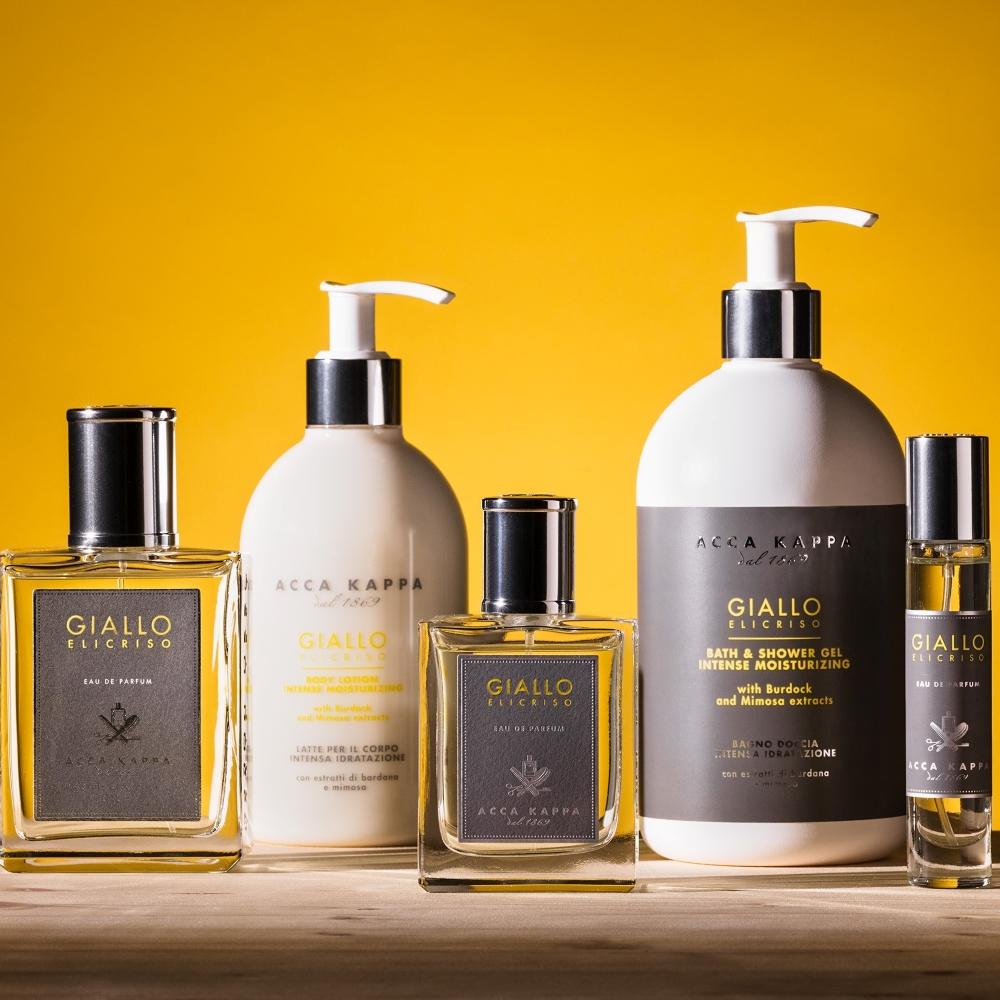 The Giallo Elicriso Eau de Parfum with new Shower Gel and Body Lotion
As Christmas draws closer, we're all on the lookout for some relief and joy in the festivities to come and so our final feel-good item for the Christmas list for him has to be Giallo Elicriso Eau de Parfum.
The Adriatic Sea inspired fragrance, combines the sweet, straw-like fragrance of the Everlasting Flower with fresh aquatic, violet and cedarwood, exuding the magic of a sea breeze with the spray of a bottle.
Available in abundant 100ml or handy 15ml, just the right size for jacket pockets.
Like what you're reading? Check out some more ACCA KAPPA UK blogs for your beauty and lifestyle fix: