05

Aug

Common Summer Hair Woes and How to Solve Them
Endless frizz, chlorine damaged colour and limp locks- just as the warmer months can play havoc with our skin, it can also make our hair more difficult to manage. Exploring some of the most common summer hair woes, see below as we list some of the best remedies to help you achieve your ultimate style- weather independent!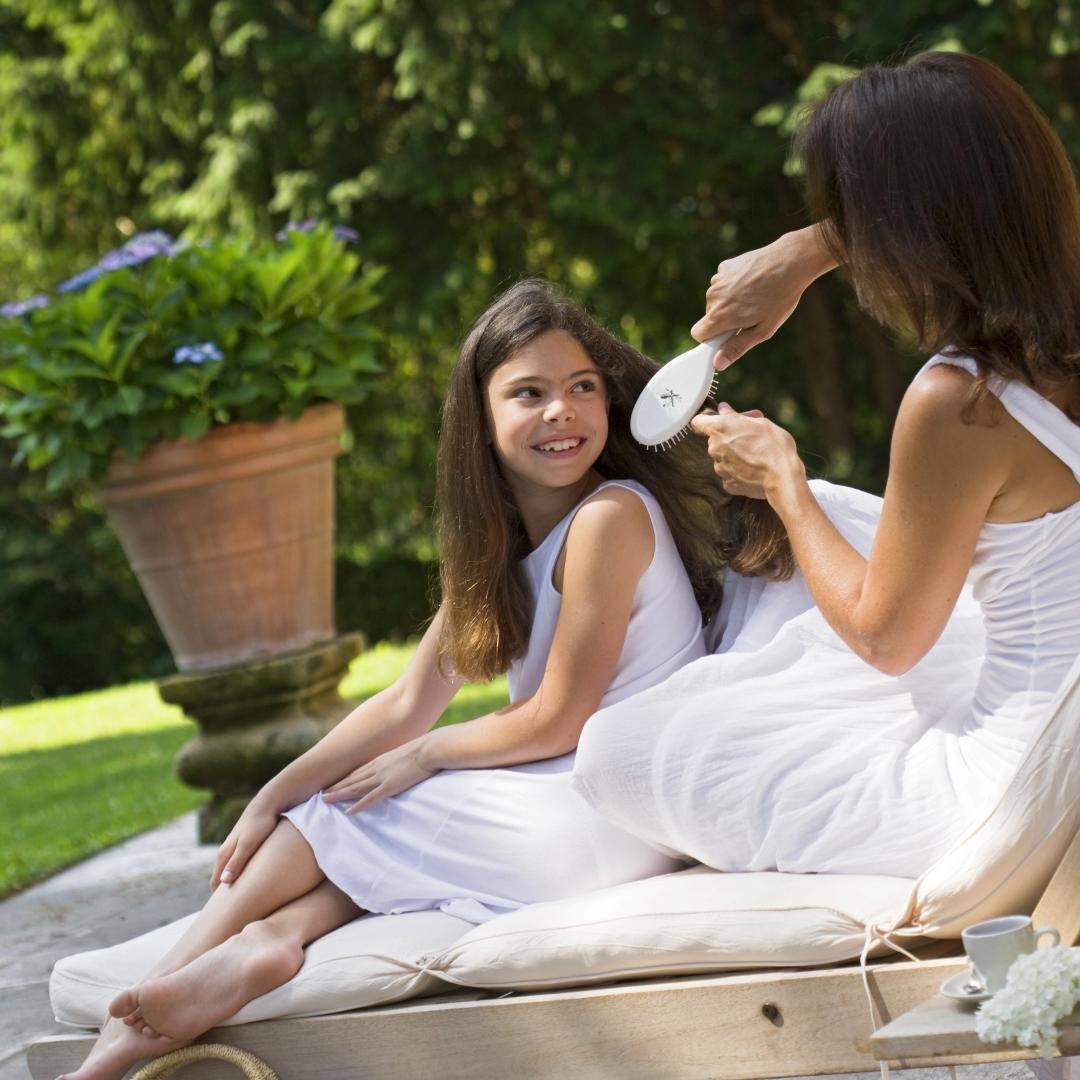 How to best take care of your hair in the beautiful summer months
No.1 Frizzy Hair
Extremely sensitive to humidity, thick and curly hair can often be left frizzy by summer heat. Caused by neighbouring keratin strands forming a weak attraction to the same water molecule, the shared hydrogen bond leads the hair to fold back on itself and frizz. Resulting in far more hydrogen molecules in the air the drier conditions, humidity causes these bonds and reactions to happen much more quickly than usual leaving your hair out of control in no time!
Remedy: The Green Mandarin Range
Complete with Shampoo, Conditioner and Smoothing cream the Green Mandarin hair care collection has been designed specifically with frizzy hair in mind. A great protectant against pollution and UV damage, the range has been formulated with Linseed oil to help seal the hair cuticle and Moringa extract to help capture polluting agents. Scented with citrus green mandarin for a burst of summer brightness.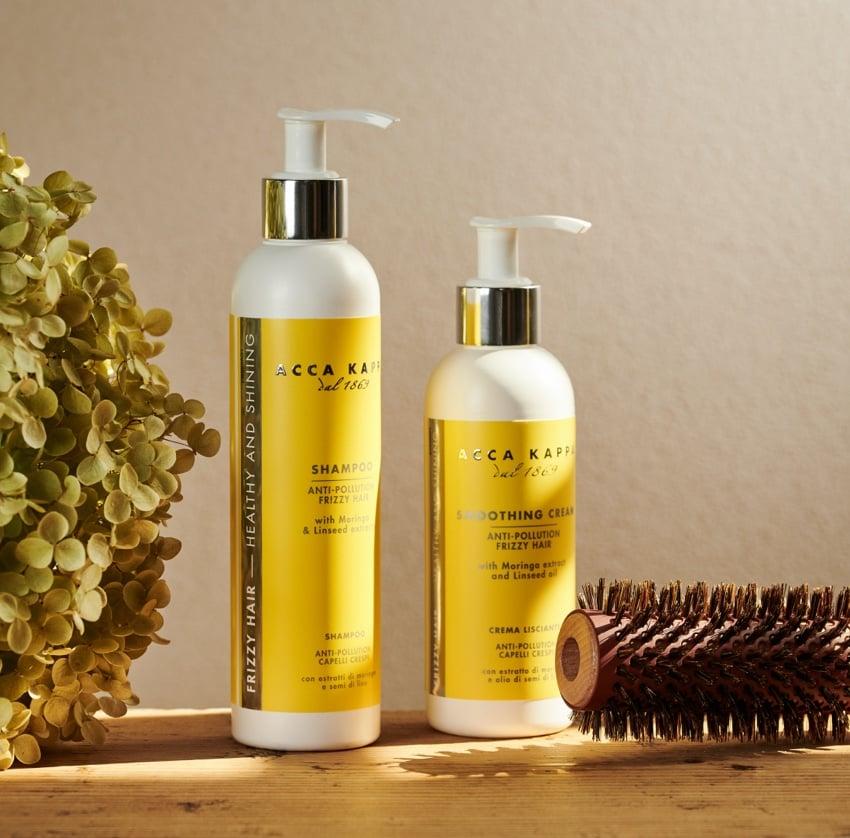 The Green Mandarin Shampoo and Smoothing Cream by Acca Kappa
No.2 Flat Hair
Whilst humidity can have a volumizing, frizzing effect on thick hair it can have quite the opposite reaction on thinner hair. Unfortunately knocking all the oomph out of your style, humidity returns finer hair to its natural state and with the hair often being fairly straight and flexible, can cause thin hair to fall flat.
Remedy: The Soft & Volume Range
Deeply nourishing without weighing down hair, the Soft & Volume range helps to provide additional volume and gently cleanse hair. Leaving hair soft, light and bouncy the collection uses bamboo and pomegranate extract for a regenerative hydrating boost. Complete with shampoo and conditioner, the conditioner can also be used as an intensive mask treatment for an added hydration boost- simply leave an additional few minutes before rinsing.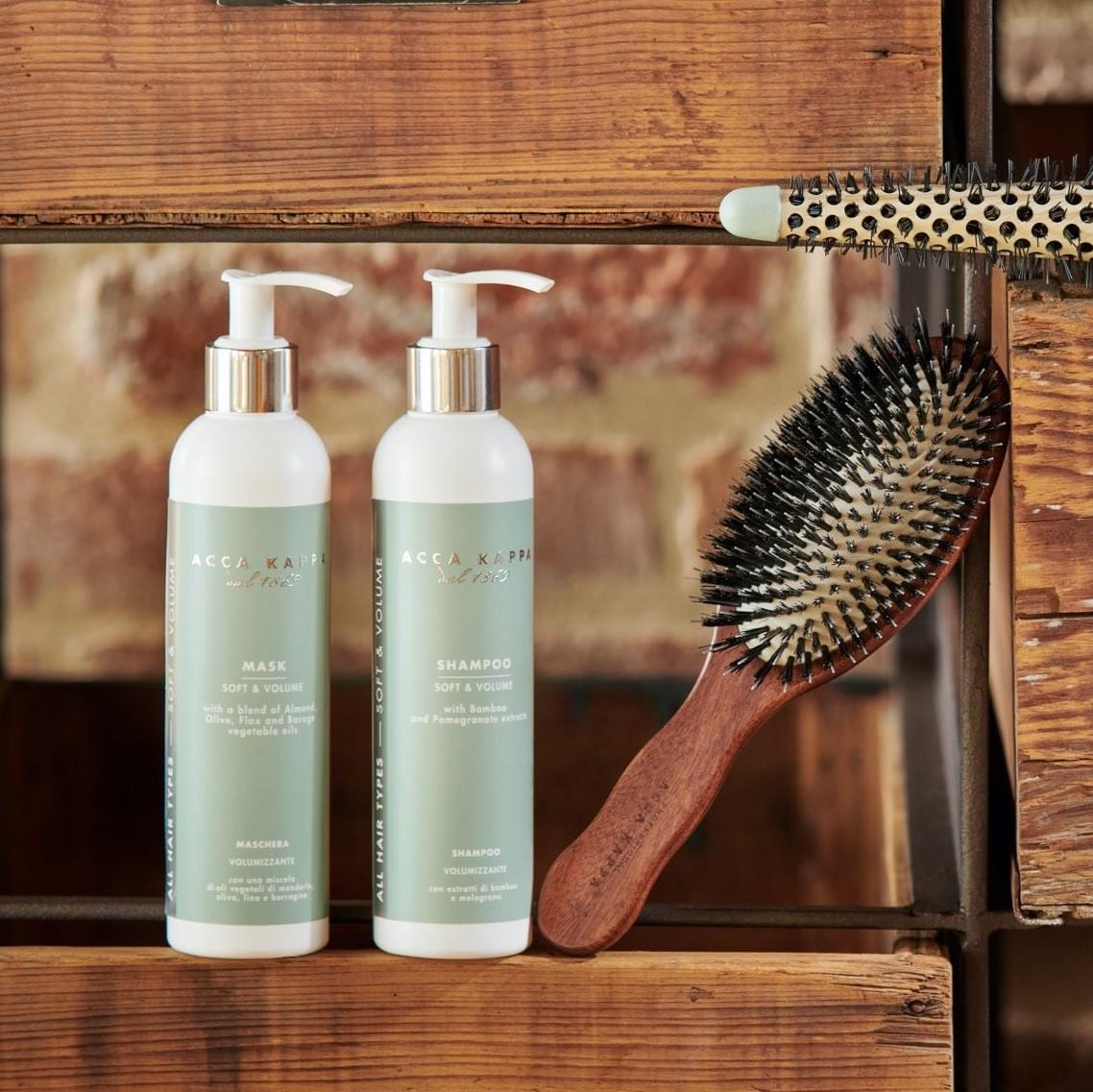 The Soft & Volume Shampoo and Mask by Acca Kappa
No.3 Oily Scalp
Greasy sunscreen, sweltering trips to the beach: summer can be a nightmare for those who already have oiler hair types. Whilst washing your hair more frequently in the short-term may help control an oily scalp, but in the long run, can actually cause more damage. Further irritating the scalp, over-washing can lead to dehydrated and split ends as the oil is repeatedly stripped from the hair's length not to mention increased sebum production for even oiler roots.
Remedy: The Balancing & Refreshing Range
Complete with shampoo, exfoliating mask and spray lotion the balancing and refreshing range has been designed especially for the targeted treatment of dandruff and excess sebum production. Formulated using ingredients renowned for their anti-inflammatory, astringent and antimicrobial properties the range heroes Sage, Propolis and St John's Wart extract. Leaving hair shiny and restored, the scalp is left cleaner for longer helping reduce the need for repetitive over-washing.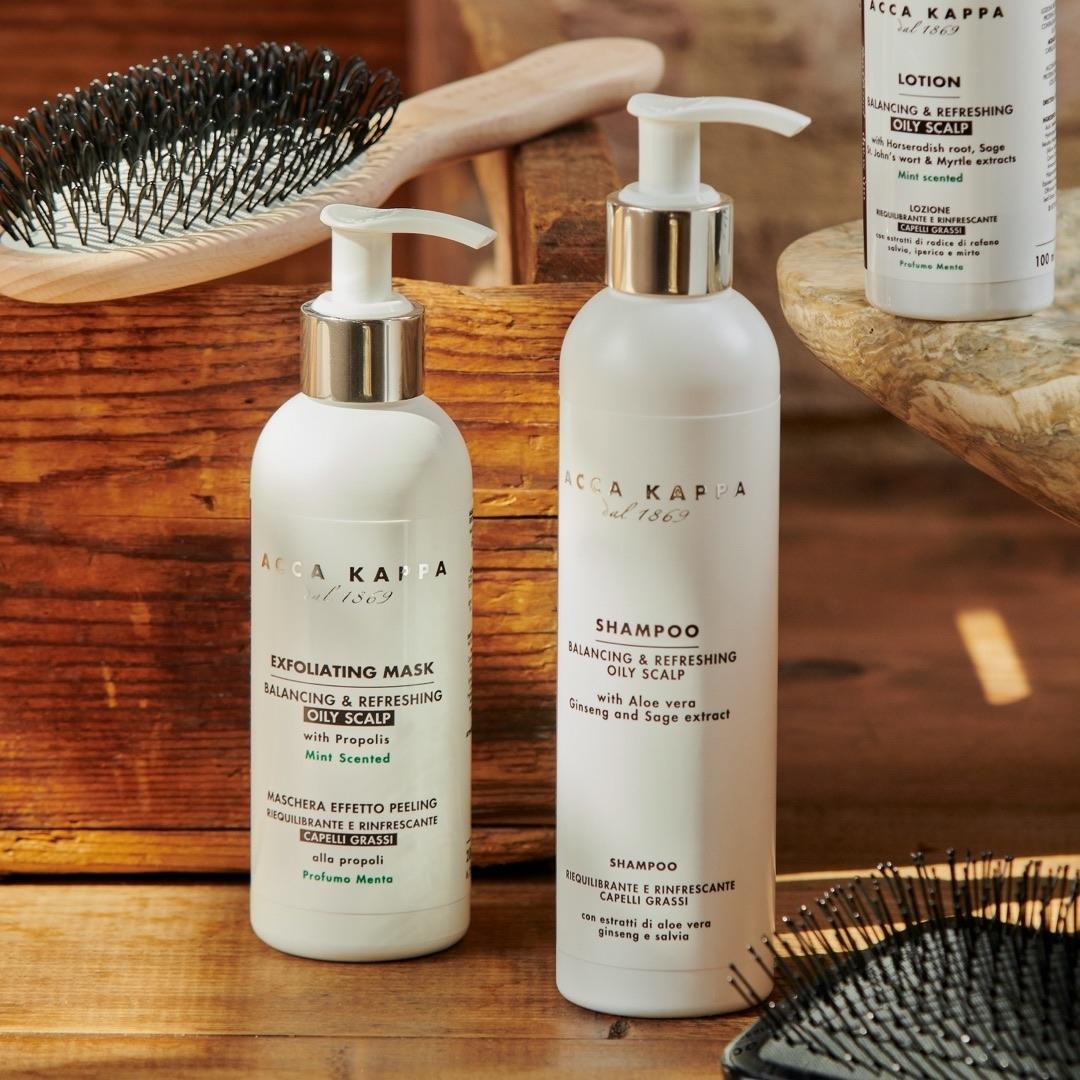 The Balancing & Refreshing Shampoo and Exfoliating Mask by Acca Kappa
No.4 Damaged and Faded Colour
Holiday ready with a vibrant new colour or fresh highlights? Unfortunately, almost every element of the summer sun is against you on this one. From powerful UV rays to pool chlorine bonding to the dye, colour can be quickly faded and drawn out unless some additional protection is provided.
Remedy: The Blue Lavender Range
Rich in both fatty acids and plants oils, the Blue Lavender Shampoo and Mask helps repair the hair cuticle, sealing in colour, to leave hair glossy and colour revived. Formulated with Argan oil, linseed extract and vegetable keratin, the collection nourishes, hydrates and protects the hair. For an additional level of protection, the hair mask can even be applied to the hair before swimming helping prevent the hair from absorbing excessive amounts of chlorinated water.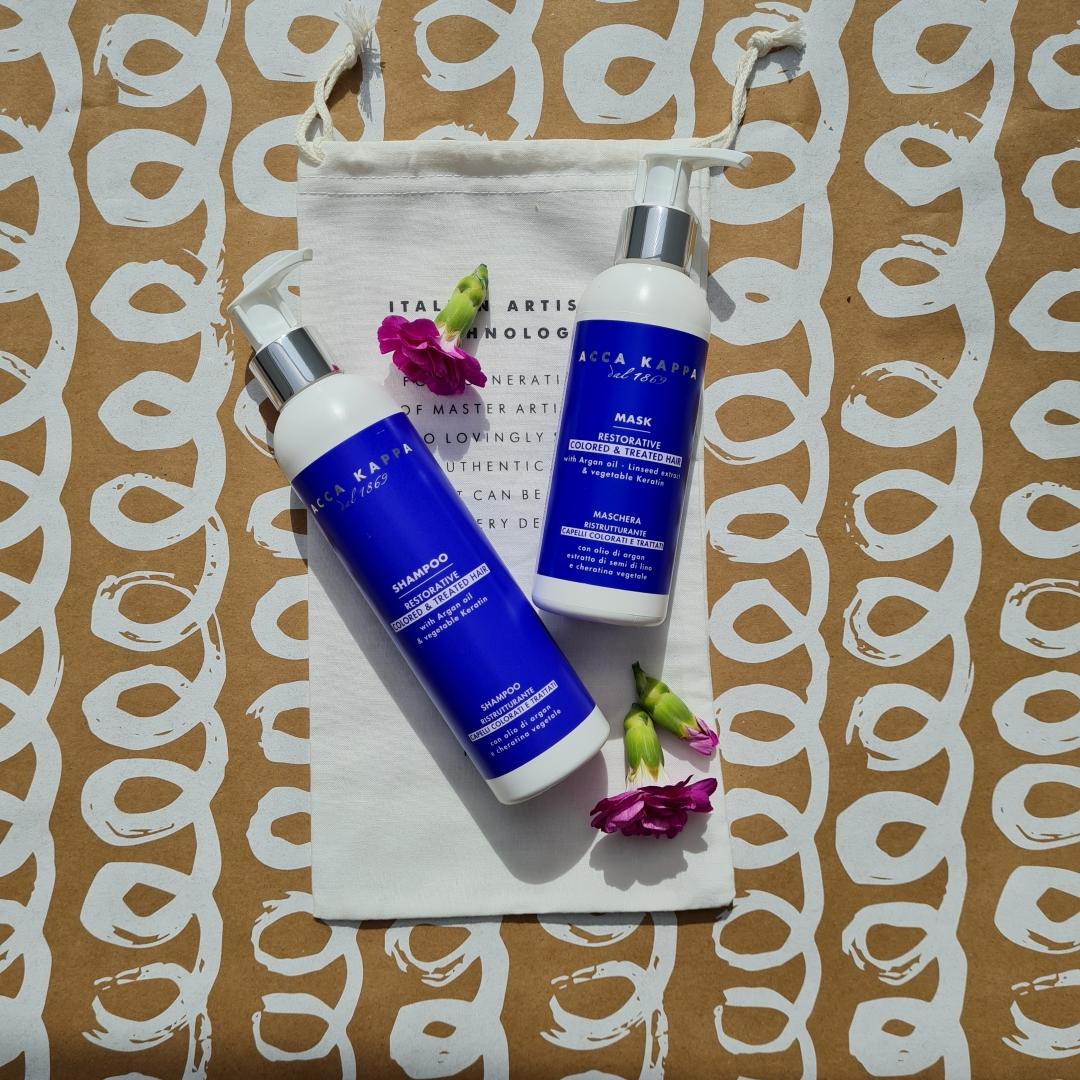 The Blue Lavender Shampoo and Mask by Acca Kappa
No.5 Dry and Brittle Hair
Making dry hair drier, the summer months can be responsible for leaving hair brittle and prone to breakage. Stress inducing ponytails, drying chlorine and harsh UV – a good shampoo and conditioner can make all the difference, helping protect hair or restore it to its former glossy self.
Remedy: The White Moss Range
Combining plant-based amino acids and vegetable keratin, the White Moss hair care range gently cleanses and deeply nourishes. Unique in its ability to capture and transport water, vegetable keratin closely resembles hair keratin, enabling it to penetrate and moisturise the hair much more effectively than other active ingredients. Complete with restorative serum, the lightweight fluid helps restore elasticity for targeted hydrating treatment.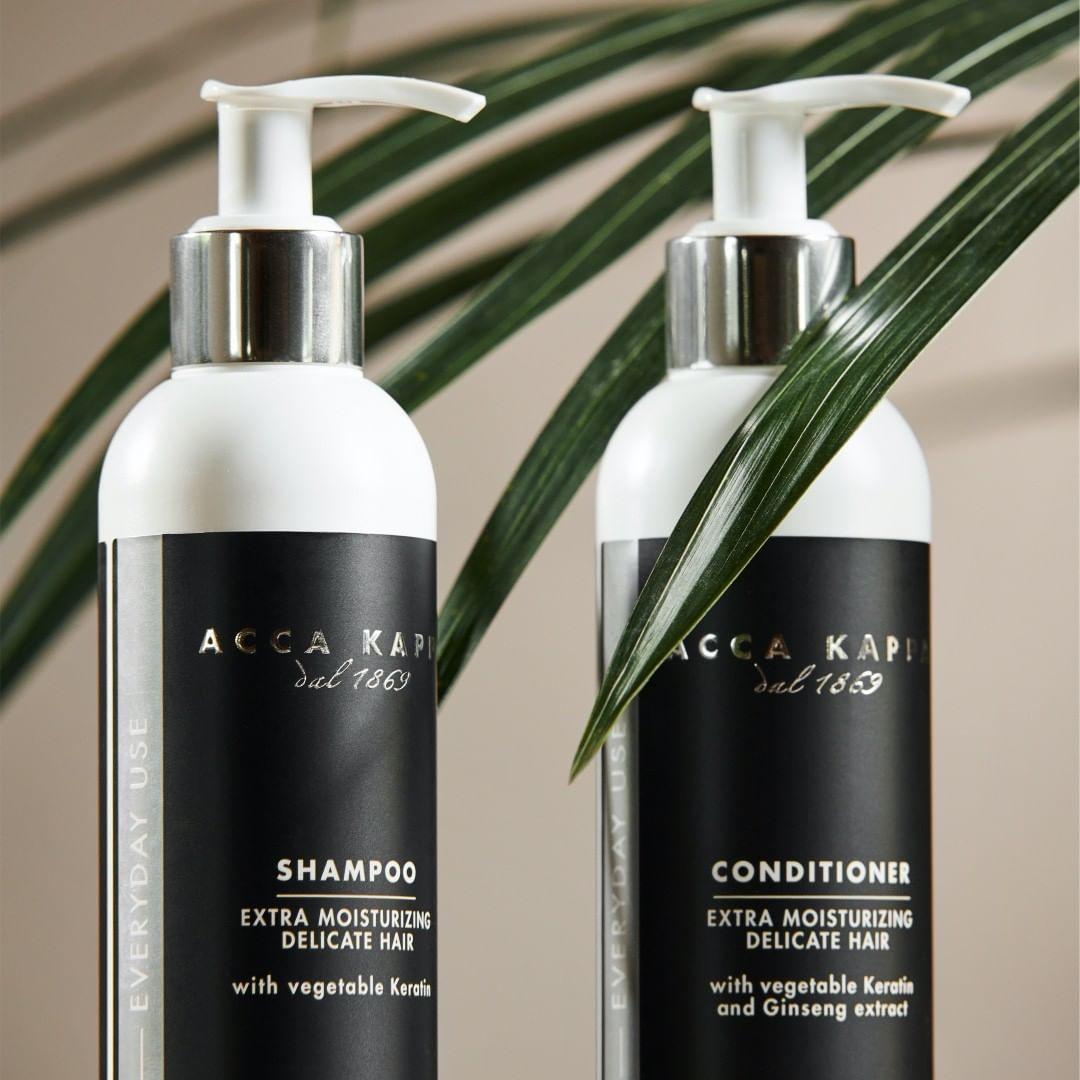 The White Moss Shampoo and Conditioner by Acca Kappa
Like what you're reading? Why not checkout some of our other blogs?
Common Summer Skin Woes and How to Solve Them... Learn more
EYE: The Eco-Sustainable Collection... Learn more
The Benefits of a Great Hair Brush... Learn more