05

Oct

How to Care for your Hands
Now, more than ever and to help you stay healthy, it is essential to develop the correct hand-washing habits and take care of your hands. Beset by a whole plethora of information and choice, knowing where to start can be quite a difficult decision, however, we are here to help! Encouraging you to rediscover the joy of diving into a rich velvety lather and the forgotten beauty of a fresh bar of soap, washing your hands this winter really doesn't have to be a chore. An aromatic experience and delicious fragrance journey, prepare to become a hand cleaning guru as we explore the differences, benefits and proper uses of sanitisers and solid versus liquid soaps making sure you know the essential differences and effectiveness of each.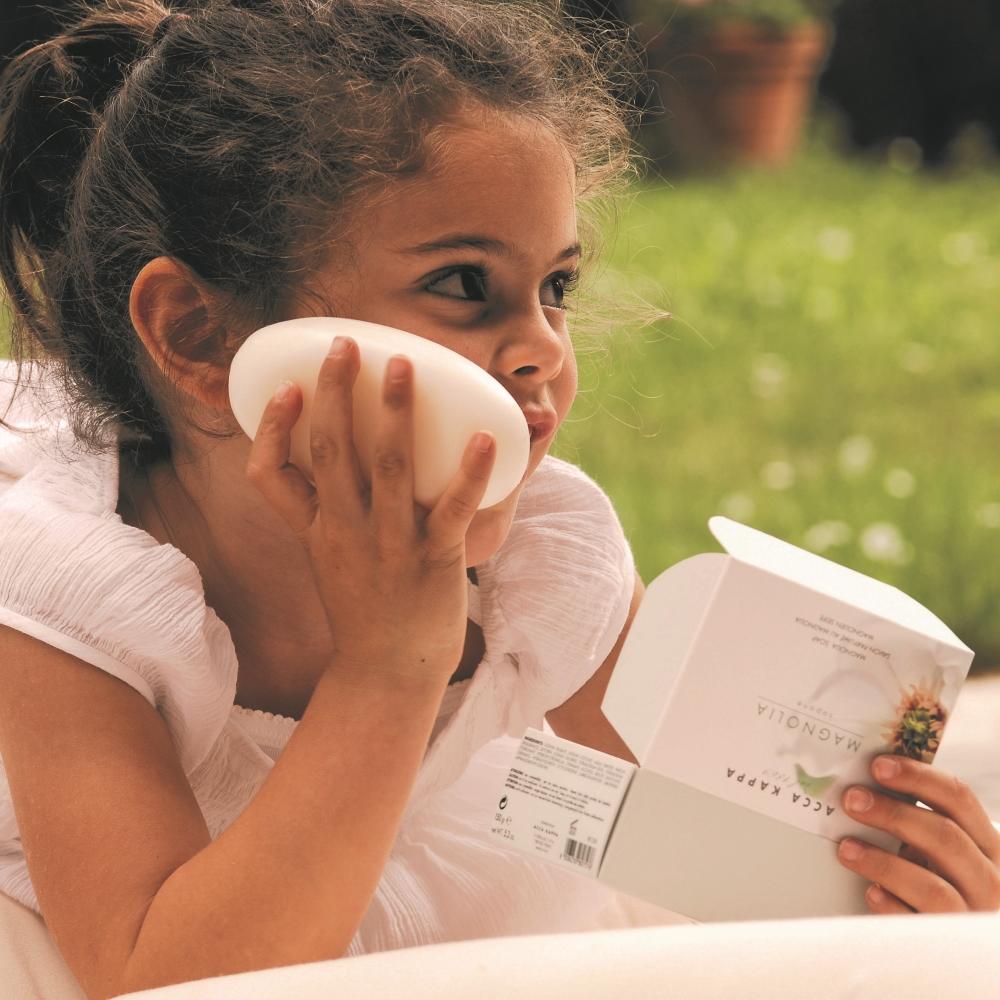 The ACCA KAPPA Soap Collection
Bar Soap
How Does it Work?
Made of hydrophilic (water-loving) 'heads' and a hydrophobic (water-hating) 'tails' the water-loving aspect of soap helps it mix with water, whilst the hydrophobic element helps the soap interact with other water-hating molecules like lipids. Found in the membranes of viruses and bacteria, lipid molecules are held together by weak chemical bonds which are disrupted by soap- tearing the virus/ bacteria apart to leave hands clean.
The Benefits of Bar Soap
An Aromatic experience, a creamy tactile bar of soap is a difficult one to resist! More cost-effective than their liquid rivals, a fresh bar of soap can last longer too, making them a more appealing investment to many. Packaged in card with often minimal plastic, the choice between liquid soap and bars can also become a question of sustainability. The eco-friendlier option, card takes only a few months to decompose as opposed to the 100 years plus of plastic. Furthermore, there's even evidence to suggest that hard soap could be more effective at removing dirt and bacteria- the friction created by rubbing the bar against your hand dislodging larger debris and visible dirt with little effort. That being said, of course, if done properly, both forms of soap should be as equally as effective as one another.
Our Pick
With an extensive selection of bar soaps available to customers, there's sure to be something for everyone. Special mentions go to our brand-new collection, in particular the new Juniper and White Fir soap. Fresh, spicy and woody the fragrance is addictively bright, like sipping on a crisp gin and tonic! The aromatic soap releases a soft creamy foam for an exhilarating and nourishing experience.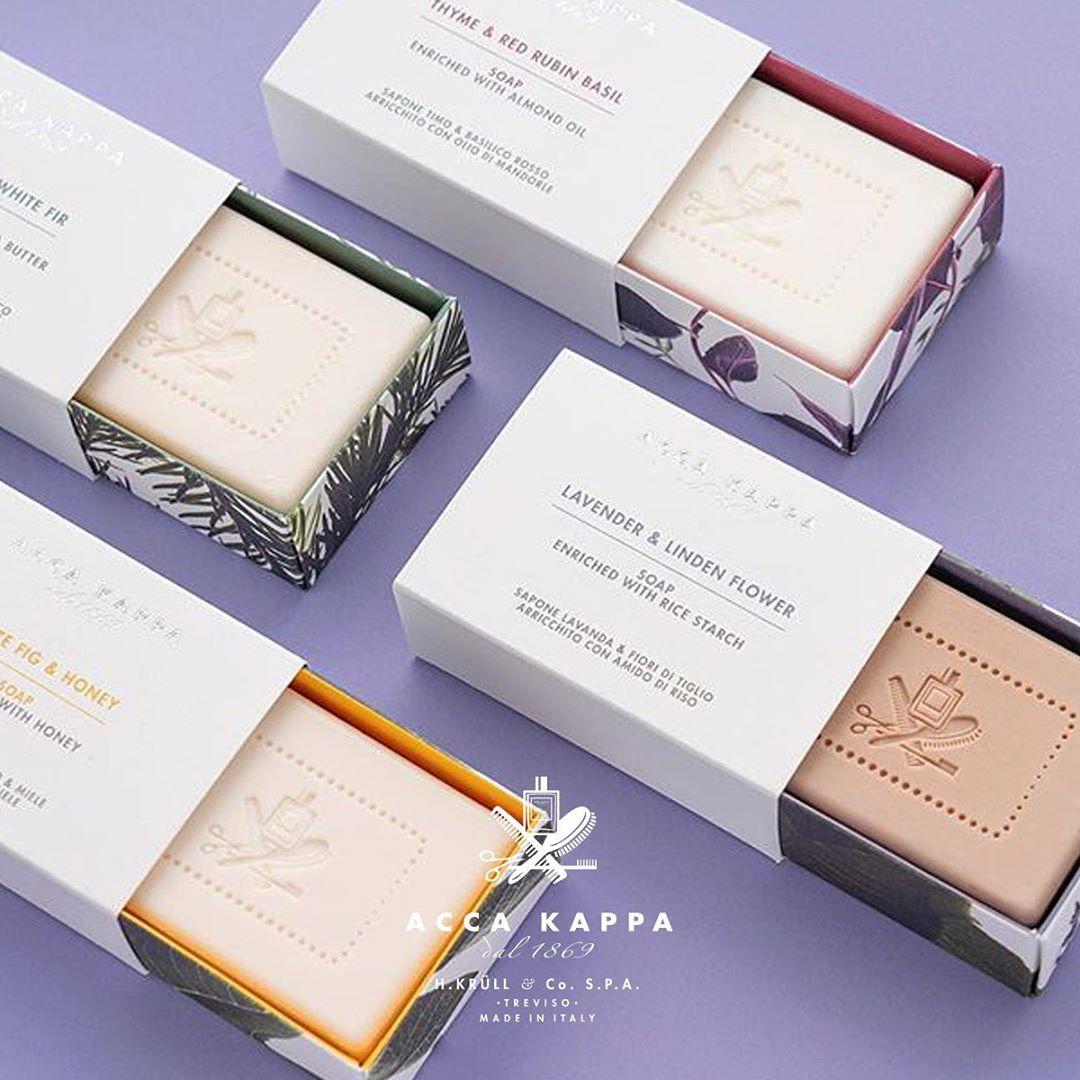 The New Soap Collection by ACCA KAPPA
Liquid Soap
How Does it Work?
Little surprise on this one, but liquid soap has a very similar formula to its solid counterpart. Made up of hydrophilic 'heads' and hydrophobic 'tails,' the soap disrupts virus/ bacteria membranes which are then carried away with water.
The Benefits of Liquid Soap
Neat and easy to use for a clutter-free sink top, liquid soap can often be the more convenient choice over solid bars. Presented in beautiful bottles with clever dispensers, they are a great choice for those who prefer to create richer lather in double speed. More moisturising than hand sanitiser, soap, in general, is more suited for sensitive skin that reddens and chaps easily as it effectively cleanses without altering the skins hydro-lipid balance. Lastly, liquid soap also reduces the exchange of germs between users so can be ideal for larger households. As no one directly touches the soap, it has a very little, if any, scope of spreading germs.
How to use it correctly?
Wet your hands with water and apply enough soap to cover your hands. Start by rubbing your hands together, then using one hand clean the back of the other hand making sure to not miss in between the fingers. Rub the back of your fingers against your palm and rub your thumbs using your other hand. Finally, clean the tips of your fingers on the palm of your other hand and rinse with water. As a guide, this process should take around 20 seconds! (Information thanks to the NHS Website)
Our Pick
Sunny and bright, the Green Mandarin liquid hand wash is a little bottle of sunshine to bring a dash of summer to gloomy days. Formulated using Thyme extract, the soap is naturally antiseptic and cleansing for a gentle sanitizing action. Surrounding the body with the freshness of Mediterranean Citrus Fruits, this soap is ideal for more delicate and sensitive skin.
Or why not try the White Moss Sanitising Hand Wash? Formulated with antibacterial agents, this soap is a great choice for kids or those in your house who may not always be as thorough in their 20 second count!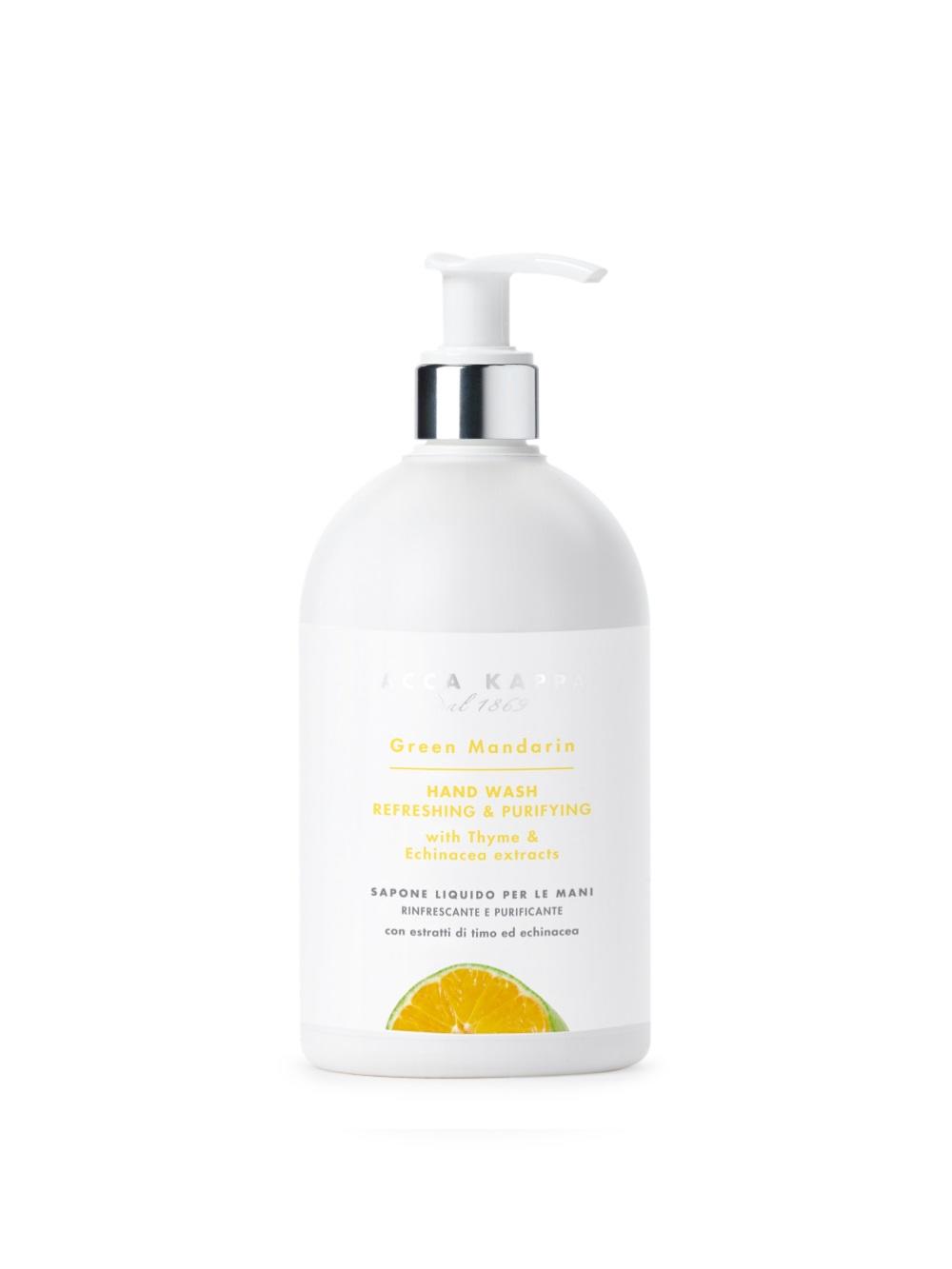 The Green Mandarin Hand Wash by ACCA KAPPA
Hand Sanitiser
How Does it Work?
Thought to work by preventing the essential proteins of microbes and some bacteria from functioning normally, hand sanitisers, especially those with a higher alcohol content can also interfere with the lipid membranes of viruses effectively 'killing' them.
The Benefits of Hand Sanitiser
A great option for touch-ups between hand washes or when there may be limited access to soap and water, hand sanitisers are ideal for on the go protection. Whilst often more drying than soap, when used properly, sanitisers can effectively inactivate many types of microbes and require less time than hand washing.
How to use it correctly?
When using hand sanitizer, apply the product to the palm of one hand (read the label to learn the correct amount) and rub the product all over the surfaces of your hands until your hands are dry (Information thanks to the CDC Website).
Our Pick
Perfect for popping in your bag or for an on the go top up, the 100ml White Moss Hand Gel has been specifically formulated with chlorhexidine and a high alcohol percentage to ensure no nasties are left lingering. Formulated using active witch hazel, glycerine and panthenol meaning that, unlike other sanitisers, the skin is not left dry and sore. Fast-acting, the sanitiser leaves hands fresh and soft, sweetly scented with a White Moss fragrance.
Top tip! Make sure to check the expiry date of your hand sanitiser because the alcohol can evaporate even out of sealed containers.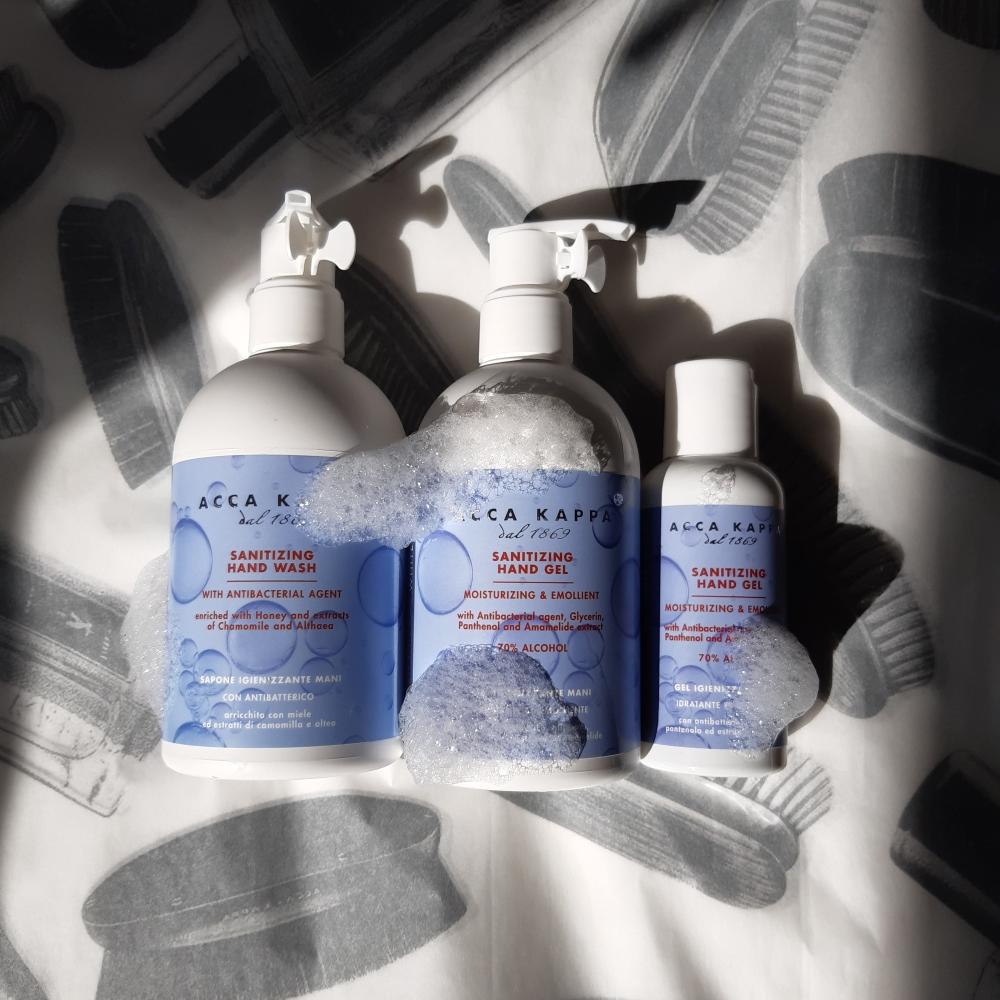 The Clean Hands Collection by ACCA KAPPA
Aftercare! Hand Cream
Unfortunately, as effective as soap and sanitisers are at removing unwanted oil, germs and dirt from the skin they cannot discriminate between these and the natural oils in our skin. Mainly composed of oils and waxes, the outermost layer of our skin helps protect and maintain the natural balance of the epidermis. Leading to dryness, redness and cracking over-washing can create great discomfort, so it's important to help replenish these lost oils with an effective hand cream.
Top tip! Hand cream can be particularly effective when applied before bed-as it's less likely to be washed off- so don't be afraid to apply a generously thick layer to your hands before cosying down in your duvet.
Our Pick
Ideal for combatting inflammation and cracking, the intensive White Moss hand cream provides long-lasting hydration for a soft, silky feel. Carefully selected for their skin-purifying, protective and soothing properties the natural ingredients chosen for this hand cream include Blackberry, Violet and Magnolia extract to provide an emollient and moisturising action on the skin. Presented in sweet 75ml bottles, the cream is an ideal size to pop in your bag or have ready on the nightside table.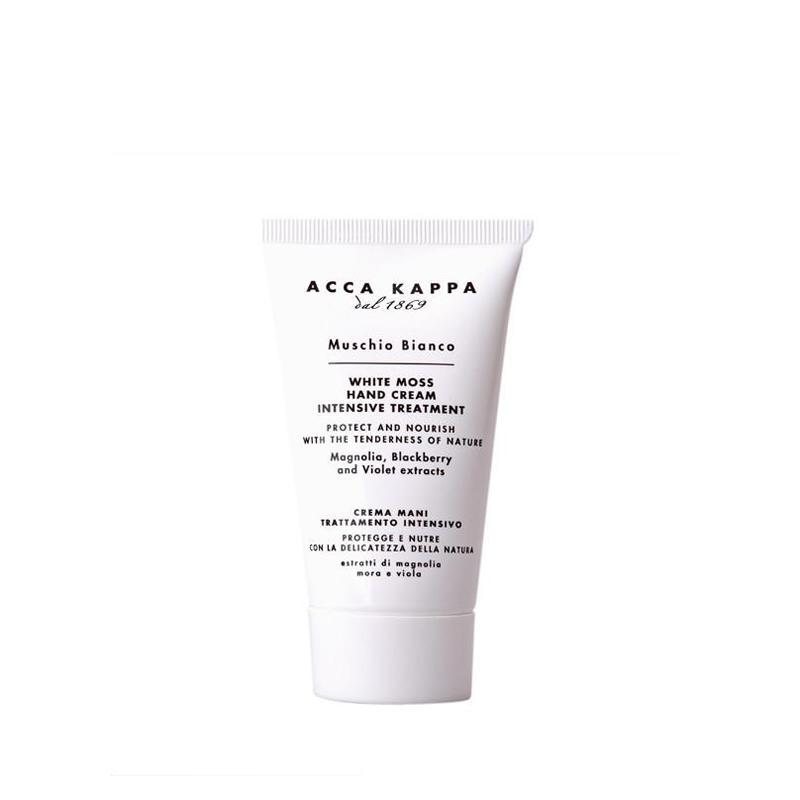 The White Moss Hand Cream by ACCA KAPPA
To browse our selection of hand creams, have a look at our Body Lotion & Hand Cream collection here. You can also take advantage of our 'Why Not Try?' White Moss hand cream promotion, which gives you 20% off for the month October 2020 (or while stocks last).
Like what you're reading? Why not check out some of our other blogs?