22

Jan

Introducing: The Natural Skincare Routine
A complete treatment for cleansing and care, the ultra-rich natural skincare range by ACCA KAPPA helps the skin to appear well-hydrated, bright and elastic. Particularly suited for dry and mature skin types, the ultra-rich formula uses nourishing Argan and jojoba oil to help fight dryness and fine lines. Not to mention, it's 100% certified by NATURE; the range guarantees vegan, organic treatments that are great for the environment and your skin!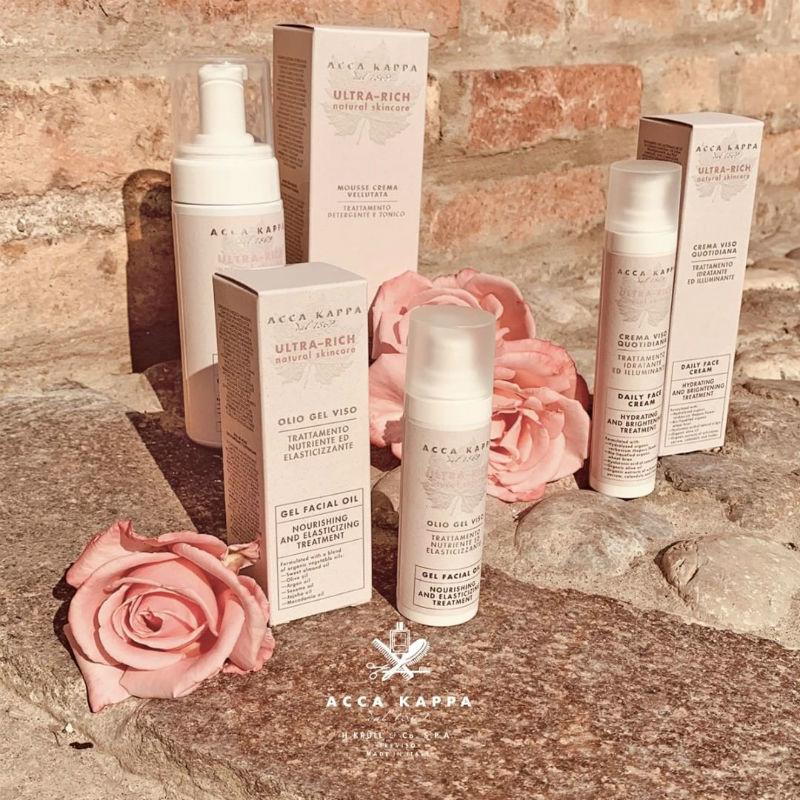 Pictured: The Ultra-Rich Natural Skincare Range by ACCA KAPPA
Step one: Velvety Mousse Cream
A Cleansing and Toning Treatment.
What is it?
Throughout the day the skin on your face is continually covered by things such as bacteria, pollutants and dirt. Removing this build-up is essential to unclogging pores and maintaining clear skin. Effectively cleansing and toning in one step, this mousse cream gently removes impurities, leaving skin velvety and bright!
Star Ingredient: Organic Mallow Water
Found at the edges of country, fields and even gardens, the mallow plant is one of the most common wild plants found! Fantastic for dry, sensitive and irritated skin, mallow extract is both soothing and toning. Using gel obtained from the leaves and flowers of the plant, the extract forms a thin film which slowly hydrates the skin, alleviating dryness.
How to Apply
Apply a small quantity of mousse in the palm of your hand and massage softly with circular movements to remove impurities, then rinse.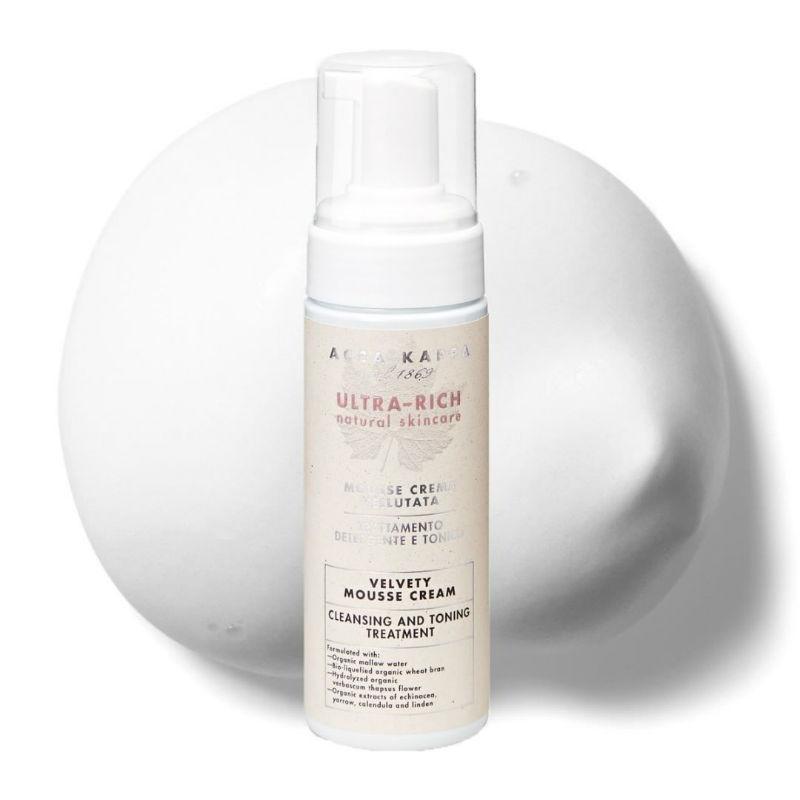 Pictured: The Ultra-Rich Velvety Mousse Cream by ACCA KAPPA
Step two: Daily Face Cream
A Hydrating and Brightening Treatment.
What is it?
Moisturising after cleansing can be a highly effective way of restoring the natural lipid balance and protective barrier of your skin. Rich in active ingredients, the daily face cream treatment brightens, tones and hydrates the skin.
Star Ingredient: Verbascum Thapsus flower extract
The first biological ingredient based on the ground-breaking concept of "luminescence," the Verbascum Thapsus flower helps skin appear healthy and young. Highly recognisable from its deep yellow flowers, the plant extract contains polyphenolic compounds which give the skin a subtle brightness.
How to Apply
Apply the cream in the morning and evening after cleansing and massage until fully absorbed.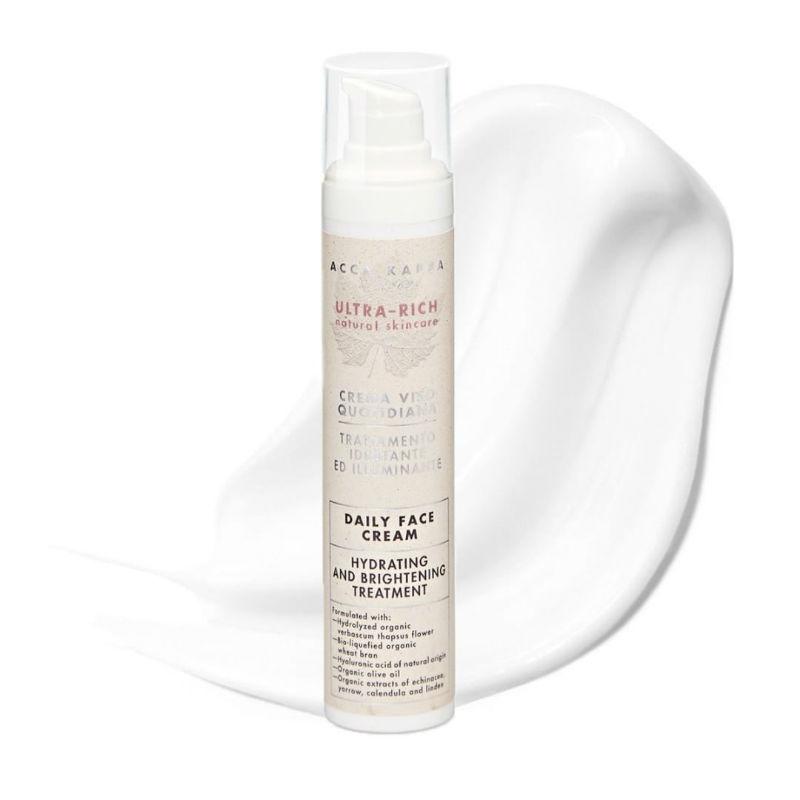 Pictured: The Ultra-Rich Daily Face Cream by ACCA KAPPA
Step three: Facial Oil Gel
A Nourishing and Elasticizing Treatment.
What is it?
Containing sweet almond and argan oil, this nourishing Gel Facial Oil contains a total of eight highly-valuable and natural oils. Deeply regenerating, the treatment stimulates cell renewal, providing elasticity and tightness.
Star Ingredient: Olive Oil
Rich in essential fatty acids, vitamins and minerals, Olive oil is prized for its unique lipid arrangement and elasticizing properties. Closely resembling the structure of our skin, the oil is therefore very easily absorbed and deeply nourishing, effectively targeting fine lines and wrinkles.
How to Apply
A real multi-purpose treatment, this facial oil can be used in several ways:
For mature/ dry skin why not try it as an intensive day-and-night nourishing treatment: apply it twice a day in combination with Acca Kappa daily face cream, or, use once or twice a week as an ultra-nourishing mask: rub an abundant amount of product and leave to act 3-5 minutes, then remove the excess oil with a cotton swab without rinsing.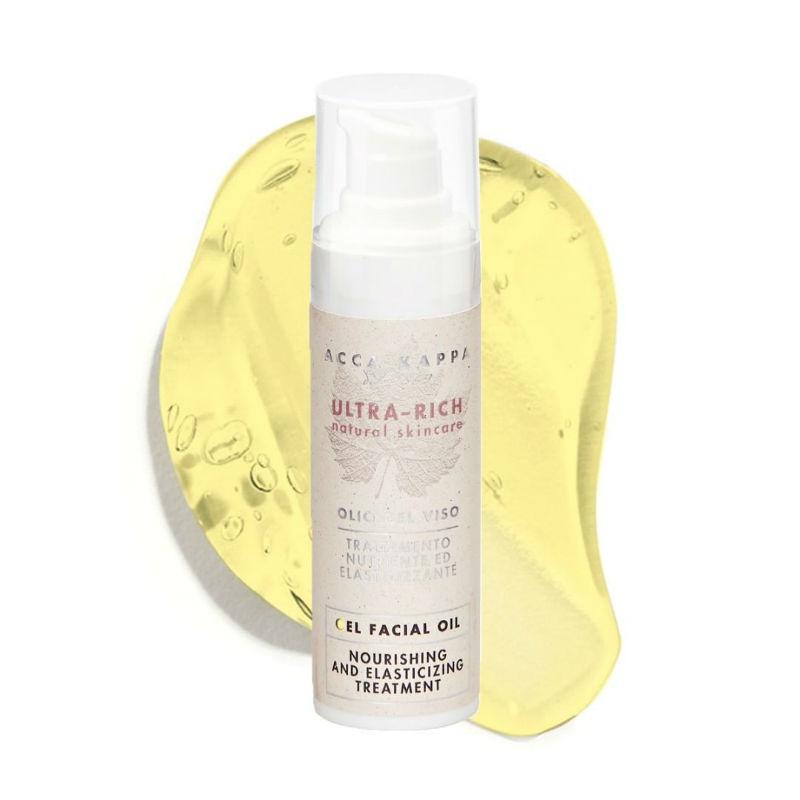 Pictured: The Ultra-Rich Facial Oil Gel by ACCA KAPPA
Step four: Bio Lip Balm
A Nourishing and Softening Treatment.
What is it?
Made from a rich composition of vegetable oils and butters known for their nourishing properties, the soothing Bio lip balm helps protect lips, helping to keep dryness and cracks at bay. The lip balm is dermatologically tested and only contains organic, natural waxes to achieve its creamy consistency.
Star Ingredient: Shea Butter
Native only to Africa, the Shea butter used within this product is obtained from cold pressing the seeds of the Karité timber tree. Famous for its cosmetic properties, Shea butter contains vitamins A, B, E and F and has both antioxidant and anti-aging properties. The characteristic that makes the butter truly unique, however, is the very high content of unsaponifiable substances. These botanical compounds are fantastic at stimulating the formation of new collagen in connective tissue, making the skin firmer and more elastic.
How to apply
Apply lightly to the lips when feeling dry or in need of protection.