25

Jun

SAKURA Splendour
Tokyo in Spring is a city embraced by Mother Nature, where the beautiful cherry blossom also known as Sakura is a welcome harbinger for warmer days. Visitors flock to see canopies of pink blooms in all their splendour. Their fragrance is soft and sweet with a pretty powderiness that has an ethereal quality. And so, it is with the perfumery experience by ACCA KAPPA, the softly charming fresh-airiness of Sakura has all the magic of a bustling, petal-sprinkled city.
The dreamlike Eau de Parfum is now available at ACCA KAPPA UK, along with the gentle and soothing SAKURA Tokyo Bath and Shower Gel and Body Lotion. Read on to find out more about the range!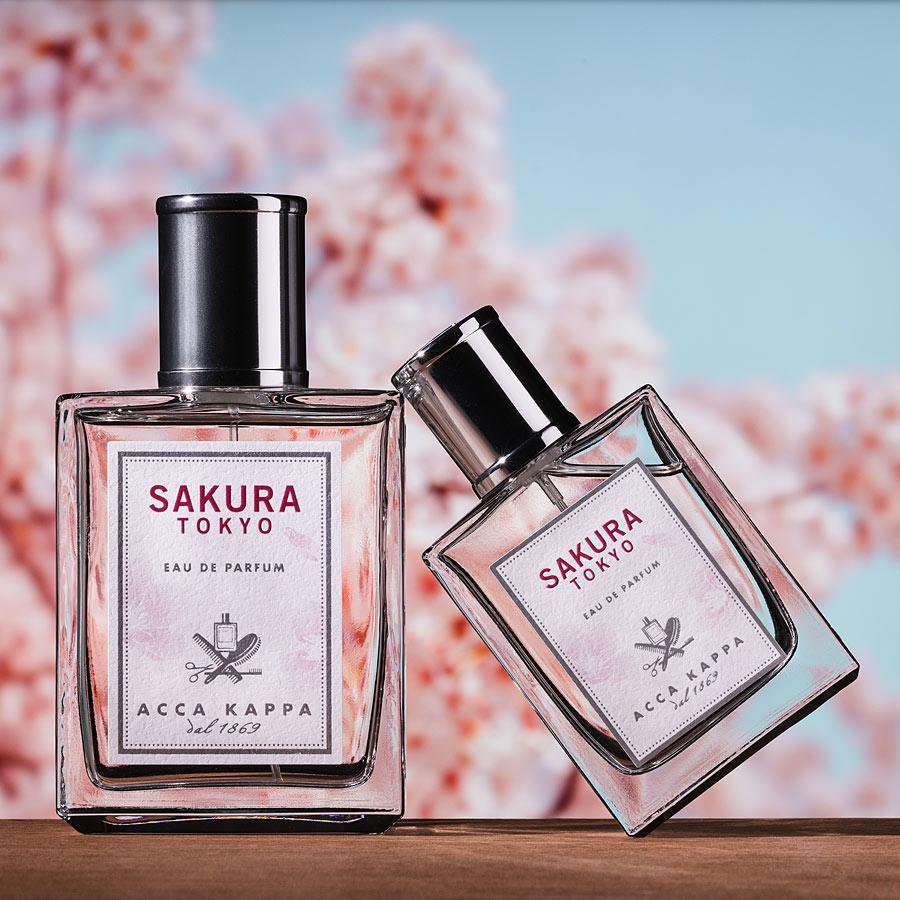 Pictured: SAKURA TOKYO, Eau de Parfum by ACCA KAPPA
With a Fresh, Floriental Olfactory Family this is a delicate Eau de Parfum, exuding the refined beauty of Spring-like blooming. Opening with a fizzy hint of sweet Nashi Pear and the citrusy punch of Neroli, there is an immediate airiness to the fragrance. This blends with Floriental heart notes of tea-like Freesia, delicate and sensual Waterlily, fresh Rose, and softly sweet, oh-so-pretty Sakura at its very essence. The scent trail fades away as dreamily as it arrives with powdery, chameleon-like Heliotrope, soothing Sandalwood, and gently alluring Musk.
Hanami is the Japanese word used to describe the ancient tradition that continues today of admiring beautiful flowers in spring, the most emblematic flower indeed being the cherry blossom Sakura, wrapping the world in its wake with pretty petals. Sakura Tokyo is a celebration of this fragrant sensory experience.
Available in dreamily abundant 100ml and perfectly pocket sized 15ml.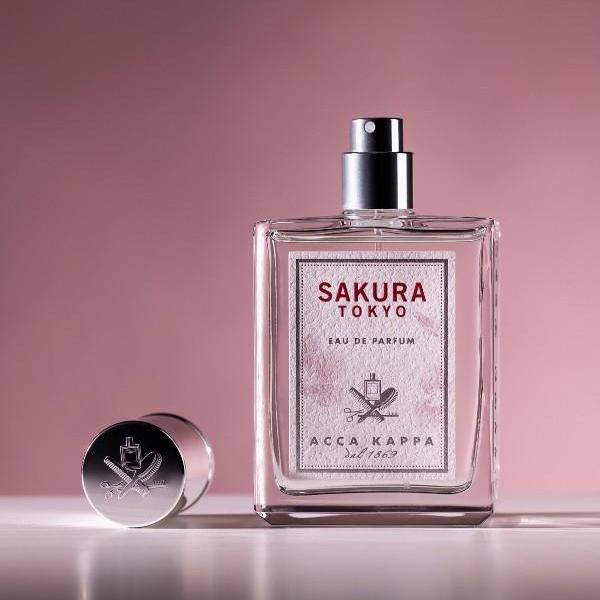 Pictured: SAKURA TOKYO Eau de Parfum
SAKURA TOKYO, Bath and Shower Gel
As you would expect with ACCA KAPPA, the SAKURA TOKYO Body Care range uses natural plant-based ingredients to gently cleanse and nourish the skin. Centred around the aromatic experience of the cherry blossom, the bath and shower gel has been formulated to soothe the skin and maintain its natural balance making it soft and velvety.
Honey features as a key ingredient, known for its emollient and skin-restoring properties, it's rich in enzymes that are elasticizing thus acting as an effective anti-aging and skin firming ingredient. Honey is also used for the treatment of chapped, dry, and sensitive skin. Alongside this we have Chamomile, which reigns supreme for its anti-redness and soothing properties, it's also exceptionally gentle making it a favoured ingredient in products for children and for those with delicate and sensitive skin. Artichoke extract compliments these ingredients, rich in mineral salts, particularly magnesium, phosphorus, iron, and calcium it improves skin tone and elasticity.
The Bath and Shower Gel is ideal for all skin types including dry and sensitive skin. Pour a small quantity of the product into warm running water to create a rich, fragrant foam for a dreamlike bath, or for a petal-sprinkled feeling pour directly onto a wet sponge in the shower, gently massage the entire body and rinse.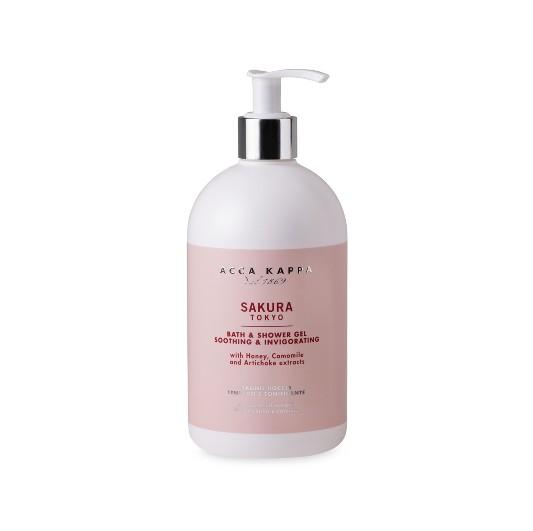 Pictured, SAKURA TOKYO Bath & Shower Gel
SAKURA TOKYO, Body Lotion
Last, but by no means least, we have SAKURA TOKYO, Body Lotion. As with the Bath and Shower Gel natural plant-based ingredients are used, and key amongst these are Honey, Chamomile and Artichoke extracts. Soothing and invigorating, the highest-quality vegetable oils combine with the Chamomile extract and Honey making it a particularly nourishing and emollient treatment for the skin. The formula also combines Caffeine with the Artichoke extract, which work in synergy to balance skin elasticity and provide an anti-sagging effect. Other plant-based goodies in the lotion include emollients; Cocoa Butter, Aloe Vera, and Olive Oil, toning astringent Hawthorn Extract, antioxidant Vitamin E and moisturizing Provitamin B5 which penetrates the deepest layers of the skin and hydrates them.
The dermatologically tested lotion is not greasy and makes the skin look fitter and smoother and feel soft and hydrated.
You can use the lotion every day, more than once a day, if necessary, after showering, bathing or sunbathing, applying the cream all over the body with gentle massage like movements until the petal-like perfection is fully absorbed.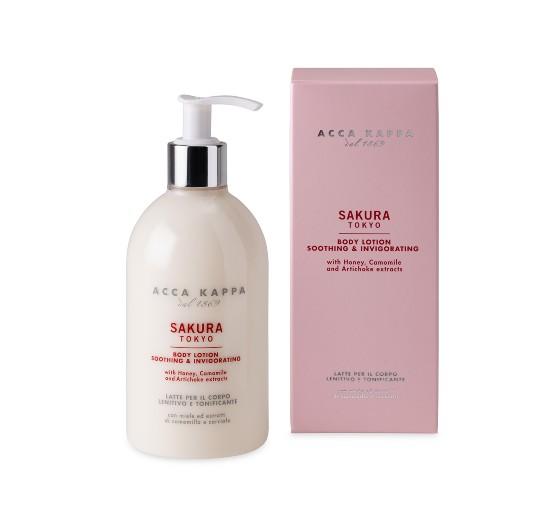 Pictured: SAKURA TOKYO Body Lotion
Like what you're reading? Why not check out some of our other blogs?