26

Mar

The ACCA KAPPA Hand Cream Collection
As regular, lengthy handwashing and harsh sanitisers have become commonplace in most of our day-to-day routines now so too, unfortunately, have sore cracked hands. Unable to distinguish between the skins natural balance of oils and waxes and unwanted oil, germs and dirt, soaps and sanitisers are, unfortunately, very good at removing both from the epidermis. Leading to dryness, redness and cracking, over-washing can create great discomfort, so it's important to help replenish these lost oils with an effective hand cream. Each with its own unique benefits as well as signature fragrances see below as we explore the ACCA KAPPA hand cream collection helping you find the best fit for your skin needs!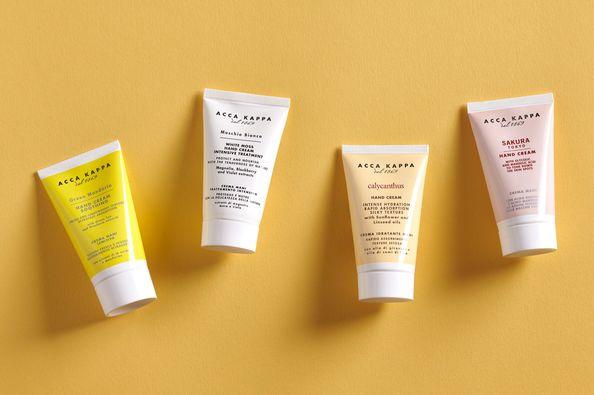 The ACCA KAPPA Hand Cream Collection
The White Moss Hand Cream
Best for: Dry and sensitive skin
An icon of ACCA KAPPA, the White Moss collection has been designed expressly for sensitive skin. Ideal for combatting inflammation and cracking, the intensive White Moss hand cream provides long-lasting hydration for a soft, silky feel. Carefully selected for their skin-purifying, protective and soothing properties the natural ingredients chosen for this hand cream include Blackberry, Violet and Magnolia extract to provide an emollient and moisturising action on the skin.

ACCA KAPPA White Moss and Calycanthus Hand Cream
The Calycanthus Hand Cream
Best for: Delicate, protective care
Super nourishing, the Calycanthus Hand Cream is packed full of essential vitamins, antioxidants and fatty acids. Formulated using Sunflower seed, Rice Bran and Linseed oil the silky hand cream helps protect the skin and leaves hands feeling incredibly soft. Delicately fragranced, the cream is formed from a welcoming bouquet of Jasmine, Peach, Musk and Orange Flower Honey.
The Green Mandarin Hand Cream
Best for: Protecting against photoaging and free radicals
An ACCA KAPPA essential for spring and summer, the Green Mandarin hand cream not only smells like sunshine in a bottle but is also particularly effective at protecting the skin from photoaging and free radicals. Fresh and light-weight, the cream includes green tea leaf, tangerine and aloe vera extract to help leave the skin firm and refreshed. Ultra-fast absorbing, the hand cream provides immediate relief and hydration.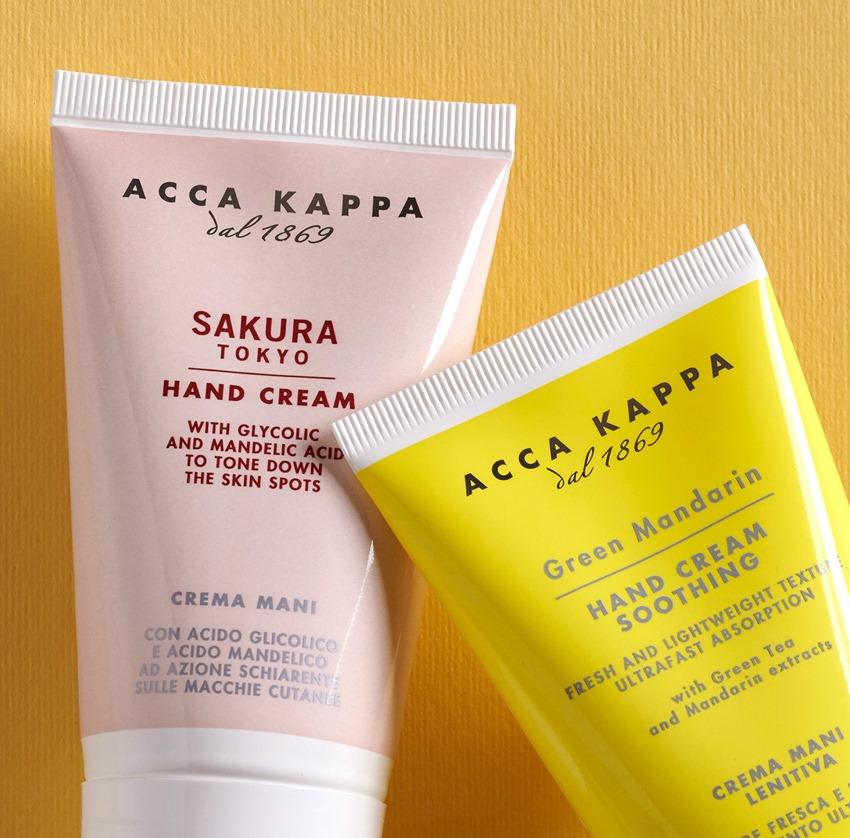 The ACCA KAPPA Sakura Tokyo and Green Mandarin Hand Cream
The Sakura Tokyo Hand Cream
Best for: Toning skin and dark spots
One of the newest additions to the ACCA KAPPA Skin & Body collection, the Sakura Tokyo hand cream is not only incredibly nourishing but is also highly effective in toning dark spots on the skin. Featuring both Glycolic and Mandelic acid, the cream mildly exfoliates whilst Sprouts extract and oat protein provide a soothing and emollient treatment. Most definitely our choice for Spring, the cream is softly sweet, bursting with delicate cherry blossom.
All presented in sweet 75ml bottles, these hand creams are an ideal size to pop in your bag or have ready on the nightside table! Shop the entire collection here.
Like what you're reading? Why not checkout some of our other blogs?