08

Jan

The ACCA KAPPA Natural Toothpaste Collection
Breathing fresh life into the new year, the ACCA KAPPA Fluoride-Free Toothpaste collection uses only naturally active ingredients. Featuring Fluoride-Free formulas, the range follows the principles of the ACCA KAPPA beauty range and its emphasis on carefully selected plant-based ingredients. Although preferred by some, fluoride-free toothpaste can be a great choice for those suffering from fluorosis (an over-exposure to fluoride causing staining and surface irregularities), children under 8 years old and for those that prefer a more natural, unprocessed beauty regime. Vegan friendly, the ACCA KAPPA toothpastes offer long-lasting freshness as well as a safe and balanced approach to natural oral hygiene. See below as we explore the range and take a closer look at the benefits of their star-ingredients.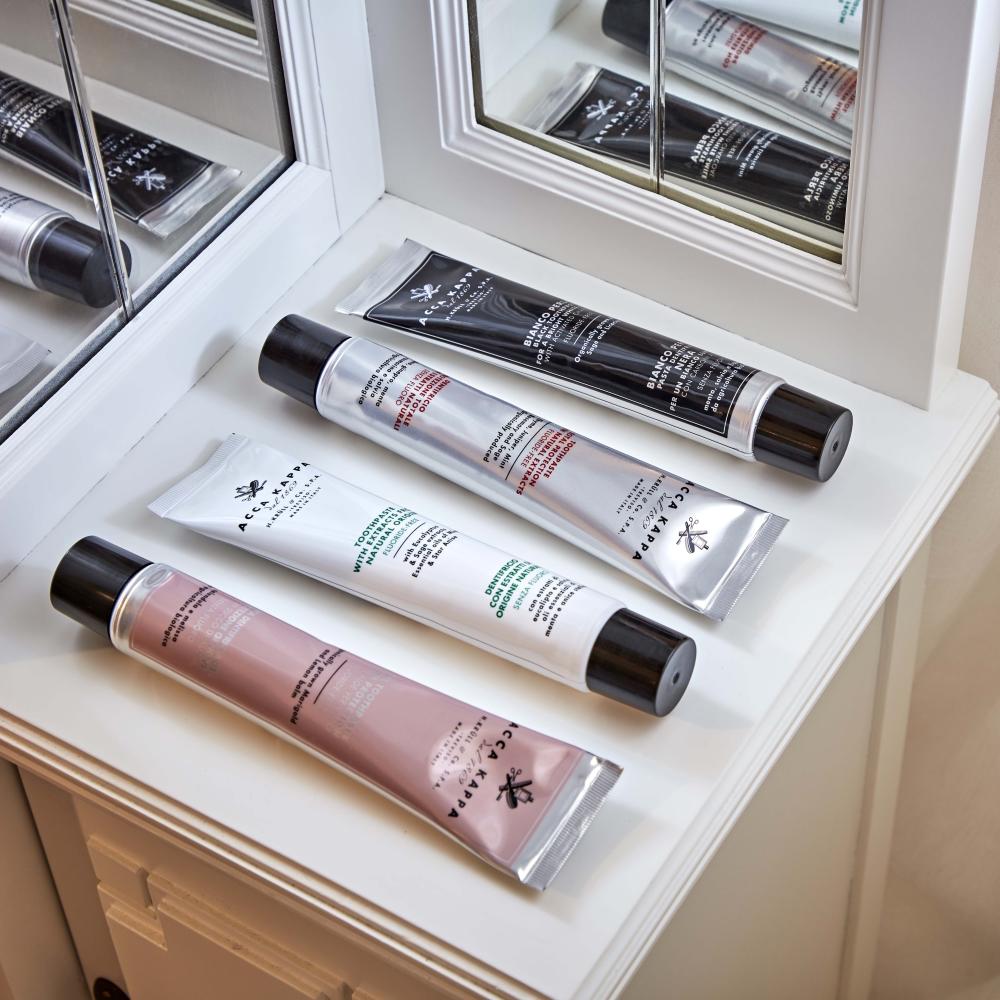 The ACCA KAPPA Toothpaste Collection
Natural Fluoride-Free Toothpaste
Best for: Gentle, balanced cleaning
Star ingredients:
Sage
Naturally antiseptic, Sage has been used in dental hygiene products since ancient times. Often found in toothpaste, mouthwashes and even deodorants the extract is both cleansing and antibacterial making it ideal in helping prevent cavities.
Eucalyptus
Extracted from the plant's leaves, Eucalyptus is a natural antiseptic helping to control bacteria and microorganisms. Offering a pleasant, clean taste for natural long-lasting freshness.
Other natural active ingredients and extracts include: Spearmint & Peppermint oil, Star Anise extract
Does not contain: Parabens, SLS, Colorants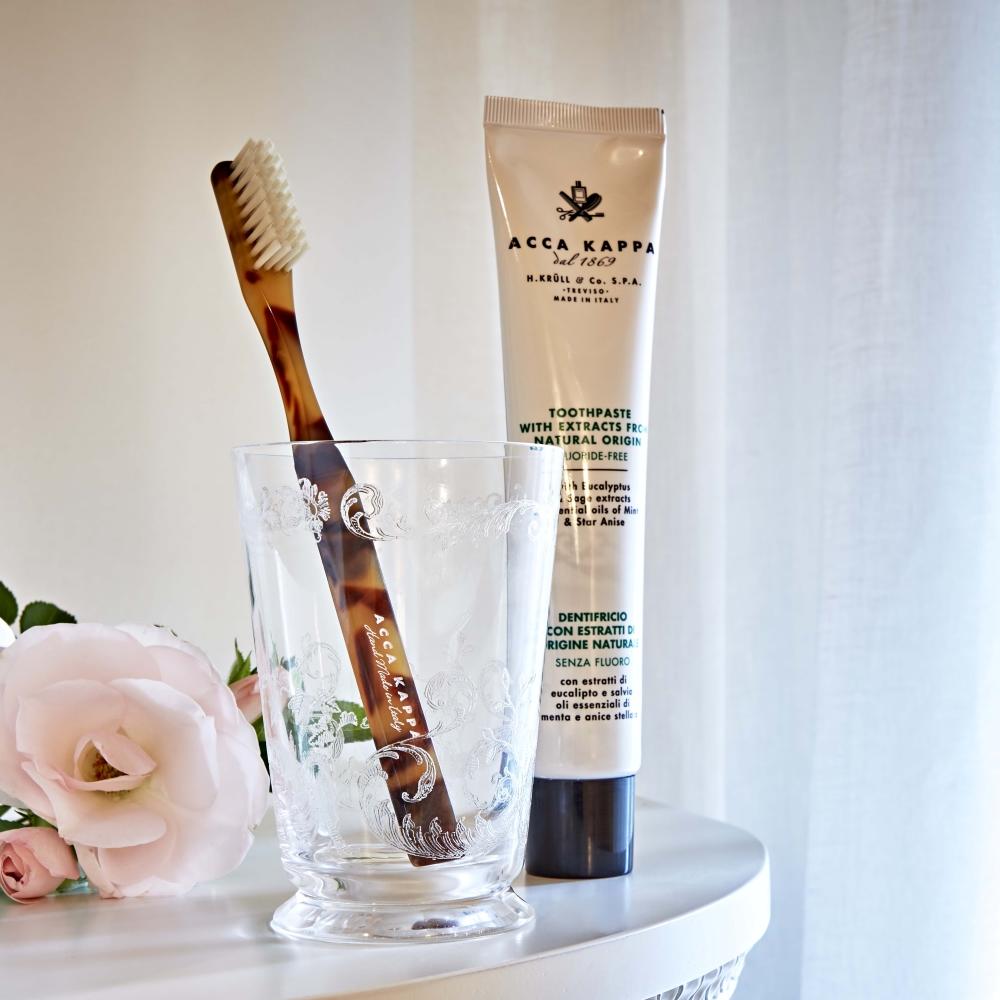 Natural Fluoride-Free Toothpaste and Historical Classic Brown Toothbrush
Total Protection Toothpaste
Best for: Total, overall care
Star Ingredients:
Thyme Extract
A small perennial shrub, Thyme is renowned for its aromatic leaves. Often used in cosmetic and beauty products, the shrub has amazing antiseptic qualities and deeply refreshing action.
Xylitol
Produced from birch bark, Xylitol is a completely natural, plant-based sweetener. As a non-cariogenic, the extract does not become fermented by acids in the mouth and, because of this, means it is particularly good at negating the harmful effects of bacteria on tooth enamel. The extract helps prevent plaque, tartar build-up and cavities.
Other natural active ingredients and extracts include: Sage Leaf, Juniper, Peppermint, Rosemary Leaf, Tea Tree oil
Does not contain: SLS, Saccarina, Parabens, Colorants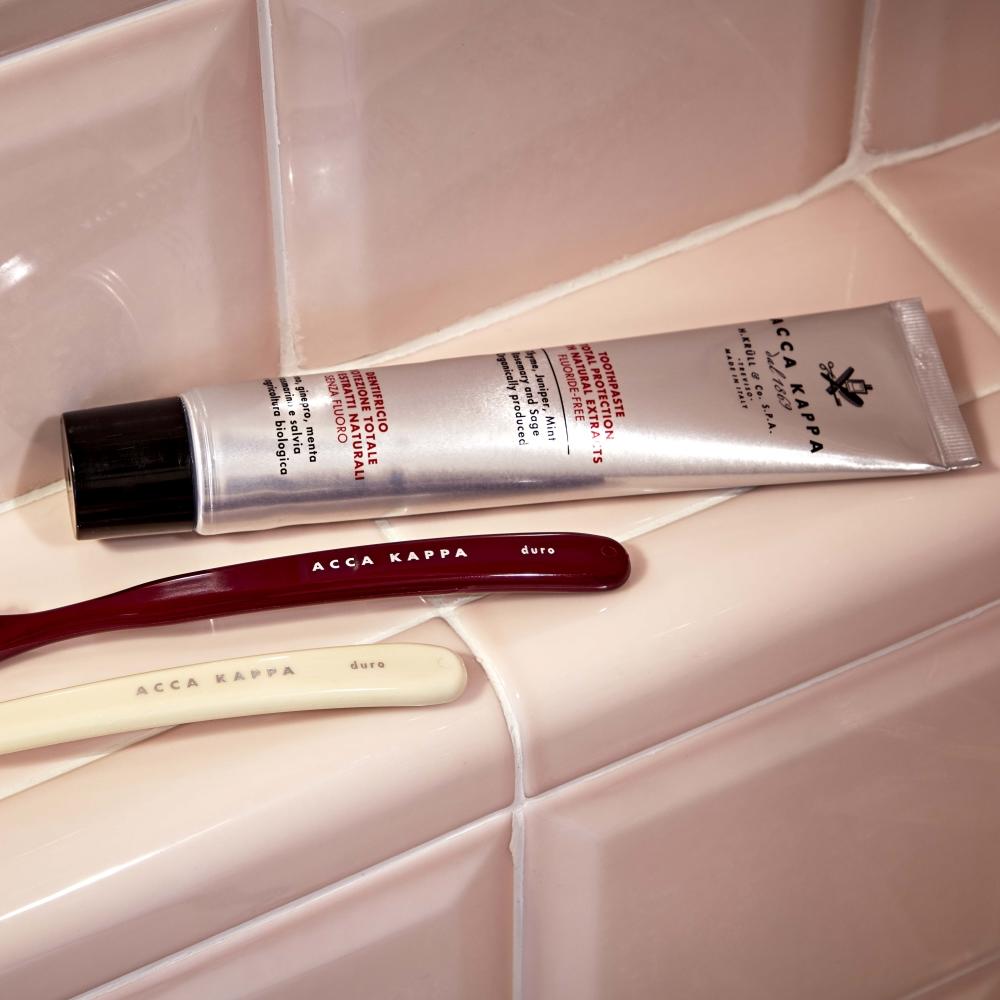 The Total Protection Toothpaste by ACCA KAPPA
Gum Protection Toothpaste
Best for: Protecting sensitive gums
Star ingredients:
Aloe Vera
Rich in vitamins, Aloe vera extract is fantastic for both sensitive skin and gums. An excellent aid in treating dry and dehydrated skin, the extract calms irritated gums for a pleasant and soothing relief.
Lemon Balm Leaf
Reminiscent of lemon and mint, the Lemon Balm Leaf Extract is both refreshing and soothing. Helping calm sensitive gums, the extract is also a strong decongestant and acts to reduce redness and inflammation.
Other natural active ingredients and extracts include: Marigold extract, Xylitol, Glycerin
Does not contain: Saccharin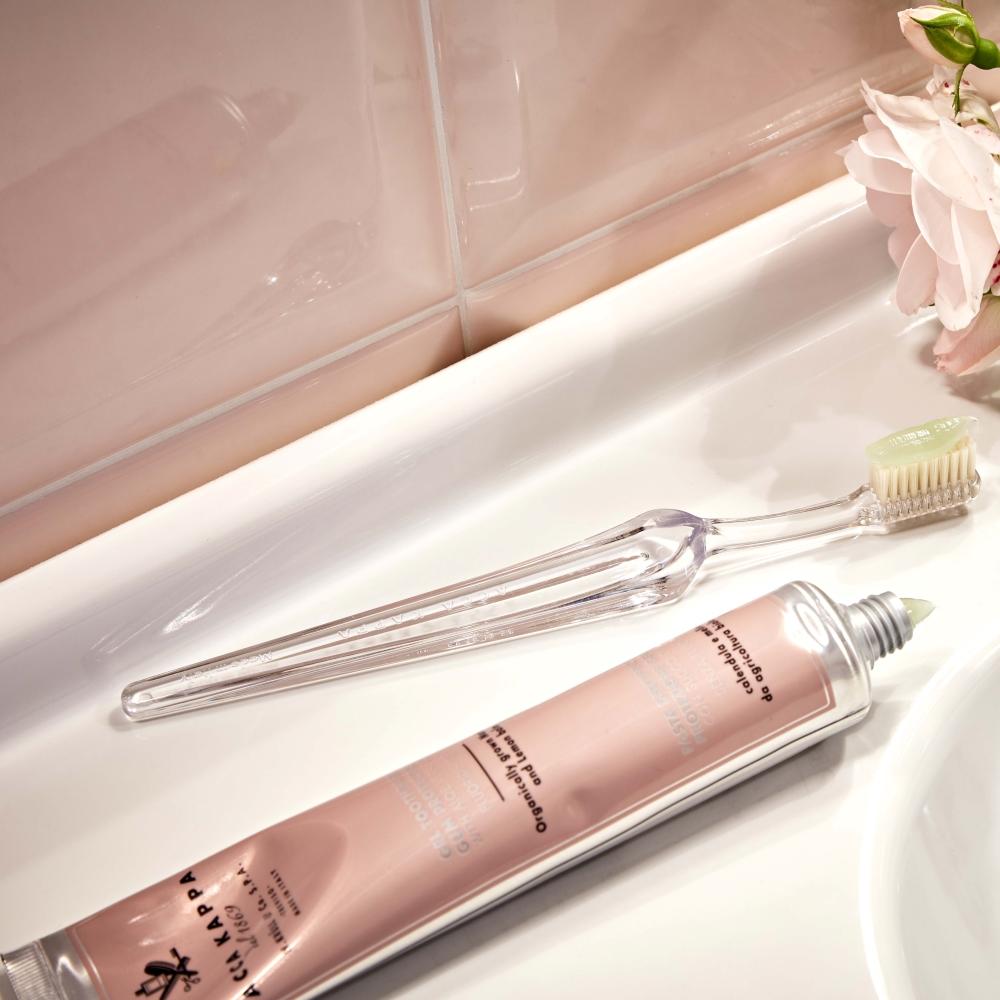 Gum Protection Toothpaste and Lympio Ice Blue Toothbrush
Activated Charcoal Toothpaste
Best for: Natural whitening
Star ingredients:
Charcoal
Porous, flavourless and odourless vegetable carbon is extracted from coconut shells. Prized for its natural antibacterial qualities, charcoal not only has a positive effect on bad breath but can also improve and maintain the teeth's natural whiteness.
Liquorice Root Extract
Renowned for its soothing and purifying properties, Liquorice extract helps repair and protect the epidermis, relieving irritation and inflammation. Commonly used in toothpaste and mouthwash, the extract is naturally anti-bacterial making it ideal for the prevention and treatment of tooth decay.
Other natural active ingredients and extracts include: Sage leaf, Peppermint, Menthol, Xylitol
Does not contain: Saccharin, Colourants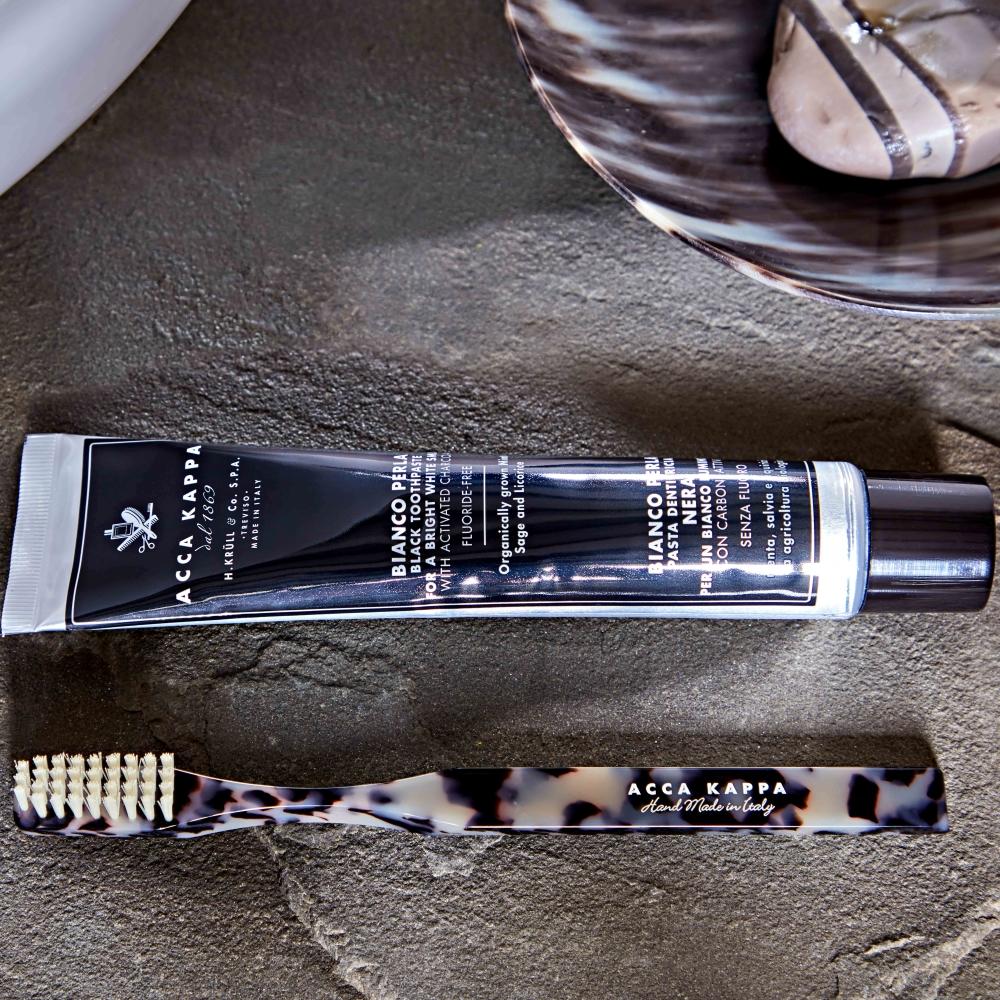 Activated Charcoal Toothpaste and Historical Black & White Toothbrush
A truly fresh start to 2021, the ACCA KAPPA toothpaste collection is now available at 20% off in our 'Try Me' promotion. Offer valid till the end of January 2021 or whilst stocks last.
Like what you're reading? Here are some more beauty and lifestyle recommended reads from the ACCA KAPPA blog:
ACCA KAPPA's Historical Toothbrush Collection... Learn more
The Benefits of Natural Deodorant... Learn more
Introducing: The Natural Skincare Routine... Learn more