29

Jul

The Benefits of Natural Deodorant
Created using naturally active ingredients, free of heavy metals and alcohol, the ACCA KAPPA deodorant range is a great choice for those wishing to make the switch from artificial antiperspirants - but what exactly are the benefits of this swap? Falling into two major categories, aluminium free deodorant and antiperspirants, both are worthy candidates for sweat and odour control yet each differs in how they achieve these results. Overwhelming in options, there are so many brands and types available to us. See below as we explore the different deodorant options, the benefits of each and how they work- helping you make the decision that's best for you!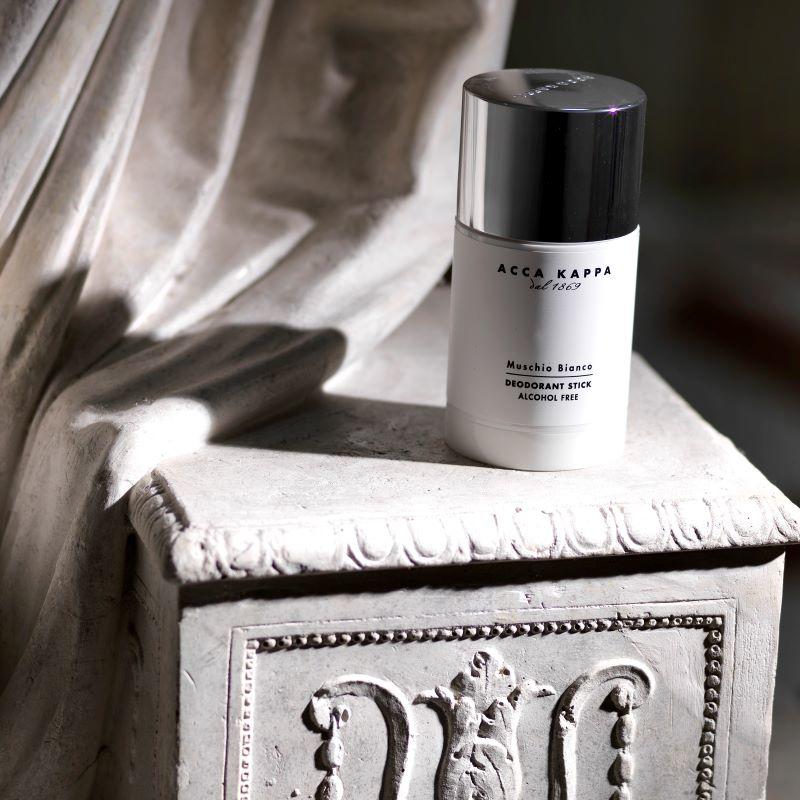 Pictured: The White Moss Deodorant Stick by ACCA KAPPA
How do they work?
The major difference between deodorant without aluminium and deodorant with aluminium is that the former blocks odour whereas the latter blocks sweat. The body's natural way of cooling down, the evaporation of sweat from the skin helps regulate our body temperature. Extremely important, regulation helps avoid dizziness, faintness and skin rashes! A fantastic way of releasing toxins, sweat itself doesn't necessarily cause odour- it is instead caused by bacteria living on the skin that breaks down and feeds on the proteins found in sweat. Rather than directly blocking the bodies sweat glands, Aluminium free deodorants target this odour-causing bacterium. Anti-bacterial, aluminium free deodorants ultimately rid underarms of odour by killing the bacteria that produce it.
The 1869 Deodorant Spray: Star Ingredient is the Icelandic Moss Lichen. Found in damp mountainous and arctic regions, the lichen is both anti-microbial and anti-bacterial, making it ideal at targeting any under-arm bacteria that may produce odour. Characterised by the 1869's classic soft notes of leather accord, the addition of plantain extract makes this deodorant both astringent and emollient. Aluminium and Alcohol-free.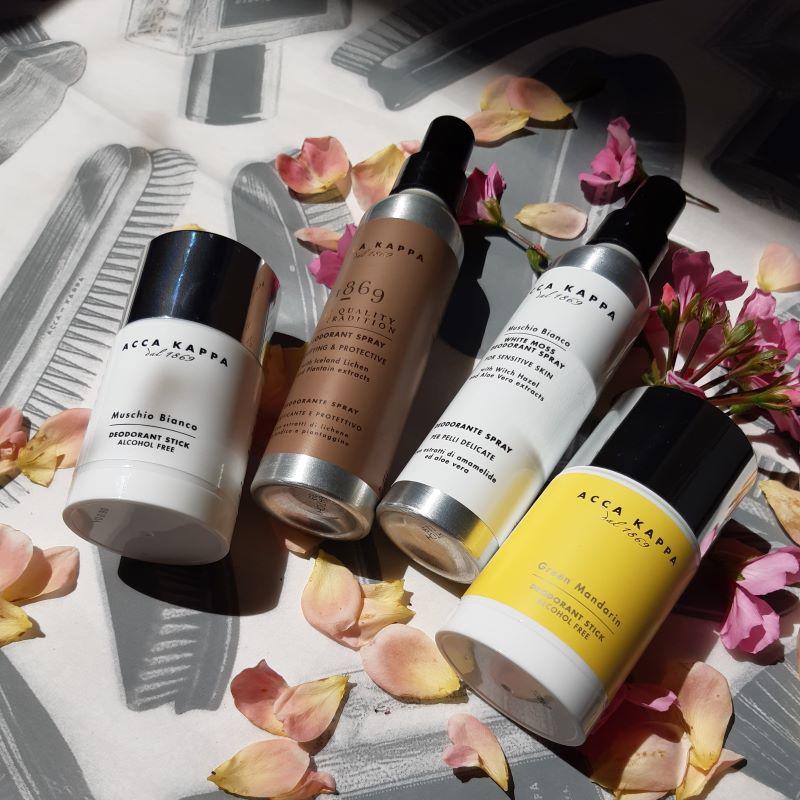 Pictured (left to right): The White Moss Deodorant Stick, The 1869 Deodorant Spray, The White Moss Deodorant Spray, The Green Mandarin Deodorant Stick by ACCA KAPPA
How do I use them?
For best results, Antiperspirants (with aluminium) should be applied before bed. Relying on the aluminium salts forming a gel layer under your arms to block perspiration, this process can take some time and is dependent on your sweat glands being at rest. Aluminium-free deodorants, on the other hand, can be applied at any time of day. Many find that after making the switch from antiperspirant to deodorant, they do tend to sweat more- at least initially. The longer you use natural aluminium-free deodorants, the less you tend to sweat. This comes as your body adjusts to natural temperature regulation, but if you initially feel self- conscious, all our deodorants, whether it be a spray or stick, are the perfect size to pop in your purse and freshen up on the go. Preferably applied to clean and dry skin, aluminium-free deodorants are definitely the more flexible option of the two!
The Green Mandarin Deodorant Stick: Perfect for applying on the go, the gentle Green Mandarin deodorant stick guarantees long-lasting action. Alcohol-free, the deodorant maintains the natural balance of the skin, ensuring underarms are left soothed. Evoking the freshness of Mediterranean citrus, the ACCA KAPPA deodorant stick is also available in iconic White Moss scent. Both are Aluminium and Alcohol-free.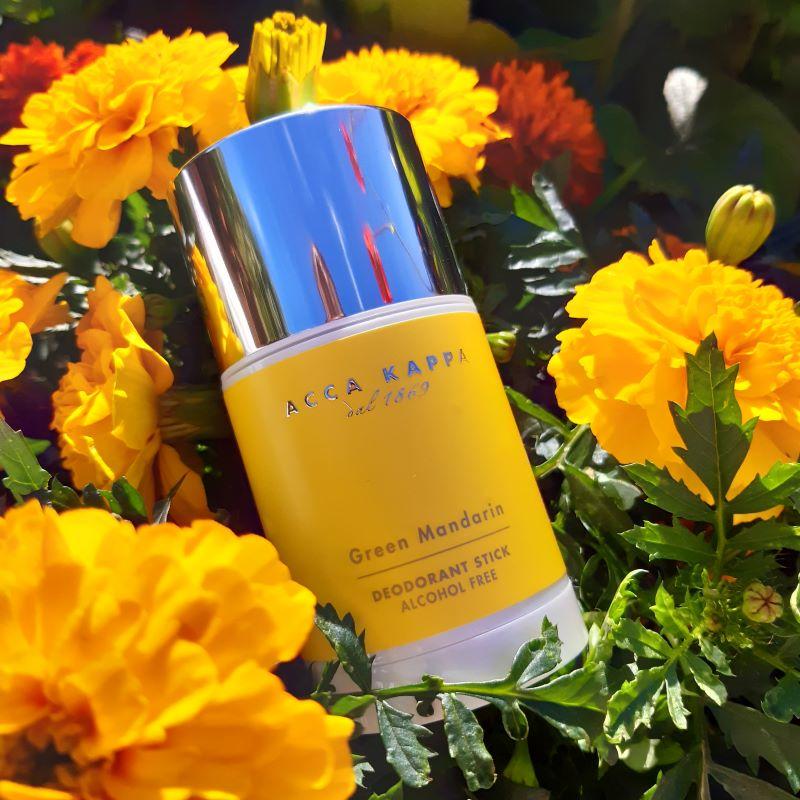 Pictured: The Green Mandarin Deodorant Stick by ACCA KAPPA
Major ingredient differences?
Often containing alcohol and using aluminium salts to block your sweat glands, antiperspirants are entirely focused on stopping sweat from the very start. Unlike the drying alcohol used in most antiperspirants, aluminium-free deodorants focus on maintaining the delicate natural balance of the skin. Often plant-based, aluminium-free deodorants rely on antibacterial ingredients to target the odour-causing bacteria that break down sweat. They provide a natural and gentle way of preventing odour.
The White Moss Deodorant Spray: Star Ingredient is Propolis. Collected from tree buds by bees, propolis is a complex substance of resins, waxes, essential oils and enzymes making it an excellent anti-microbial. A fresh fragrance, the deodorant also contains Aloe Vera extract making it ideal for sensitive skin! A natural and plant-based alternative to traditional antiperspirants. Aluminium and Alcohol-free.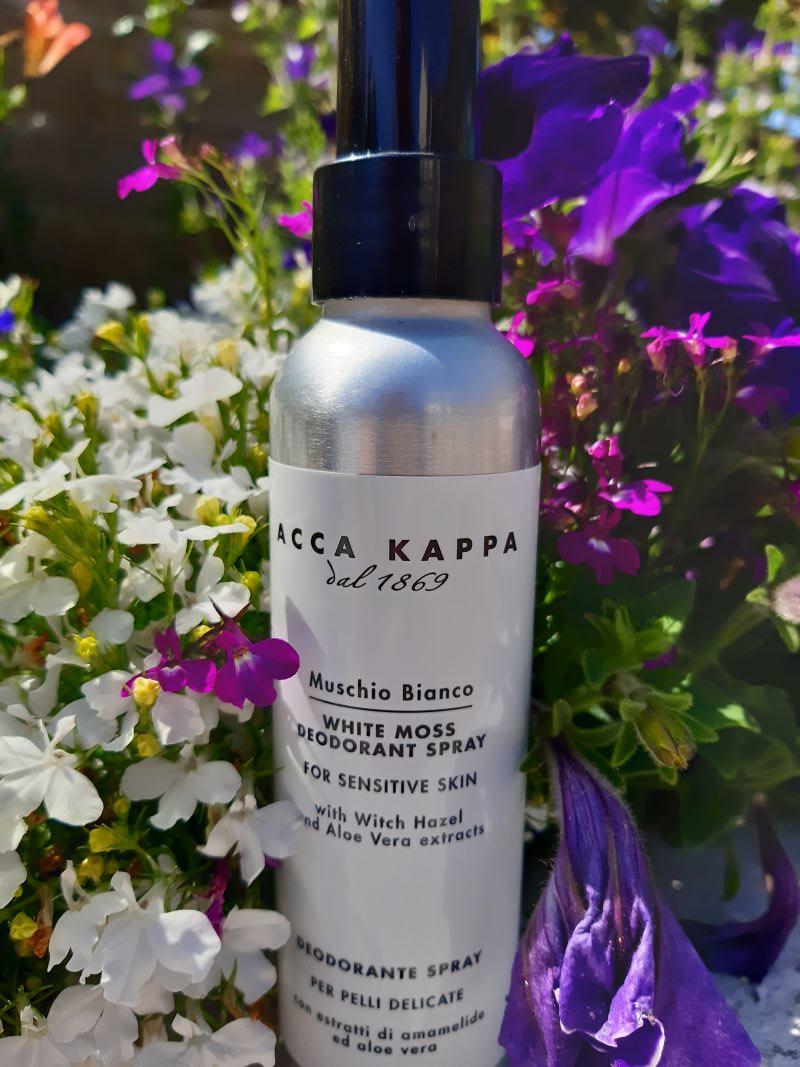 The White Moss Deodorant Spray by ACCA KAPPA
Like what you're reading? Why not check out some of our other blogs?
Fragrance Mood Boosters... Learn more
Introducing: The Natural Skincare Routine... Learn more
Bouncy Styling for Shorter Hair with Ali Bailey... Learn more