09

Sep

The Language of Scent
A classification system the perfume industry has used for years, every scent belongs to its own 'olfactory family' based on its most dominant characteristics. Difficult to define, it is generally accepted that there are seven distinct families- from floral to chypre to orientals we all have our favourites and, whether we know it or not, tend to fall for these same fragrances time and time again. Helping you understand the language of scent and hopefully provide a little insight on your own personal style, read below as we explore these olfactory families and the key ingredients that determine them.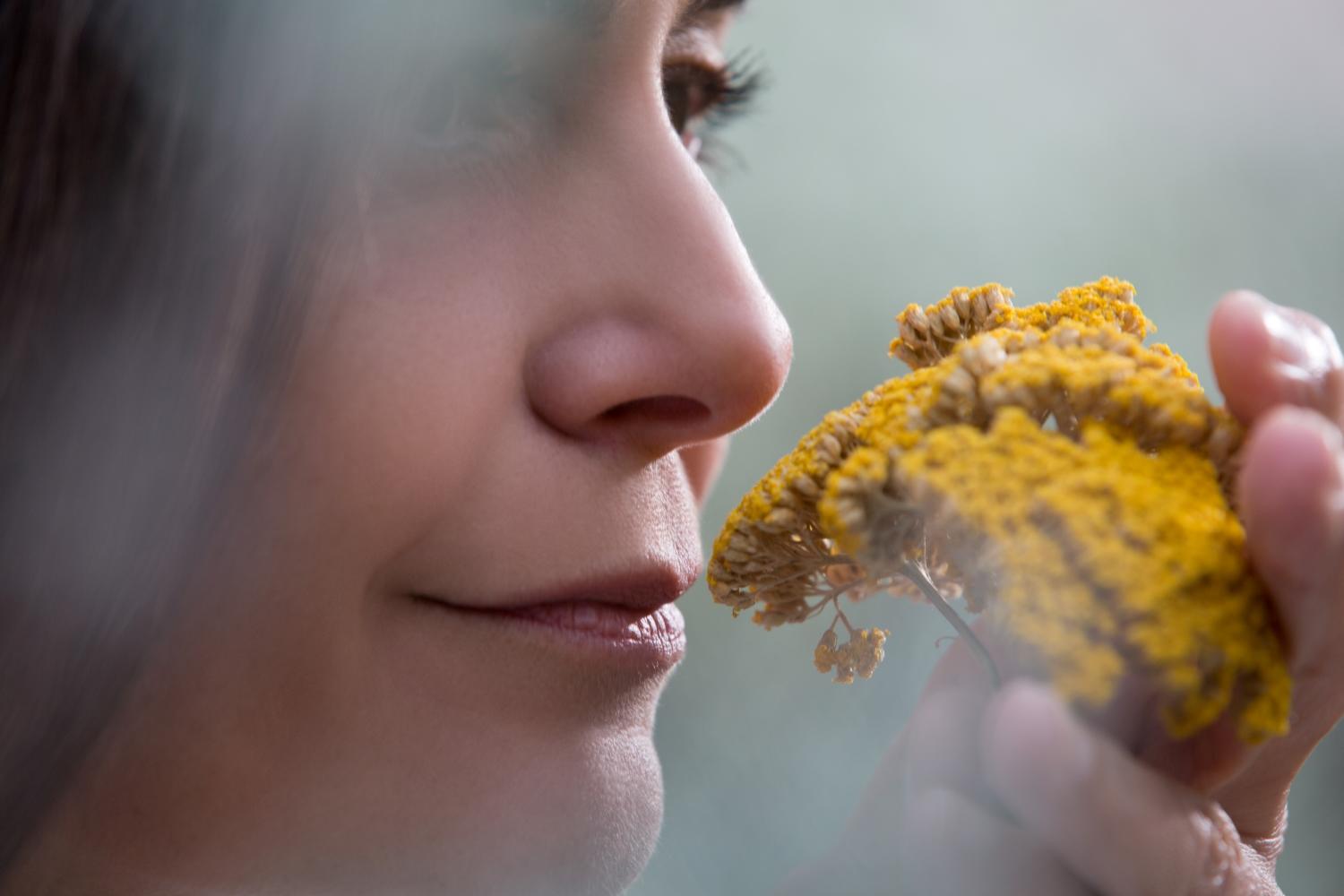 Exploring the seven key olfactory families and the ingredients that determine them.
Chypre
Named after the French for Cyprus- the birthplace of the Greek goddess of love, Aphrodite- Chypre fragrances are traditionally dry, warm perfumes with complex olfactory notes. Featuring elements of bergamot, oakmoss, patchouli and labdanum most of the aromatic scents of Chypre fragrances can be found growing on the island of Cyprus- hence the category's namesake.
Pronounced 'sheep-ra', the category was first popularised by the perfumer François Coty in the early 20th century. Woody, mossy and intriguing, Chypre accords can be used in both masculine and feminine fragrances for a sophisticated yet enigmatic finish.
Favourite Chypres here at Acca Kappa include warming My Scent, aromatically floral Giardino Segreto and spicy Ode.
Floral
One of the oldest and most popular of all fragrance families, florals can be found at the heart of almost any perfume. Themed around notes of sweet-smelling flowers, these perfumes use the scents of jasmine, peony, gardenia, lily of the valley, and perhaps most importantly, rose to construct their signature smell.
Easily recognisable, the perfumes tend to inspire thoughts of cut flower bouquets and bountiful spring blossoms and are surprisingly adaptable. Warmed with spice or sweetened with berries, just like any family there are plenty of members to the floral olfactory category- all with their own unique personalities.
Favourite florals here at Acca Kappa include sweet Calycanthus, lilac soft Glicineand powdery Sakura Tokyo.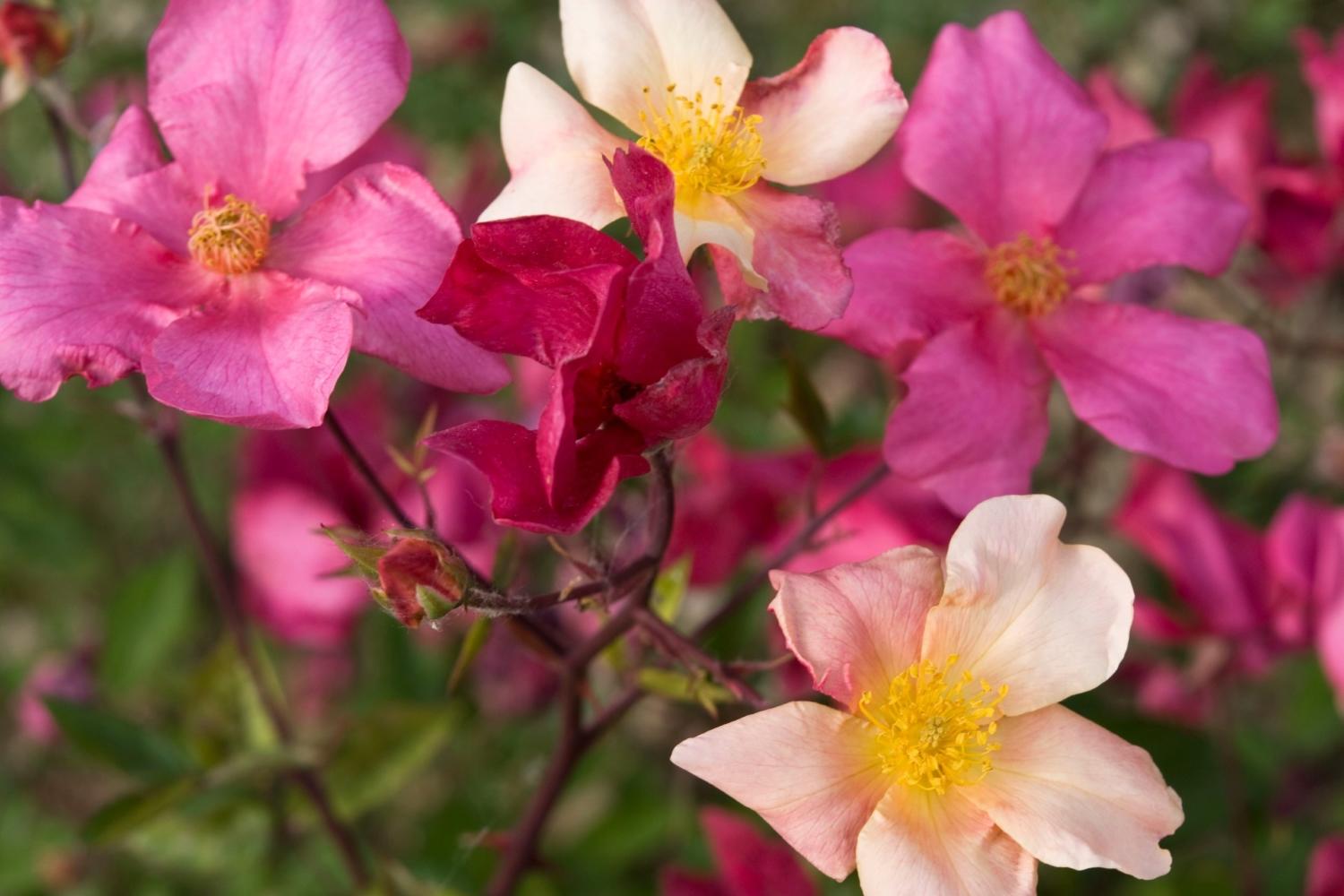 Rose, a cornerstone of the floral olfactory family.
Fresh and Citrus
Bright and uplifting, fresh fragrances are characteristically identified by their sunny and airy tone. Comprised of many lighter, smaller molecules the fresh and citrus olfactory family tend to have an instant whoosh of scent, provided by zesty top notes of lemon, bergamot, orange, grapefruit and mandarin.
Cooling and clean, fresh and citrus fragrances are extremely easy to love and are perfect for breezy summer days by the sea.
Favourite fresh and citrus fragrances here at Acca Kappa include sparkling Green mandarin, aquatic Fior d'Aqua and tangy Mandarin and Green tea.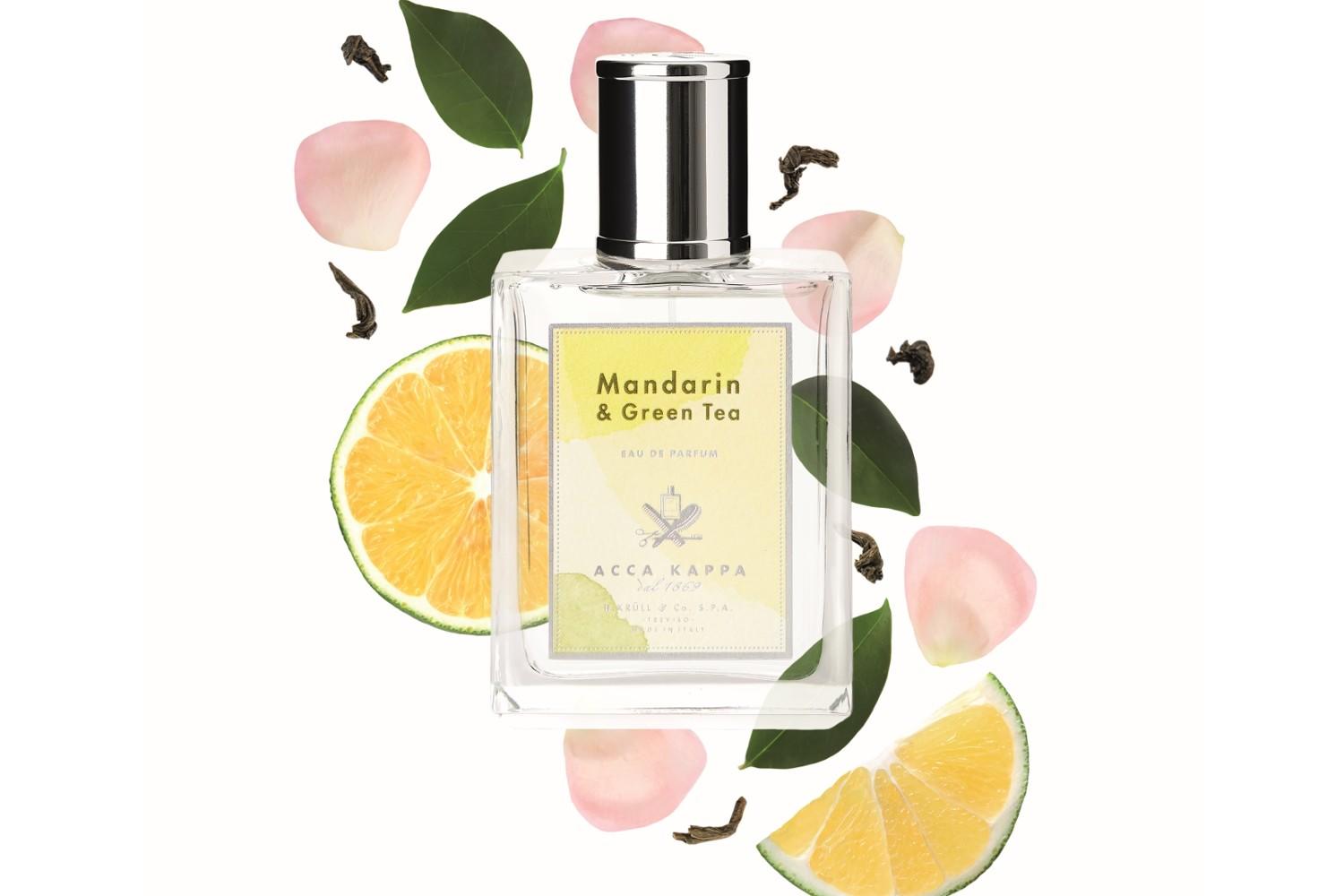 The Mandarin and Green tea eau de parfum by Acca Kappa
Fougere
Green and leafy, the Fougere family takes its name from the French for 'fern' or 'fern-like.' Traditionally featuring notes of lavender, geranium, vetiver, bergamot, coumarin and oakmoss fougere's tend to be simultaneously both woody and fresh.
Pronounced 'foo-jair,' the accord was originally created by Paul Parquet in 1882. Initially intended to be worn as a feminine fragrance, the perfume very quickly became popular with the dandies of the day and was eventually adopted by more traditionally masculine fragrances.
Whilst predominantly citrus, the Acca Kappa Mandarin and Green tea Eau de Parfum uses classic elements such as fresh bergamot and more bitter green tea to add a fougere twist to the bright perfume.
Woody
Intensely aromatic, woody fragrances can be somewhat more earthy, resinous and even smoky at times. Concentrated around the aromatic notes of sandalwood, cedarwood as well as patchouli and vetiver, woody fragrances tend to have a much heavier, deeper scent.
Closely related to the Chypre olfactory family, many woody fragrances fall into the realm of masculine perfumery. Gently spiced, sweetened or mellowed with more herbaceous notes the family is full of sub-divisions from woody aromatic, to woody florals or even woody fresh fragrances.
Favourite woody perfumes here at Acca Kappa include sandalwood heavy Idillio, spicy Black pepper & Sandalwood and fresh cedar based Giallo Elicriso.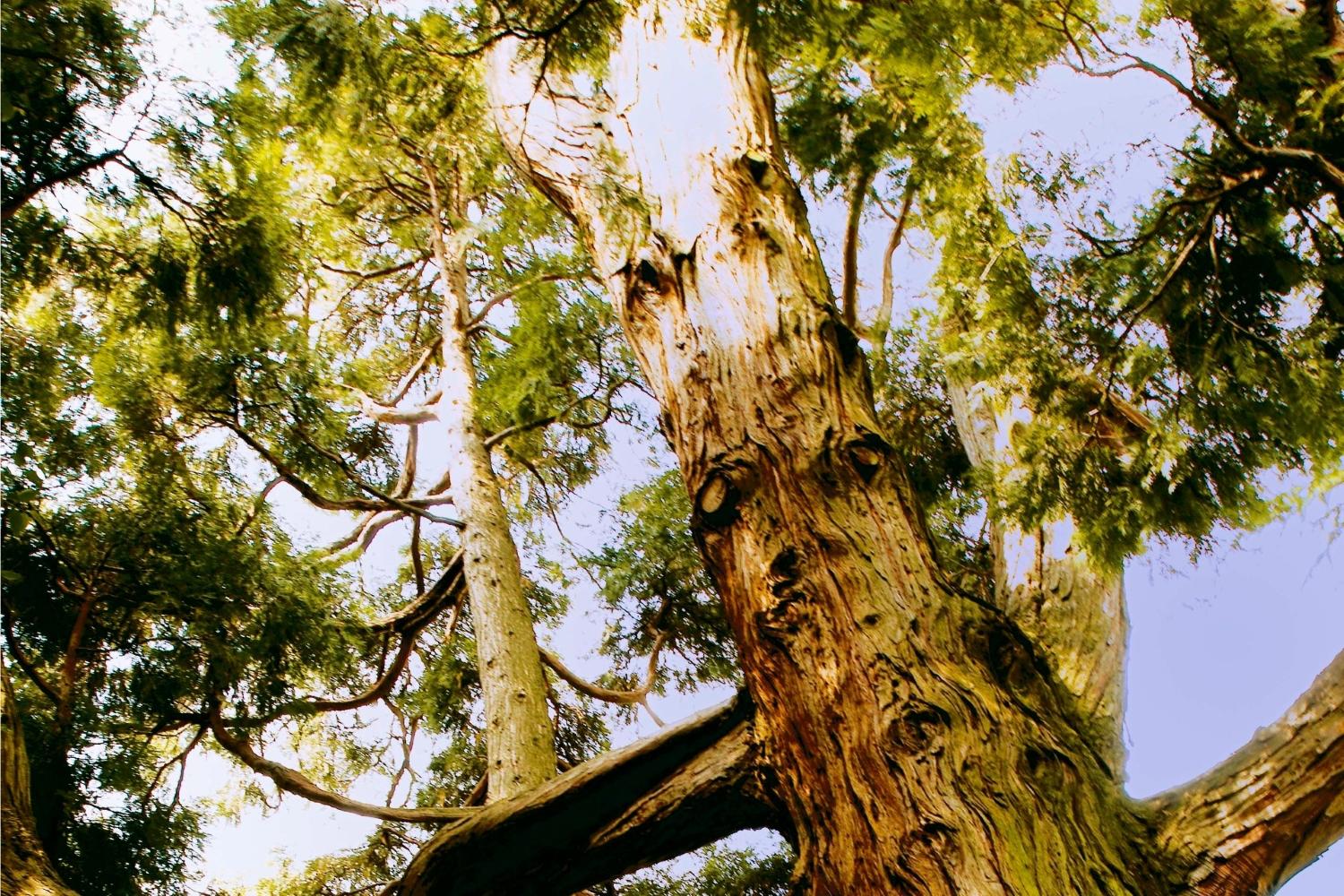 Cedarwood, a common ingredient found in many woody fragrances.
Oriental and Amber
Warm and heavy, the oriental olfactory family relies on traditional perfume notes like amber, sandalwood, vanilla and resins.
A real contrast to the light and breezy florals or fresh citruses, Oriental fragrances tend to feel more 'grown-up' than other olfactory families. Usually defined by their lingering richness, oriental fragrances contain more traditional base notes meaning they can last much longer on the skin to create heavier, warmer scents ideal for sophisticated evening wear and winter go-to warmers.
Favourite oriental fragrances here at Acca Kappa include golden amber 1869 and heavenly sweet Vaniglia Fior di Mandorlo.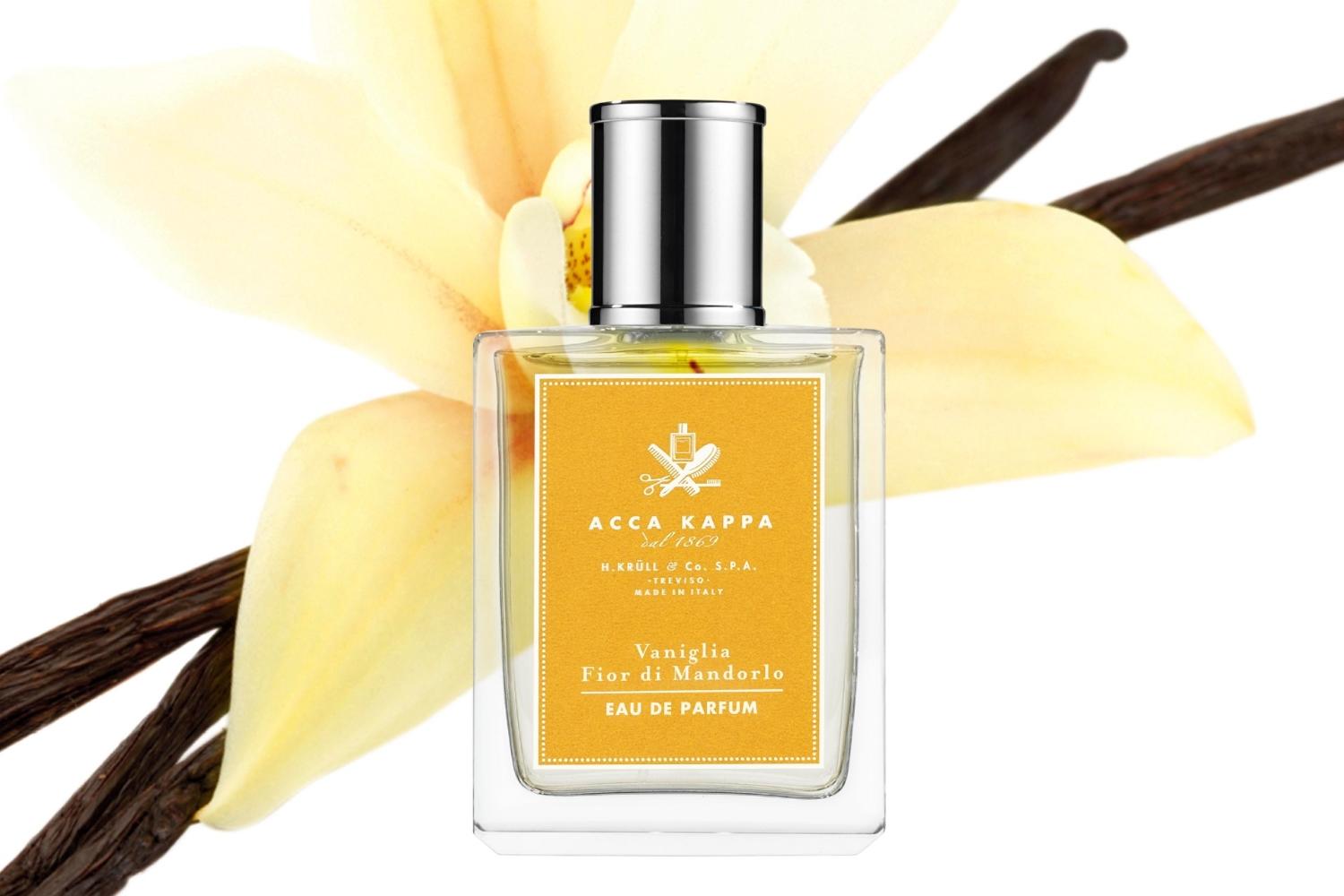 Heavenly sweet Vaniglia Fior di Mandorlo by Acca Kappa
Gourmand
A later addition to the more classic olfactory families, gourmand fragrances focus on delectable, almost edible perfume notes. Rich and sweet, nearly all gourmand scents heavily feature vanilla as well as hints of caramel, coffee, almonds and even chocolate for a dark and sometimes bitter sultry finish.
Mostly warm and comforting, gourmand fragrances lend themselves to cooler seasons just as citruses and florals refresh and harmonise with long summer days.
Whilst Vaniglia Fior di Mandorlo's dominant accord is usually placed in the oriental olfactory category, the fragrance's deep and sweetly warm vanilla also lends itself to the gourmand family. Almost powdery, the fragrance also includes sweet almond blossom and tonka bean for an edible twist.
Like what you're reading? Why not checkout some of our other blogs?