07

Oct

The New Beauty Must-Have: Hair Perfume
The perfect pick-me-up for autumn tousled hair, the White Moss hair perfume is a delightful way to explore our most iconic fragrance. Tending to last much longer than regular fragrances, hair perfumes allow you to layer your scent, leaving you smelling exquisite all day. The icing on the cake? Similar to hair serums and oils, hair perfumes are full of nourishing and moisturising ingredients, helping create a hydrated and glossy finish. Read on to find out more about the latest beauty must-have!

The White Moss Hair Perfume by Acca Kappa
We all know the disappointment of becoming nose-blind throughout the day to our favourite perfume. No matter how liberally you apply, within an hour or two, it's almost impossible to detect. A completely natural, yet frustrating process, hair perfume could well be the remedy we've all been searching for. Unlike traditional fragrances, hair perfume molecules are continuously disrupted by the hair's constant movement and are more effectively retained by the hair's naturally porous structure. Producing a halo of perfume, you'll find yourself catching the aroma of White Moss throughout the day as the fragrance softly diffuses, strengthened with every hair flick or gentle tousle.
But why not just spray my hair with regular perfume I hear you ask? Designed specifically to keep your locks hydrated and glossy, hair perfumes have a much lower alcohol content compared to Eau de Parfums ensuring hair is not left dry and brittle. Formulated with a hydrolysed corn, wheat and soy protein complex the White Moss hair perfume is a saviour for damaged hair helping strengthen and restore elasticity. Harmonising sweet and sensual notes for serenity, the hair perfume also contains extracts of Green Tea and Red Grapevine, helping protect your hair against external aggressors. Easy to layer with other fragrances if desired and perfect for giving your hair, as well as your mood, that extra boost!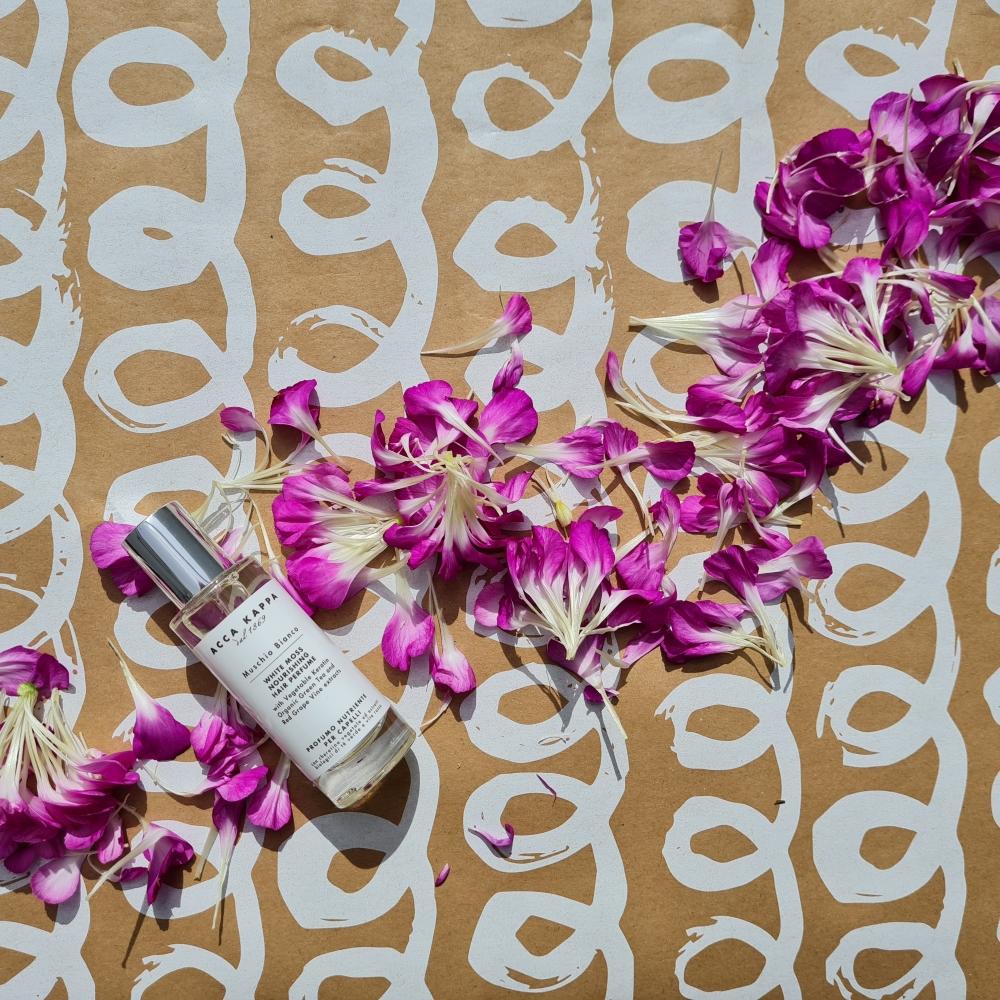 The White Moss Hair Perfume by Acca Kappa
The finishing step to any beauty routine, there's something deeply intoxicating about hair perfume. Innately intimate, the experience is comparable to the final splash of perfume to your wrists or neck before you set off- a spark of joy released with every spritz. Apply as generously as you wish, we recommend misting the perfume directly onto the ends to the mid-length of your hair to unleash a cloud of heady White Moss. Alternatively, you can spray the perfume straight onto your hairbrush or apply it to your hands before gently running your fingers through your hair, tousling as you go. Perfectly pocket-sized, the hair perfume can be popped in your bag for an instant refresh or on the go pick-me-up.
Like what you're reading? Why not checkout some of our other blogs?