25

Sep

The New Soap Collection!
Top-level craftsmanship and cutting-edge formulas, the new ACCA KAPPA soap collection is created using natural ingredients such as honey, shea butter, sweet almond oil and rice starch for an even more nourishing, moisturizing and soothing effect. Featuring enchanting new fragrances, the soaps are all hand-made from pure vegetable oils and presented in beautiful, tactile bars. Releasing a soft, creamy foam, the collection is a great way to bring a whole new world of fragrances to your daily beauty routine! See below as we explore the ingredients that enrich each soap.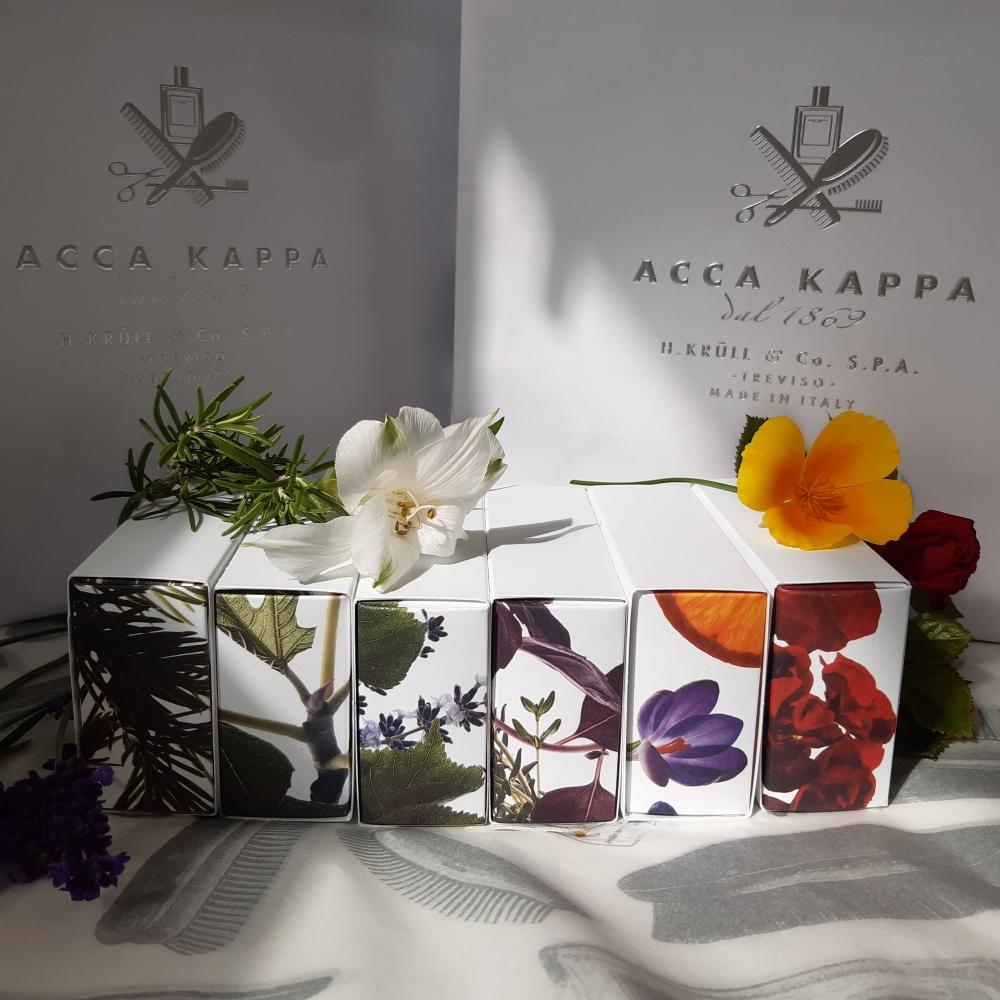 The New Soap Collection by ACCA KAPPA Juniper & White Fir, White Fig & Honey, Lavender & Linden Flower, Thyme & Red Rubin Basil, Orange & Saffron, Rosa Mosqueta & Geranium
White Fig and Honey: Enriched with Honey
Best for: Dry, chapped or sensitive skin
Indulge and relax with a soap that smells good enough to eat! Ideal for chapped, dry or sensitive skin, soothing honey is derived from the processing of nectar that bees collect from flowers, containing mainly natural sugars. An excellent source of antioxidants like polyphenols and flavonoids, it is also rich in enzymes with elasticizing qualities, thus acting as an effective ingredient in anti-ageing and skin firming products. Emollient and protective, the soap naturally cleanses whilst maintaining the delicate PH balance of the skin.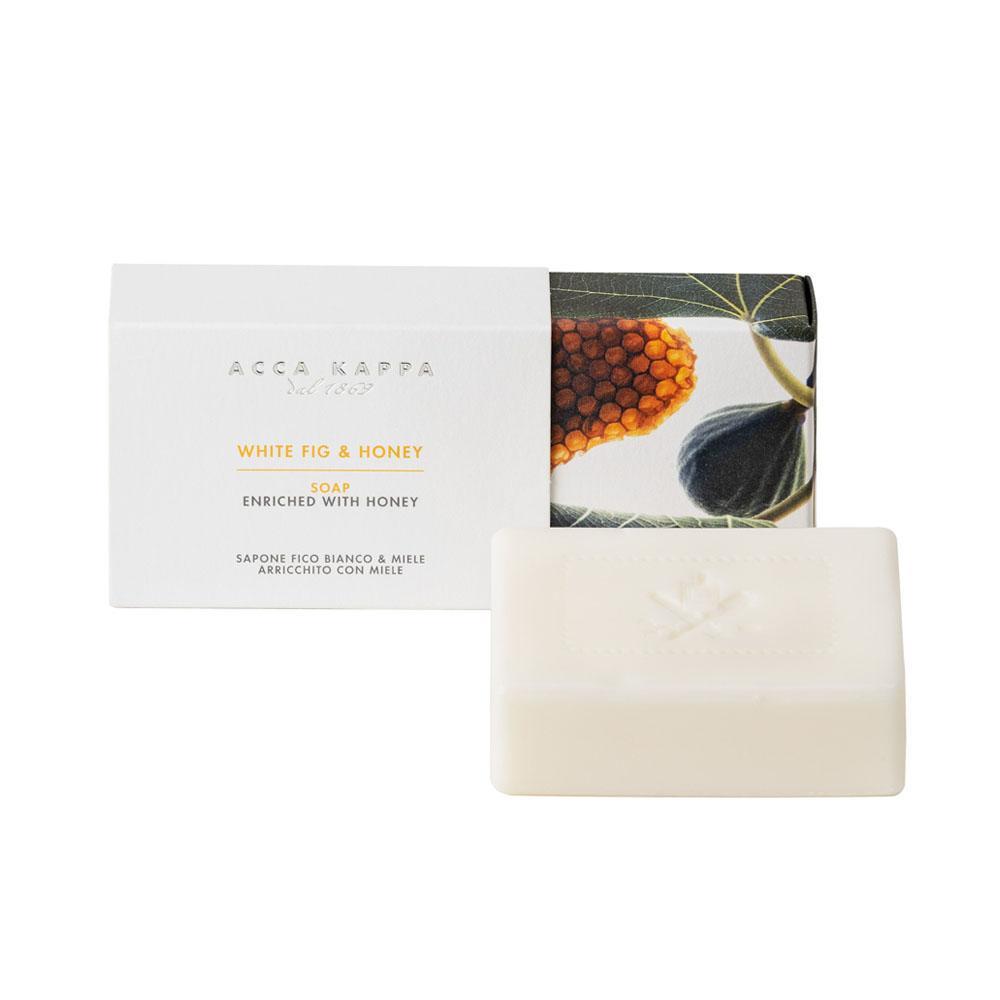 White Fig & Honey Soap by ACCA KAPPA
Juniper and White Fir: Enriched with Shea Butter
Best for: Mature or tired skin
An aromatic experience that is akin to walk in the woods, this soap has a fragrance that is woody and exhilarating. Native only to Africa, shea butter is extremely rich in unsaponifiable matter, fatty acids and vitamins. Referred to as the tree of "health and youth," the butter is obtained from cold pressing the seeds of the Karité timber tree which is famous for its cosmetic properties. Extremely nourishing, moisturising and soothing, the soap has antioxidant properties helping fight signs of skin ageing and wrinkles.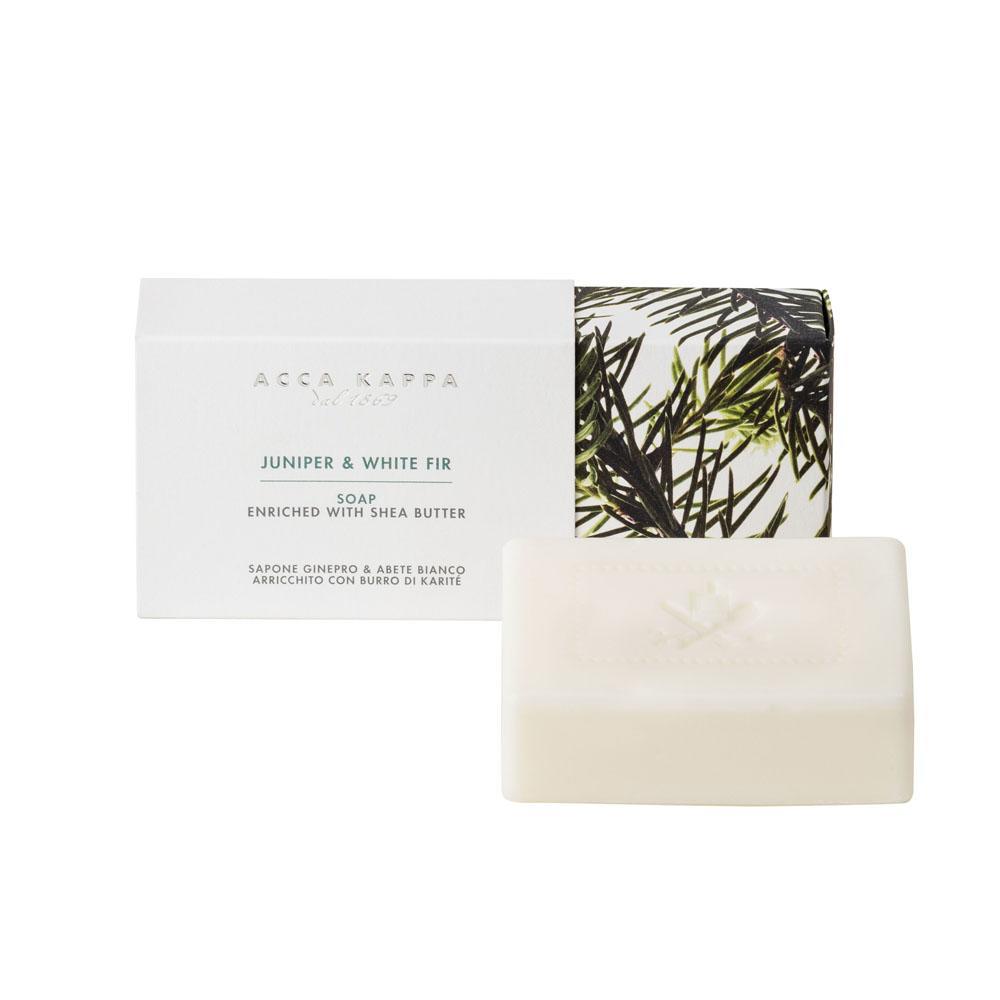 Juniper & White Fir Soap by ACCA KAPPA
Orange and Saffron: Enriched with Wheat Germ Oil
Best for: Dry, mature or inflamed skin
Fresh and sweet and a little spicy, this is a soap this is a restorative soap with an invigorating feel good fragrance. Ideal for dry, sensitive, and mature skin wheat germ oil is considered the richest natural source of vitamin E. Obtained by pressing germinated wheat seeds, the oil is both anti-ageing and anti-inflammatory, the unsaponifiable matter containing 70% phytosterols (cholesterol-like molecules used to help stimulate collagen production). Revered for its restorative, elastic, antioxidant and antiradical action on the skin!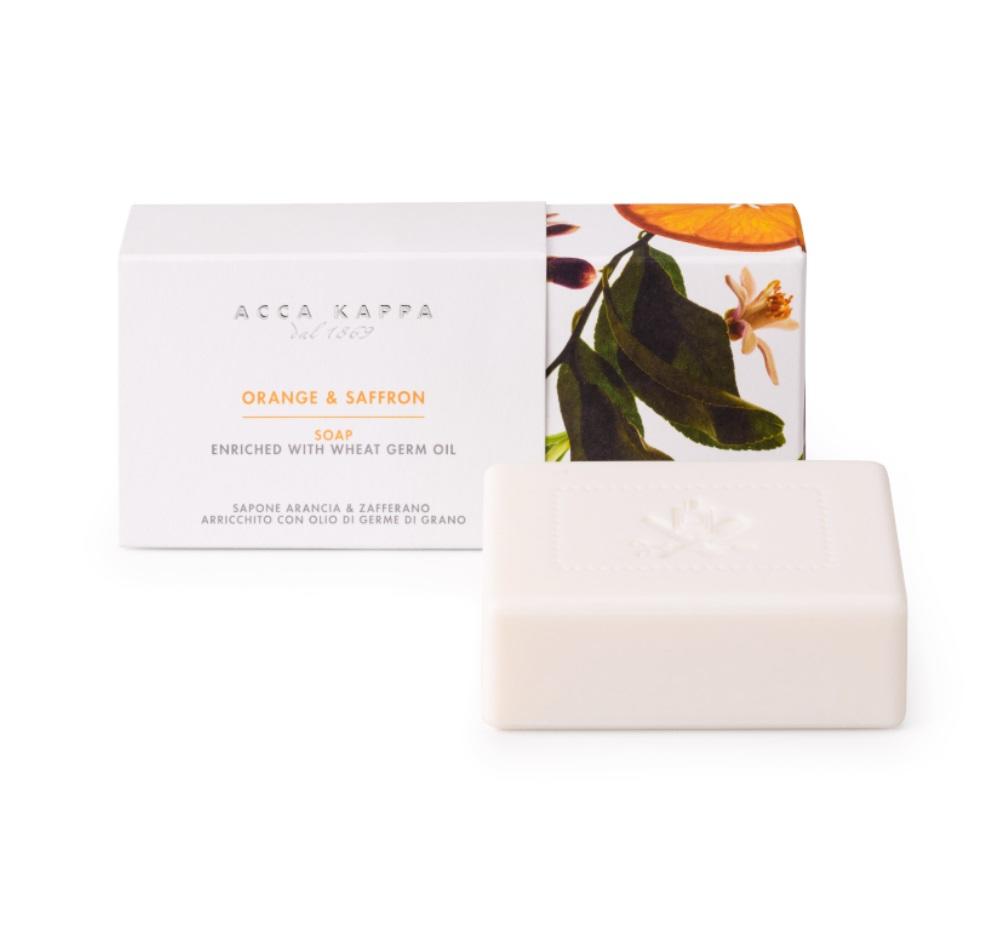 Orange & Saffron Soap by ACCA KAPPA
Enriched with Rosa Mosqueta Oil
Best for: Dry or mature skin
This soap has a tea like, earthy fragrance and the comforting freshness- like stepping into a greenhouse! A form of rosehip oil, the Mosqueta rose is a wild plant found primarily in the Andes and Chile. Producing bright red fruit that contains many seeds, the oil is produced by cold pressing and is rich in essential fatty acids such as Omega 6 and 3 to help regenerate and nourish the skin. Also known for its high natural antioxidant content, the contained Vitamin E is a great natural way to fight skin ageing. This soap is particularly effective for dry and mature skin.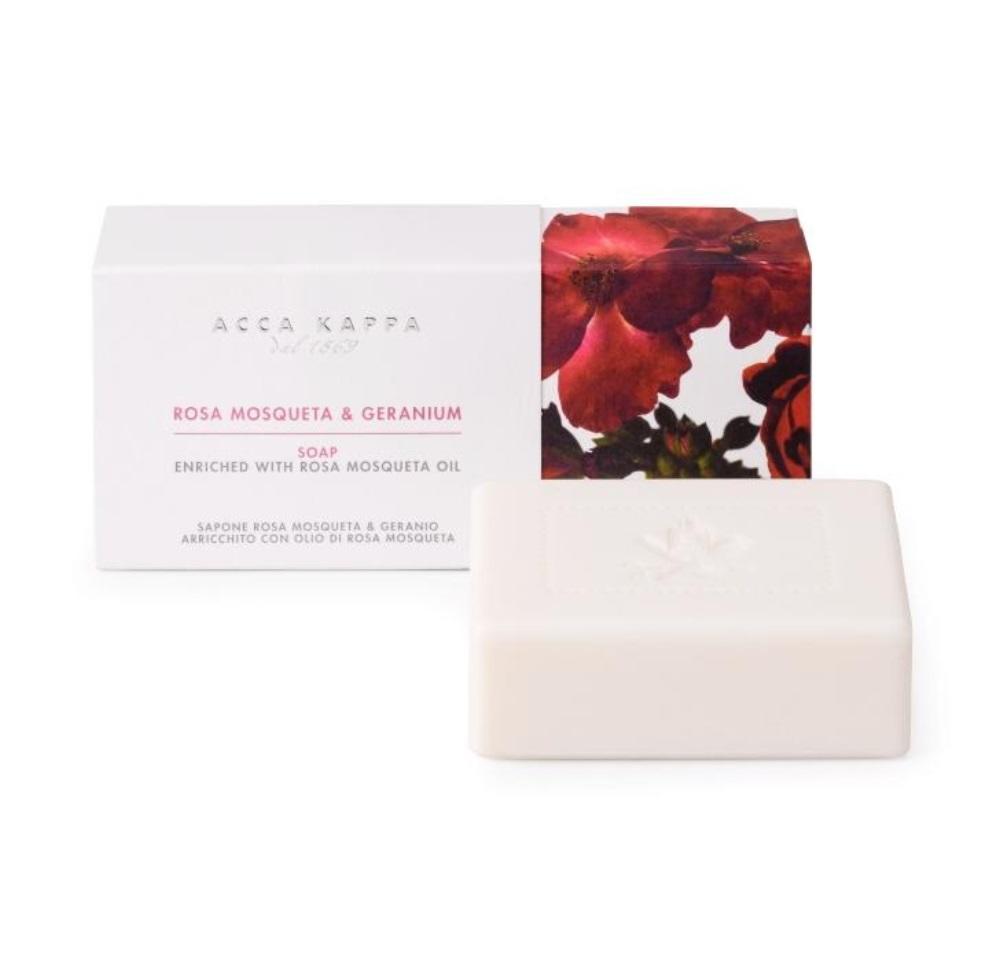 Rosa Mosqueta & Geranium Soap by ACCA KAPPA<
Enriched with Almond Oil
Best for: Sensitive or irritated skin
Spicy, sweet and delicious this soap makes hand washing an aromatic experience. Also obtained through cold pressing, sweet almond oil has one of the highest fatty acid contents. Emollient, nourishing and soothing the oil is also renowned for its great tolerance even by the most sensitive skin. Rich in vitamins E and B, proteins, carbohydrates and minerals, the oil has everything the skin needs and is especially gentle at treating dry and reddened skin.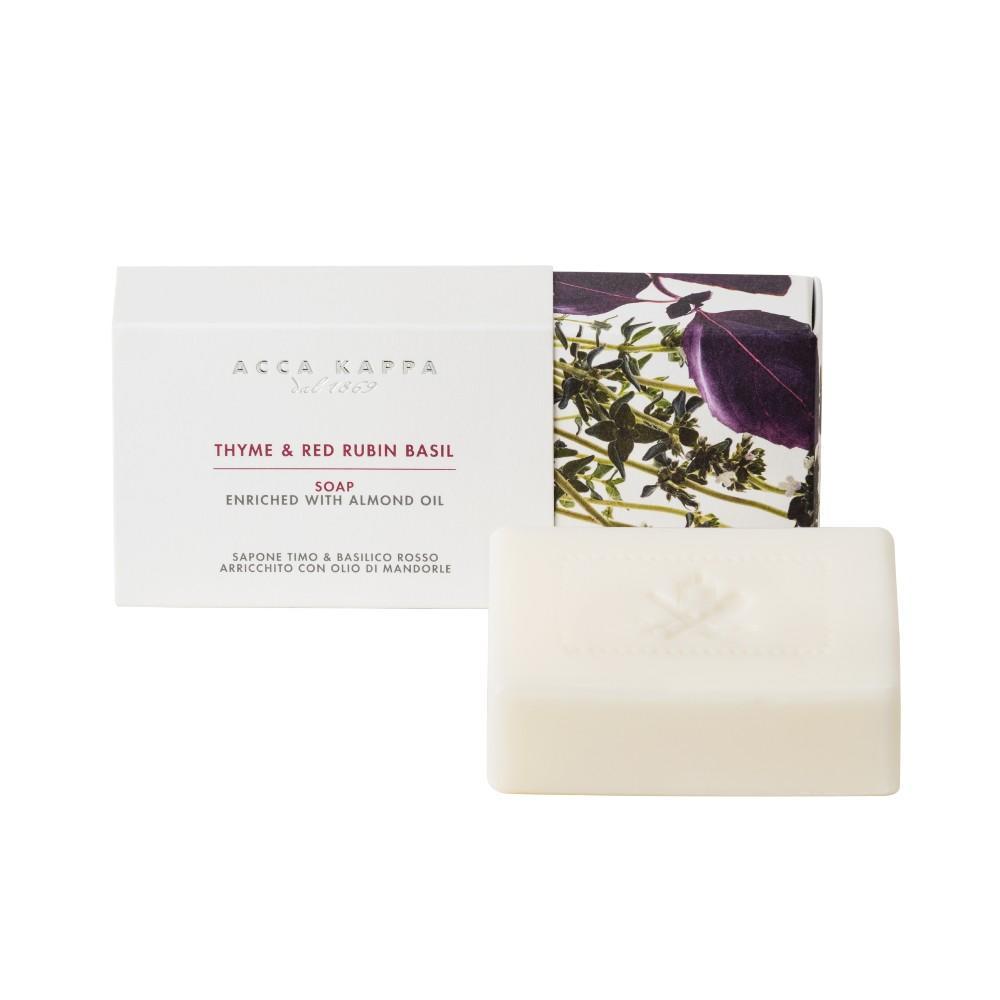 Thyme & Red Rubin Basil Soap by ACCA KAPPA
Lavender and Linden Flower: Enriched with Rice Starch
Best for: Normal to Dry Skin
With a fragrance that's both calming and sweet as a summer's day, this feel-good soap will leave skin feeling silky. Effectively hydrating the skin, rice starch is especially renowned by the cosmetics industry for its two powers: absorbency and silkiness. Internally, starch holds water inside tissues, protecting the natural water balance and correct skin hydration level. Externally, it keeps the skin dry, silky and compact. Obtained from rice that is first softened, then ground, the starch is later separated and dried before it is pulverized to create the extract. Frequently used as an emollient, rice starch is both moisturising and refreshing!

Lavender & Linden Flower Soap by ACCA KAPPA
Like what you're reading? Why not check out some of our other blogs?