02

Dec

Winter Fragrances
Woody, deep and spiced: many of us prefer warmer scents for the winter months. Usually longer-lasting, wave goodbye to fresh summer florals and breathe deeply as comforting notes of vanilla, amber and spiced sandalwood drift from your favourite cosy jumper.
Whether it be a feminine or masculine fragrance or even a new scent for the home- see below as we explore our top fragrance picks this winter.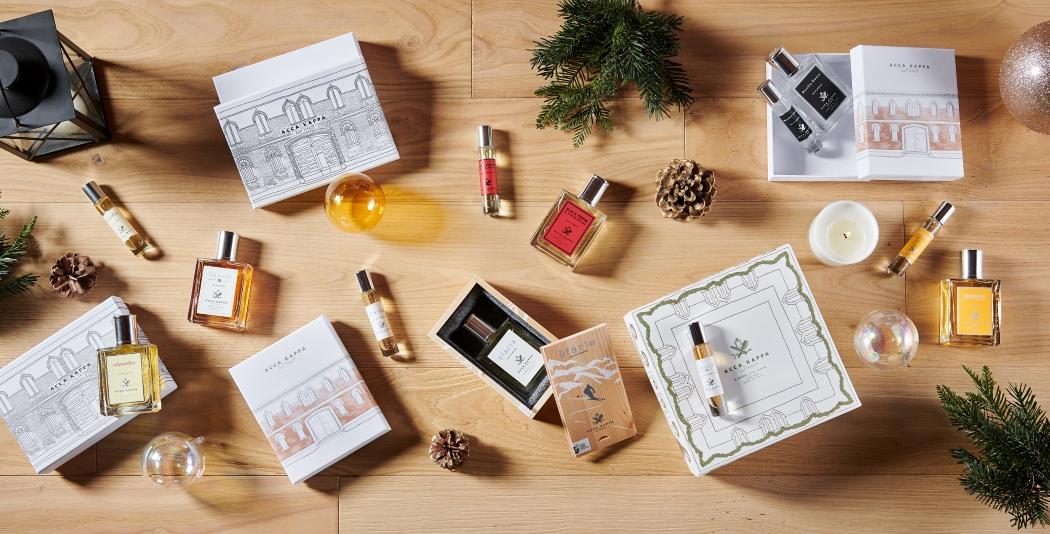 The Acca Kappa Winter Fragrance Collection
For the Home
The Amber and Sandalwood Home Diffuser
Deep and warm and cosy- snuggle up this winter with the amber and sandalwood home diffuser. Richly spiced and comforting with hints of amber, the fragrance blends full-bodied sandalwood and sweet-tempered vanilla to create an exciting yet earthy blend. The perfect pairing for evenings spent by the roaring fireside.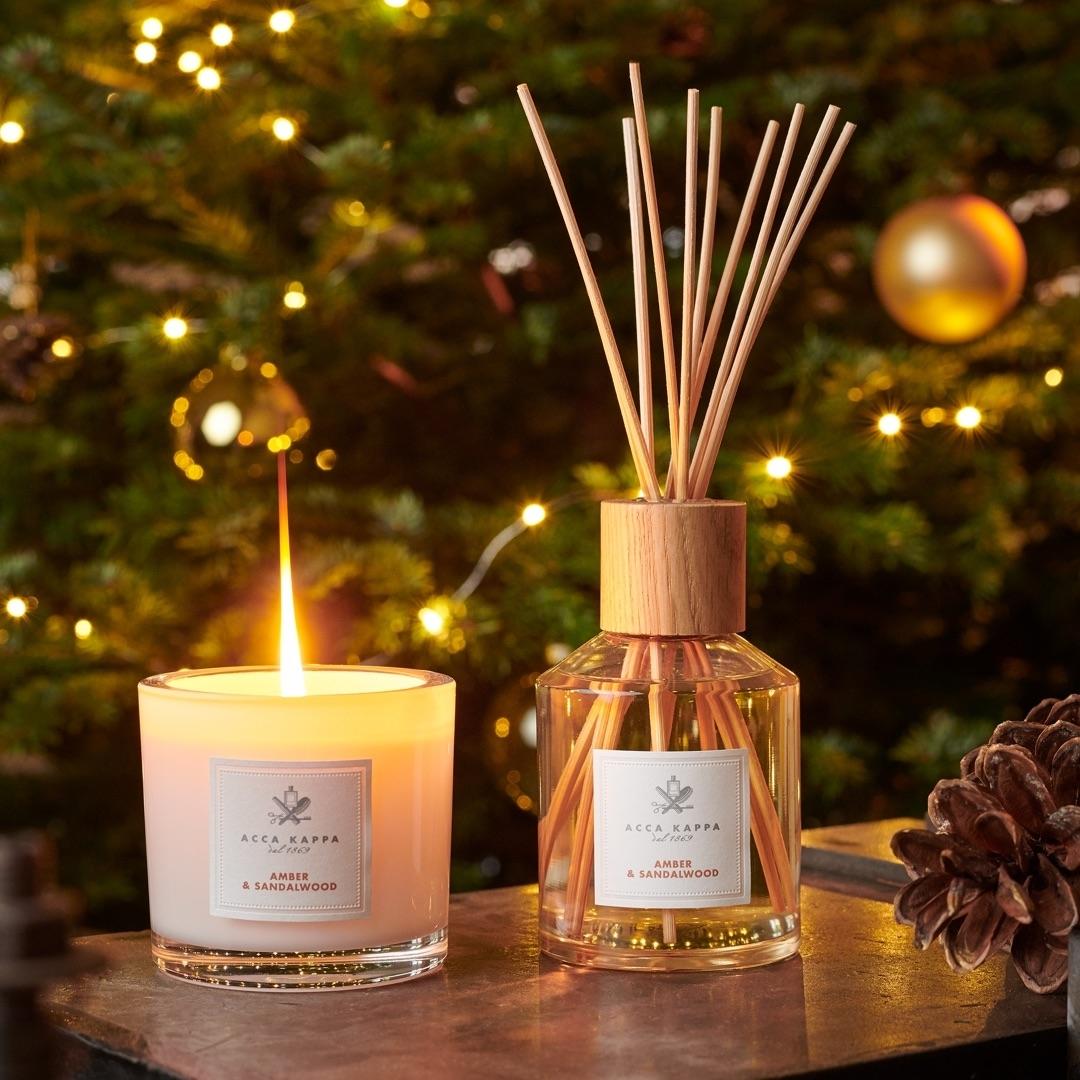 The Artistic Aromatic Atmosphere Collection by Acca Kappa
Soft, twinkling fairy lights and flickering candles- there really isn't anything quite like a bit of mood lighting to give you that warm, fuzzy, festive feeling. Capturing the sharp aromas of fresh pine, the eucalyptus and oakmoss candle evokes thoughts of fresh Christmas trees or brisk winter walks through fragrant woodland. Clear and bright, the strong earthy aromas of oakmoss blend with the restorative sharpness of minty eucalyptus to leave you feeling regenerated, healthy and serene.
Presented in the finest glass, the Eucalyptus & Oakmoss Scented candle has a burn time of over 30+ hours – sure to see you through the whole festive season!
Masculine Fragrances
Black Pepper and Sandalwood, Eau de Parfum
Warm, deep, spicy and rich: the Black Pepper and Sandalwood Eau de Parfum is everything you could want from a winter fragrance. Combining the energising spice of black pepper with the alluring confidence of sandalwood, the perfume is drawn together with irresistible magnetism by notes of grounding black musk. A timeless and classic scent.
Available as both 100ml and travel-size 15ml EDP.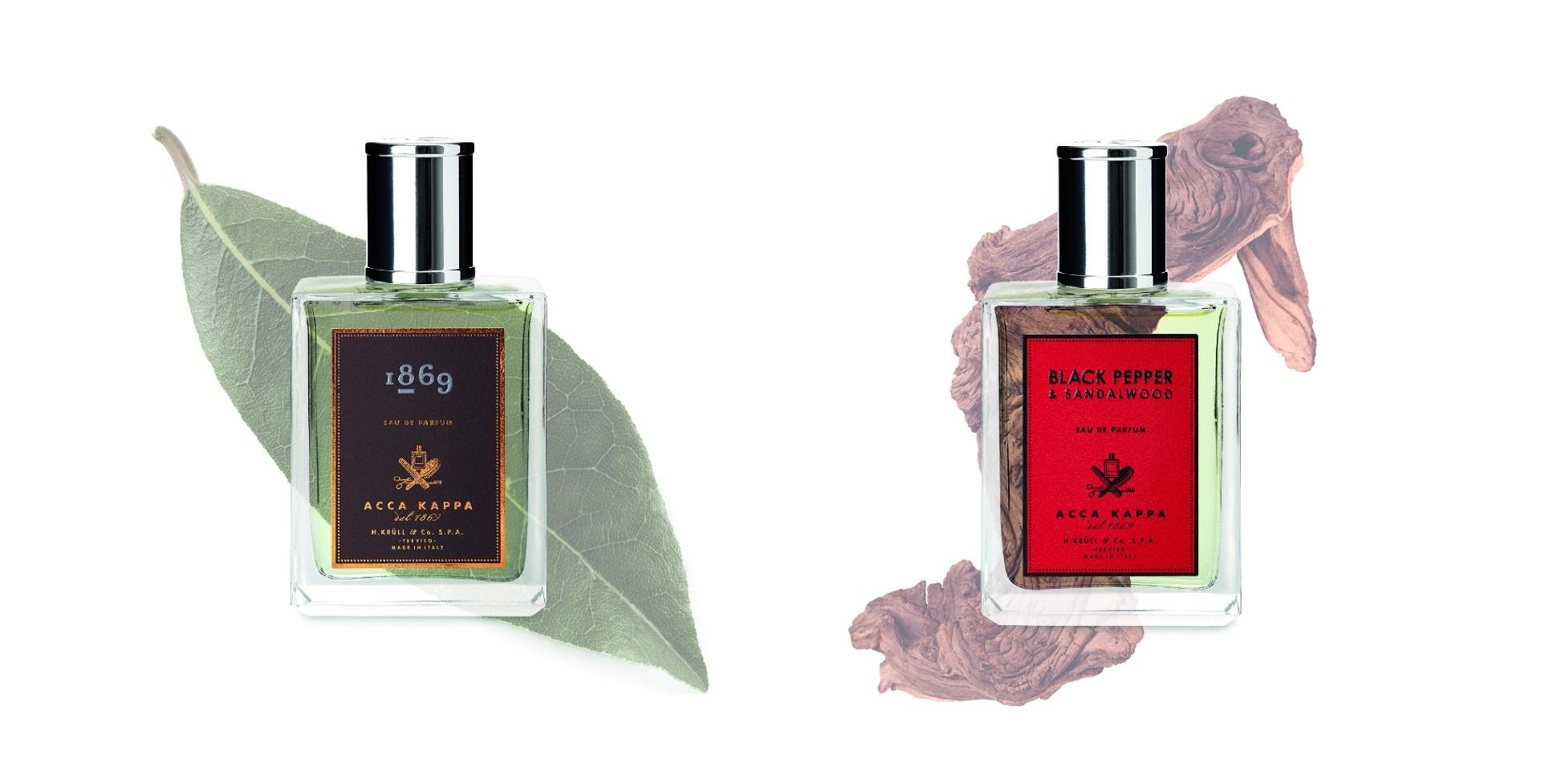 1869 and the Black Pepper and Sandalwood Eau de Parfum
1869
Warmed by soft base notes of amber, vanilla and leather, the 1869 collection is as refined as it is charismatic. Be charmed by spicy notes of cardamom and incense whilst floral iris lifts the fragrance for an unexpectedly fresh finish. Named after the year of Acca Kappa's founding, 1869 is one of the brands most extensive collections featuring: body washes, shaving foams and soaps as well as Eau de Parfums.
Shop the whole collection here.
Feminine Fragrances
Vaniglia Fior di Mandorlo
Translating to 'Almond Vanilla,' be enveloped by Vaniglia Fior di Mandorlo this winter. One of Acca Kappa's most comforting fragrances, the sweet yet intense aroma marries the refined harmonies of the Almond Flower with soft vanilla. Engaging hints of Sandalwood, Amber and Tonka form the base notes of this fragrance resulting in an elegant, warming perfume- as cosy as a warm embrace!
Available as both 100ml and travel-size 15ml EDP.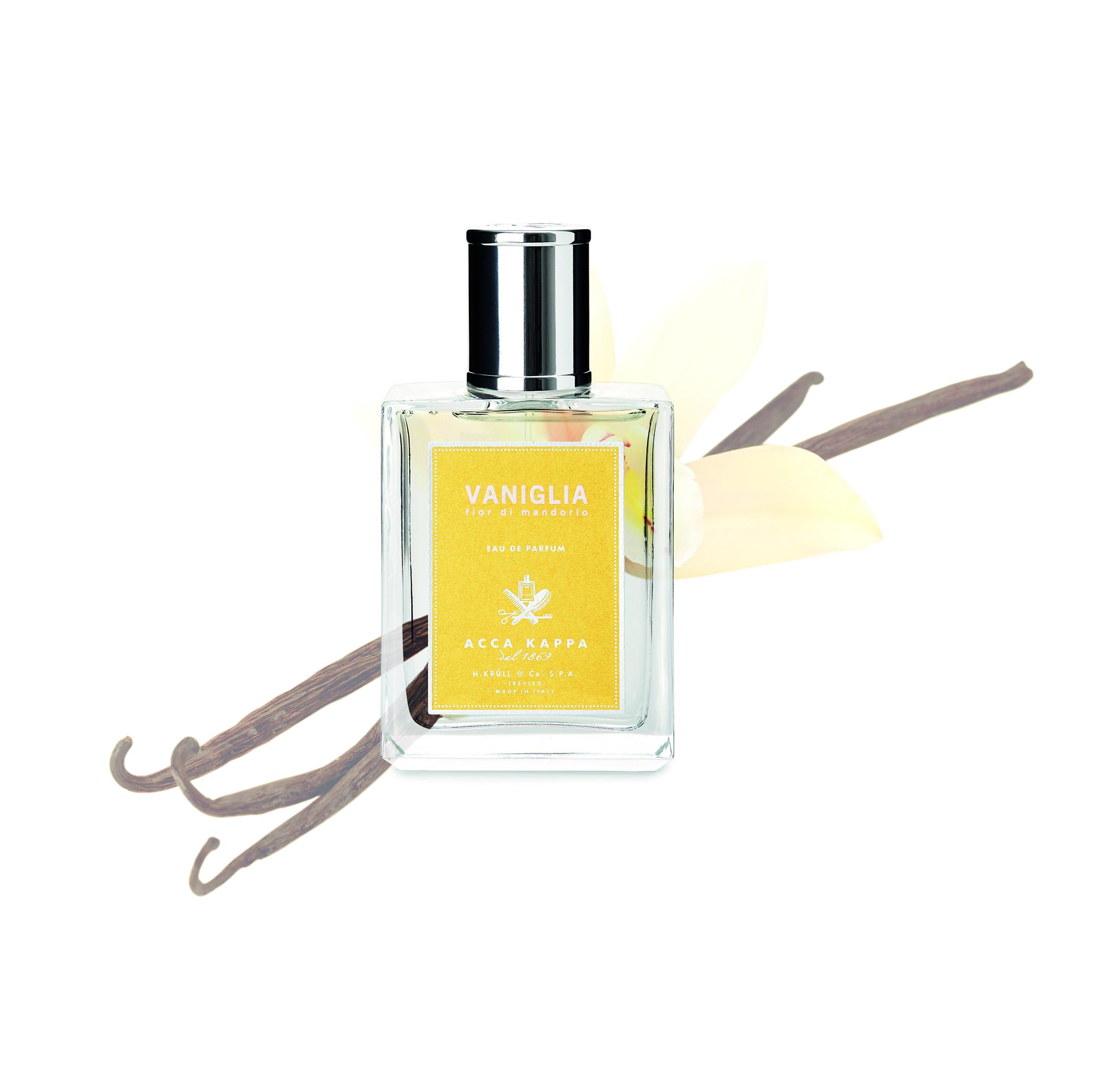 The Vaniglia Fior di Mandorlo Eau de Parfum by Acca Kappa
My Scent
Combining the warmth and sweetness of vanilla with earthy, damp vetiver and lively sparkling bergamot My Scent is one of Acca Kappa's most dynamic perfumes. Described as a synergic union between two souls; one more masculine with incense and spiced nuances and one more feminine with unique iris powder and sweet hints of vanilla and amber, My Scent was created in celebration of Acca Kappa's 150th anniversary. Presented in its own gift box, this fragrance makes a charming present for any loved one this winter- or yourself!
Available as both 100ml and travel-size 15ml EDP.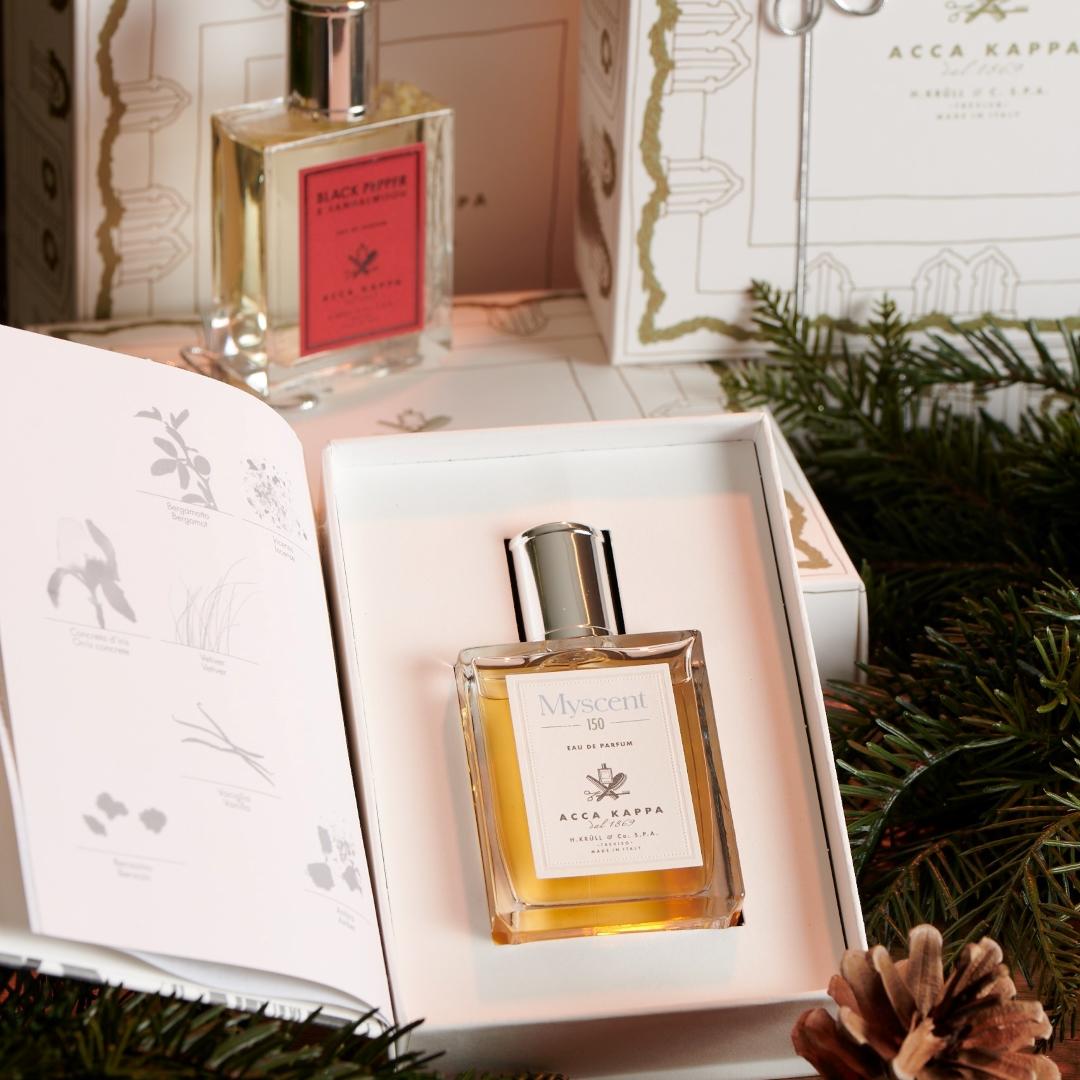 The My Scent Eau de Parfum by Acca Kappa
Don't forget! Now featured in the December 2021 'Try Me' promotion, enjoy 20% off all full-size fragrances included within this blog! The perfect Christmas gift, or self-care treat, head over to the Acca Kappa UK site to shop the collection now.
Like what you're reading? Why not checkout some of our other blogs?